HyperX, a name synonymous with high-quality gaming peripherals, has recently launched two new, interesting products. These include a next-gen Cloud Alpha wireless headset and a company-first Clutch wireless controller. Let's dig in.
Hyper X Cloud Alpha wireless headset
Weighing in at 335g, the Cloud Alpha Wireless follows the same design language as on its existing peripherals. In particular, a black design with red accents featured on the aluminium bands, headband stitching, and HyperX logos centred on each oval cup. I personally would like to see additional colourways from the manufacturer; perhaps an HP-themed blue and white? Admittedly, it is a minor caveat.
Premium features include DTS Spatial Audio technology for a 3D immersive sound stage, premium memory foam earcups for that 'signature Hyper X comfort' and onboard audio controls with a detachable noise-cancelling microphone.
The headset contains 50mm neodymium drivers on each ear cup, with an all-new dual-chamber design that HyperX says is tuned to deliver mid and high frequencies separately from the lows.
A single USB-A dongle enables connectivity to your PC or PlayStation 4/5 and Nintendo Switch in docked mode. The headset communicates wirelessly via 2.4GHz band and has a frequency range of up to 20 meters. Sadly, no Bluetooth support or tethered connectivity with this one. A serious omission given the $200 (approx. £150) premium price tag.
The standout feature is its insanely long battery life. HyperX claims 300 hours of untethered play between charges. Though too early to tell, no reviewer has been able to kill the headset during prolonged tests.
Speaking of reviews, they are quite favourable across the board. Many praise its great sound quality, sleek and comfortable design, clear noise-cancelling mic, and epic battery life. It's not without criticism; oversites such as no Bluetooth or headphone jack at such a premium price prevent it from achieving a perfect score.
Hyper X Clutch wireless controller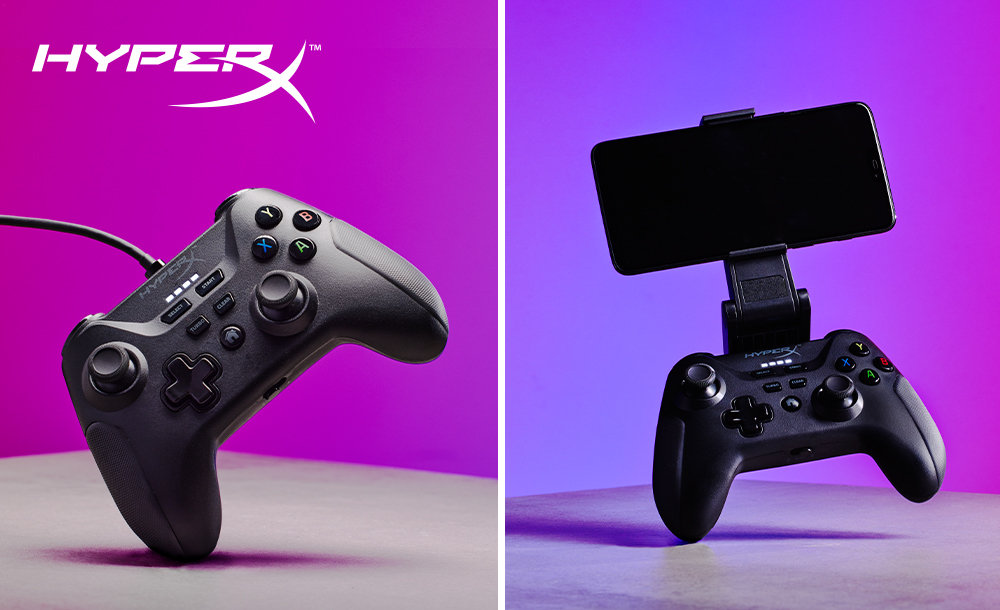 HyperX has also launched its first dedicated wireless games controller. The all-black body consists of a familiar Xbox-style design with added textured grips for improved ergonomics. It also contains additional turbo and clear buttons akin to old '90s controllers, though I doubt it will be compatible with online play.
Aimed at the mobile gaming market, it includes a convertible phone clip that can function as a table-top tool for tablets and phones. The controller features Bluetooth 4.2 and 2.4GHz wireless connectivity for PC. You can also game wired via a bundled USB-C to USB-A cable. Finally, a built-in 600mAh rechargeable battery offers up to 19 hours of play time on a single charge.
Pricing and Availability
Available the US only at present, pricing starts at $49.99 for the controller, and $199.99 for the headset. Worldwide availability and prices are yet to be announced.