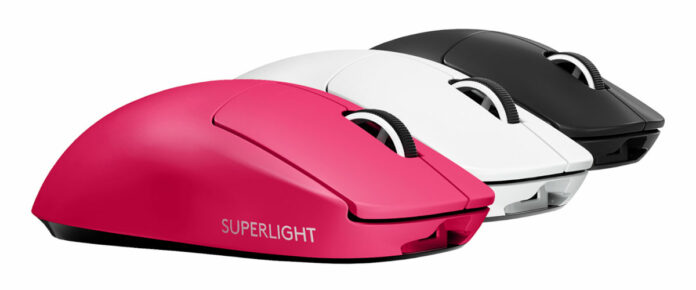 Logitech has announced that its popular G Pro X Superlight mouse is being made available in pink. It's easy to assume that the gaming industry is largely male dominated, but on the contrary, recent statistics suggest 45 per cent of the United States market identified as female.
Which leads me to my next point. If pink is considered a feminine colour, then there is a lot of money to be made in releasing related content and Logitech is no stranger to this concept at all. Though I must admit, I quite like this colour myself. It is not exactly shocking pink, but striking nonetheless.
I won't bore you with the press release details, but Logitech's pink pointer is essentially the same as other mice in the series. It has the same form factor and ergonomic design, features the Hero 25K sensor with up to 25,600DPI and a generous 70 hours of battery life. Carrying the Superlight moniker, it weighs a little shy of 63 grams.

Current Pricing and Availability
No need to wait. The G Pro X Super Light in pink is available now on the official website for $159.99. Keep in mind this mouse is aimed at the competitive e-sports market, where every single DPI counts. Quite evident in its price, which is a little too expensive for my taste… but then again, I'm not the target audience.
If you are a competitive gamer looking for an alternative, I would recommend the G305 Lightspeed. it has a Hero 15K sensor, 250-hour battery life, and comes in a variety of colours, albeit not in pink. It is slightly heavier at 99 grams, but you can find it at most major retailers at a fraction of the cost. At the time of writing, Amazon US has it listed for 39.99 USD.
Are such vivid colours a worthwhile alternate to the popular black and white peripherals we have grown accustomed to? We'll let you be the judge.