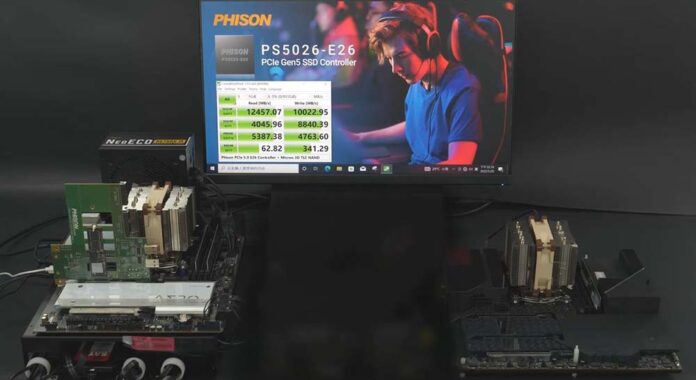 SSD controller manufacturer Phison has demonstrated its next-generation PS5026-E26 controller, paired with Micron 3D TLC NAND, smashing through the 12GB/s sequential read speed barrier on two platforms, presumably Intel Z690 and AMD's upcoming X670E.
The short video, released late last week, first shows an engineering-sample Phison PCB plugged into the PCIe x16 slot of an Asus Crosshair X670 Hero motherboard. More of a proof of concept than finished product – most PS5026-based drives will be supplied in the traditional M.2 form factor – the test system scorches to 12,457MB/s sequential read and 10,023MB/s write on the popular CrystalDiskMark test.
Other figures also appear robust with, for example, random 4K (Q32T16) producing 5,387MB/s read and 4,764MB/s write. Of course, this is an early sample, meaning we ought to expect real-world retail speeds to be a tad faster. SSD company Apacer has already announced M.2 drives using the PCIe 5.0 interface, so we wonder if it is intent on harnessing Phison's controller.
PCIe 5.0 storage will only work on Intel's latest 600-series platforms and AMD's upcoming also-600-series. Intel's 12th Gen platform supports a total of 16 lanes, split between graphics and storage, intimating bandwidth bottlenecks will occur if using a next-gen graphics card and storage in one fell swoop. AMD, on the other hand, has 24 PCIe 5.0 lanes at its disposal, enabling full-speed graphics and two PCIe 5.0 x4 M.2 drives to be used concurrently.
PCIe 5.0 storage is around the corner. Prepare for blistering speeds and, at the outset, high prices.