Jump to: Hardware | Configuration | Conclusion
Multi-port Gigabit Ethernet network switches have become commonplace in the home. Designed ostensibly to share a broadband connection to many wired devices – consoles, TVs and suchlike – bandwidth is ample for the use case. While 2.5GbE has started to creep on to premium motherboards and 10GbE limited further still, small-to-medium businesses (SMB) can oftentimes make do with both more ports and higher throughput speeds for their ever-growing needs.
This is where the likes of Cisco, Dell, HPE/Aruba come in, offering high-speed backbone switches. Looking to set itself apart, NAS and switch provider QNAP released a 16-port 25GbE fibre managed desktop switch at the turn of the year. Majoring on relative value at £1,200 and offering a feature-set that's unusual in a good way, let's investigate the QSW-M5216-1T further.
The Switch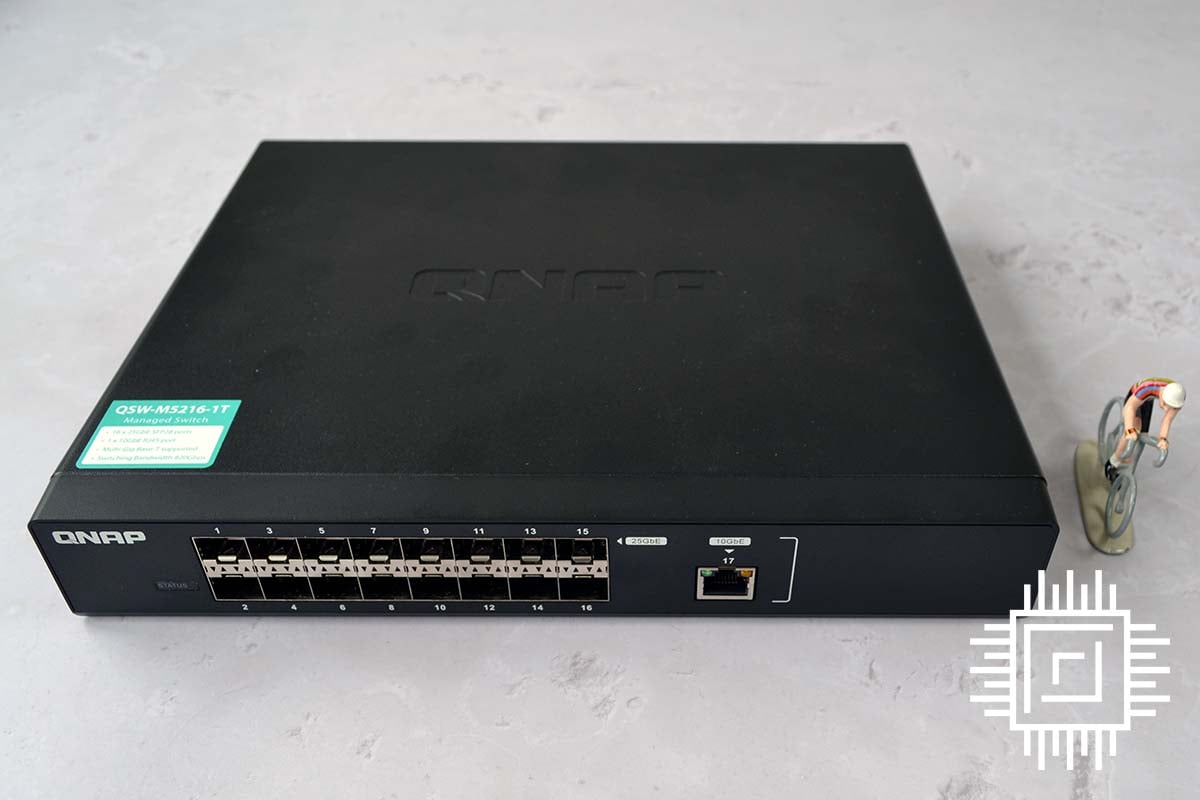 The name is not catchy – we'd have suffixed it with 25 to draw attention to the port speed – but first impressions are positive. Measuring 285mm wide, 237.7mm deep and 43.5mm tall, the well-built all-metal unit tips the scales at 2,173g.
There are 17 front-mounted ports in total, 16 of which are centrally grouped and offer 25GbE throughput via Small Form-Factor Pluggable 28 (SFP28) fibre connectors. QNAP is maximising the throughput of this protocol as the data rate tops out at 25.78Gbps per port. Any faster requirements bring much more expensive QSFP+ and QSFP28 into play.
Each of the 16 ports is naturally backwards compatible with slower speeds, right down to Gigabit SFP, and should you want greater bandwidth still, four ports can be grouped together and connected to a single QSFP28 port normally residing in super-fast Ethernet NICs. QNAP has a 100Gbps PCIe 4.0 x16 card for this very purpose.
On the right, noted as port 17, is an RJ45 10GbE connector, and rounding out the features on the front is an activity/status LED. As is regular in the switch industry, users need to supply their own optical SFP28 or RJ45 cables.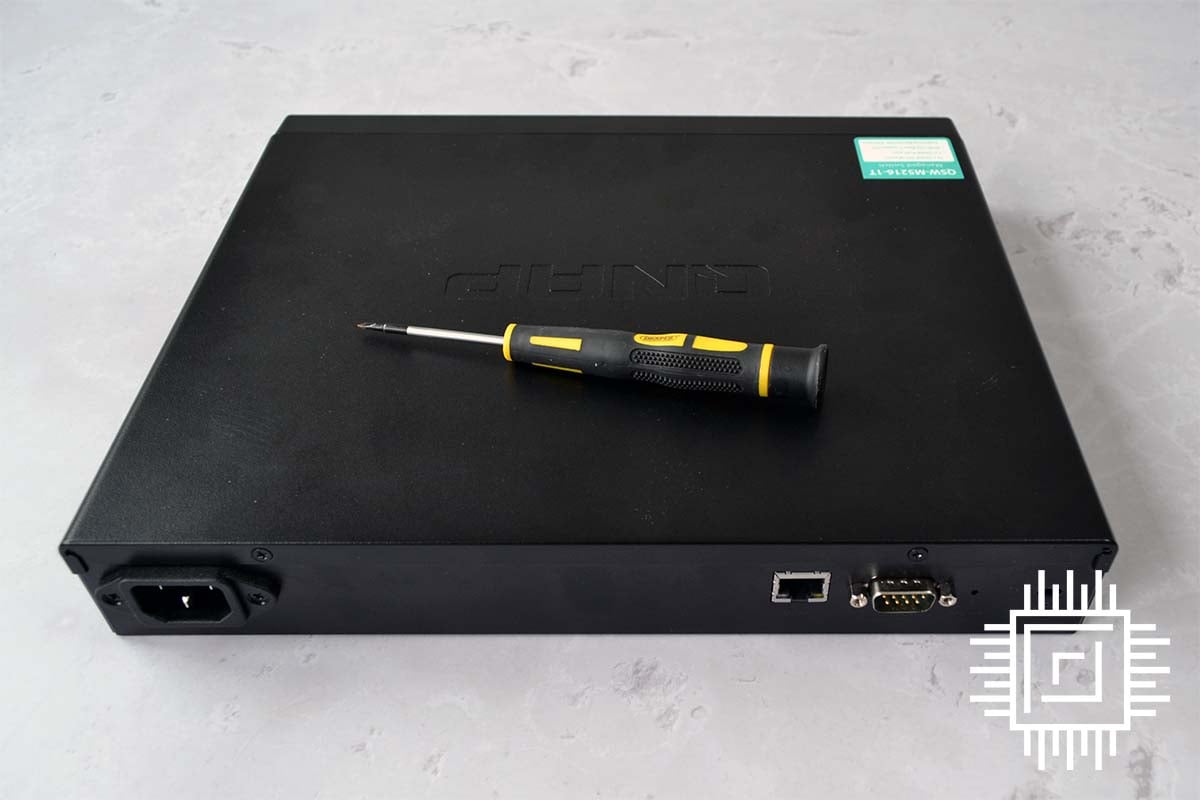 Moving around back, the affair is much simpler, with the inlet for the internal power supply, a Gigabit management port, RS232 console port, and reset pinhole next to the ubiquitous Kensington lock. There is no physical on/off switch, but that's normal for what is considered an always-on device.
Accessing the inside – which is something we recommend you don't do, as it may invalidate the standard two-year warranty – requires the removal of a few screws. Et voila.
Arm-based brains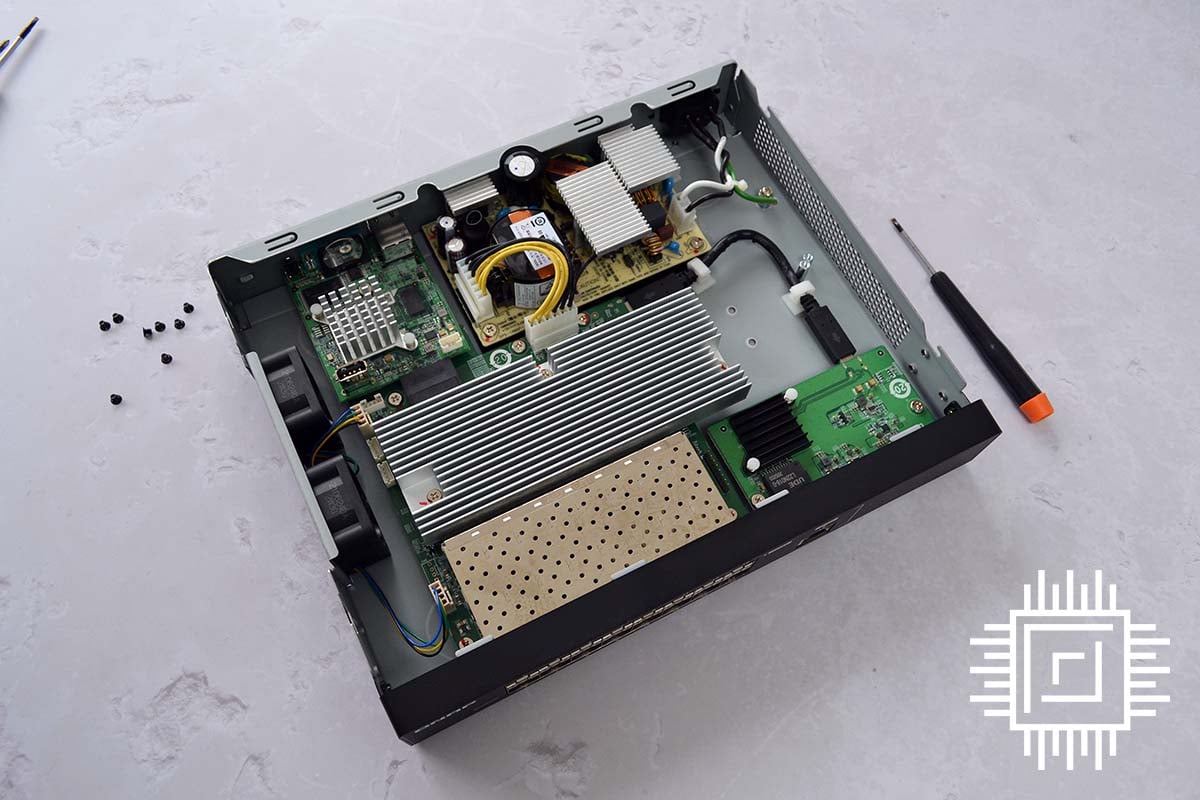 The passive power supply is seen at the top while a large heatsink guards the switch's brains. Getting granular, QNAP uses an Arm-based Marvell Armada 88F6821 dual-core processor chugging along at 2GHz and consuming, according to documentation, only 5W. A modicum of hot air is exhausted out of the left-hand side via two blowers featuring double ball-bearing fans.
QNAP could arguably have made the switch somewhat smaller when looking at the above picture, but there really is no pressing need to do so. In fact, though advertised as a desktop model, the switch's package includes a couple of metal brackets to extend width out to fit typical rackmounts.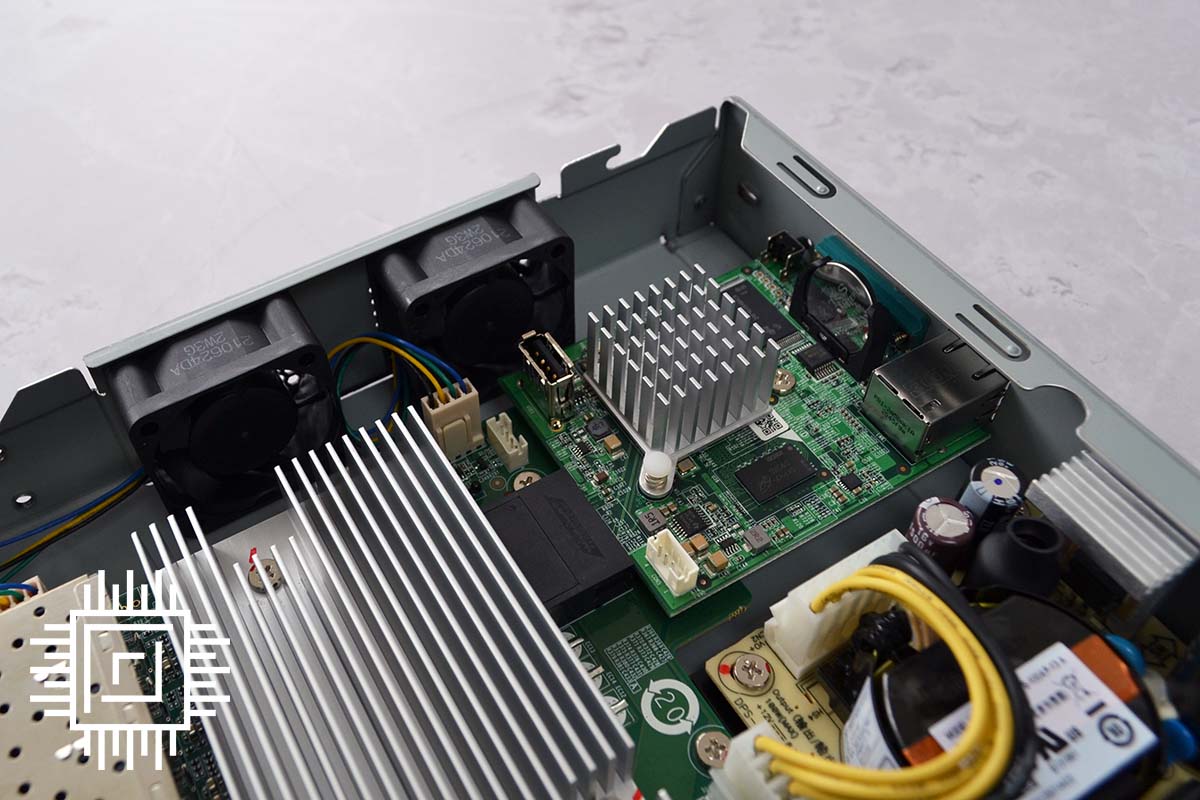 Running flat out, QNAP says, leads to a maximum 80W power consumption. At idle, however, our trusty meter recorded just 24W. After an initial ramp during boot, both fans operate at a default 750RPM and cannot be heard in a quiet room, let alone in a busy SMB space with other machines running. Noise, then, is a non-issue, made possible by the switch deliberately not supporting high-wattage PoE requirements.
The top of the chassis becomes warm to the touch after prolonged use, maxing out at a palatable 35.1°C , but it's at the bottom where the heat is concentrated.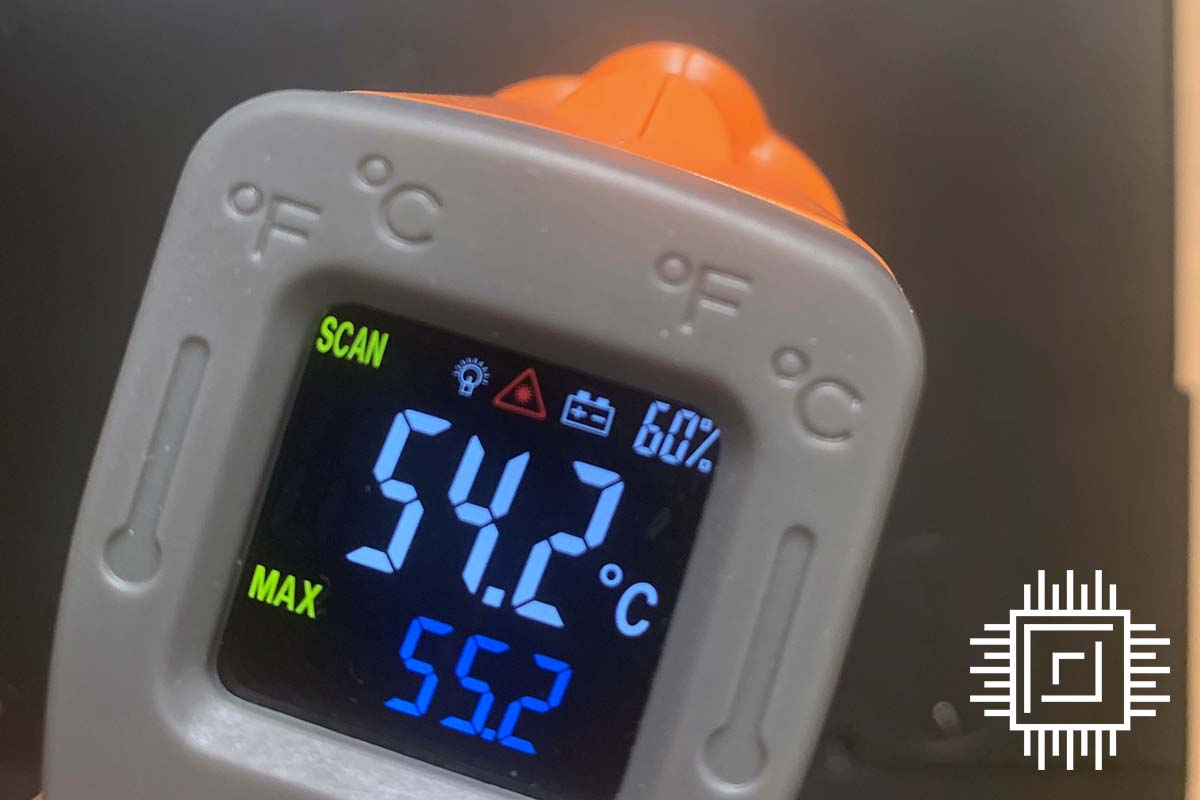 Peaking at 55.2°C when idling, it's sensible to use the four supplied rubber feet in the package and to have general airflow moving across the chassis. We'd go so far as to say QNAP could do with a bottom-exhausting fan to keep thermal hotspots at bay.
Full-bandwidth capability
QSW-M5216-1T is described as a layer-2 switch meaning it is more basic in usage than datacentre-focussed layer-3 switches. The main difference between the two is the former only cares about MAC addresses and doesn't provide IP routing or inter-VLAN support. Cutting through the jargon, a layer-2 switch like this is absolutely fine for relatively small networked environments.
A switch's performance potential can be expressed in either packets or bandwidth. The first is the forwarding rate, and back-of-the-envelope calculations suggest a total 595,238,000 packets per second. Backplane bandwidth, meanwhile, totals up the aggregate port speed, arriving at a cumulative 410Gbps. As the former is larger than the latter, total non-blocking throughput remains 410Gbps, suggesting every port's capability can be maximised.
It's easy to become waylaid with talk of stratospheric numbers. Bringing it back to real-world use where multiple NAS boxes and workstations may hang off the switch, each port is able to deliver somewhere in the region of 2,700MB/s transfer speed. Makes multiple backups easy, right?
Configuration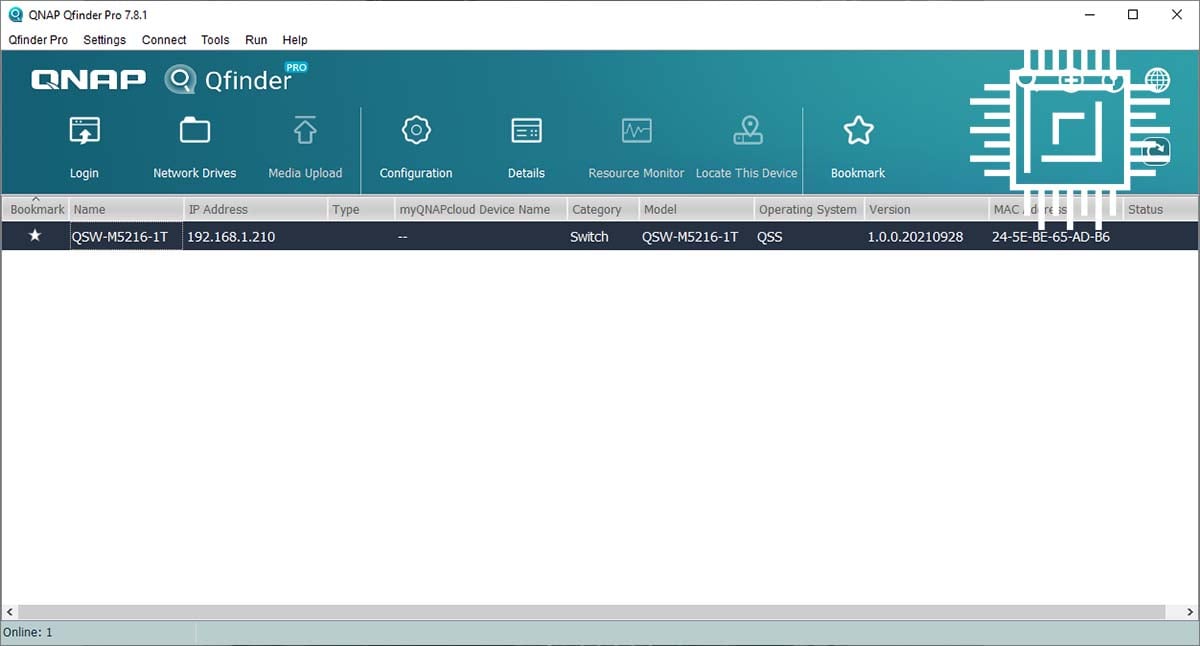 QNAP makes it straightforward to access layer-2 options. Qfinder Pro picks up any switches on the network. Access is granted by entering a default admin login along with the MAC address as password. You are then prompted to set your own, which is eminently sensible.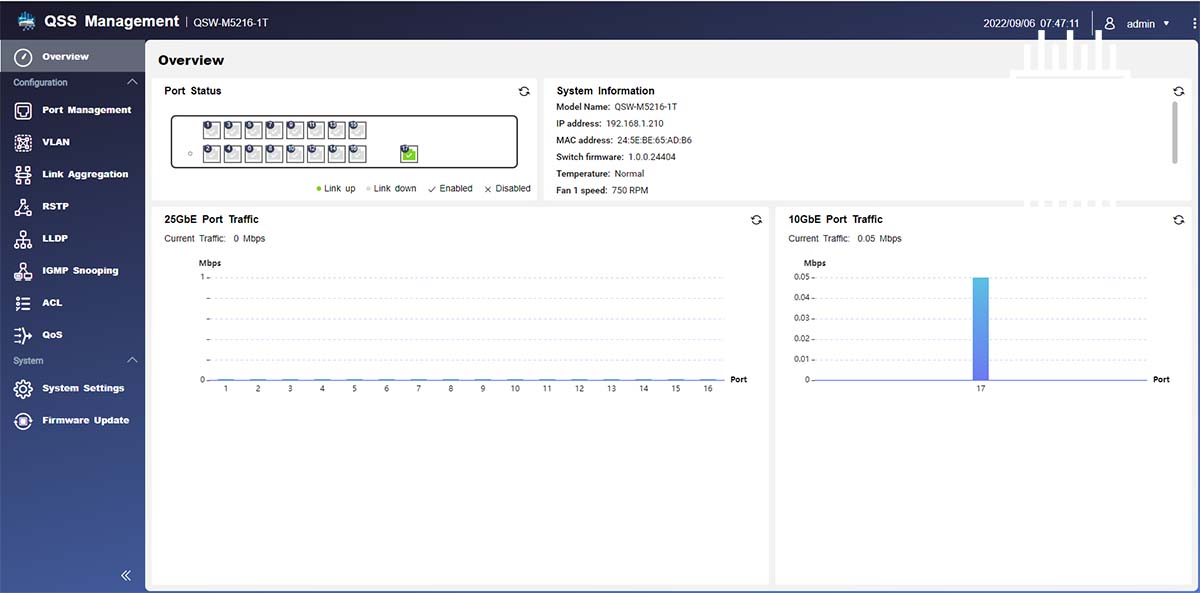 QSS Management is the firm's switch management software presented in an easy-to-comprehend Web GUI. We note there is no newer firmware than the one installed on our sample (1.0.0.24404), dated September 28, 2021, yet being even handed, updates move slowly in the SMB switch world.
Temperature is described as normal with no amount of traffic moving it from this catch-all level. As mentioned earlier, fan speed stays locked at 750RPM and only sporadically rises above this figure. Even then, we never saw it above 1,000RPM.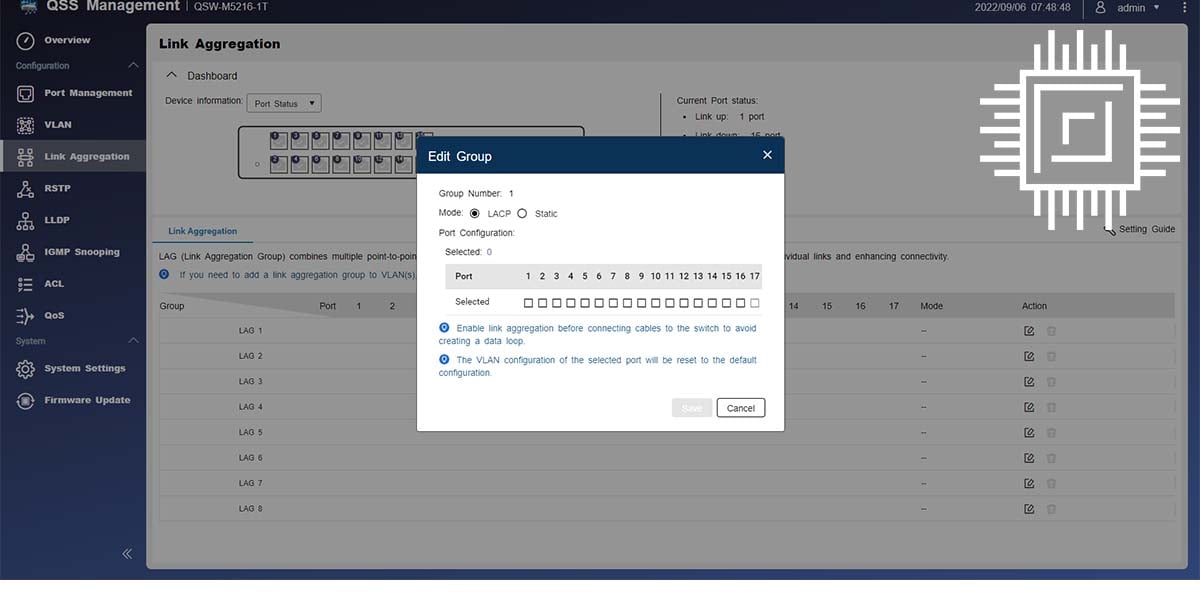 A handy feature for increasing the already fast speed is link aggregation known as LACP. QNAP provides a six-step guide on the right-hand side, useful if any connected device is able to make use of >25Gbps connectivity.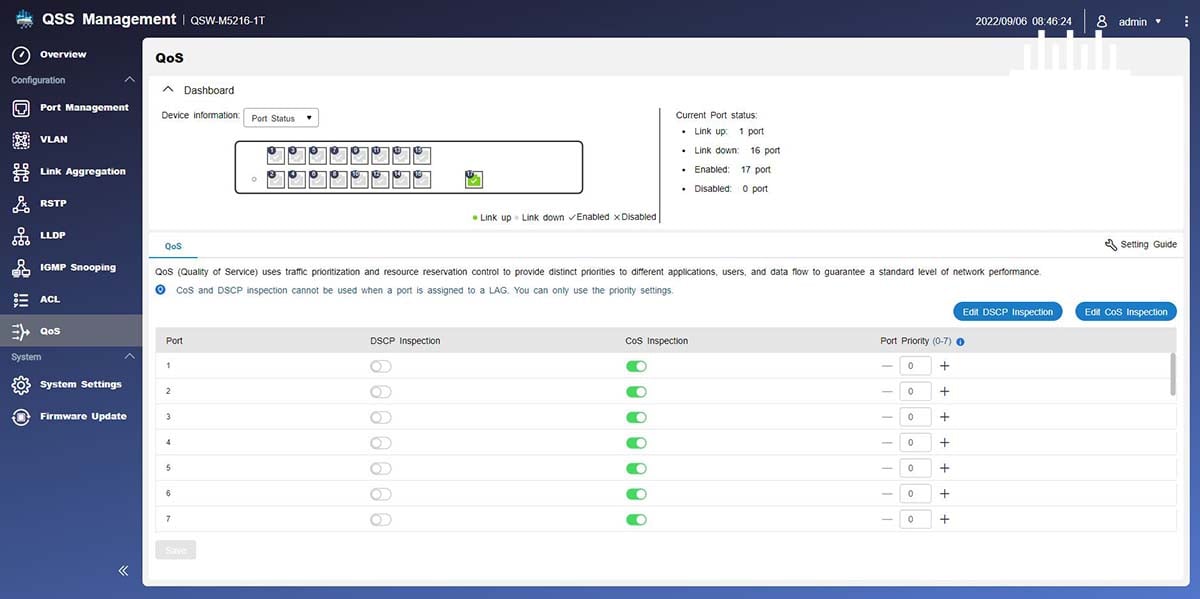 Quality of service is important when juggling up to 17 ports. Each of them can be assigned priority importance in up to eight steps, and the same goes for up to eight link aggregation groups.
Conclusion
QNAP is aiming for middle SMB ground with the QSW-M5216-1T switch. Useful for connecting a bunch of workstations and NAS boxes to a central conduit, this kind of offering makes sense in myriad environments, from video-production facilities with multiple editors concurrently handling 4K/8K media, data-intensive offices with a server in situ, through to even school IT infrastructure. Thinking about Club386's own multiple testing systems, servers, and backup devices, a fast switch is a necessity more than a luxury. Heck, QSW-M5216-1T makes a case for being the switching centrepiece in a cutting-edge digital home.
Many competitors offer 16-port 10GbE SFP+, but having as many full-speed SFP28 running at an unfettered 25GbE is uncommon and welcome. Cranking up the bandwidth to 2.5x the usual level paves the way for high-speed networking… without breaking the bank. Link aggregation further offers a stepping stone to utilising 100GbE.
And that's precisely where the QSW-M5216-1T shines, effectively straddling the middle ground between high-end home and uber-expensive 48-port datacentre-level switching hardware. Priced at around £1,000+VAT, we can't think of any other switches on the market with these exact capabilities. QNAP is effectively mining a niche but growing seam with this model.
Working in an environment where a decent number of fast flash-storage PCs and NAS boxes need to be networked together without a loss in transfer performance? In that case, the question is not why you need something like the QSW-M5216-1T, it's how you can do without for today and, particularly, tomorrow.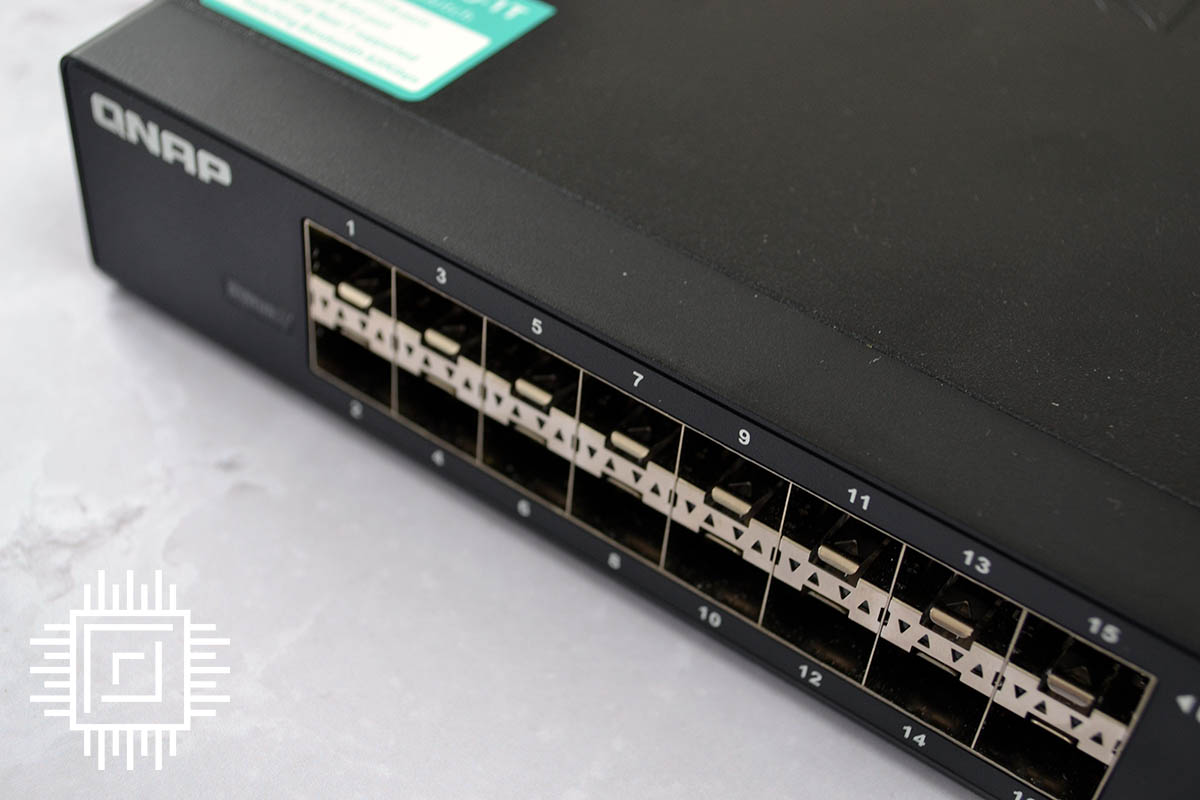 QNAP QSW-M5216-1T
Verdict: A simple-to use, unique switch bringing enterprise-class speed to a more attractive price point.
---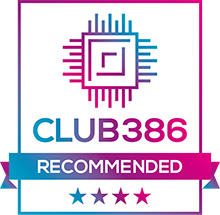 Pros
Good step up from 10GbE
Keeps quiet
Unique port selection
Simpler than server switch
Sensible features
---
Club386 may earn an affiliate commission when you purchase products through links on our site. This helps keep our content free for all.
Rest assured, our buying advice will forever remain impartial and unbiased.