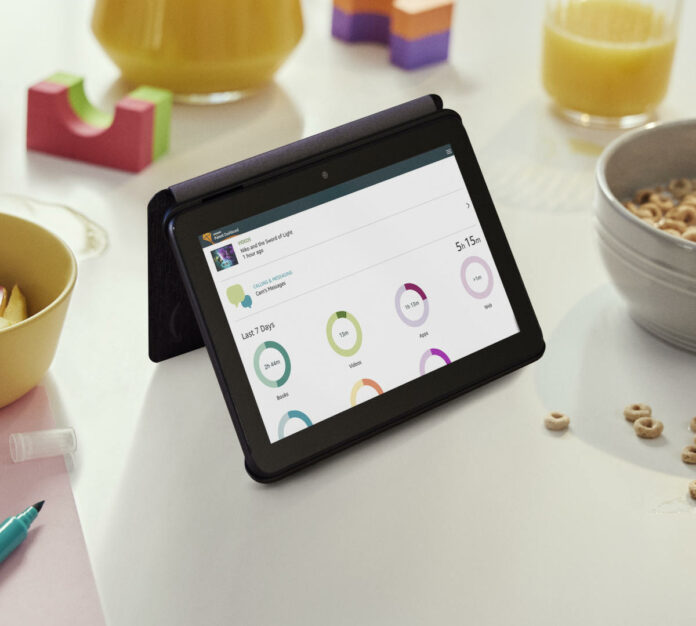 Amazon recently announced two new tablets – the Fire 7 and Fire 7 Kids – for the super budget-oriented shopper. Starting at a low price of £59.99, it adds a few useful upgrades well worth the extra £10 increase over its predecessor.
Speaking of predecessor, the Fire 7 2019, while a cheap and easily accessible device, suffered from poor battery life, sluggish software, and a dull screen deemed almost unusable under direct sunlight.
Fire 7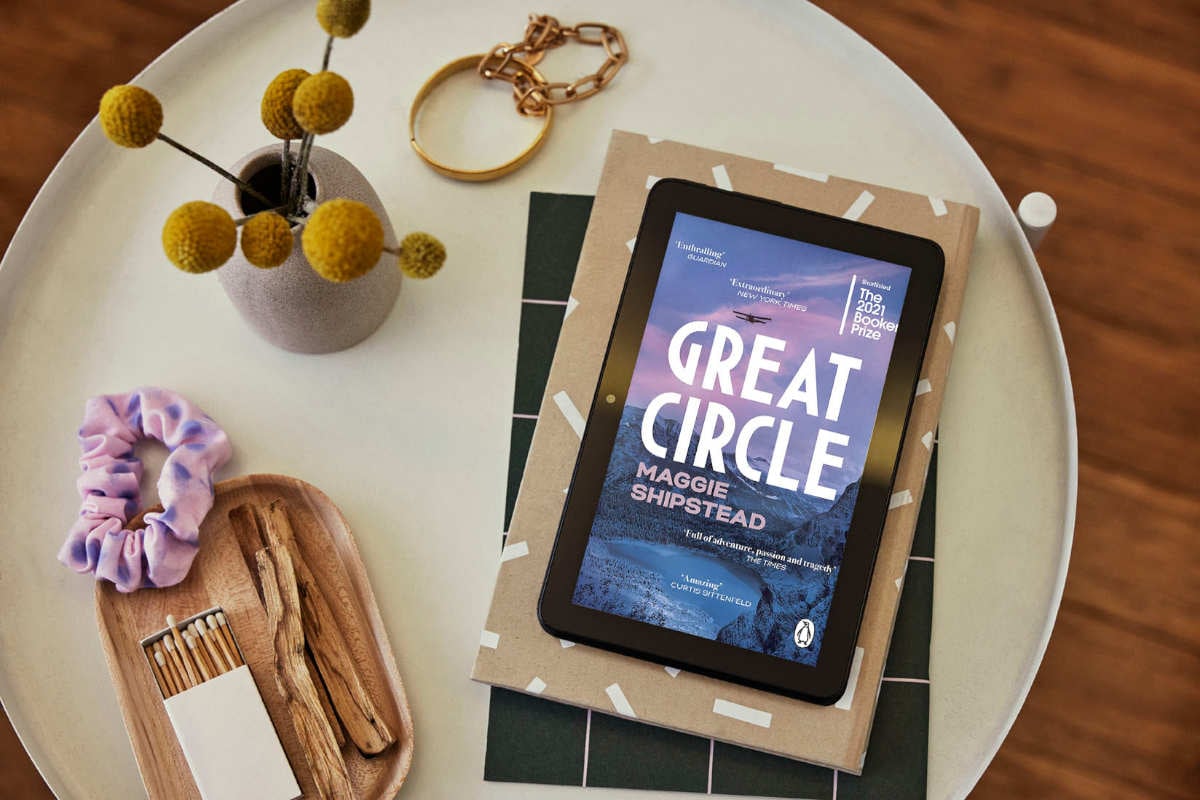 Amazon seeks to improve on prior shortcomings and claims 30 per cent faster processing speeds thanks to a 2.0GHz MediaTek MT8168V/B quad-core processor and double the RAM (2GB), while storage is available in 16GB or 32GB variants with the option for MicroSD expansion.
Amazon touts 40 per cent more battery life over the previous generation, for up to 10 hours of varied media content usage. Actual battery capacity isn't listed, and while we assume an increase in capacity, the 7in IPS display outputs the same 1280×600 resolution and isn't going to require a great deal of juice.
Two-megapixel front and rear cameras are just enough to capture 720p video and the odd selfie, but more importantly, the Fire 7 will for the first time make a switch to USB-C. Using a 5W power adaptor the tablet will obtain a full charge within four hours.
Wrapping up on improvements, the device has also slimmed down in size and weight. Dimensions close in at 180.68 mm x 117.59 mm x 9.67mm and the mini tablet weighs a mere 282g. Amazon quotes it as "twice as durable as iPad Mini (2021) in tumble tests," but let's be honest, that's like comparing apples to oranges. Oh, and unlike the iPad Mini, the Fire 7 includes a 3.5mm jack, if that's any consolation.
---
"Now with up to 10 hours of battery life (40% more) and up to 30% faster quad-core processor compared to Fire 7 (9th generation) for more responsive video playback and game play."
We earn a commission if you make a purchase, at no additional cost to you.
Fire 7 Kids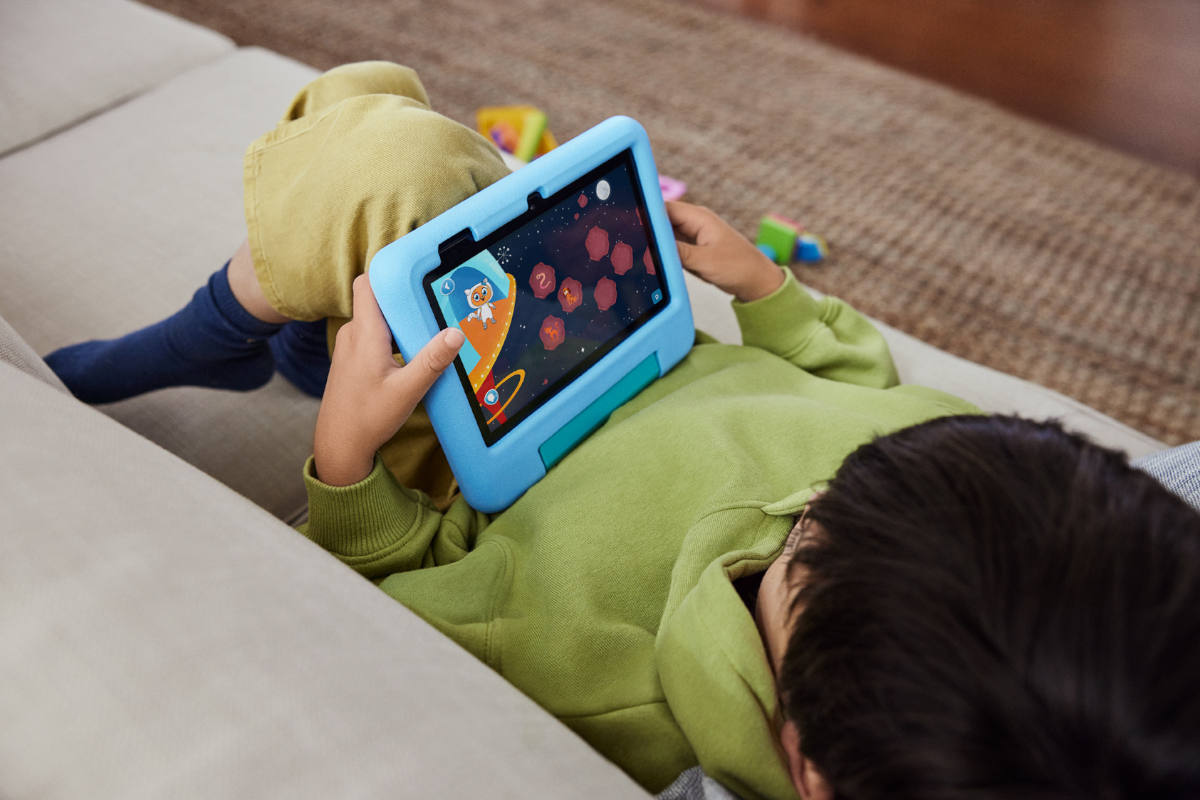 The Fire 7 kids is intended for use by your tiny tots and features a more robust kid-proof case. Additionally, it comes with a one-year Amazon Kids+ subscription, sure to give parents of young learning sponges both fun and educational age-appropriate content. Software features include Amazon Parenthood Dashboard, for easily accessible and manageable parental control, with a two-year guarantee to boot.
Starting at £59.99 for the ad-supported 16GB Fire 7, the device is available in black, denim and rose colourways with coordinating covers for £28.99. The Fire 7 Kids starts at £109.99 for the 16GB variant. Both tablets can be pre-ordered today on Amazon and will be available for shipping come June 29.
While there are clearly more capable tablets on the market, Amazon's Fire Series' success rests on keen pricing. The latest addition is a cheap entry point to the Amazon ecosystem that doubles as an acceptable media device for content such as video streaming, Kindle e-reader, and light casual gaming.
---
"Fire 7 Kids tablets offer a full-feature tablet experience, including up to 30% faster quad-core processor compared to previous generation, and up to 10 hours enjoying their favourite games, apps, videos, and more."
We earn a commission if you make a purchase, at no additional cost to you.