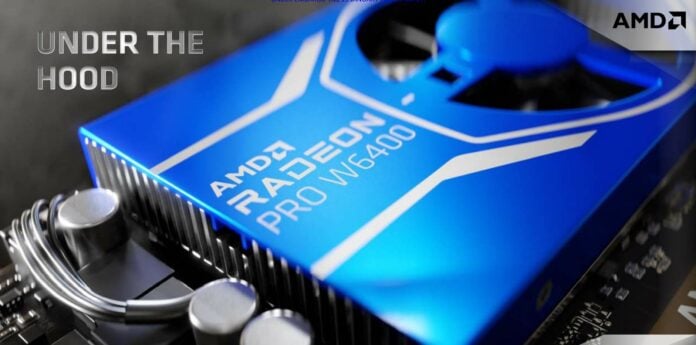 Segmentation is key in promoting products across different sectors. AMD does this with CPUs spanning server, desktop and mobile by harnessing the latest Zen architecture in different forms. Epyc, Ryzen Threadripper, Ryzen and Ryzen Mobile are all cut from the same basic Zen cloth, but sector-specific feature-sets serve to target applications.
The same is true of GPUs. The Radeon brand is most recognisable as the consumer arm of AMD's graphics portfolio, and readers will have heard of Radeon RX 6800 XT, Radeon RX 6600 and even today's launch chip, Radeon RX 6500 XT.
Promoted for workstation users requiring bulletproof GPU-based computation, Radeon Pro W-series solutions piggyback off the same consumer Vega/RDNA 2 architecture, but like their server counterparts, offer application-optimised support, oftentimes ECC memory for reliability, typically larger VRAM footprints, eclectic display outputs, and enhanced warranties.
AMD introduced the Radeon Pro W6800 and W6600 shortly after the client desktop models, and they are different enough to be deserving of the workstation name.
Today, the company rolls out three further workstation GPUs based on the latest RDNA 2 architecture. Enter the desktop Radeon Pro W6400, mobile Radeon Pro W6500M and Pro W6300M. Let's take them in turn.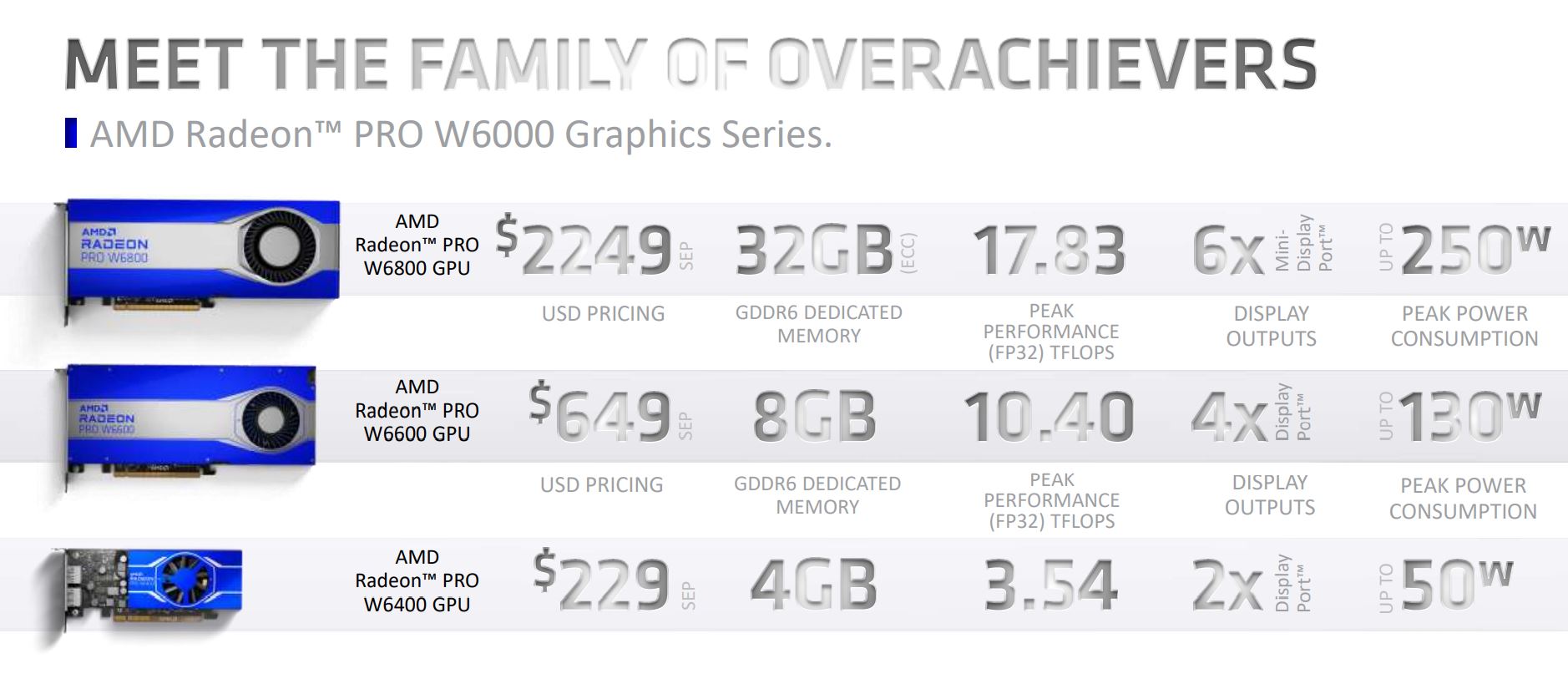 Radeon Pro W6400 Analysis
The third-rung desktop RDNA 2-based card is a much-needed offering because it brings the entry point to a wider audience. The model nomenclature gives the provenance away as AMD uses the same Navi 24 die – 5.7bn transistors and 107mm² size – as on the consumer RX 6500 XT and RX 6400 GPUs.
In keeping with the regular RX 6400, this card features 12 Compute Units totalling 768 shader-cores, 12 Ray Accelerators for ray tracing, and 3.54 TFLOPS of single-precision compute performance, rising to 7.08 TFLOPS at half-precision FP16.
Doing the math suggests a core speed of around 2,300MHz. The 4GB of video memory, meanwhile, runs at 16Gbps and offers 128GB/s bandwidth across the 64-bit bus. Appreciating its entry-level nature, it does not support ECC.
AMD pulls over 16MB of Infinity Cache – just like the regular Radeon version, used as a buffer between the cores and card memory – while two full-sized DisplayPort 1.4 provide output duties.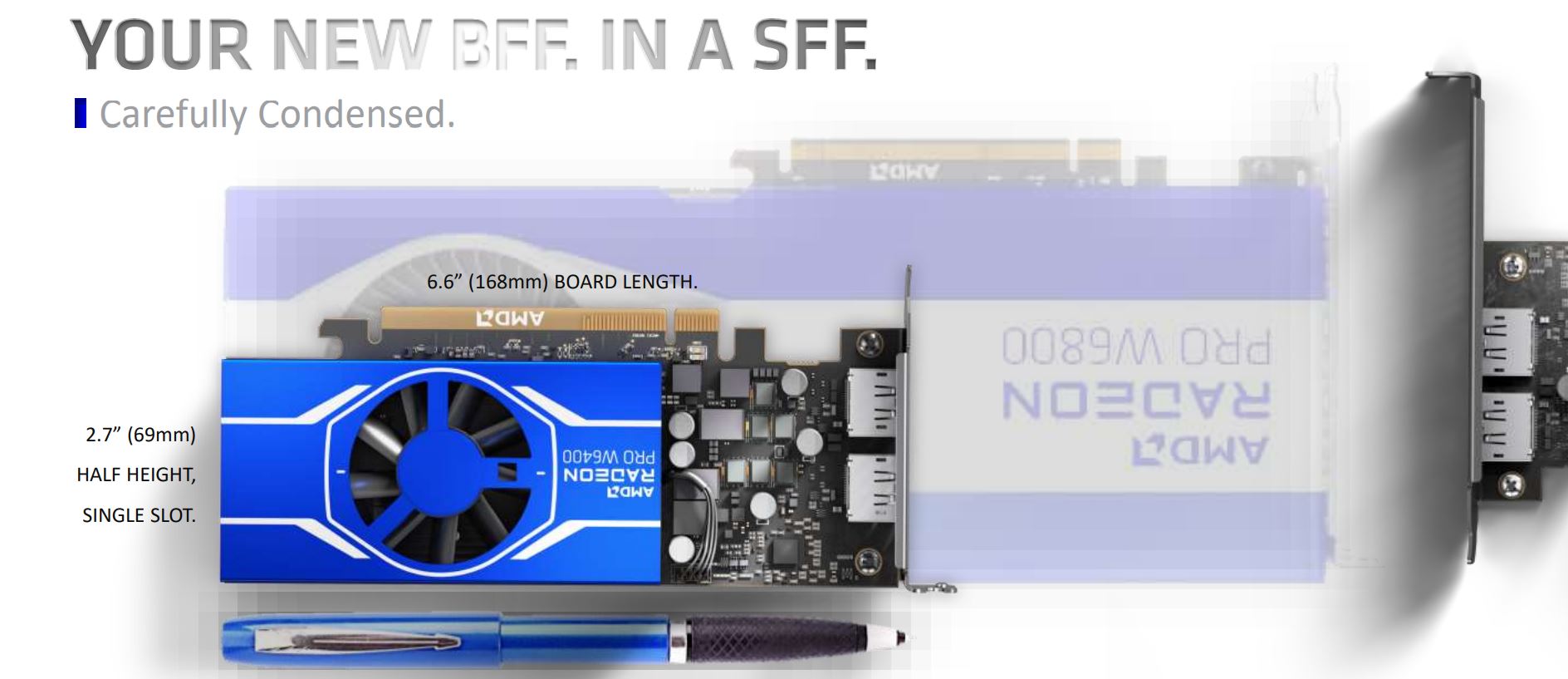 Consuming no more than 50W there is no need for an external connector as power is provided by the PCIe slot. The half-height, single-slot board is primed for smaller chassis and features what looks like rudimentary cooling.
Being RDNA 2, transfers take place over PCIe 4.0, though do note this card is limited to a x4 interface. No real issue on modern AMD motherboards but as we have seen on the consumer Radeon RX 6500 XT, can be a cause for concern if using an older board with only PCIe 3.0 support.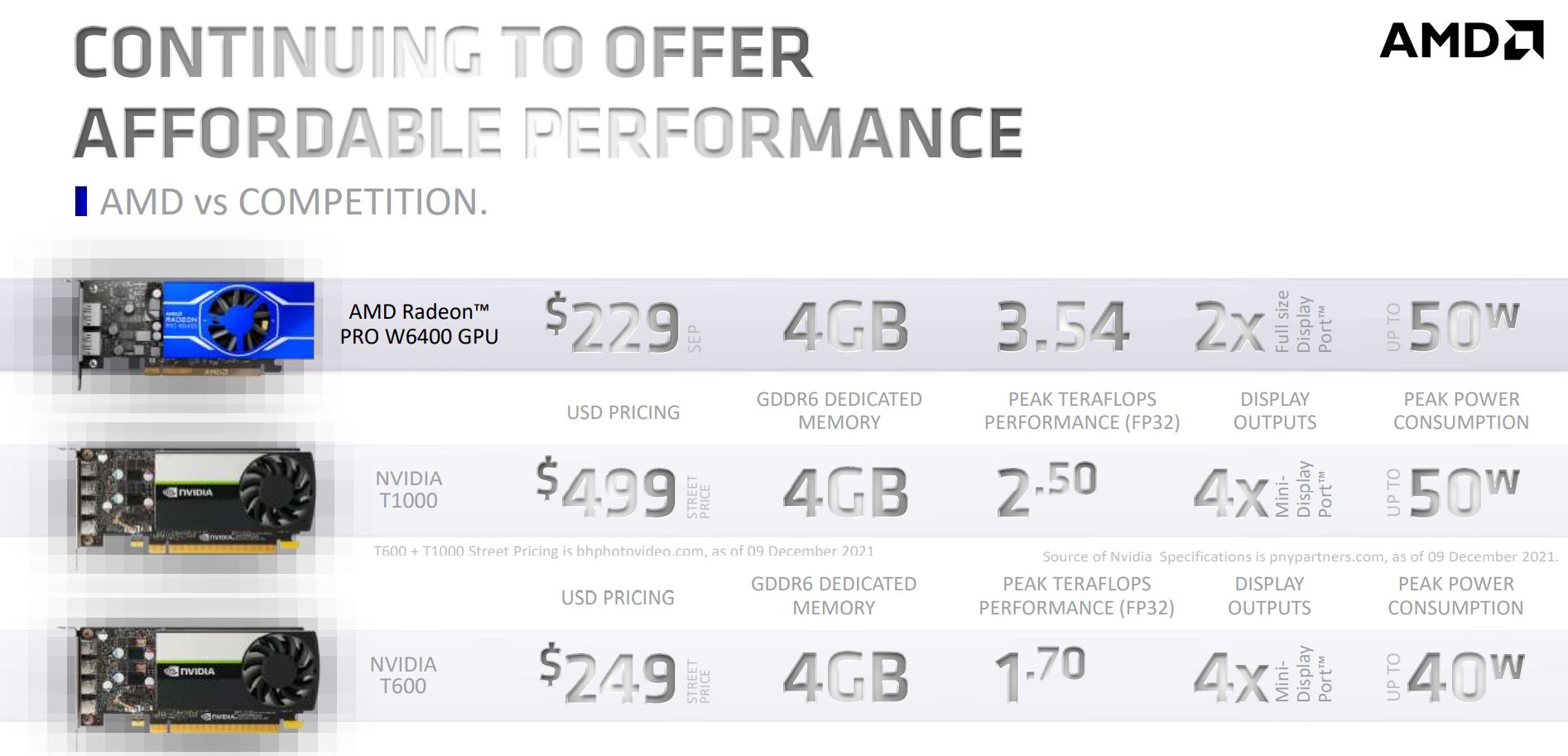 Another reason why Pro W6400 is needed has to do with the competition. Nvidia has the Turing architecture-based T600 as a direct rival. Looking inferior on the sheer compute throughput – it has half the nominal horsepower of the Pro W6400 – it pulls even fewer watts and is endowed with four outputs.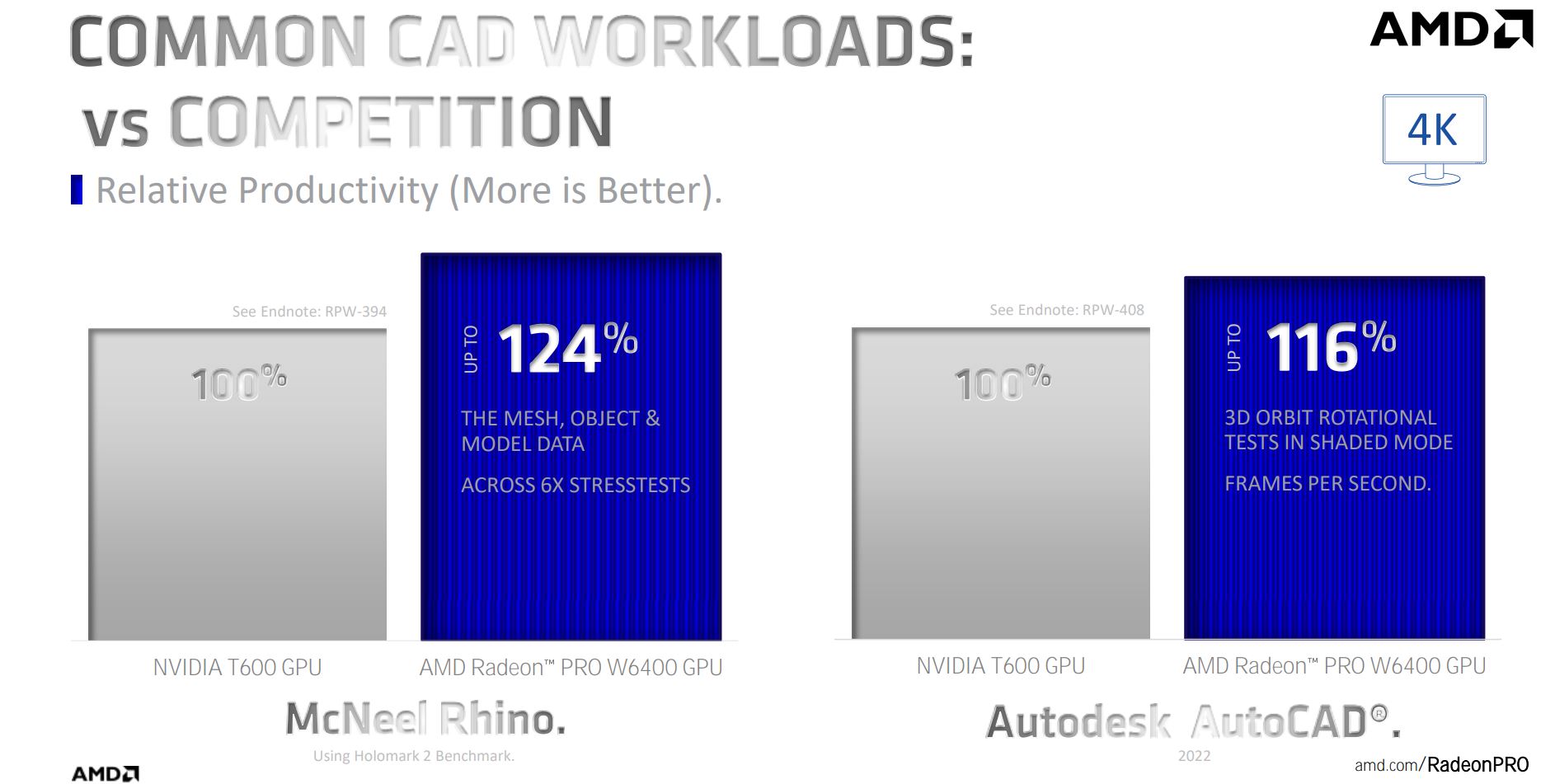 Of course, AMD's own supporting literature paints the all-new W6400 Pro in the best possible light. It is particularly adept at professional productivity operations, according to the blurb, but such is the nature of optimised ISV programs and the effects drivers can have on overall performance, the true potential of W6400 Pro should be evaluated on a case-by-case basis.
Nevertheless, from the Club386 viewpoint it is good to see another desktop RDNA 2 card in the workstation family.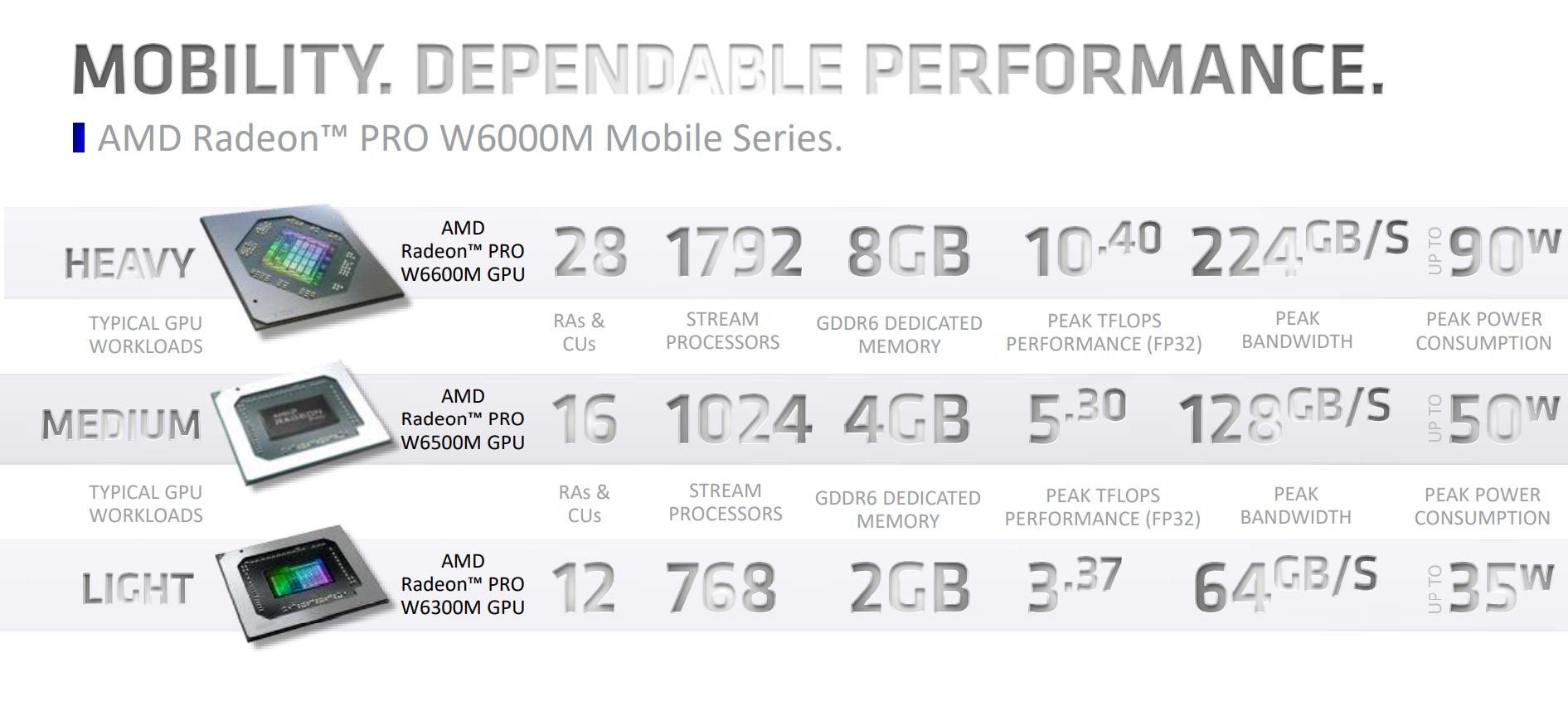 Radeon Pro W6500M and W6300M Analysis
There is a more powerful debutant for the Pro W-series range. The Radeon Pro W6500M takes in the full specification of Navi 24 and is broadly analogous to consumer RX 6500M from a specification perspective.
Like its brethren, 1,024 shaders are accommodated in a design using up to 50W. The core frequency is higher, mind, and we calculate the engine to run at 2,588MHz. 4GB of 16Gbps (non-ECC) memory spins up at 16Gbps and there's the 16MB Infinity Cache, as well. Expect it to be paired with Ryzen Pro CPUs in business-class laptops with a workstation bias.
The baby of the bunch is Radeon Pro W6300M. Though it takes in 768 shaders present on the desktop W6400 Pro, running at around 2,200MHz in this instance, AMD artificially cripples the design by cutting the framebuffer to just 2GB of video memory operating at 8Gbps. Infinity Cache is lopped down to a scant 8MB, too.
With a typical board power of 25W, expect it to be found in thin-and-light workstation laptops. In concert with the W6500M, it can output to five displays, which may be handy if using as a hot-desking solution.
Overall, AMD bolsters the workstation-optimised range of graphics cards by introducing three further models – one desktop, two mobile – running RDNA 2 smarts. A wise move in proliferating one graphics architecture across multiple segments.