PC chassis and accessory manufacturer Azza has unveiled two new all-in-one liquid coolers featuring aRGB fans and a diamond-cut CPU block whose topped with an eye-catching infinity mirror.
Dubbed Blizzard SP 240 and Blizzard SP 360, both share similar specs and only differ in size. The smaller radiator measures 274mm x 120mm x 52mm with two Hurricane SP Digital 120mm fans, while the bigger 360 pushes dimensions up a notch at 394mm x 120mm x 52mm, with three of the same 120mm fans.
The fans have two connections, a four-pin PWM header for power plus a three-pin for RGB addressing. With up to three fans, cable management requires a little more though than, say, a regular air cooler.
Fan speeds range from 700 to 2,200RPM with noise levels topping out at up to 36dBA, according to Azza. The pump, meanwhile, features a standard three-pin header and is intended to operate at a fixed 3,200RPM.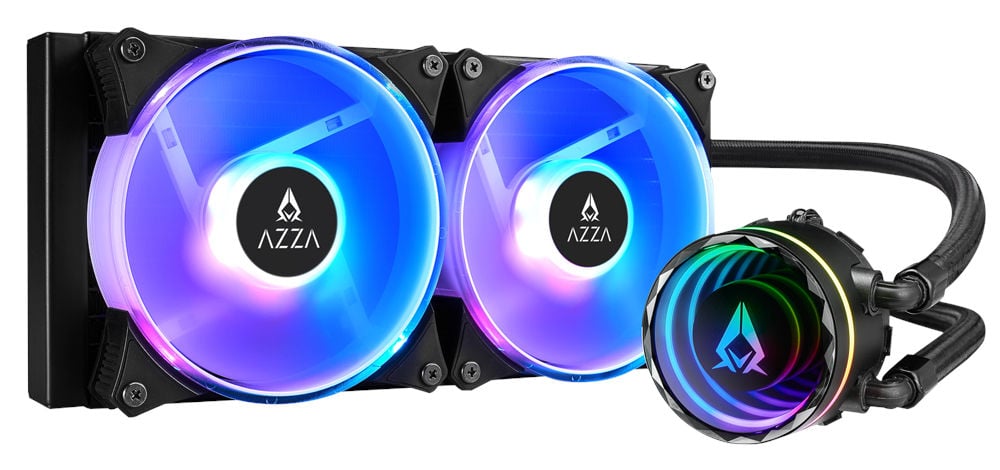 Though water cooling tends to evoke feelings of risk, there's no need to worry about pump lifespan. In this respect, Azza is rating these for 50,000 hours, which equates to nearly six years of continuous use. Pump noise levels are said to remain at a relatively quiet 25dBA at 156 L/Hr flow rate.
In terms of compatibility pretty much every recent socket is supported:
Intel Sockets:
LGA 2066 / LGA 2011-V3 / LGA 2011 / LGA 1366 / LGA 1200 / LGA 115X / LGA 1700 / LGA 1800
AMD Sockets:
AM4 / AM3+ / AM3 / AM2+ / AM2 / FM2+ / FM2 / FM1 / TR 4 / TRX 4
The Azza Blizzard SP 240 and SP 360 AIO are available at €99 and €129, respectively.