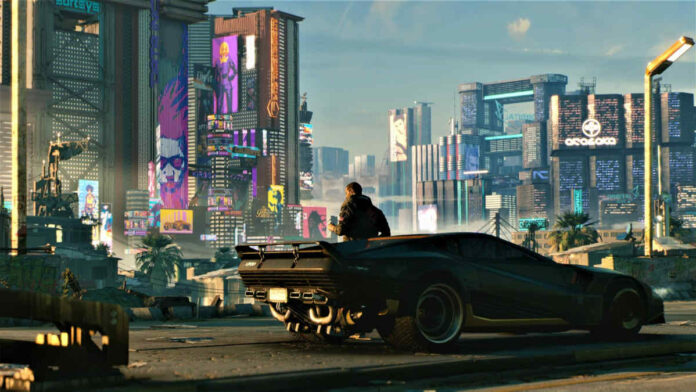 The Edgerunner's update is now live on all platforms. For those not clued up, the recent Cyberpunk 2077 Night City Wire episode brought a slew of announcements including additional content and a major expansion announcement to everyone's favourite Blade Runner simulator. Let's dig in.
Kicking off, patch 1.6 includes various quality-of-life improvements to gameplay, free DLC in the way of three new gigs, new content inspired by the upcoming Netflix anime Cyberpunk: Edgerunners, and a MMO-inspired Transmog wardrobe feature that allows users to change their clothing without changing armour stats.
That's not all, though, as cross-progression between various platforms is now possible via the cloud, a cutesy arcade game featuring a familiar steed. Roach – The Witcher Geralt of Rivia's best, perhaps only, friend – has his own brand of mini-game titled Roach Race.
Accessible via various arcade machines in and around Night City, the mini-game itself is neither bad or good, and instantly reminds me of endless runner and Error 404 dinosaur game built into Google Chrome, though the interactive feature definitely adds much-needed depth in the otherwise beautiful game-world.
Also, I forgot to mention Nibbles the cat is now available in Photo Mode, and I can't help but think this feature was added due to the popularity of indie title, Stray. It is important to note that your feline friend is only available for a photoshoot after you invite Nibbles to V's apartment.
Moving on, Xbox Series S owners also get a performance mode akin to its more powerful Series X sibling, aiming for a smooth 60FPS at 900p with dynamic resolution scaling during graphically-intense sequences between the 800p-to-1080p range.
Additional console fixes include remedying issues where switching between first- and third-person perspective in vehicles introduced a noticeable delay and decrease in performance, and reduced input lag in ray tracing mode on current-gen consoles.
Finally, Night City residents also got an official teaser trailer to an upcoming expansion DLC titled Phantom Liberty, which is a spy/action thriller-inspired romp that has main protagonist V sworn into service of the NUSA. James Bond be damned!
Interesting to note, despite the plethora of new changes, there's still no official AMD FSR 2.0 patch, a sorely missing feature. I can't get behind the 'fuzziness' of FSR 1.0, even though it adds a dollop of performance boost to the graphically-intense game.
If you're into anime, Cyberpunk: Edgerunners officially premieres on Netflix September 13, while Cyberpunk's first expansion will see a release in early 2023. For a detailed list of all the new content and features for Cyberpunk can be viewed here.