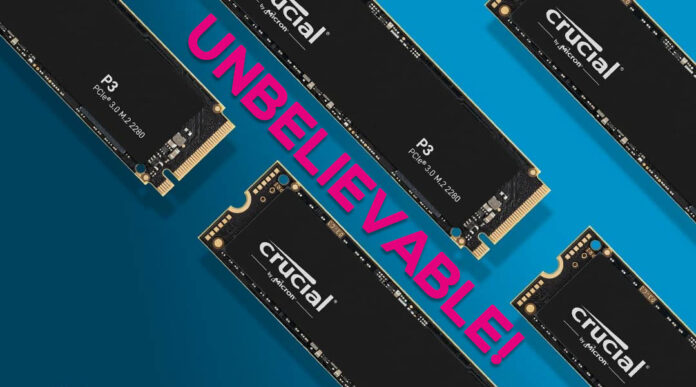 SSD prices have hit historic lows, and whether you've been slow to transition from mechanical storage, or you simply want to bolster capacity, now's an opportune time to bag a new drive.
Club386 has been keeping a close eye on deals these past few months, and the bargains keep on coming. Right now, the pick of the bunch in our estimation is the Crucial P3. A Plus variant of said drive initially struggled to win us over due to inflated launch pricing, but it would appear the folk at Crucial took our feedback to heart as prices on the regular model have been slashed handsomely.
The 2TB Crucial P3 M.2 SSD now retails at Amazon for an unbelievable £92.99. That's the cheapest we've seen by some distance, and represents over a 40 per cent saving. We're nearly at half price, and a fee of $107.99 over in the US is ultra-competitive, too.
Don't need quite so much storage? You're in luck as the 1TB Crucial P3 is practically being given away at an all-time-low of £43.99 / $47.99.
Crucial P3 2TB M.2 SSD
---
"With NVMe performance that's nearly 6x faster than SATA and storage capacities up to 4TB, the P3 leaves older storage technology in the dust."
We earn a commission if you make a purchase, at no additional cost to you.
As a recap, the Crucial P3 Series offers sequential read and write speeds of up to 3,500MB/s and 3,000MB/s, respectively. Not the quickest by today's standards, but a significant upgrade over older SATA devices. The M.2 drive employs a PCIe 3.0 NVMe interface and is backed by a five-year warranty from a reputable brand.
SSDs have long served as one of the most impactful upgrades available to any PC. At these prices, solid-state storage with no moving parts and rapid speeds becomes accessible to all.