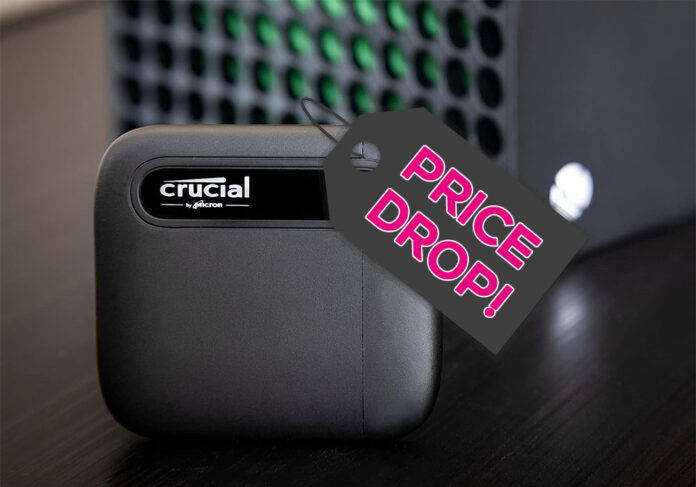 1TB Crucial X6
---
"Whether you're downloading videos for travel, organizing family photos, collaborating with classmates, or heading on a great adventure, the Crucial X6 is affordable, and ready to go wherever you do."
We earn a commission if you make a purchase, at no additional cost to you.
No tech enthusiast should be without a decent portable SSD. If you're anything like me, it's an item that always features high on the packing list prior to any journey, up there alongside passport, smartphone and laptop.
The good news is that while SSD prices are expected to creep up in the coming months, there are still good bargains to be had on external storage. Right now, the 1TB Crucial X6 is down to the lowest price we've ever seen, retailing for just £46.61 at Amazon.
Said drive touts speeds of up to 800MB/s via a USB-C connection and remains a firm favourite due its tiny 69mm x 64mm x 11mm footprint. It weighs under 40g, so you may want to pop it in your pocket, as this itty-bitty thing will get lost inside a rucksack.
Crucial's drive fetches $54.99 in the US, and higher capacities are equally tempting if you need the space. A 2TB X6 Portable SSD is available for £86.99 / $89.99, and there's a 4TB model fetching £177.24 / $177.99 at the time of writing.
It's worth noting that Crucial does have a newer, faster X9 Portable SSD that can reach speeds of up to 1,050MB/s, but you do pay a premium with this drive starting at £65.99 / $69.99. That's still a good price, mind, and the X9 has the added benefit of IP55 water and dust resistance.
4TB Crucial X9
---
"With space to store thousands of photos, files, and videos and the speed to edit and retouch your portfolio quickly, the Crucial X9 Pro provides support for even taxing workloads along with durability and style in the studio, in the field, or wherever you roam."
We earn a commission if you make a purchase, at no additional cost to you.
Either way, if you're still juggling important content across multiple USB sticks, now's a great time to take advantage of the convenience of a single, spacious external SSD.
Club386 is always on the lookout for unmissable PC component bargains. Follow on Twitter or Facebook to keep up to date with the latest deals, and subscribe to our free weekly newsletter to be kept abreast of all the latest developments in the world of tech.