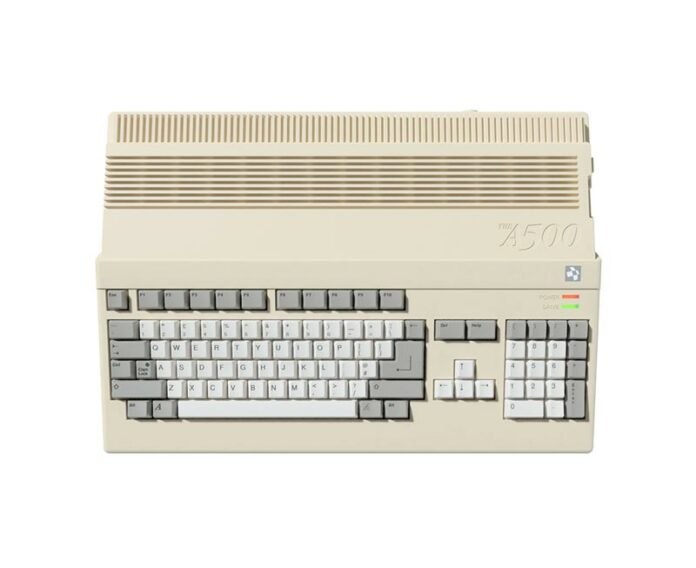 Retro Games Ltd (RGL) has provided an update on the (Amiga) A500 Mini console launch progress. The console is actually called "TheA500 Mini," for various legal/copyright reasons, but we won't be shackled by such linguistic chains here. A news bulletin shared by RGL on its Facebook page contains key information about production, release date, and a full and finalised list of built-in games.
Starting with the hardware news, the mini Amiga "has now entered full production and is scheduled for release on March 25th 2022," says RGL. The plans are that the consoles will be ready from that date, actually in shops, on shelves. The MSRP of the mini Amiga is currently set at GBP£119.99 / EUR€129.99 / USD$139.99 / AUD$199.99, which is a bit higher than we have seen from previous licensed releases.
In the box, for that money you will get the console, with its dummy keyboard construction (see the size of the machine compared to the mouse/joypad), as well as a 1.8m (6ft) wired USB classic mouse, a 1.8m wired precision 8-button gamepad, a USB-A to USB-C power cable (PSU not included) and HDMI cable (both 1.8m in length). The mouse looks like the dreadful one that came as standard with Amigas, and the joypad is styled after the one provided with the CD32. You can plug in a PC USB keyboard if you wish. Please note that even though this is called an "A500" it is claimed to be capable of "perfect emulation" of AGA chipset Amigas like the A1200.
Standard firmware features offered by this console include; selectable 50Hz or 60Hz screen refresh, CRT filter and multiple scaling options, save states, virtual keyboard support, the ability to upgrade firmware via USB, and the ability to edit the games pre-installed, or add new games via USB storage (WHDLoad format).
RGL has been dripping out games list info for a few months, and it has now reached the end of the pre-installed list, with the latest additions being Stunt Car Racer, Arcade Pool, Project-X Special Edition 93, F-16 Combat Pilot, and Super Cars II. For the full list check below.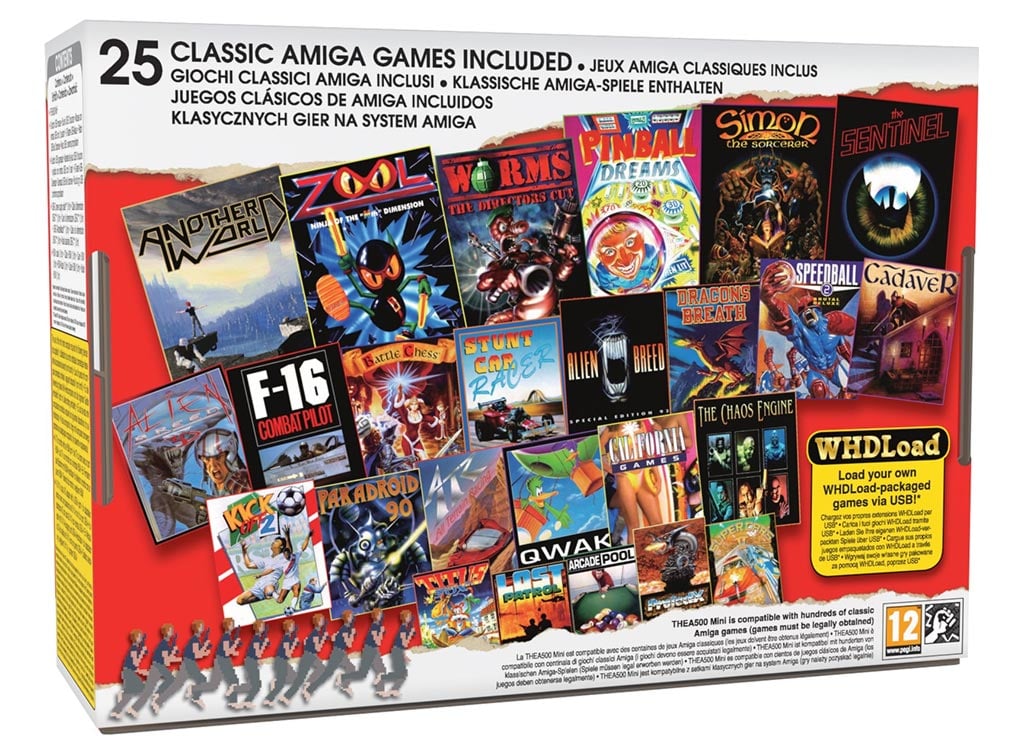 If you are interested in the mini Amiga console, then it might be wise to check third-party reviews when they become available, for unbiased views on the emulation speed and quality across a broad range of titles.
Last but not least, RGL has announced a Christmas firmware update for the C64 mini console it launched in H2 2018.