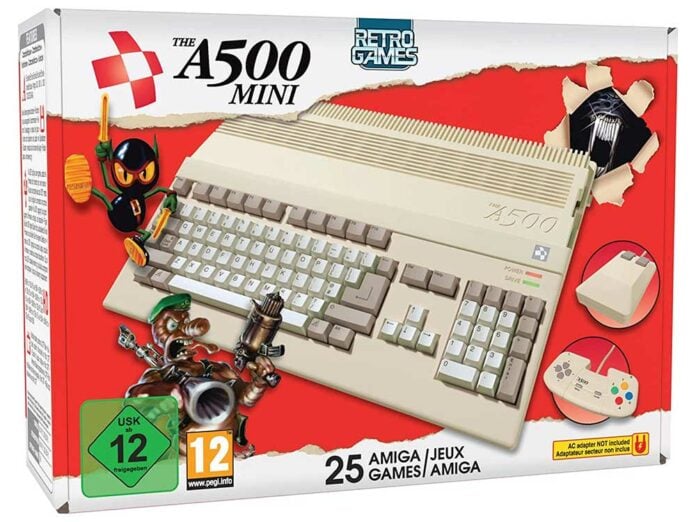 Tempted by the awesome-looking Amiga A500 Mini? There's now added incentive as the retro home computer is down to £115 at various retailers including Amazon.
The lowest pre-order price represents a minor £5 discount, yet in these times of soaring inflation and steep living costs, every little bit helps.
Retro Games' reimagining of the '80s classic can not only recreate Amiga 500 games, but also boasts perfect emulation of A600 and A1200 models. There's full support for save and resume, as well as both virtual keyboard and USB keyboard compatibility.
Users have the option to add games via USB, but it's what's in the box that will appeal to fans of the retro machine. In addition to the miniaturised home computer, the bundle includes a retro joypad styled on the classic CD32, a proper old-school mouse, and last but not least, 25 built-in games.
Ready for a trip down memory lane? Here's the game list in its entireity:
Alien Breed 3D, Alien Breed: Special Edition'92, Another World, Arcade Pool, ATR: All Terrain Racing, Battle Chess, Cadaver, California Games, The Chaos Engine, Dragons Breath, F-16 Combat Pilot, Kick Off 2, The Lost Patrol, Paradroid 90, Pinball Dreams, Project-X: Special Edition 93, Qwak, The Sentinel, Simon the Sorcerer, Speedball 2: Brutal Deluxe, Stunt Car Racer, Super Cars II, Titus The Fox: To Marrakech And Back, Worms: The Director's Cut, Zool: Ninja Of The "Nth" Dimension.
Everyone will have their favourites, and though I'd personaly liked to have seen Lotus Turbo Challenge and Shadow of the Beast, we can't wait to have another crack at California Games and Pinball Dreams.
A500 Mini stock is expected just over a fortnight from today, on April 8.
---
"Welcome back to the 1980s and the pinnacle of 16-bit personal computing. Introducing The A500 Mini, a compact reimagining of this classic home computer."
We earn a commission if you make a purchase, at no additional cost to you.