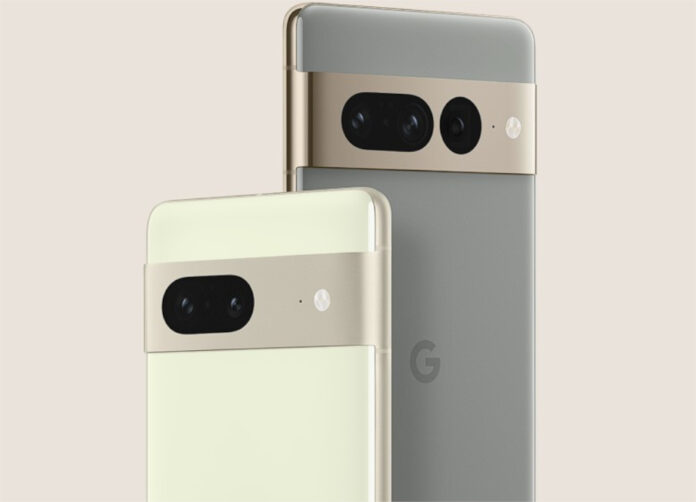 As we grow closer to the 'Made by Google' event on Thursday October 6, new details of upcoming Pixel 7 series smartphones and first-ever Pixel watch have leaked. Here's everything we know so far.
We last got an official preview of the upcoming devices at Google's I/O event in May, which was just enough to keep tails wagging in anticipation. The weekend brought a full specification list of the Pixel 7 series found by an unknown eagle-eyed tech enthusiast on a Taiwanese carrier's website, which then found its way onto a Google News Telegram Channel. In addition, promotional videos for the Pixel 7 series and Pixel Watch were leaked by Twitter user SnoopyTech.
Pixel 7 and Pixel 7 Pro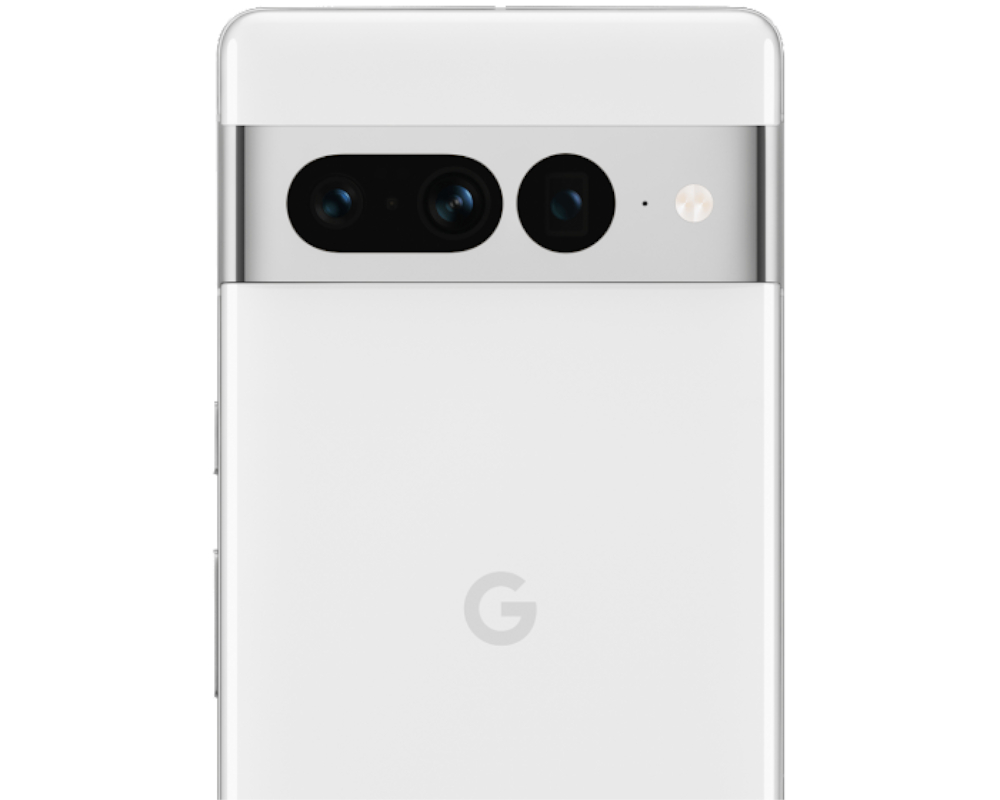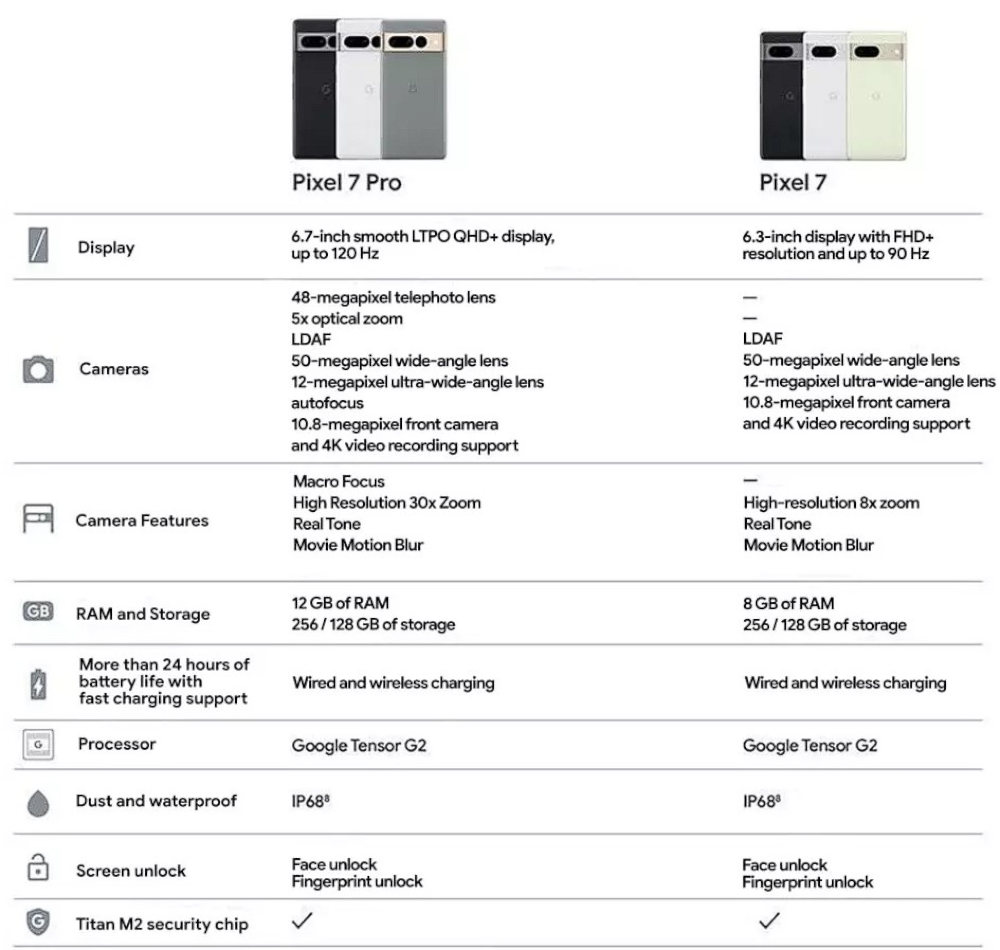 Getting straight into the thick of it, Pixel 7 and 7 Pro both feature an enhanced and upgraded Tensor G2 chipset, and will be sold in either 128GB or 256GB variants – the former featuring 8GB of RAM, and 7 Pro closing in at 12GB of RAM.
Both also feature the same design cues as previous Pixel 6A, with a two-tone, aluminium-and-glass unibody design, but now the camera array features sleek aluminium bar going across the top-rear of the phone. New colourways include Obsidian, Snow, Hazel and Lemongrass.
Google's Pixel 7 display comes in at 6.3in with an FHD+ resolution and a refresh rate of up to 90Hz, while the Pixel 7 Pro features a more premium and larger 6.7in LTPO display, and QHD+ resolution with up to 120Hz refresh rate.
Cameras are arguably what the make the Google Pixel stand out above the rest, and in this fashion, Pixel 7 consists of two LDAF (Laser Detection Auto Focus)-enabled cameras in the rear; one 50-megapixel wide-angle lens, a 12-megapixel ultra-wide-angle and the front selfie camera being a 10.8-megapixel variant with support for 4K video recording.
Pixel 7 Pro includes an additional 48-megapixel telephoto lens with five-times optical zoom, and added macro focus function, with up to 30-times high-resolution zoom. Both feature Google's Real Tone and Movie Motion Blur camera software innovations.
The comprehensive spec sheet reveals devices come IP68-rated dust and waterproof certification, face and fingerprint biometrics, up to 24 hours of battery life with wire and wireless fast charging options, and finally, Google's safe and secure Titan M2 security chip rounding the list of hardware features.
Pixel Watch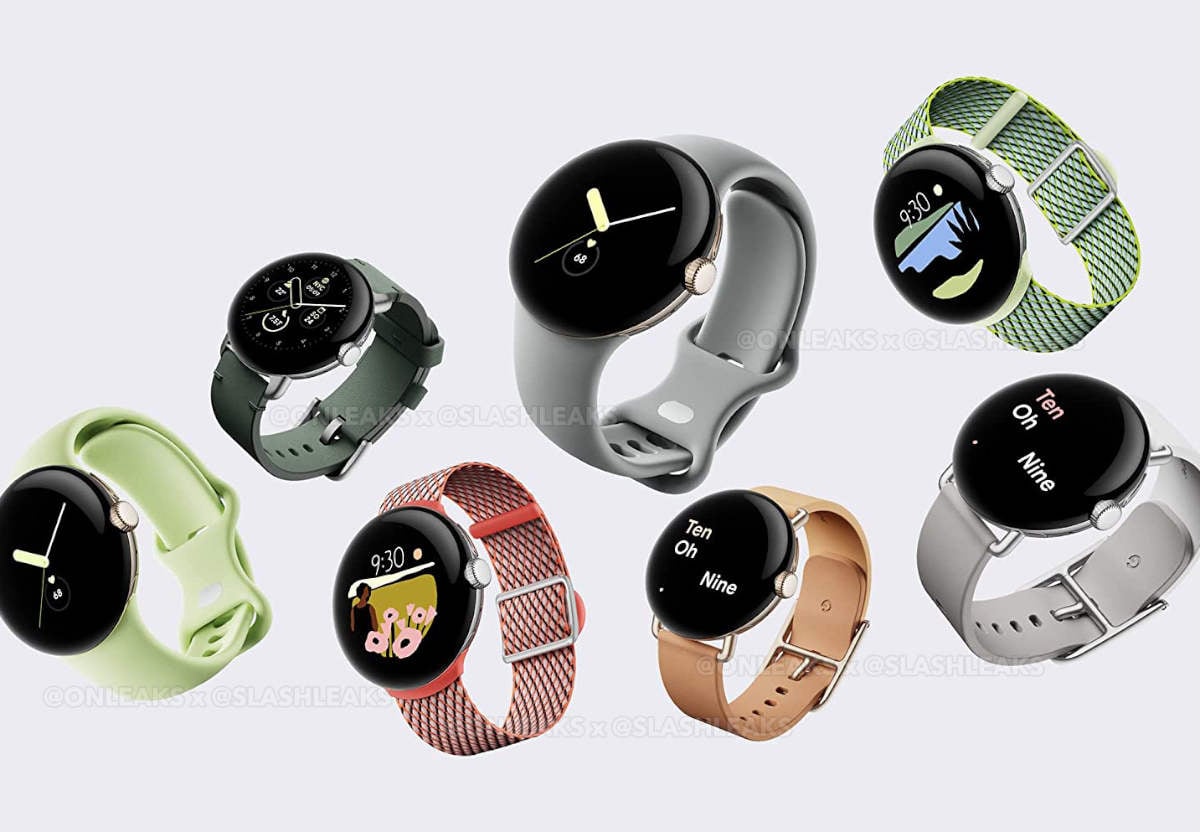 Rumours abound regarding Google's first smartwatch, with many reliable sources indicating it might feature a Samsung Exynos 9110 chipset with 1.5GB of RAM and 32GB of onboard storage. Leaning toward a longer battery life, the device will allegedly last up to 24 hours.
Pixel Watch is said to feature a redesigned Wear OS as a user interface and a variety of integrated software including; Google Home integration with Google Assistant, Find My Device tracking and emergency calls assistance, heart-rate monitoring, tap-to-pay Google Wallet function, and possibly a few neat Fitbit integrations. Google acquired the fitness giant early last year, so innovations and experience will most likely take centre stage in the Pixel Watch.
Finally, a rather extensive promotional image leak over at slashleaks reveasl the watch will come kitted with a variety of bands, featuring braided, silicone and leather textures in a variety of colours.
Sorely missing from the leaks is Google's much-anticipated Pixel Tablet, which allegedly will feature a 11in display. Renders at Google I/O showcase the 'iPad-killer' with larger white bezels and a single camera atop centre of the display. The device was listed with a 2023 launch window, and hopefully more details will be revealed at the launch event.
The event will officially take place this Thursday, October 6 at 10am Eastern Time, with updates made via Google's Twitter feed as we draw closer to the end date.