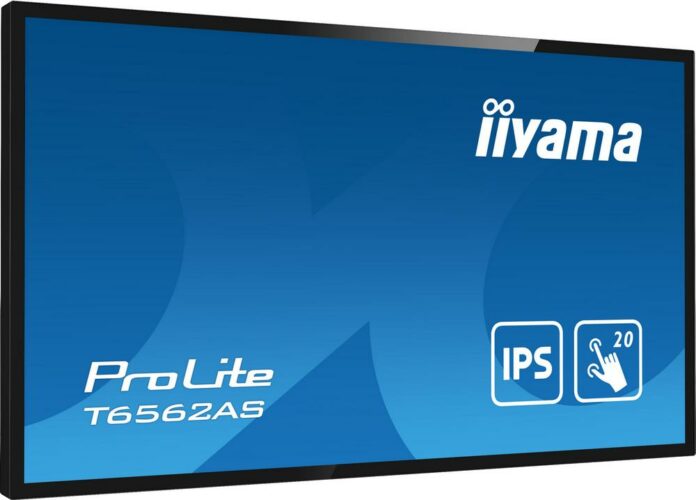 Display manufacturer iiyama has announced ProLite 62 Series touch displays featuring Android OS in sizes up to 65in.
Available in 43in (ProLite T4362AS-B1), 55in (ProLite T5562AS-B1) and 65in (ProLite T6562AS-B1), they can be a perfect addition to your business meetings, store advertisement, or product demonstrations. Customers can discover your catalogue in an interactive way providing more appeal to your store thanks to the PCAP touch technology. All models come packed with Android OS 8, so no need to have a computer hiding somewhere, especially if you turn out to already own an app.
So, what is this PCAP technology?
A Projected Capacitive Touch (PCT or PCAP) technology consists of an insulator such as glass coated with a transparent conductor like indium tin oxide. The user's finger conducts electricity, so touching the screen surface distorts its electrostatic field, which gets measured as a change in capacitance. Different technologies may be used to determine the touch location before sending it to the controller for processing.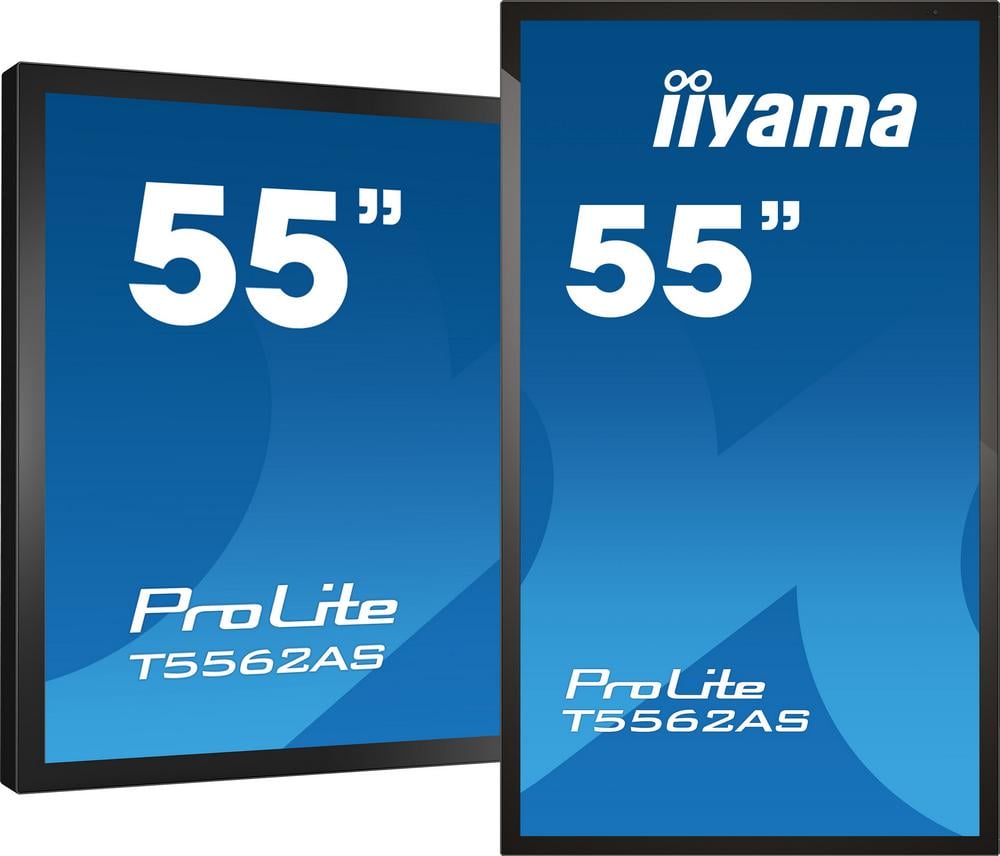 Rated for 24/7 operating time, all models have a 16:9 aspect (3840×2160) 4K resolution panel capable of displaying 72 per cent of NTSC colour gamut using 8-bit-plus-FRC colour depth, with an 8ms (GTG) pixel response time. But that's not the most important spec, for these it's their 178° horizontal and vertical viewing angles. You don't want customers leaving your store because product colours looked washed out, or unappealing, when looking from an angle. Needless to say, you can install them in landscape and portrait modes.
For I/O there's three HDMI ports taking the 4K resolution to 60Hz, two USB ports supporting multimedia, two 10W speakers, and a Micro SD card slot to expand the somewhat limited 16GB eMMC embedded storage.
With similarities out of the way, let's find out what would make you choose one over the other.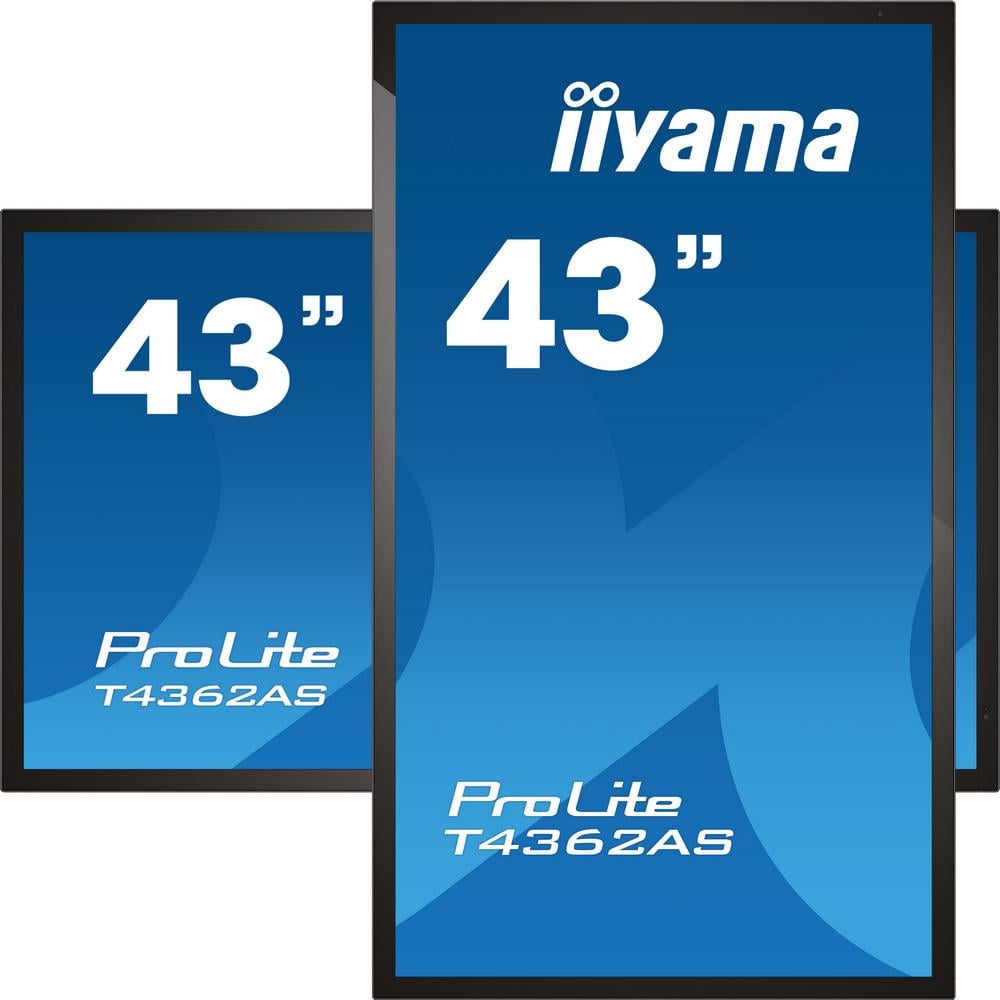 43in (ProLite T4362AS-B1)
Measuring 990mm (W) x 578.2mm (H) x 70.2mm (D) and weighing 18kg, it is based on an IPS panel able to hit up to 500nits of brightness with a static contrast of 1200:1, which is a bit better than what IPS can achieve typically. To install it, there is a 200x200mm VESA mounting on the back.
55in (ProLite T5562AS-B1)
Going a bit bigger at 1264.4mm (W) x 734.9mm (H) x 65.8mm (D) and 23.4kg, this model switches to a VA-type panel offering much higher 5000:1 static contrast while keeping the same 500nits brightness. Because of its size, a 400x400mm VESA mount is equipped on this one.
65in (ProLite T6562AS-B1)
Representing the maximum size available, it measures 1485mm (W) x 860mm (H) x 71.8mm (D) and weighs a hefty 38.4kg. You may need some help with installation. It uses an IPS panel capable of 500nits brightness and 1200:1 static contrast. This one also has a 400x400mm VESA mount.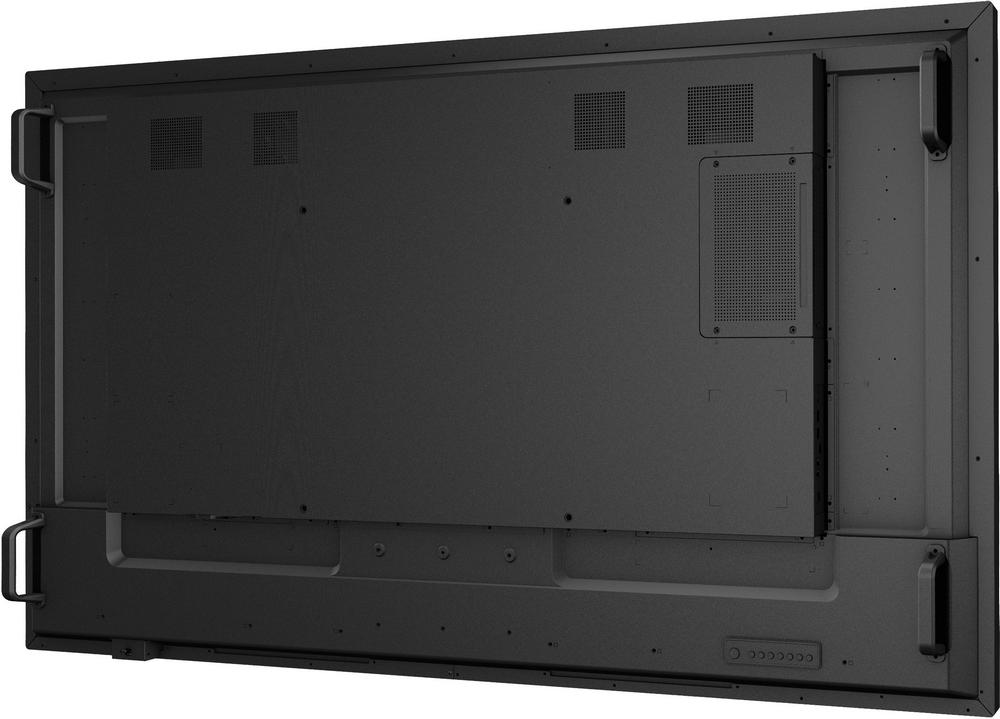 Finally, over 20 touch points throughout the screen allow interaction with the prementioned Android OS. There's also Whiteboard, which turns standard meeting areas into collaboration spaces. Last but not least, with the EShare app, teams can share, stream, and edit content from any device for seamless interactive sessions. For security reasons, the user can also limit access to the screen with touch and USB port locks.