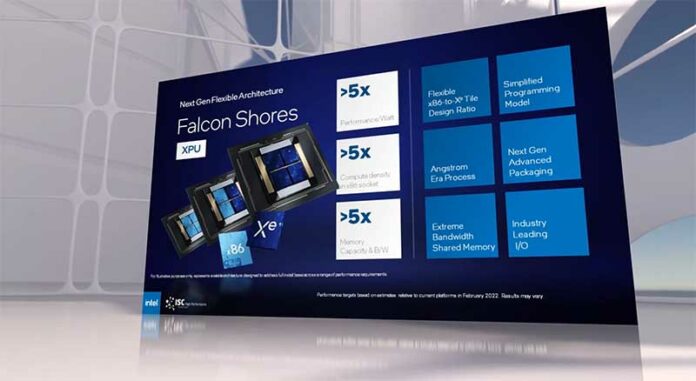 Intel's HPC CPU and GPU strategy will meld into one with the introduction of the server-focussed Falcon Shores XPU some time in 2024. The heterogenous chip carries a number of tiles purposed for either x86 CPU or Xe GPU computing, with the exact mix dictated by market demands and large-scale customer specifics.
Announced in February, some more information on Falcon Shores was disseminated during this week's ISC High Performance event in Hamburg, Germany.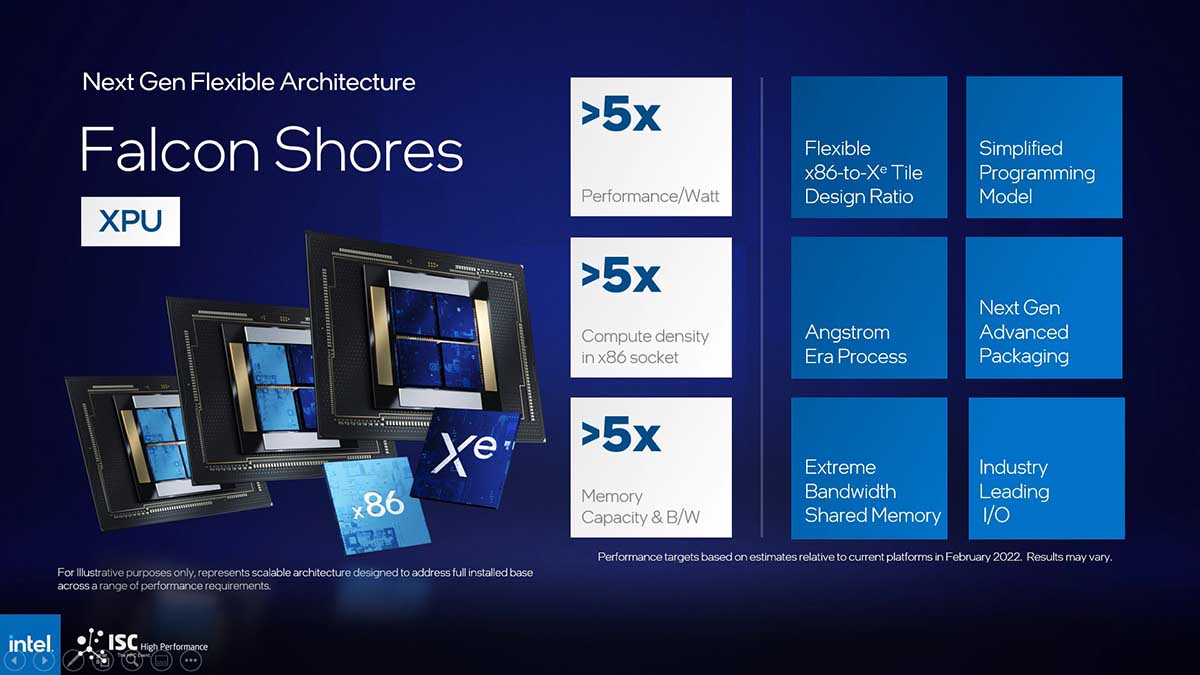 Flexibility meets performance
Flexibility is absolutely key to Falcon Shores. Intel envisages a mix-and-match approach with the ambitious aim of increasing performance per watt, compute density and memory capacity by a factor of five when compared to 'current platforms in February 2022,' presumably Ice Lake-based Xeons.
Fitting into the same socket as Xeons, Falcon Shores is based on the premise that GPU-type workloads such as AI and inferencing are becoming more relevant and prevalent in the server and HPC space, and traditional CPU die space needs to be re-examined. The best way of doing so, Intel reckons, is to architect a do-it-all chip composed of many smaller, task-specific tiles. Worker ants serving a colony, if you will.
A calculated bet of using smaller tiles to make a whole that's greater than the sum of its parts, is a big one, but it makes sense as building out chips that address a particular use-case or emerging workload ought to be easier and achieved more quickly.
Key to the ambition is packaging technology enabling high-bandwidth, low-latency access between disparate tiles housing CPUs, GPUs, different types of memory and, perhaps, other accelerators. It is likely Intel builds on Foveros technology, though the company has a vast array of interconnect IP at its disposal. Rather more concrete is the understanding of Intel's use of overarching OneAPI software to tie hardware to applications.
Falcon Shores is an exciting development which ushers in significant opportunity. Effectively a supercomputer node in a single package – this year's exascale Aurora is built from a mixture of Xeon CPUs and Xe GPUs – we wait with bated breath to see if Intel can achieve lofty >5x goals.