Jump to: Specs | Performance | Conclusion
There's little reason to adopt anything other than solid-state storage for your PC's main drive. Prices have dropped sharply enough over the last 12 months for a 1TB NVMe SSD to cost only £70. Paying more accrues benefits through faster drives equipped with a PCIe 4.0 interface and a high-quality NAND/controller combination.
Storage giant Kingston's consumer SSD line-up spans from SATA-based A400, PCIe 3.0 KC2500 and NV1, while premium performance is reserved for PCIe 4.0 KC3000 and Fury Renegade.
KC3000 and Fury Renegade are similar beasts. Both use an 8-channel Phison E18 controller paired with 176-layer TLC NAND from Micron.
Differences emanate from KC3000 using less space for overprovisioning and a marginally lower endurance rating. Other than that, both can be considered nigh-on identical. Speaking of specifications, KC3000 arrives in four capacities.
Specifications
| Kingston KC3000 | 512GB | 1024GB | 2048GB | 4096GB |
| --- | --- | --- | --- | --- |
| Controller | Phison E18 | Phison E18 | Phison E18 | Phison E18 |
| NAND | Micron 176L TLC | Micron 176L TLC | Micron 176L TLC | Micron 176L TLC |
| Interface | PCIe 4.0 x4 | PCIe 4.0 x4 | PCIe 4.0 x4 | PCIe 4.0 x4 |
| Sequential Read Speed (MB/s) | 7,000 | 7,000 | 7,000 | 7,000 |
| Sequential Write Speed (MB/s) | 3,900 | 6,000 | 7,000 | 7,000 |
| Random Read IOPS (K) | 450 | 900 | 1,000 | 1,000 |
| Random Write IOPS (K) | 900 | 1,000 | 1,000 | 1,000 |
| Form Factor | M.2 | M.2 | M.2 | M.2 |
| Endurance (TBW) | 400 | 800 | 1,600 | 3,200 |
| MSRP | £80 | £150 | £300 | £800 |
Phison E18 remains the controller company's premium solution until PCIe 5.0-compliant E26, announced at CES, is integrated on to the next generation of consumer SSDs launched later this year.
Pairing with Micron 176-layer 3D TLC NAND is a wise move because the combination gets close to PCIe 4.0 x4's theoretical interface limit. We'd recommend skipping the 512GB drive as a lack of parallelism hinders write performance and random IOPS read speed.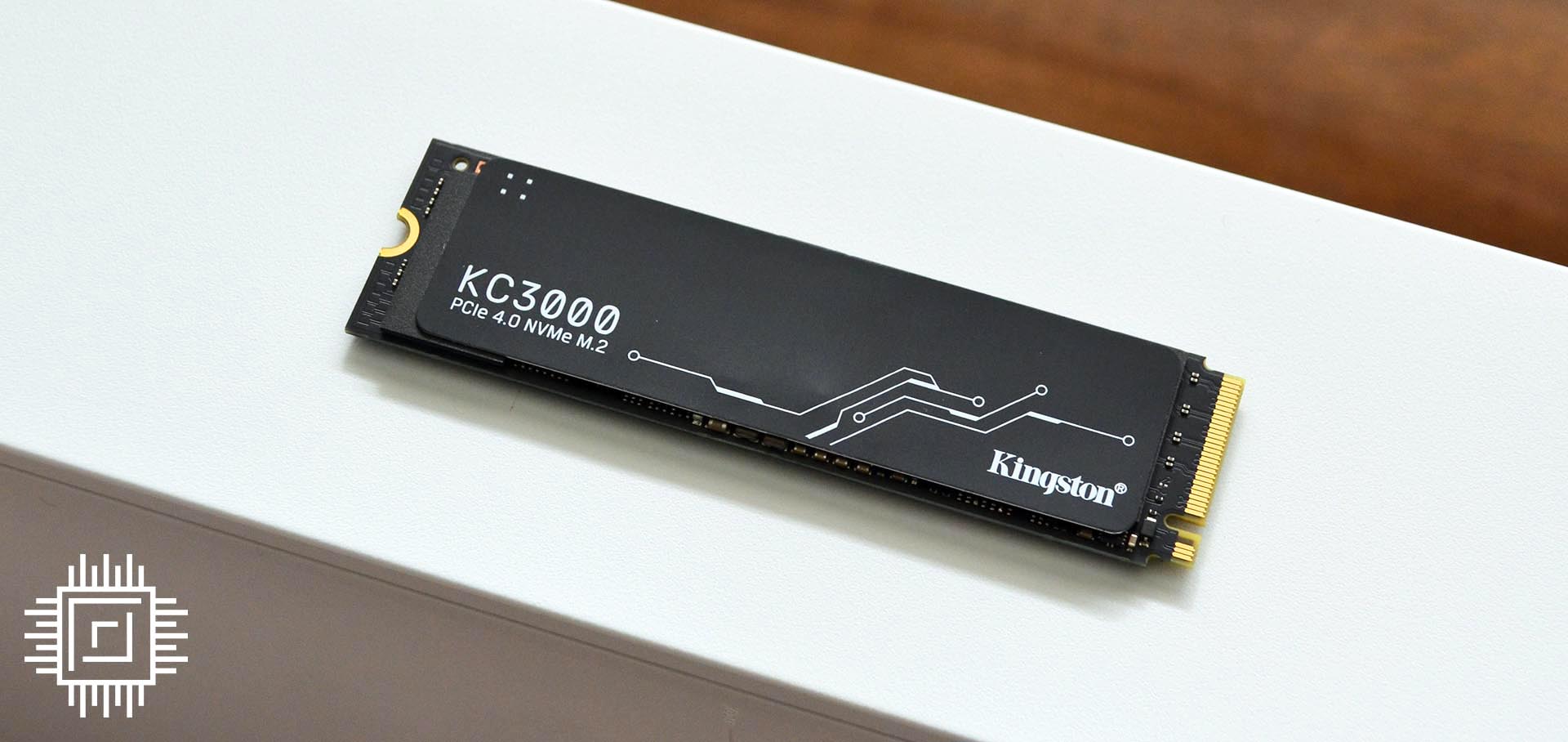 Our 2TB sample puts out wholesome specifications across the board. 7GB/s read and write is backed by one million IOPS on both fronts, and these sets of figures are as good as they get in the consumer SSD business. All KC3000 SSDs are backed by a five-year warranty.
We're happy with quoted drive endurance. It is usual for manufacturers to be conservative in this regard, but a 1.6PB rating – that's peta, not tera, by the way – is double what's offered on the WD Black SN770.
Though impressive in its own right, Seagate's FireCuda 530 SSD, using ostensibly the same hardware, cranks up endurance to 2.55PB (pdf) for its 2TB drive. Great numbers that take away longevity concerns regarding TLC NAND.
The label is worth a mention as Kingston uses a graphene/aluminium mix for more effective heat transfer than from usual paper stickers.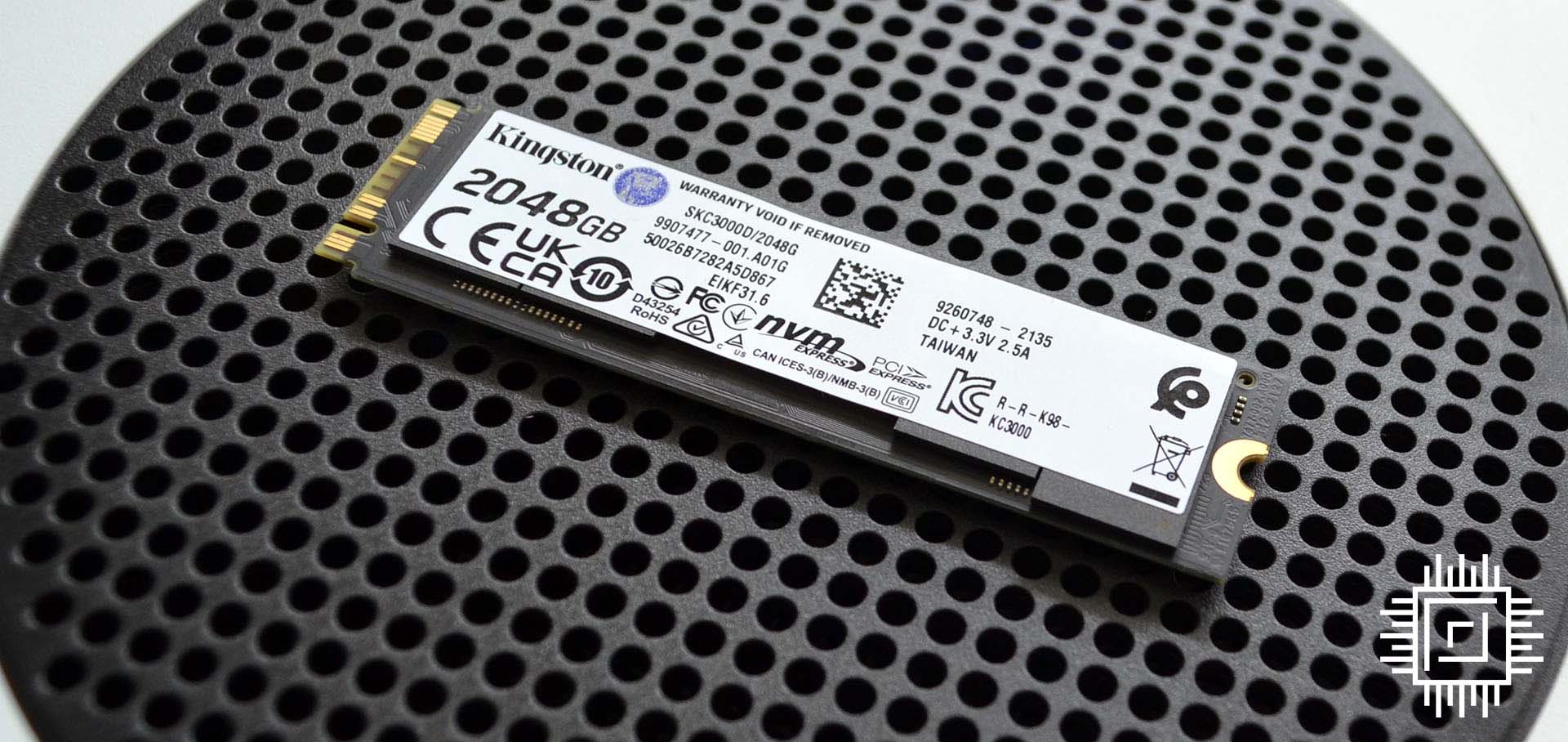 A recent trend has been to use high-density NAND located on the upper side. 2TB and 4TB KC3000 SSDs use both sides of the PCB to house the Phison E18 controller, four Micron NAND dies operating at 1,600MT/s, and a Kingston DDR4-1600 buffering chip. This makes the drive a little thick by modern standards, but it's no issue on a PC motherboard. Feeling flush and want to upgrade the PS5 to loftier capacities? KC3000 fits that bill, too.
One key advantage touted by KC3000 is the use of one-third total capacity for a dynamic writing cache that's configured in high-performance SLC mode. In other words, performance ought to be strong for extended periods as the drive's caching adjusts to writes. As most will occur within 667GB, we fully expect excellent numbers in upcoming benchmarks.
Such specification exuberance comes, literally, at a cost, with the 2TB model fetching £300 at retail. That's a little more than the £280 charged for rival drives such as Seagate's FireCuda 530 and the Corsair MP600 Pro XT, so Kingston may need to revisit pricing.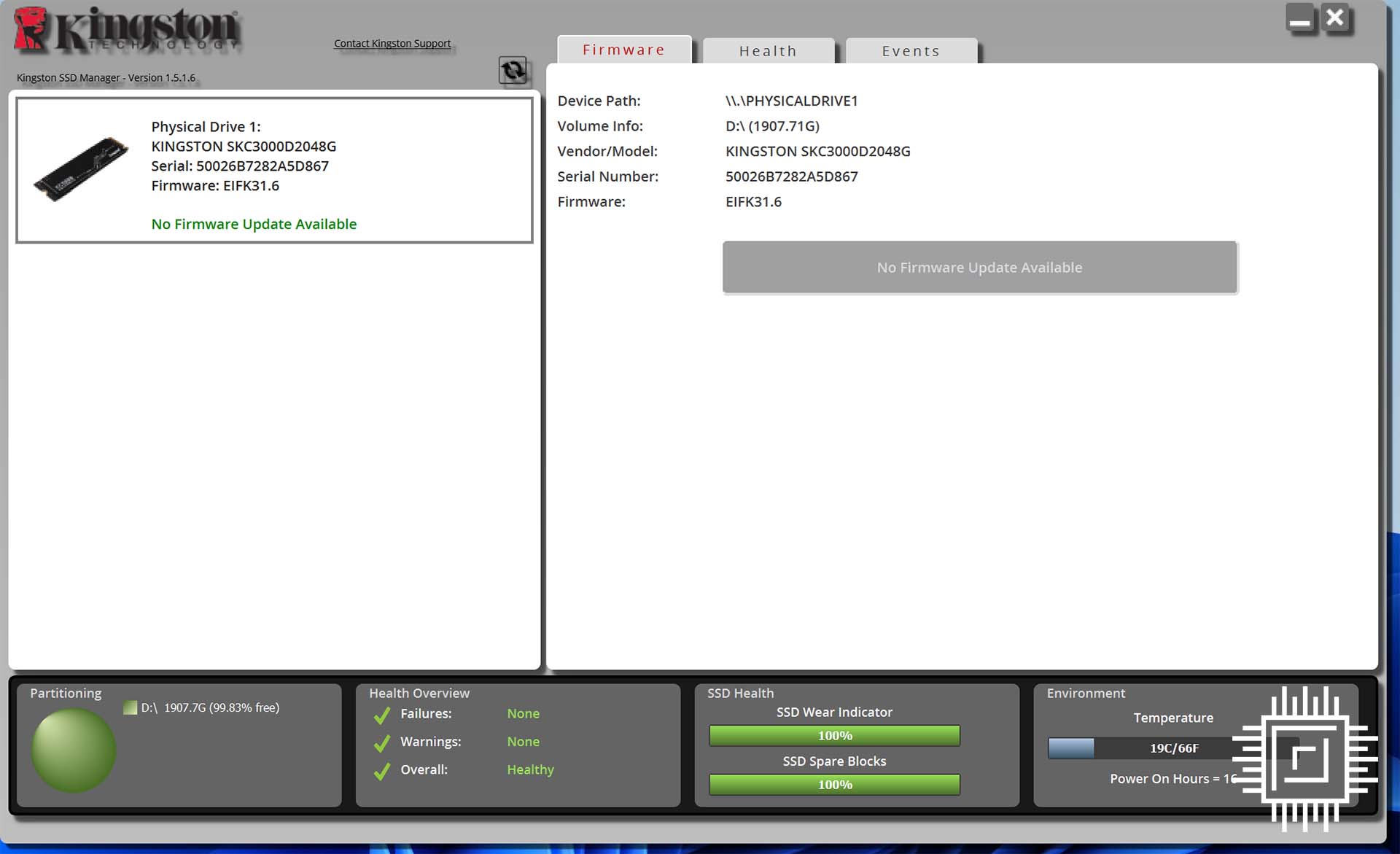 Kingston's companion app offers a means to update firmware – not necessary on our sample – copy over data from another drive via Acronis True Image HD, and see simple metrics like drive health and temperature.
Be aware KC3000 doesn't carry AES 256-bit hardware encryption for secure password protection, if that's important to you.
Test Methodology
Club386 Benchmarking System
CPU: AMD Ryzen 9 5950X
Motherboard: Asus ROG X570 Crosshair VIII Formula (3904 BIOS)
Memory: 32GB (2x16GB) G.Skill Trident Z Neo DDR4-3200 at 14-14-14-2T
SSD: Corsair MP600 2TB
CPU Cooler: Corsair Hydro Series H150i Pro RGB
Chassis: Fractal Design Define 7 Clear Tempered Glass
PSU: be quiet! Straight Power 11 Platinum 1,000W
OS: Microsoft Windows 11 Pro
SSDs
| Drive | Interface | Form Factor | Capacity | Firmware |
| --- | --- | --- | --- | --- |
| Kingston KC3000 | PCIe 4.0 x4 | M.2 | 2TB | EIFK31.6 |
| Corsair MP600 Pro XT | PCIe 4.0 x4 | M.2 | 1TB | EIFM31.2 |
| WD Black SN770 | PCIe 4.0 x4 | M.2 | 1TB | 731030WD |
| WD Blue SN570 | PCIe 3.0 x4 | M.2 | 1TB | 234090WD |
| Crucial MX300 | SATA | 2.5in | 1TB | M0CR070 |
Software
CrystalDiskMark 8.0.4 x64
Final Fantasy Endwalker loading time
3DMark SSD Storage
SPECworkstation 3.1
Iometer 1.1.0
PCMark 10 Storage
CrystalDiskMark




We'd expect Kingston KC3000 and Corsair MP600 Pro XT to benchmark closely as they use the Phison E18 controller. Differences will exist through firmware implementations and capacity. The key takeaway in the first set of tests is KC3000's on the right performance track.
Gaming Storage Tests


Club386's storage benchmarks become increasingly more difficult as we go down the page.
Absolutely no complaints here; topping every chart evidences Kingston's good implementation of controller and NAND.

Show your support for impartial Club386 reviews
Club386 takes great pride in providing in-depth, high-quality reviews built on honest analysis and sage buying advice. As an independent publication, free from shareholder or commercial influence, we are committed to maintaining the standards our readers expect.
To help support our work, please consider making a donation via our Patreon channel.
SpecWorkstation



SPECworkstation 3's storage-specific benchmarks exact a greater toll on the drives. They are run through multiple scenarios that target storage in a different way.
Remember we noted KC3000 has the ability to configure one-third of its capacity for fast caching purposes, oblivious to the user. The intensive SPEC test repeats workloads, bringing hot data to the fore, and we see excellent performance in every test.
Sometimes you need to look a bit deeper than pure specs to evaluate a drive's true worth.
Iometer




Iometer is a fantastic tool to evaluate storage. Configurable in thousands of ways, we choose to run the 4K aligned test with 50 per cent reads, 50 per cent writes, and 100 per cent random access. Think of it as zeroing-in on the controller and NAND's qualities, and better combinations ought to score higher.
The 2TB drive hits the specification sweet spot, mating excellent throughput with handsome IOPS. We'd expect the KC3000 to be faster than a PCIe 3.0-riding WD Blue SN570, of course, and if your workloads are severe enough, there's a >2x improvement from one SSD to another.
PCMark 10 Storage



The toughest test is 12-hour-long PCMark 10 drive performance consistency. It writes 23TB plus up to three times the drive capacity. The test includes a degradation phase, a steady state phase, and a recovery phase. In-depth reporting shows how drive performance varies under these conditions.
Kingston backs KC3000 2TB with a 1.6PB rating, and such a figure gives us confidence in its ability to run well in a steady state. There's not much between the top four drives – NVMe absolutely mullers SATA – but a win is a win.

The graphene sticker may help a little in dissipating heat, but the truth is Phison's E18 controller and Micron NAND never get that warm. We test with the drive bare. Running with it underneath the Asus Crosshair's dedicated lower M.2 heatsink reduces under-load temperature to 62°C.
Conclusion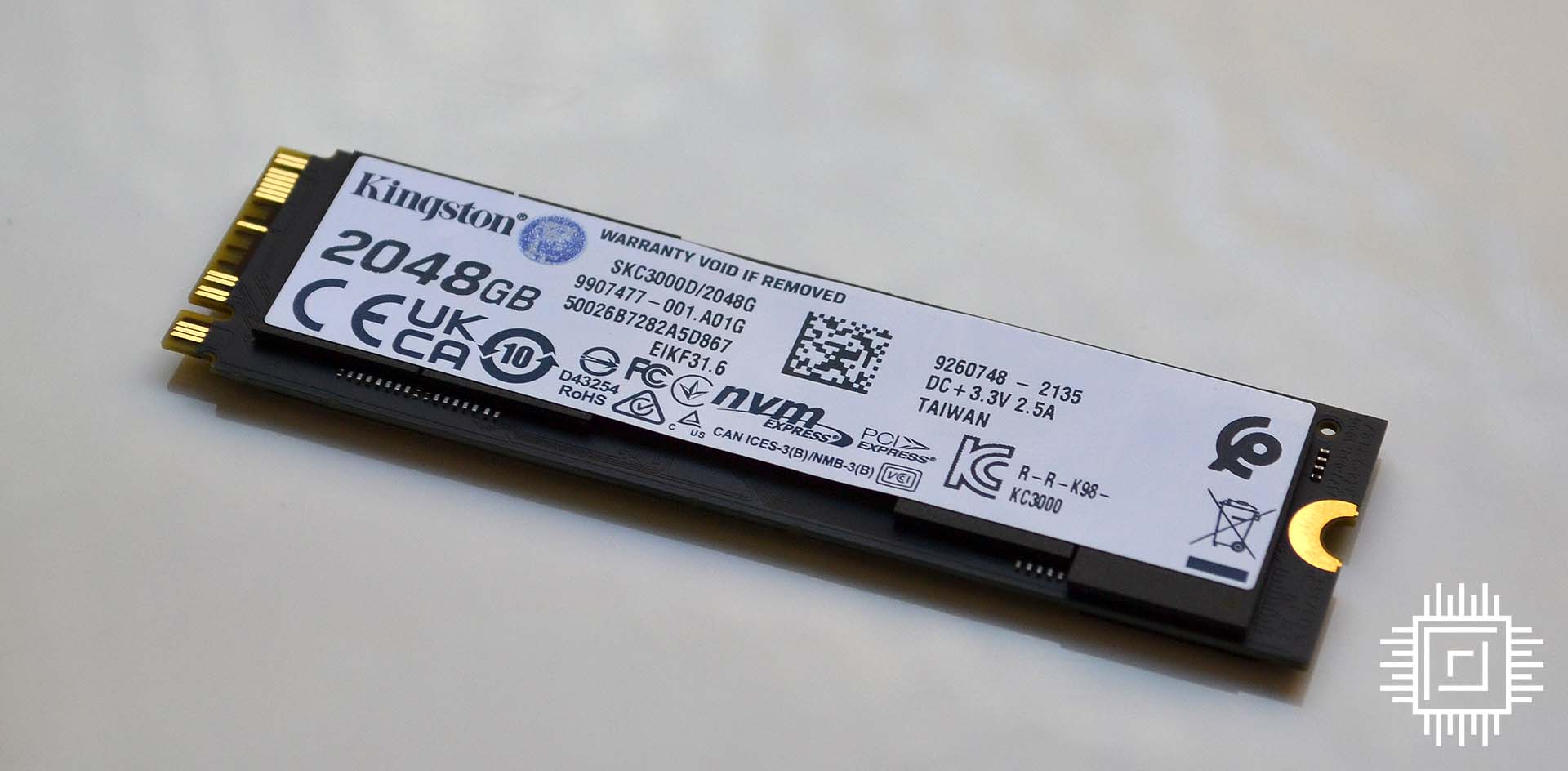 Kingston knows it is difficult to go wrong when pairing the high-performance PCIe 4.0 Phison E18 controller to Micron's 176-layer TLC NAND. That's easy enough to do for other partners choosing this combination. KC3000, however, goes a step further by installing a thoroughly decent 1.6PB endurance rating for our 2TB model, uses a large portion of the capacity as a high-performance cache, and runs the NAND at fast speeds.
These three facets combine to offer excellent performance across a broad swathe of SSD benchmarks. Kingston knows this and prices it accordingly, which is about 10 per cent more than rivals touting otherwise identical specifications. Some may also lament the lack of hardware encryption for a premium solution, but that's no major drawback for a consumer SSD.
We come away impressed with the Kingston KC3000 2TB NVMe drive. Offering consistently superior performance and available in up to 4TB, it makes a convincing case for inclusion in a high-quality build this year.

Kingston KC3000 2TB NVMe SSD
Verdict: A high-quality drive no matter which way you look at it.
Pros
Excellent performance
Fast NAND
Available in 4TB capacity
Decent endurance
Cons
No hardware encryption
Price premium over similar rivals

Club386 may earn an affiliate commission when you purchase products through links on our site. This helps keep our content free for all. Rest assured, our buying advice will forever remain impartial and unbiased.