Jump to: Specs | Performance | Conclusion
Western Digital (WD) has made a concerted effort to gain PC enthusiast mindshare with the WD Black brand of products. Spanning multiple storage options with an emphasis on performance, today sees the company update the premium consumer SSD line-up with SN770 NVMe M.2 drives.
SN770 naturally supersedes popular SN750 and SE models as the third-tier solution behind the AN1500 add-in card and SN850 high-performance NVMe SSD.
WD is bullish on improvements over its direct predecessor, citing "up to 40% faster performance and up to 20% more power efficiency at maximum speed over the previous generation."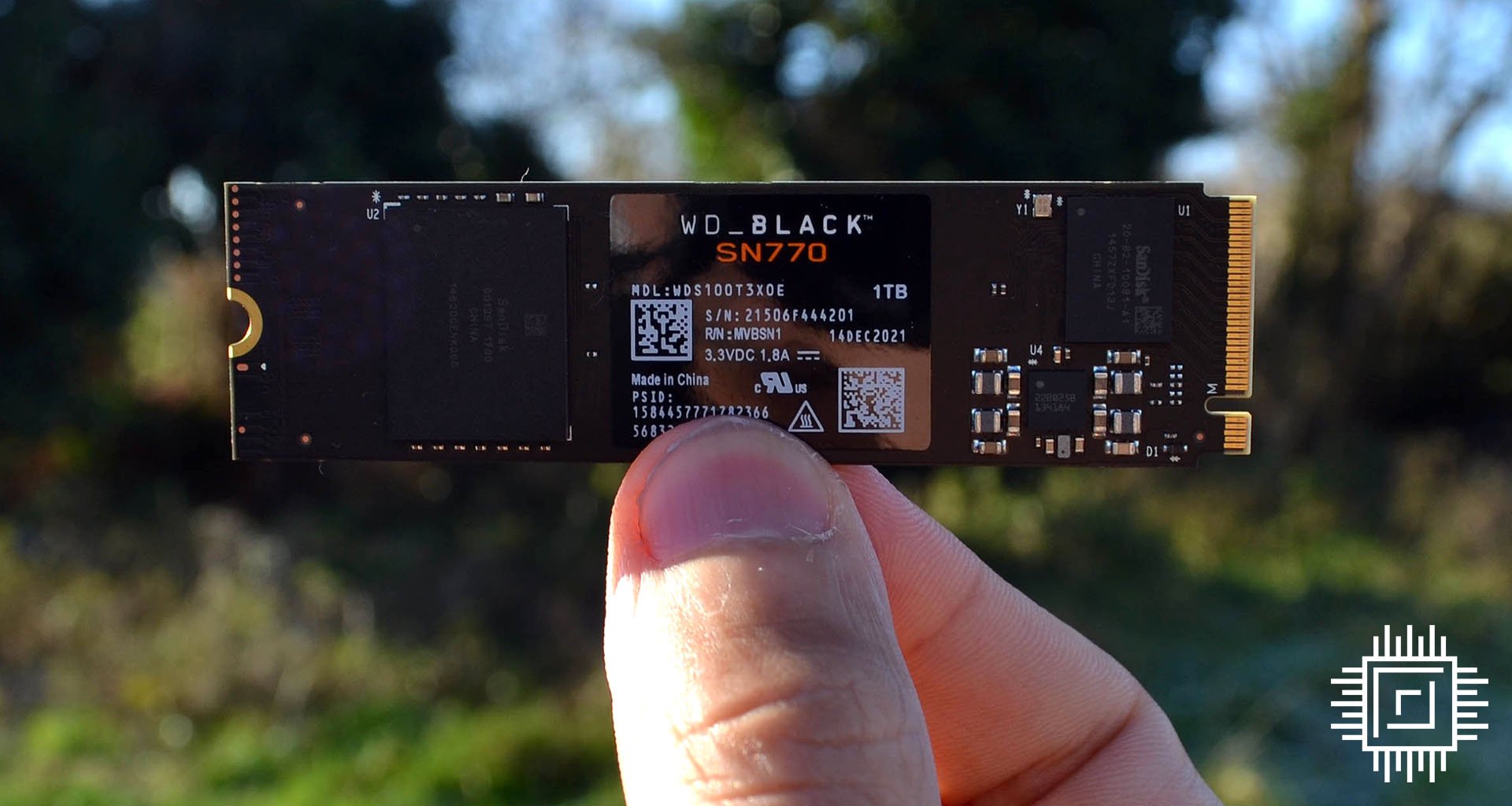 It's easy to spot a WD Black SSD by dint of the black PCB and sticker. Our 1TB sample is one of four in the family and is only available in an M.2 2280 form factor, which means it will fit into a wide range of desktop PCs and some notebooks.
Such is the density of modern NAND that the company is able to accommodate the entire 1TB capacity in a single chip, shown on the left, and built by subsidiary SanDisk (identified as 001397). WD is typically coy in revealing any further details or exact composition of the NAND – which is sadly true in this case, too – but we gather it uses 112-layer BiCS 3D triple-level-cell (TLC) memory.
Specifications
| WD Black SN770 | 250GB | 500GB | 1000GB | 2000GB |
| --- | --- | --- | --- | --- |
| Controller | WD-in house | WD in-house | WD in-house | WD in-house |
| NAND | SanDisk | SanDisk | SanDisk | SanDisk |
| Interface | PCIe 4.0 x4 | PCIe 4.0 x4 | PCIe 4.0 x4 | PCIe 4.0 x4 |
| Sequential Read Speed (MB/s) | 4,000 | 5,000 | 5,150 | 5,150 |
| Sequential Write Speed (MB/s) | 2,000 | 4,000 | 4,900 | 4,850 |
| Random Read IOPS (K) | 240 | 460 | 740 | 650 |
| Random Write IOPS (K) | 470 | 800 | 800 | 800 |
| Form Factor | M.2 | M.2 | M.2 | M.2 |
| Endurance (TBW) | 200 | 300 | 600 | 1,200 |
| MSRP | £57 | £84 | £143 | £341 |
A perusal reveals WD uses the PCIe 4.0 x4 interface to extract more oomph from this series. Letting the NAND and four-channel controller breathe, the sequential read and write speeds are 43 and 73 per cent faster, respectively, than its direct predecessor. Of course, SN770 is backward-compatible with motherboards featuring the older, slower PCIe 3.0 x4 M.2 slots, but using it on those platforms limits scope.
Other specifications are suitably robust and help bridge the yawning performance gap previously existing between top dog SN850 and SN750 SE. No qualms on sequential and random 4K performance, either, while WD matches the 600 TBW endurance for the 1TB capacity witnessed on other recent SSDs in its arsenal.
Going back to the first picture illuminates WD's strategy. A single NAND is accompanied by a recent controller (SanDisk 20-82-10081-A1) that's similar to the one employed by the cheaper Blue SN570 (20-82-10048-A1). What's also clear is the lack of DRAM for buffering duties between controller and NAND, so WD must have a lot of confidence in the design. In particular, getting around this potential issue, SN770 uses Host Memory Buffer (HMB) technology to replicate the benefits of onboard DRAM, and it works by harnessing system memory as a proxy, with communication travelling to-and-fro the PCIe bus.
That's all well and good in modern PC systems, but do note it's not ideal for the PlayStation 5, which doesn't carry HMB support, so you are likely to see degraded performance. All SN770 drives are backed by a five-year warranty, by the way.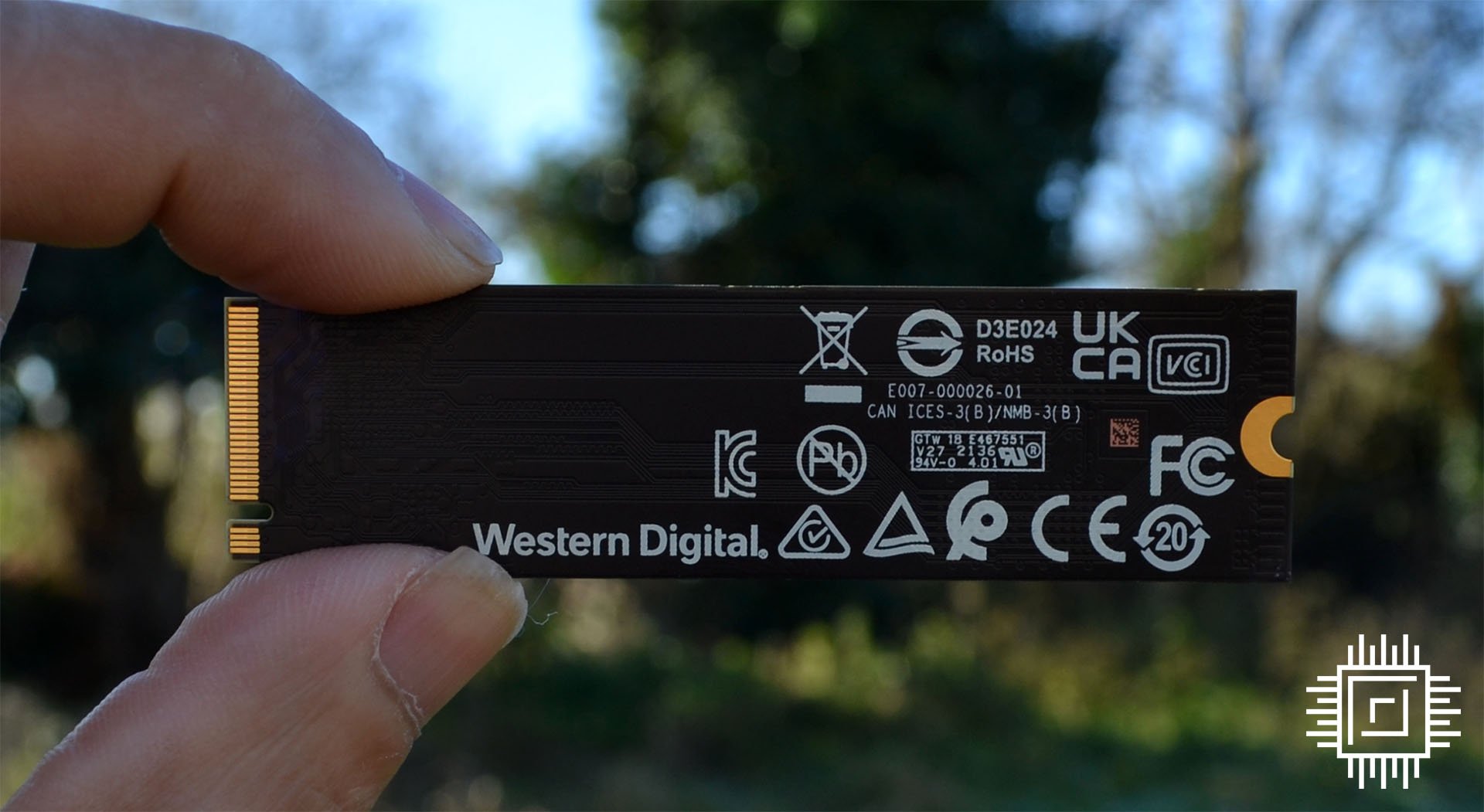 A lack of complexity is highlighted by the sparseness of the upper side and no components on the rear. A 2280 form factor is actually way too big for this technology, and hazarding a guess, WD could easily make it available in 2242/60 sizes primed for thin-and-light laptops.
"SN770 uses Host Memory Buffer technology to replicate the benefits of onboard DRAM"
It's curious WD mixes and matches capacities depending upon product nomenclature. SN750 is available in up to 4TB capacity, SN750 SE is limited to a maximum 1TB, while this SN770 takes something from both ranges by spanning 250GB through to 2TB. We reckon this is okay for performance mainstream models but would like to see a 4TB option in the stack.
Power frugality is indirectly evidenced by lack of a heatsink; there are no plans to introduce one either. We're fine with that because most decent motherboards have their own M.2 cooling apparatus in place, and as you will see later on, SN770 doesn't become particularly warm.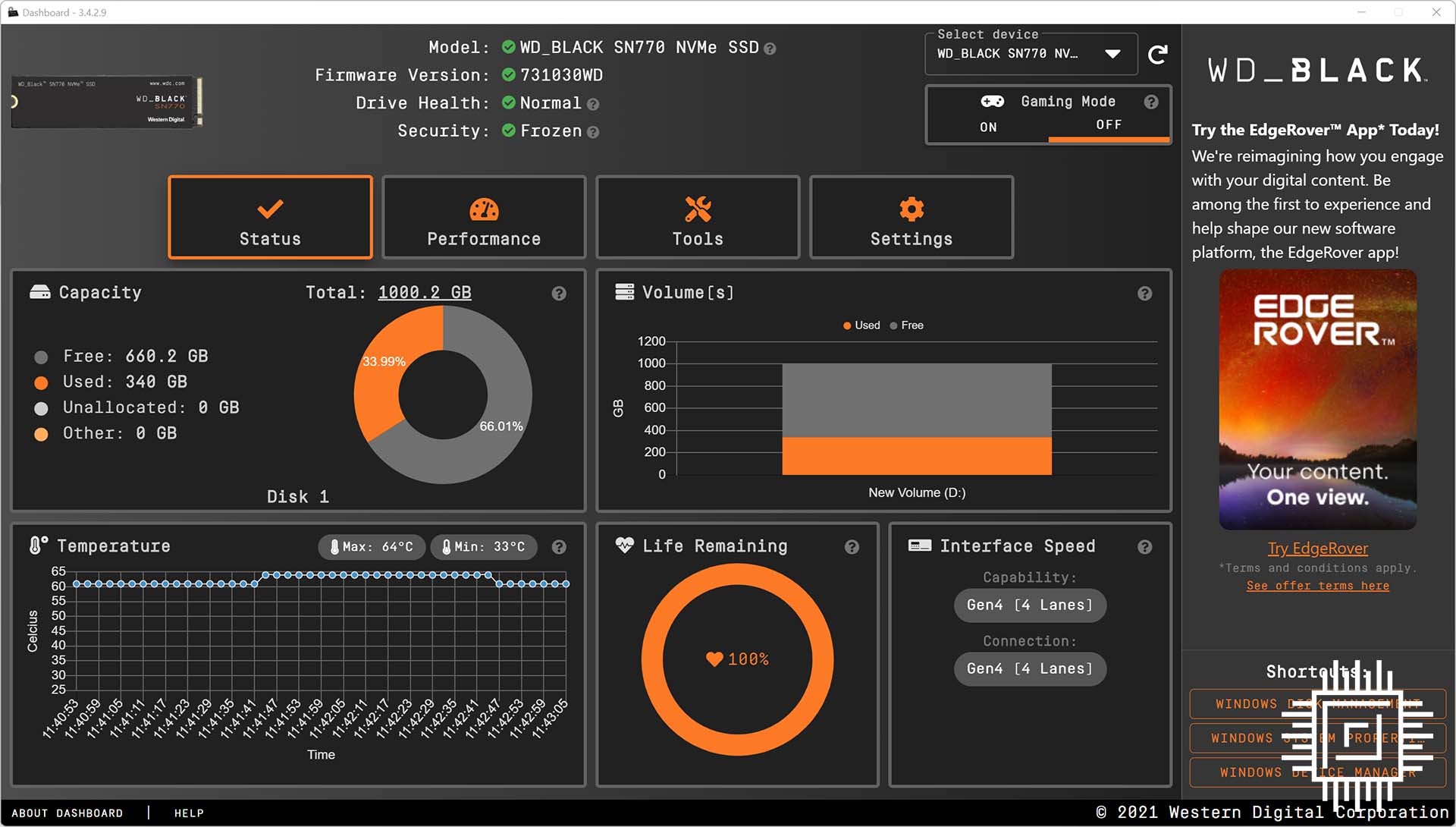 The Dashboard application provides at-a-glance metrics you may find useful. It's easy to update firmware or see performance figures from a separate screen. Notice the Gaming Mode toggle near the top? It's supposed to remove power optimisations from the drive and enable top-bin performance at all times. Running a couple of intensive benchmarks shows no meaningful difference between it on or off for our test system.
Last but certainly not least, pricing feels steep when evaluated against the faster SN850. For example, the 1TB SN850 is listed as £154 on WD's store, which is only £12 dearer than the review 1TB SN770.
It is common for WD's initial recommended pricing to be high, putting it at a disadvantage to in-field drives, and history teaches us it drops reasonably quickly post-launch. Heck, the aforementioned 1TB SN850 is readily available for under £125 if you shop around.
Test Methodology
Club386 Benchmarking System
CPU: AMD Ryzen 9 5950X
Motherboard: Asus ROG X570 Crosshair VIII Formula (3904 BIOS)
Memory: 32GB (2x16GB) G.Skill Trident Z Neo DDR4-3200 at 14-14-14-2T
SSD: Corsair MP600 2TB
CPU Cooler: Corsair Hydro Series H150i Pro RGB
Chassis: Fractal Design Define 7 Clear Tempered Glass
PSU: be quiet! Straight Power 11 Platinum 1,000W
OS: Microsoft Windows 11 Pro
SSDs:
| Drive | Interface | Form Factor | Capacity | Firmware |
| --- | --- | --- | --- | --- |
| Corsair MP600 Pro XT | PCIe 4.0 x4 | M.2 | 1TB | EIFM31.2 |
| WD Black SN770 | PCIe 4.0 x4 | M.2 | 1TB | 731030WD |
| WD Blue SN570 | PCIe 3.0 x4 | M.2 | 1TB | 234090WD |
| Crucial MX300 | SATA | 2.5in | 1TB | M0CR070 |
Software:
CrystalDiskMark 8.0.4 x64
3DMark SSD Storage
SPECworkstation 3.1
Iometer 1.1.0
PCMark 10 Storage
CrystalDiskMark




Our benchmarks become increasingly more strenuous on the SSDs as we go further down the page. CrystalDiskMark reckons the SN770 lives up to its sequential billing perfectly.
There's a clear performance gap down to the Blue SN570 on all four benchmarks. Corsair's MP600 Pro XT, which is a natural rival to the more expensive WD Black SN850, is certainly better in this test.
Gaming Storage Tests



These tests purport to measure the game-loading performance on two popular titles, plus an overall score that takes saving and moving files into account.
The PCIe 4.0 x4 interface allows WD Black SN770 to strut its stuff, beating out the on-paper faster Corsair MP600 Pro XT in each test.
SpecWorkstation




SPECworkstation 3's storage-specific benchmarks exact a greater toll on the drives. They are run through multiple scenarios that targets storage in a different way.
Consider the Crucial MX300 SATA SSD as the baseline performance. We can therefore easily distinguish the benefits of using NVMe M.2 SSDs. It's also fair to say not all SSDs are created equal, as the Black SN770 can be over twice as fast as the revamped Blue SN570.
Throw around large datasets in your projects? A premium SSD is worthy of consideration.

Show your support for impartial Club386 reviews
Club386 takes great pride in providing in-depth, high-quality reviews built on honest analysis and sage buying advice. As an independent publication, free from shareholder or commercial influence, we are committed to maintaining the standards our readers expect.
To help support our work, please consider making a donation via our Patreon channel.
Iometer




Iometer is a fantastic tool to evaluate storage. Configurable in thousands of ways, we choose to run the 4K aligned test with 50 per cent reads, 50 per cent writes, and 100 per cent random accesses. Think of it as zeroing-in on the controller and NAND's qualities, and better combinations ought to score higher.
Performance scales as we increase the queue depth (threads) because the test is measuring the latency per thread. The more the threads, the lower the overall latency for a given period of time, and the higher the resultant IOPS… until we hit a roadblock where scaling doesn't increase in a near-linear fashion. Choosing up to eight threads is sensible for a consumer SSD.
All that said, we see good scaling from 1-8 threads, intimating per-thread latency is staying roughly constant. Compared to other drives, Black SN770 is decent, reinforcing its premium credentials, but cannot quite catch up to the Phison-powered Corsair. Solid numbers here.
PCMark 10 Storage



The toughest test is 12-hour-long PCMark 10 drive performance consistency. It writes 23TB plus up to three times the drive capacity. The test includes a degradation phase, a steady state phase, and a recovery phase. In-depth reporting shows how the performance of the drive varies under these conditions.
We worried about the lack of DRAM for buffering duties, especially on TLC NAND. Our fears are unfounded as the WD Black SN770 produces the best numbers out of our quartet. A good drive no matter how much you throw at it.
Running a sequential read test further reveals the SN770 is able to mete out solid performance until around 350GB have been written, where it then reaches a steady-state transfer speed of 475MB/s. Exactly where this drop-off level is depends upon capacity, with larger drives doing better.

We saw no evidence of thermal throttling under sustained load. The reported 66°C peak temperature, evaluated without using the motherboard's M.2 cooling, reaffirms WD's decision not to go with a heatsink in this instance.
Conclusion
The WD Black SN770 NVMe SSD is a welcome addition to the premium M.2 catalogue. Offering a PCIe 4.0 x4 interface, thereby letting the newer controller and NAND stretch their legs properly, overall performance is consistent across a range of benchmarks.
WD Black SN770 is a good choice for a desktop user looking toward next-generation attributes, but steep launch-day pricing and lack of a 4TB capacity count against it.
This 1TB SSD makes most sense below the £125 mark, which would fully differentiate it from higher-performance solutions such as the WD Black SN850, Corsair MP600 Pro XT, and Samsung 980 Pro.
Nevertheless, WD Black SN770 offers an easy upgrade from older NVMe and SATA-based SSDs, particularly if used on a modern platform capable of PCIe 4.0 speeds.

WD Black SN770 NVMe 1TB SSD
Verdict: A capable NVMe SSD breathing new life into WD's mainstream portfolio
Pros
Consistently good performance
Doesn't throttle
Solid upgrade over older SSDs
Big-name support
Cons
Launch-day pricing is expensive
No 4TB capacity
Club386 may earn an affiliate commission when you purchase products through links on our site. This helps keep our content free for all. Rest assured, our buying advice will forever remain impartial and unbiased.