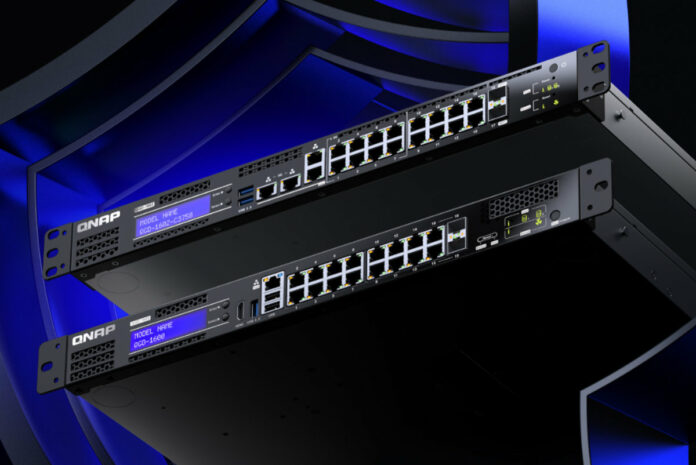 QNAP has launched two affordable QGD Series multi-port network switches that aim for affordability, easy upgradability and advanced network security, adopting the latest Layer 2 network management and software features including VLAN, LACP, and LLDP, ideal for ADRA NDR Cybersecurity protection or VM applications.
Specifically, the range consists of the QGD-1600 and QGD-1602, and they both support running virtual machines for users who wish to deploy a variety of applications including a VPN, firewalls, and network management. The two network switches incorporate the company's Linux-based QTS operating system that provides a simple-yet-efficient, user-friendly GUI solution for running a variety of QNAP software and VM applications making them a versatile and cost-effective security solution for all your edge devices.

In terms of specs, on the 'low-end,' QGD-1600 comes kitted with an Intel Celeron J4115 four-core processor paired with up to 8GB of DDR4 memory. While its beefier sibling, the QGD-1602, sports an Intel Atom C37587 eight-core processor at 2.2GHz married to 16GB of DDR4 memory, upgradable to 64GB. The latter also supports Intel QAT or Quick Assist technology that helps in data encryption and compression applications.
Moving on, I/O on the QGD-1600 features support for two 2.5in SATA drives, 14 GbE RJ45 ports, two Gigabit RJ45/SFP combo ports, two PCIe Gen 2 slots, and 1x USB 3.2 Gen 1 port, plus two standard USB 2.0 ports.

Meanwhile, the QGD-1602 includes two 2.5in SATA drive slots and increases network speed capabilities with eight 2.5GbE RJ45 ports, eight Gigabit RJ45 ports, and two 10GbE RJ45/SFP+ fibre combo ports. Expansion options are indeed plentiful, including two PCIe Gen 3 slots, two M.2 NVMe PCIe Gene 3 x1 slots, and two USB 3.2 Gen 1 ports. Rounding off, it also has four console ports for network management, including two 5GbE ports, and another two Gigabit RJ45 connections.
Pricing and availability has yet to be revealed, but you can find out more information about the QGD-1600 and QGD-1602 by clicking on the respective links provided.