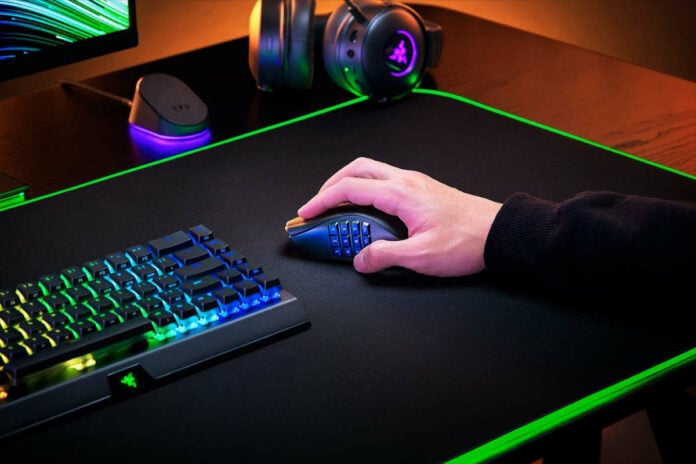 Razer's peripheral portfolio intends to cater for every play style, price range and ergonomic preference. With the Naga V2 Pro, the firm sets its sights on MMO and MOBA players with a new Razer Focus Pro optical sensor, wireless connectivity, swappable side panels and a few more useful features to give competitive players an edge.
Modern wireless mice have a lot in common, they are ultra-responsive and accurate, with high DPI and polling rates, healthy battery life and low input lag. Add some form of ergonomic design that of late is usually ambidextrous or right-hand dominant, feature tons of customisation options and in most cases an ultra-lightweight chassis. You know, for speed, look at the flick of the wrist, said no one ever.
Razer's Naga V2 checks most of these boxes and then some, except it carries a bit of heft, weighing in at 134 grams, and a wide chunky body measuring 119.5mm x 75.5mm x 43.5mm. It's like a wide body kit for gaming mice, and customisable magnetic side plates interchange between 12-button, six-button or classic forward and back two-button variations.
The buttons themselves work via Razers optical switches, and while the two-button and six-button feature textured grips on the underside, the 12-button variation feature four-rows buttons that are big and varied enough as to not confuse yourself with an incorrect press. Oh, and thanks to it being a Razer product, the buttons and logo light up with RGB and are easily customisable via Razer Synapse software.

There are two additional buttons below the all-new tilt and clickable Hyperscroll Pro Wheel. The topmost cycles through six preset scroll modes, while the bottom handles on-the-fly DPI changes. Users can choose between standard, distinct, ultra-fine, adaptive, smooth scroll or a custom mode configurable through the software. The switches are good for a rated 90-million clicks.
Moving on to connectivity, the bottom is where you'll find an ultra-high 30K DPI sensor, whose settings can be changed via the profile switching button, and a toggle that flips between 2.4GHz and Bluetooth wireless connections. A cover puck when removed also reveals that the Naga can be charged using the Razer Mouse Dock Pro and Razer Wireless Charging Puck, sold separately, of course. Still, nice touch.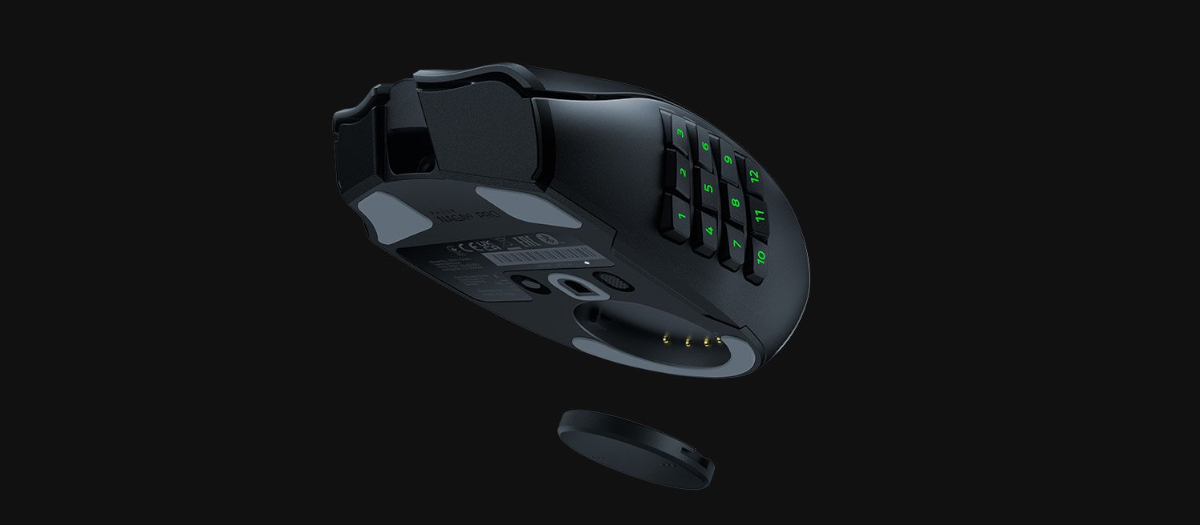 To combat wireless latency and lag, the Naga V2 can get to a hyper-polling rate of 4,000Hz, cutting the polling interval to just 0.25 milliseconds. Unfortunately, Razer chooses to sell the accompanying hyper-polling dongle separately, and at these price points we'd really like to see it included as part of the bundle.
Moving on Razer claims 300 hours of uninterrupted playtime via Bluetooth, while HyperSpeed wireless mode is good for up to 150 hours. Finally, fast-charging is capable via a Razer Speedflex USB Type-C cable, which thankfully comes included in the box, though charging times are missing in the tech specs.
Naga V2 is currently available on pre-order for £179.99 with shipping starting November 17, while the addition of the Hyper-polling dongle will set you back another £29.99. Frugal buyers such as myself, and those favouring an all-rounder with a lightweight chassis should also check out the Corsair Katar Elite Wireless, heard it's quite good.