Katar Elite Wireless is the latest addition to Corsair's enormous range of gaming peripherals. Measuring 115.8mm (L) x 64.2mm (W) x 37.8mm (H) and weighing a mere 69g, it boasts Corsair's Marksman 26,000DPI optical sensor and is able to connect via a USB cable, Bluetooth, or 2.4GHz Slipstream wireless using the included dongle.
Signature Quickstrike buttons ensure minimal gap between the buttons and switches for rapid response, and the sensor, a custom take on PixArt's PAW3393, tracks at up to 650 IPS (inches per second) with 50G acceleration.
If you own or have owned the previous Katar Pro Wireless, the 2022 upgrade will appear somewhat familiar thanks to its similar shape and button layout, though as with so much else these days, pricing has ballooned to £69.99. So, what are you getting for that extra £25?
Packaging
Nothing fancy or special here, you get your customary Corsair-themed yellow and black box. Inside you find the mouse, a 1.8m USB Type-C to Type-A cable for charging, plus warranty and safety booklets. The USB dongle is hidden neatly inside the mouse body, accessible via a little door.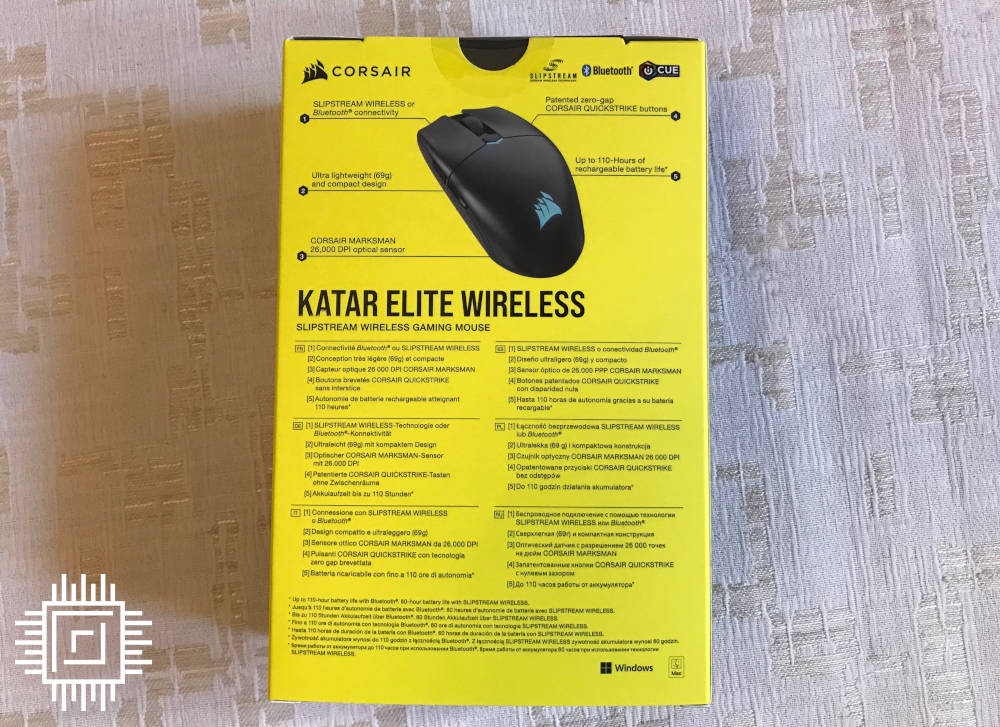 Connectivity and Battery Life
For the purpose of this review, we'll be focussing our attention on 2.4GHz Slipstream wireless connectivity using the included dongle, as most gamers will favour this mode over Bluetooth's increased latency and low pooling rates.
That isn't to say the latter is pointless, mind; besides offering wider compatibility with laptops and tablets, Bluetooth also allows for longer battery life advertised as up to 110 hours compared to only 60 hours in 2.4GHz mode. The quoted figures don't take RGB lighting into account – longevity will naturally reduce at max brightness – and when the tank is empty, you'll need around an hour and a half to recharge back to full capacity.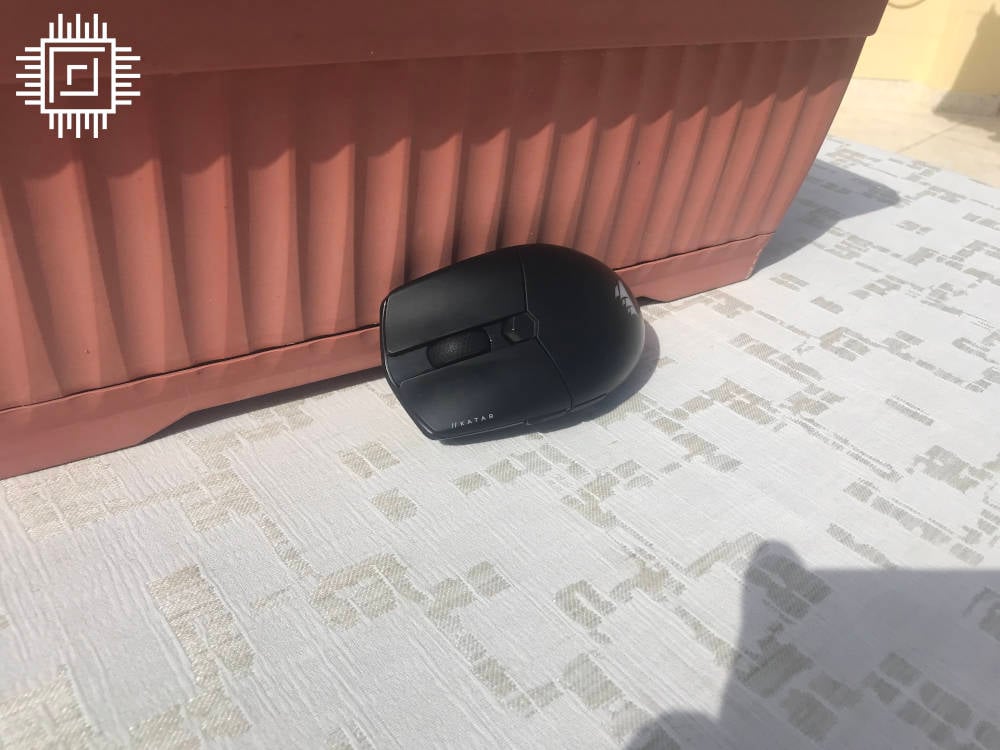 This widely contrasts with my current daily driver, a Logitech G603, which can go for months (and I really mean 3+ months of 8+ hours usage each day) without needing a battery swap. In Katar's defense, Corsair's decision to upgrade to a rechargeable lithium-polymer battery does away with the need to keep spare AAs at hand, and if you want to maximise runtime, you can setup a sleep timer which is handy if you leave RGB on. Sleep is set to 15 minutes by default, and waking is instant; just move the mouse and you are good to go.
Katar Elite Wireless can also be used in wired mode if the battery dies mid-battle. Side note: you can keep the Corsair connected wirelessly at the same time as another mouse, with both controlling the cursor. Why would you want to do that? Maybe you favour an ergonomic mouse for work yet like to game from time to time.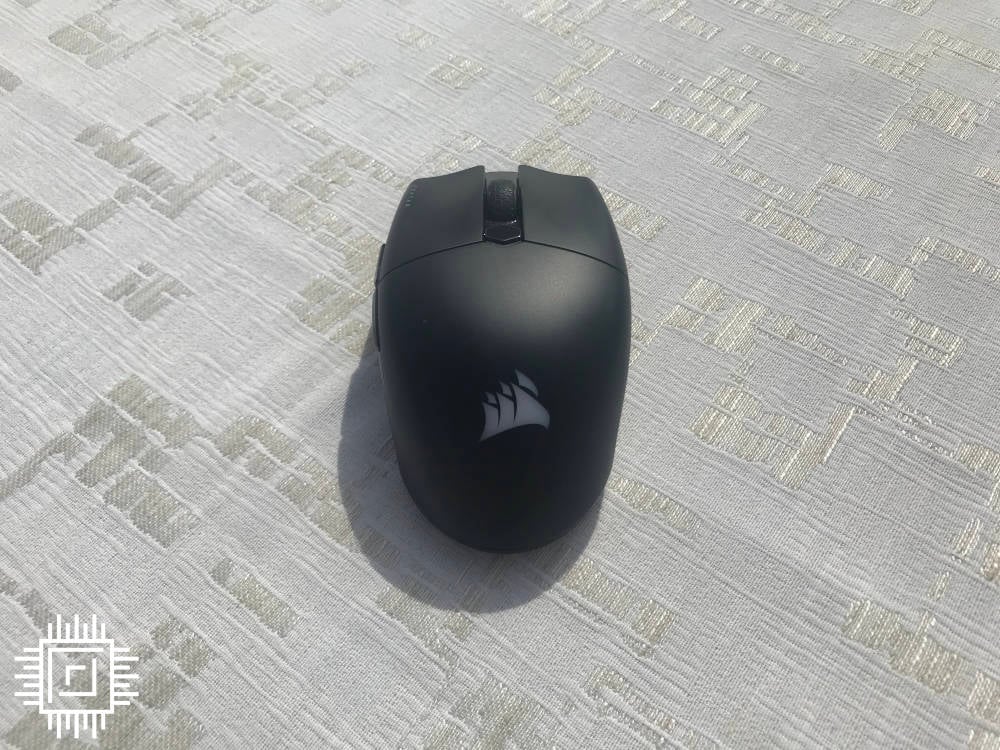 The dongle has 10m of (line-of-sight) range, which while not exceptional is typically enough to play from the comfort of your couch. You can also pair multiple devices to the same dongle if for example you don't have enough USB headers, though latency may increase.
While some continue to favour wired input for the absolute best performance, wireless has improved to such an extent that the difference is negligible for most users. I didn't come across any hiccups or slowdowns while using the mouse via 2.4GHz Slipstream at a 1,000Hz polling rate, and this while having the dongle less than 30cm from at least four other 2.4GHz peripherals.
Build
At just 69g, the mouse is very light and agile, especially coming from an AA-powered G603 which is literally double its weight tipping the scales at 139g. This allows for effortless flick shots and more aggressive play styles. Another positive aspect of a built-in battery is that the Katar Elite Wireless is well balanced, meaning those prone to lifting without moving their arm will find the mouse tends to stay parallel to the surface.
On the whole build quality feels excellent. I couldn't get the mouse to flex even when trying, and this is no doubt helped by the fact the top cover is now fixed unlike the G603 and Katar Pro which needs it to be removable in order to add AA batteries.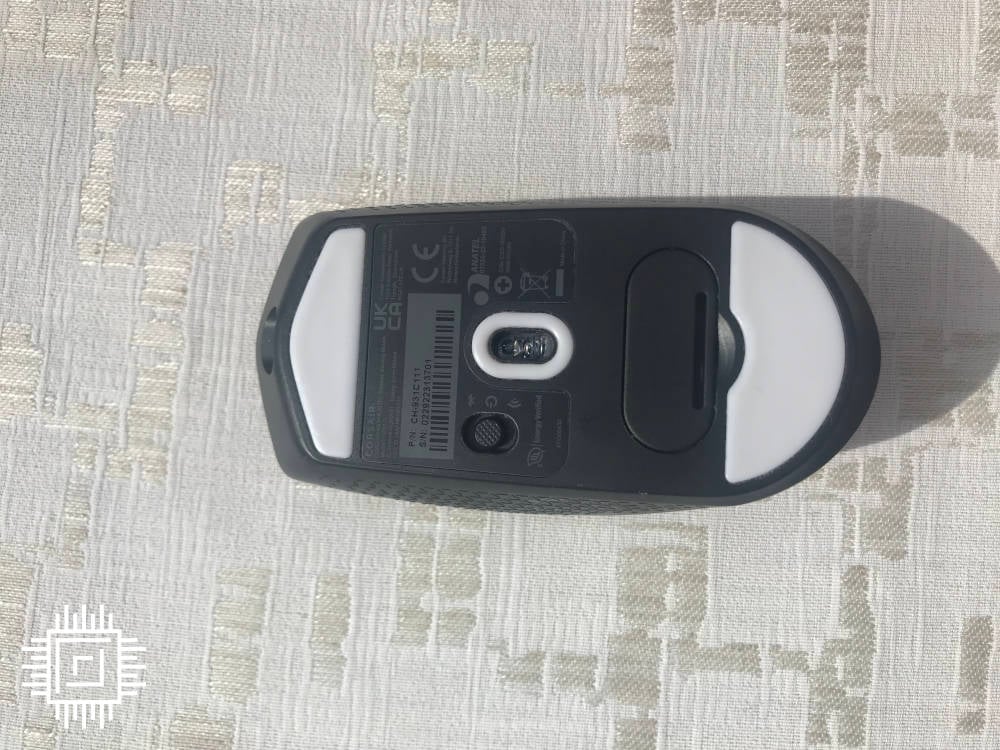 One thing you may have noticed is that it's almost an ambidextrous design thanks to a symmetrical shape, save for the forward and back buttons located on the left. Nothing that can't be overcome with some muscle memory.
The primary mouse buttons use Omron mechanical switches rated for 60 million clicks, with what Corsair calls a zero-gap design allowing for fast actuation without that mushy feel when you have a space between the button and switch. However, while the buttons are fine, the wheel isn't quite as satisfying. The textured, rubberised surface feels good to the touch, and the wheel is notched for precision, yet when scrolling web pages quickly it often feels inconsistent, as if the odd scroll here or there is somehow not registering. Maybe I'm just being paranoid, as it certainly wasn't enough to affect my daily operations.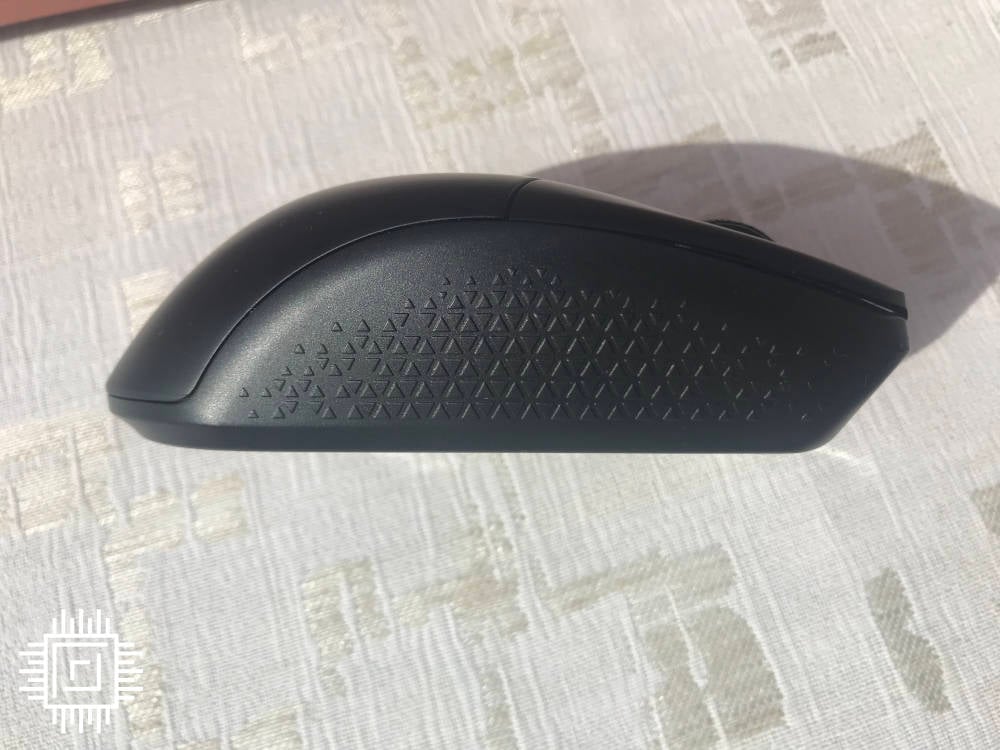 In keeping with other Corsair mice, all buttons are programable via iCue, be it complicated macros, single-press app launchers, or pre-defined text. The latter can be handy for recruiting players in-game by having a speech advertising your clan's benefits or rules, ready to be sent by a single click.
On the bottom we find three gliding surfaces made of 100 per cent PTFE, two large ones on the front and back plus a circular one around the sensor area. Moving the mouse is smooth and easy helping accentuate an already low weight that feels noticeably nimble. All these factors make the Katar Elite Wireless a strong contender for those wanting a light mouse like CoolerMaster's MM710 but hate being restricted by cable – think very-low DPI gamers.
Customisation
Speaking of DPI, it can be set in 1DPI increments from 100 up to 26,000. You can save five settings (each having its own custom colour) that you can swap between on the fly using a dedicated button located just behind the wheel. The DPI toggle can be remapped if you prefer, and Corsair has lifted limitations on what can be saved to onboard memory. Macros and key remaps are now supported, though do be aware there's only space for a single profile, so choose your customisations wisely.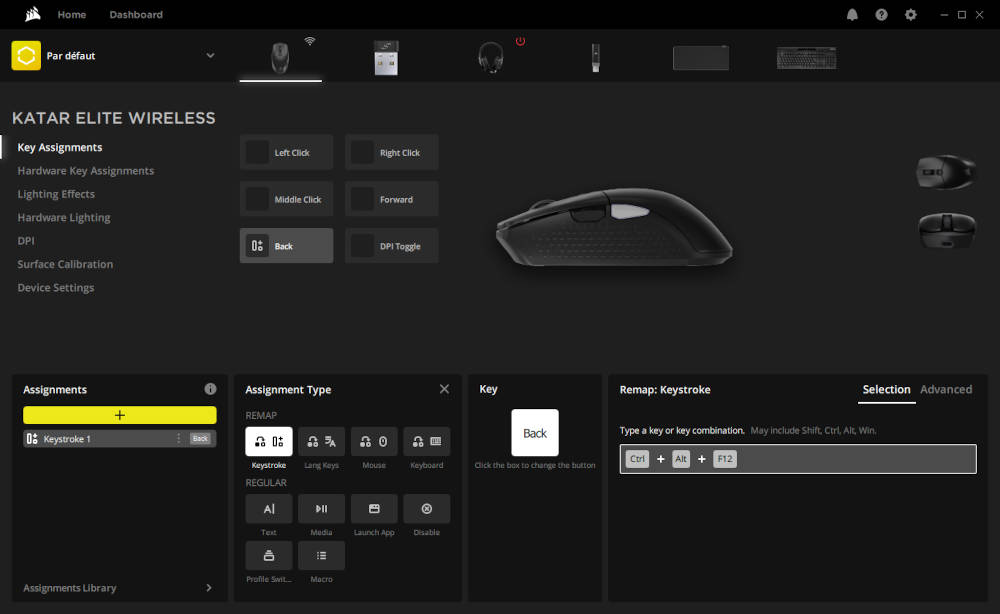 The Katar Elite Wireless has an RGB-lit Corsair logo on the palm area plus another small indicator near the DPI button in the centre. As usual, lighting can be customised and synced with other peripherals via Corsair's iCue software, and the DPI indicator can be configured to colours of your choosing, making it easy to identify the current setting at a glance.
By default, the five stages are configured as 400, 800, 1,200, 1,600 and 3,000, and on-the-fly tuning is available by hoping the DPI button and pressing forward or back to increase or decrease the value in increments of 50. iCue does tend to involve a learning curve, yet while powerful when used fully, it is entirely optional and the mouse functions perfectly well as a plug-and-play solution.
Conclusion
The Katar Elite Wireless gaming mouse takes what made the original Katar Pro popular and adds a bunch of welcome features, including a rechargeable battery, better build quality and a lighter profile.
While the existing Katar Pro Wireless continues to offer broad appeal at £45, the convenience of a built-in battery, reduced heft and the option of a wired mode ought to be enough to sway those who favour an agile and flexible pointer. If that sounds like you, the near-30 per cent reduction in weight certainly won't go unnoticed.
The hardware and iCue software also worked harmoniously in my experience, without any lag, bugs or crashes; trust me, this is not always a given with gaming peripherals. Customisation is only limited by the time you can dedicate to that task, and with some care, macros and lighting can be personalised to the nth degree, with the added benefit of seamless synchronisation with other Corsair gear.
Gaming, naturally, is where the latest Katar shines. Aim precision is excellent and I've enjoyed revisiting personal favourites such as Enlisted, where moving the scope from target to target amid massive battles is dead on and effortless. In World of Tanks, a slow but strategic game, where you can't afford to miss a shot, Katar was yet again exemplary. All in all, a solid gaming mouse that should serve you well in games.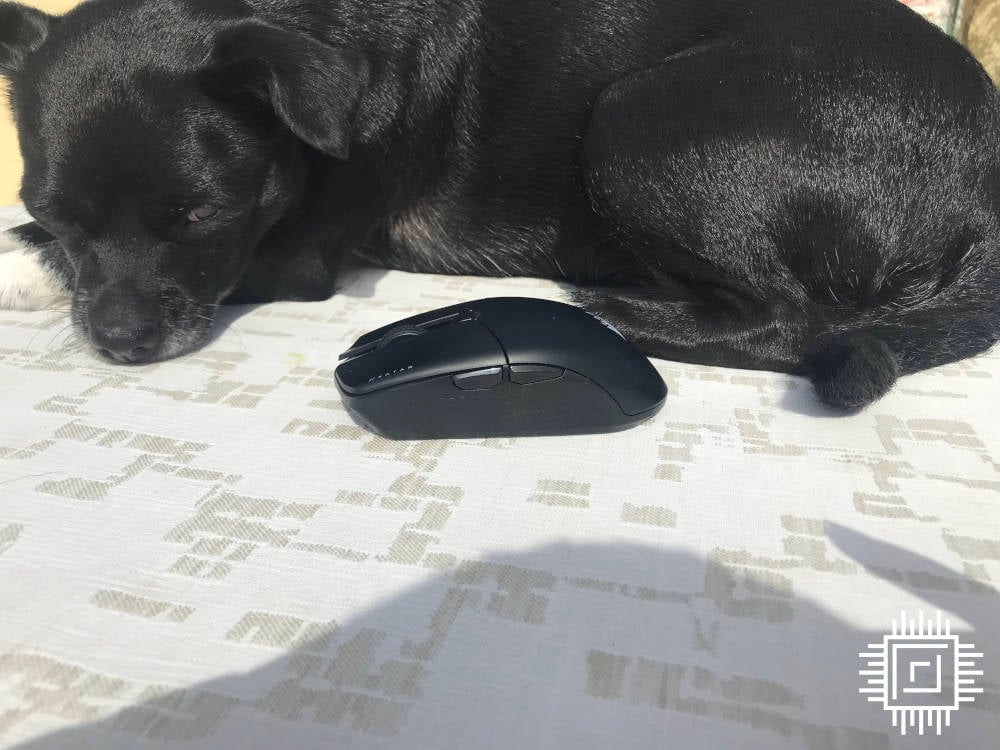 Corsair Katar Elite Wireless
Verdict: Light, fast, and precise, a welcome upgrade to a firm favourite.
---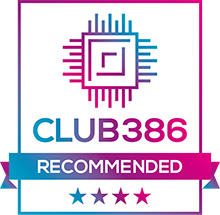 Pros
Lightweight
Onboard memory
Three ways to connect
Good in either hand
Cons
Middling battery life
---
Club386 may earn an affiliate commission when you purchase products through links on our site. This helps keep our content free for all.
Rest assured, our buying advice will forever remain impartial and unbiased.