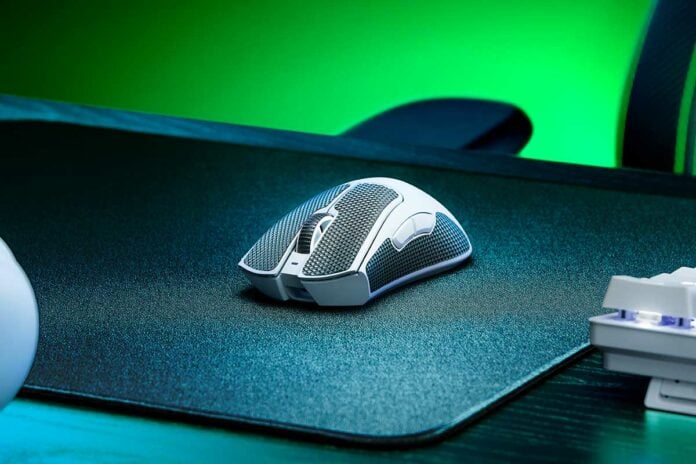 Razer isn't shying away from the daunting task of refreshing its range of best-selling DeathAdder mice. First introduced in 2006, the line-up has gone on to ship in excess of 15 million units worldwide, making it one of the most popular choices for gamers and e-sports pros alike.
A winning recipe, it would seem, yet Razer has opted for some radical changes with a 2022 refresh dubbed the DeathAdder V3 Pro.

Priced at €159.99, the new addition looks different from the get-go with Razer deciding to drastically reduce the signature flares that adorned prior DeathAdder products. The sweeping front and sides had always divided users and V3 Pro is noticeably less curvy, with a more streamlined profile we're told gives "better grip and hand support."
Overall length hasn't changed a great deal – V3 Pro at 128mm is just 1mm longer than its predecessor – but the front of the mouse is now just 63mm wide (down from 71mm), height has been increased a fraction from 42mm to 44mm, and the primary clickers taper down closer to the surface, helping eliminate that uncomfortable edge. Even the side buttons have been raised a fraction to avoid accidental clicks.
An entirely new profile and yet the biggest change relates to weight, with DeathAdder V3 Pro tipping the scales at just 63g. That's a significant 28 per cent lighter than the previous generation, though a number of features have fallen by the wayside to enable such slimming down. The Razer logo lacks RGB Chroma lighting, there aren't any top DPI buttons, and you no longer have onboard storage for the dongle.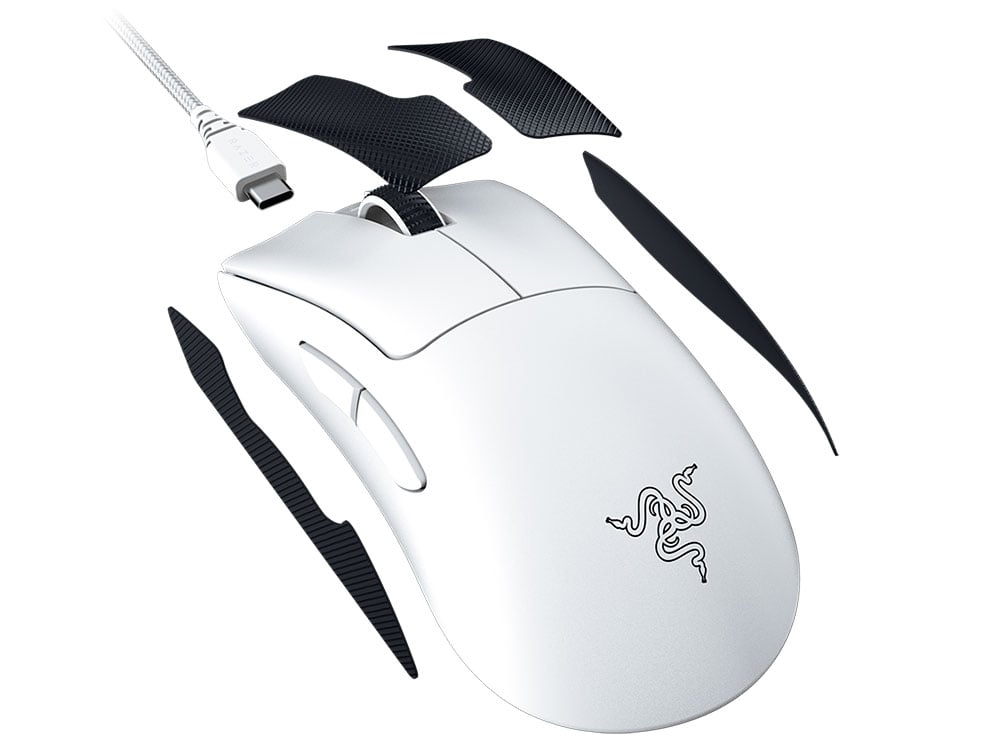 "Since its launch, Razer has worked with esports pros all over the world to fine-tune and hone the DeathAdder into a truly formidable competitive mouse," said Flo Gutierrez, director of global esports at Razer.
"With the DeathAdder V3 Pro, we have now produced the most advanced, ultra-lightweight, ergonomic DeathAdder to date, honouring the DeathAdder's reputation of providing 'the unfair advantage'."
Beneath the hood, Razer employs its Focus Pro 30K optical sensor and third-generation optical mouse switches rated for 90-million clicks. Battery life is good for up to 90 hours of constant motion, while charging takes place via a bundled USB Type-A to Type-C cable.
Colour options include both black and white – the latter is fractionally heavier at 64g – and though you might expect everything to be included in the box, Razer's optional HyperPolling Wireless Dongle remains an added extra. Purchased as a bundle, the duo fetch a combined €177.50 and increase polling rate from 1,000Hz to 4,000Hz, albeit at the expense of battery life, which drops to 24 hours at the highest speed.
An interesting evolution, and given the sheer scope of change, we're intrigued to see how gamers will respond to Razer's slimmer, streamlined design.