Jump to: Specs | Performance | Conclusion
Consumer SSDs have been slowly transitioning to a PCIe 4.0 x4 interface in the wake of both AMD and Intel having multiple supporting chipsets for Ryzen and Core chips. Now considered premium rather than high-end, every NVMe SSD manufacturer has at least one model in its ranks. Seagate was relatively early to the party with FireCuda 530, released in 500GB to 4TB capacities.
FireCuda goes after the enthusiast end of the storage market sensibly by pairing the Phison E18 controller alongside 176-layer 3D TLC NAND from Micron. It's a combination we've seen before, most recently from Kingston, and if the KC3000 drive's scores are anything to go by, FireCuda 530 ought to be very fast.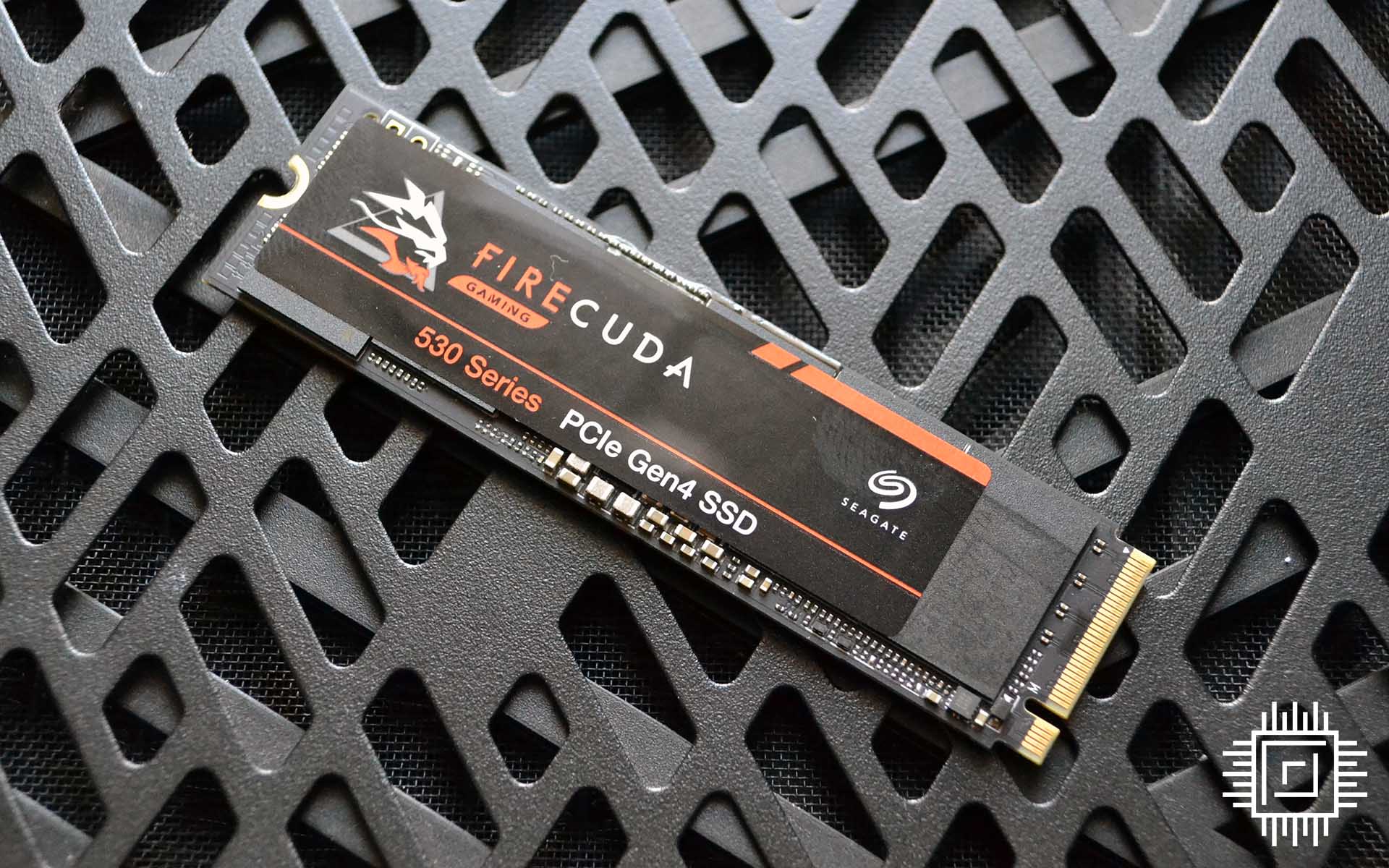 Presented in the typical 2280 form factor, Seagate plies a black PCB with a two-tone sticker. There's no fancy graphene to aid cooling, and the label is prone to holding fingerprints, but we like the look nonetheless.
2TB and 4TB models house ICs on both sides, making the drive a little thicker, and though we'll demonstrate heat is not an issue, Seagate also offers all capacities with a pre-installed heatsink for an extra £10 or so.
500GB and 1TB drives have also been offered with a Mandalorian-inspired heatsink known as the 'Beskar Ingot Drive,' but none are available at the time of writing.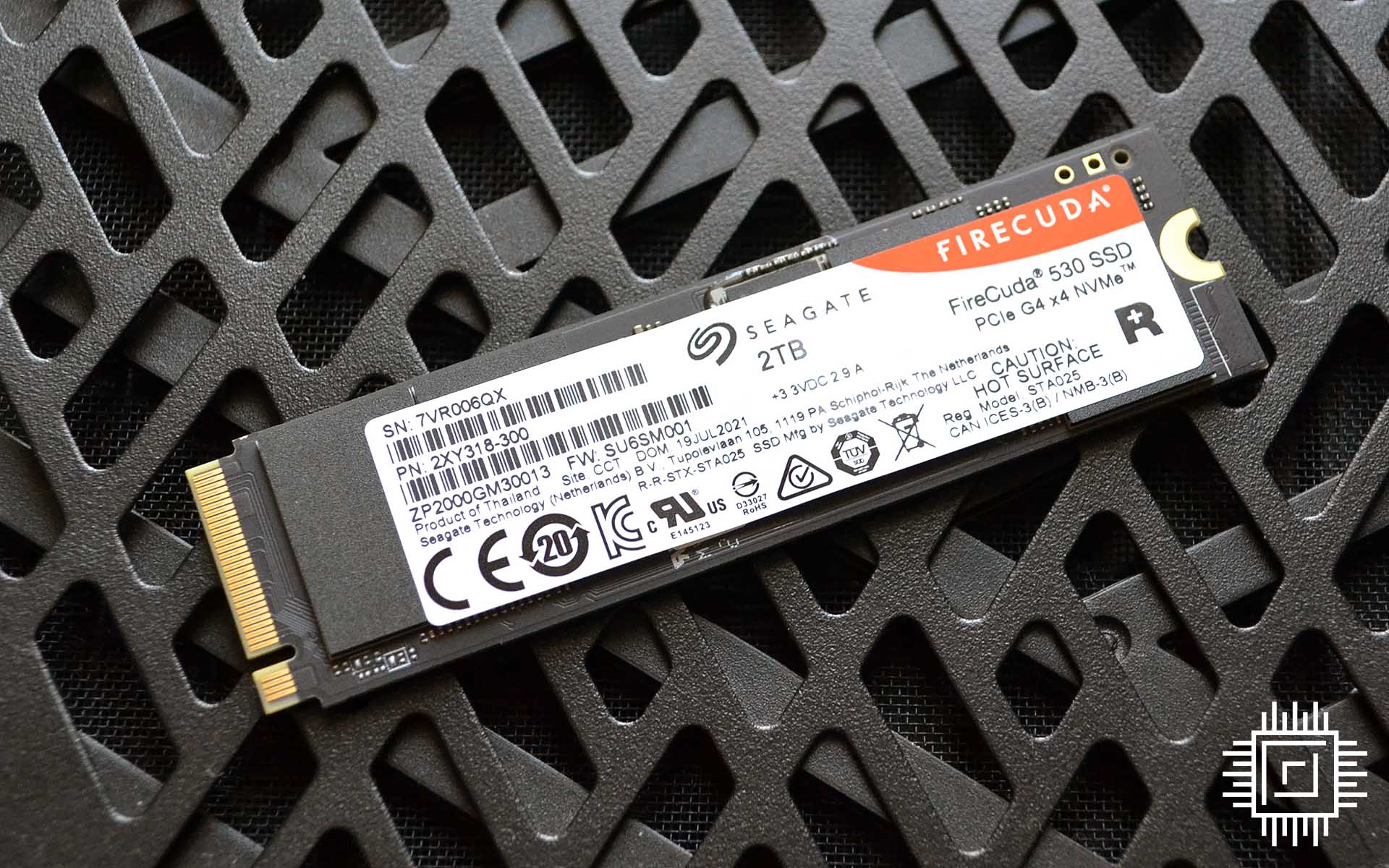 Being a Phison-derived model, FireCuda 530 carries 1GB DDR4 RAM for buffering duties, represented in this instance by two 512GB chips.
Alongside the DRAM, having PCIe 4.0 and up to 7.3GB/s read and 6.9GB/s write offers compatibility with PlayStation 5 – it works just fine on our console – and the heatsink-clad version, recommended if going down this route, is deliberately slim enough not to cause installation issues.
Drilling down, not all Phison/Micron drives are created equal. Whereas KC3000 opts to run the NAND at a full 1,600MT/s, Seagate takes a more cautious approach by dialling down speed to 1,200MT/s. Still fast enough for impressive throughput numbers, but something to bear in mind.
Specifications
| Seagate FireCuda 530 | 500GB | 1TB | 2TB | 4TB |
| --- | --- | --- | --- | --- |
| Controller | Phison E18 | Phison E18 | Phison E18 | Phison E18 |
| NAND | Micron 176L TLC | Micron 176L TLC | Micron 176L TLC | Micron 176L TLC |
| Interface | PCIe 4.0 x4 | PCIe 4.0 x4 | PCIe 4.0 x4 | PCIe 4.0 x4 |
| Sequential Read Speed (MB/s) | 7,000 | 7,300 | 7,300 | 7,250 |
| Sequential Write Speed (MB/s) | 3,000 | 6,000 | 6,900 | 6,900 |
| Random Read IOPS (K) | 400 | 800 | 1,000 | 1,000 |
| Random Write IOPS (K) | 700 | 1,000 | 1,000 | 1,000 |
| Form Factor | M.2 | M.2 | M.2 | M.2 |
| Endurance (TBW) | 640 | 1,275 | 2,550 | 5,100 |
| MSRP | £80 | £145 | £280 | £650 |
This drive also does some other things differently to Kingston. There's typically more space reserved for overprovisioning at each capacity, leading to higher sequential speeds and even better endurance.
"The 2TB sample carries impressive specifications in every area"
The 2TB sample carries impressive specifications in every area, and the 2.55PB endurance rating is class-leading. Putting it another way, that's well over 1,000 complete drive writes before any fragility is observed.
A five-year warranty is standard, but we're more impressed with FireCuda 530 being bundled with three-year cover for Rescue Data Recovery Services, which promises an industry-leading 95 per cent success rate for in-house SSD and HDD data recovery, should the unthinkable happen. Security-wise, there's no baked-in encryption support, which is normal.
Seagate is competitive with respect to pricing; the £280 fee is at the lower end of the Phison E18/Micron scale.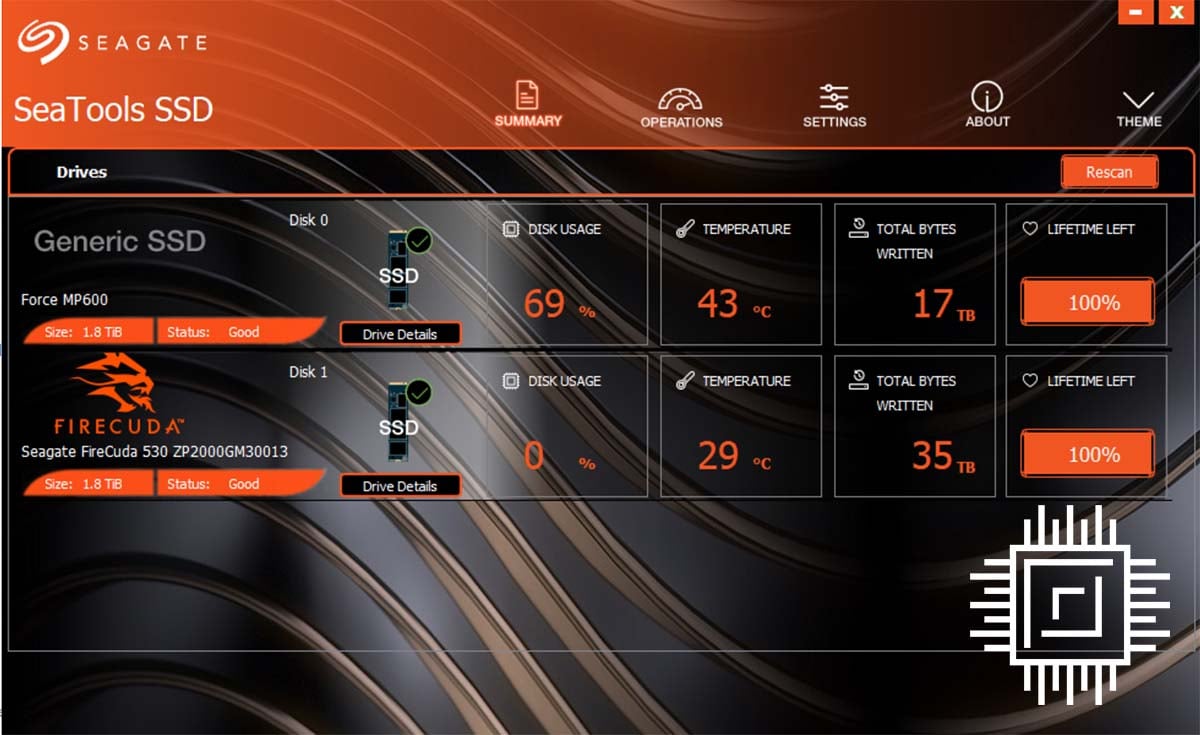 FireCuda 530 could do better with supporting applications. SeaTools SSD provides simple visual feedback but cannot update firmware from within Windows, as we're met with an 'operation failed' at every turn.
Test Methodology
Club386 Benchmarking System
CPU: AMD Ryzen 9 5950X
Motherboard: Asus ROG X570 Crosshair VIII Formula (3904 BIOS)
Memory: 32GB (2x16GB) G.Skill Trident Z Neo DDR4-3200 at 14-14-14-2T
SSD: Corsair MP600 2TB
CPU Cooler: Corsair Hydro Series H150i Pro RGB
Chassis: Fractal Design Define 7 Clear Tempered Glass
PSU: be quiet! Straight Power 11 Platinum 1,000W
OS: Microsoft Windows 11 Pro
Comparison SSDs
| Drive | Interface | Form Factor | Capacity | Firmware |
| --- | --- | --- | --- | --- |
| Seagate FireCuda 530 | PCIe 4.0 x4 | M.2 | 2TB | SU6SM001 |
| Kingston KC3000 | PCIe 4.0 x4 | M.2 | 2TB | EIFK31.6 |
| Corsair MP600 Pro XT | PCIe 4.0 x4 | M.2 | 1TB | EIFM31.2 |
| WD Black SN770 | PCIe 4.0 x4 | M.2 | 1TB | 731030WD |
| WD Blue SN570 | PCIe 3.0 x4 | M.2 | 1TB | 234090WD |
| Crucial MX300 | SATA | 2.5in | 1TB | M0CR070 |
Software
CrystalDiskMark 8.0.4 x64
Final Fantasy Endwalker loading time
3DMark SSD Storage
SPECworkstation 3.1
Iometer 1.1.0
PCMark 10 Storage
CrystalDiskMark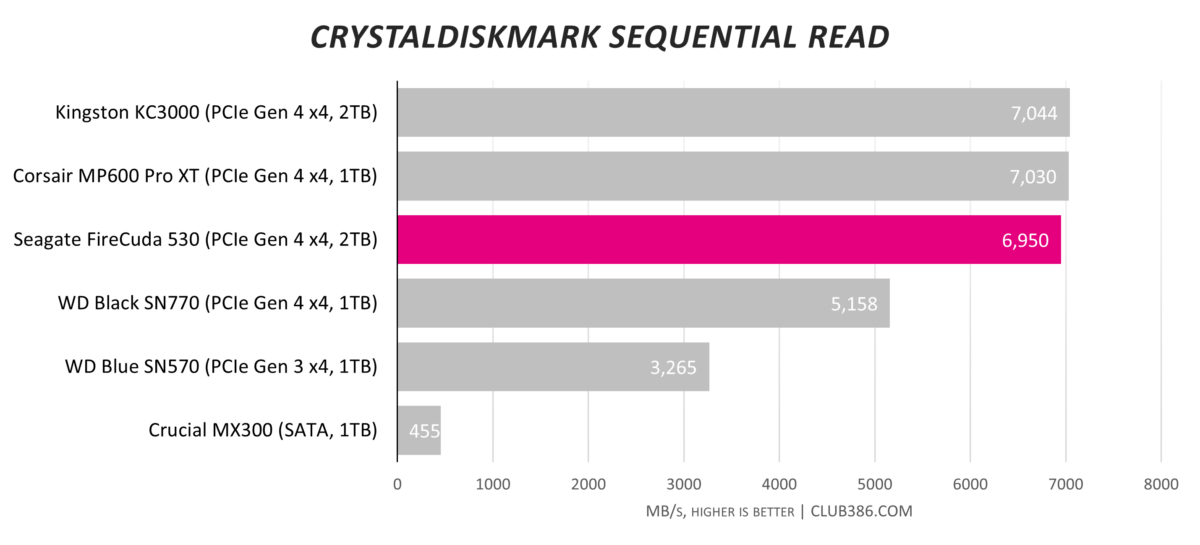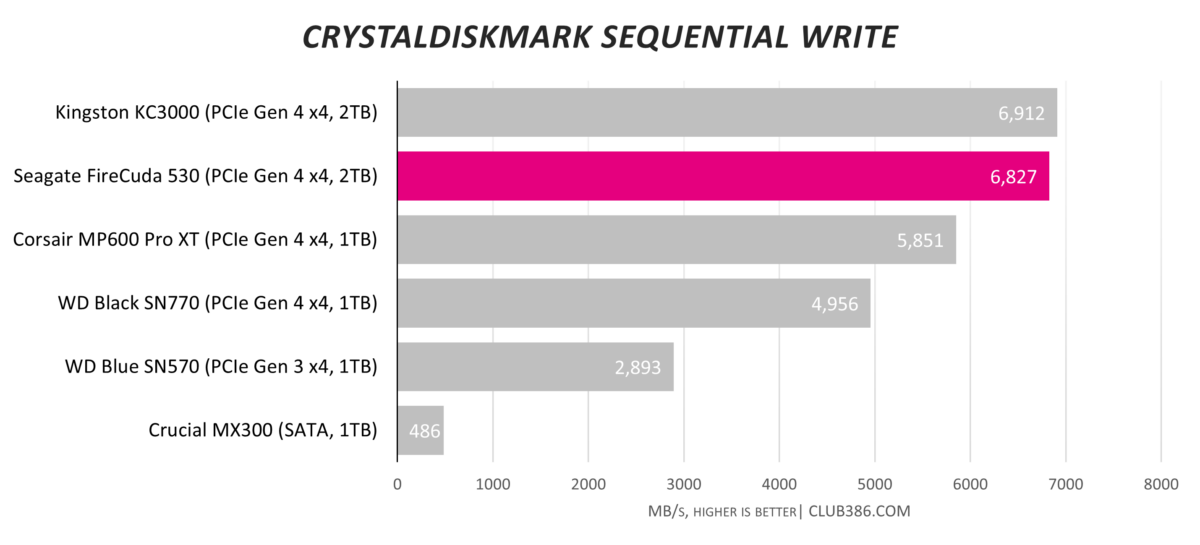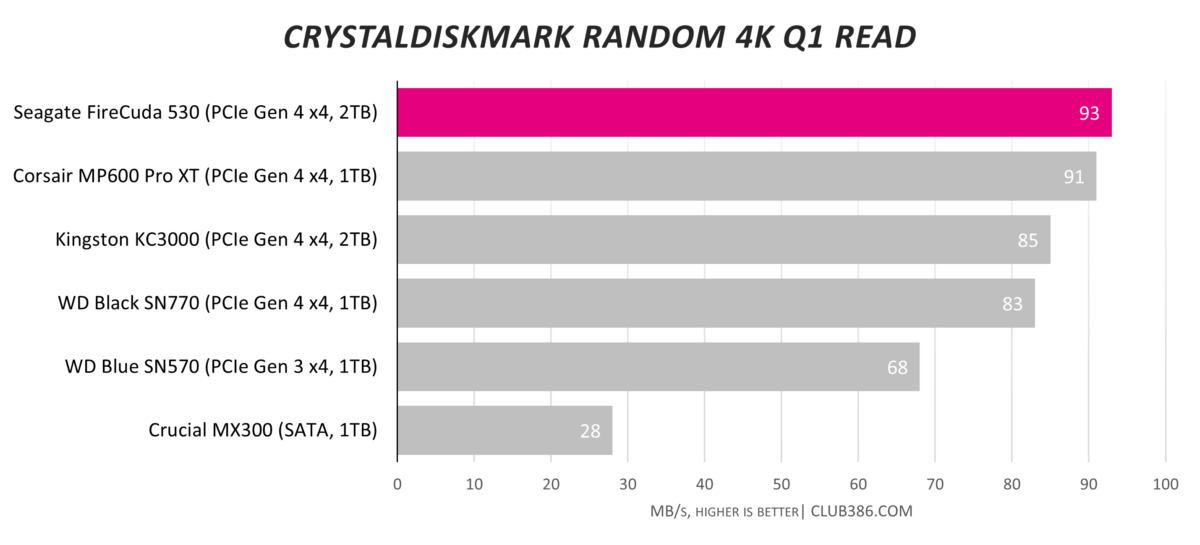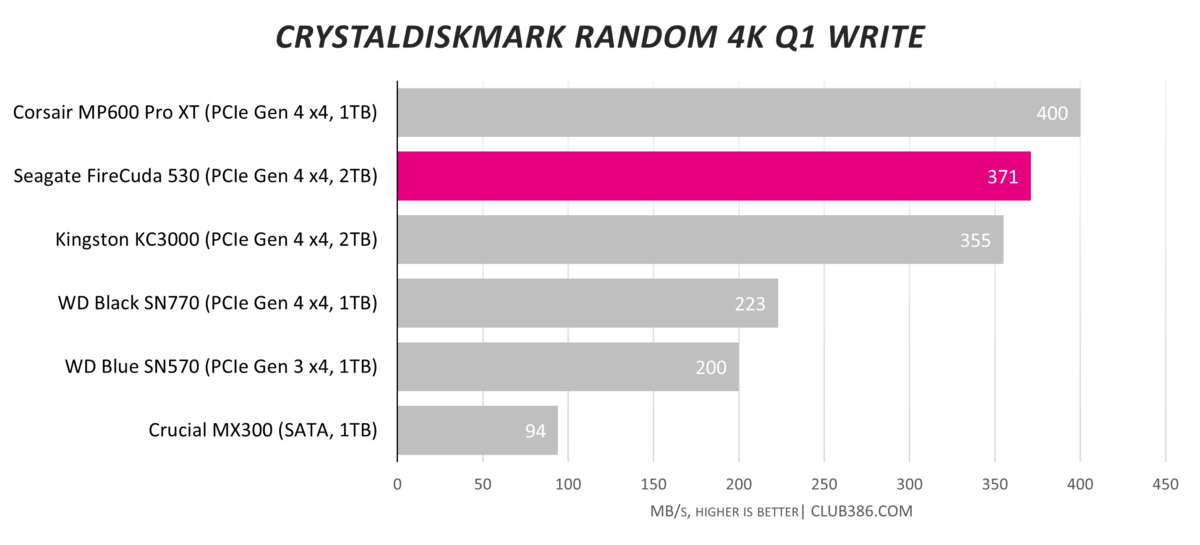 We're not quite achieving the 7,300MB/s heights claimed on the box. Nevertheless, Seagate FireCuda 530 makes a home in the high-end PCIe 4.0 firmament with a solid set of results.
Gaming Storage Tests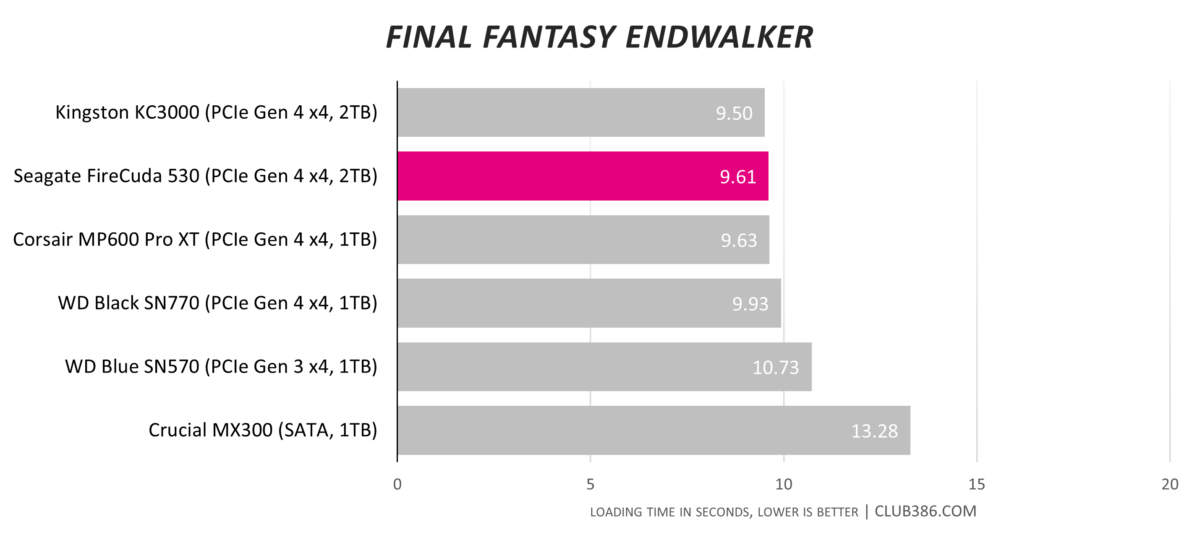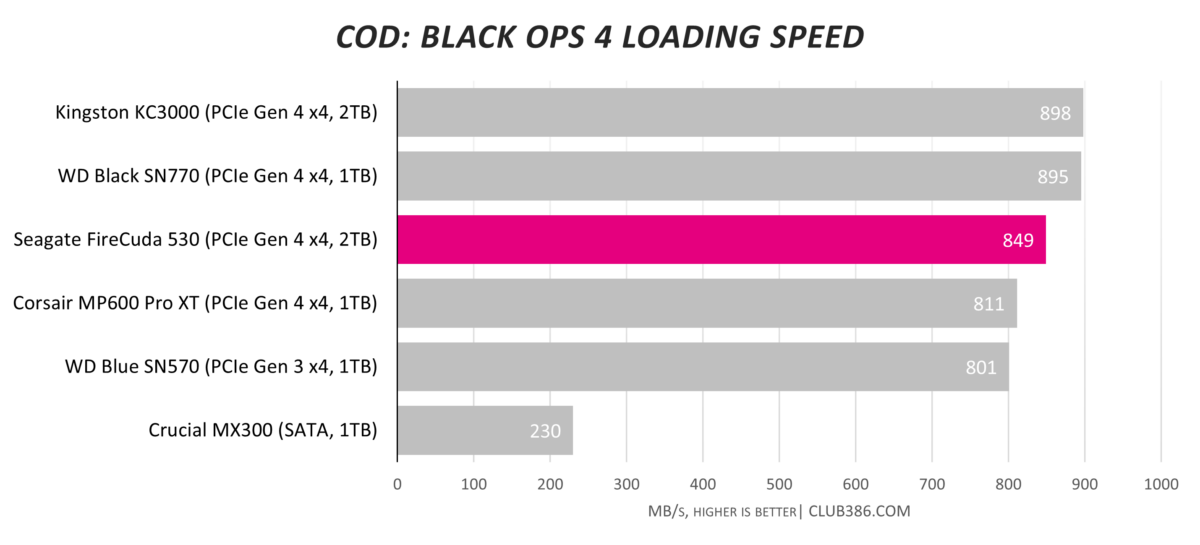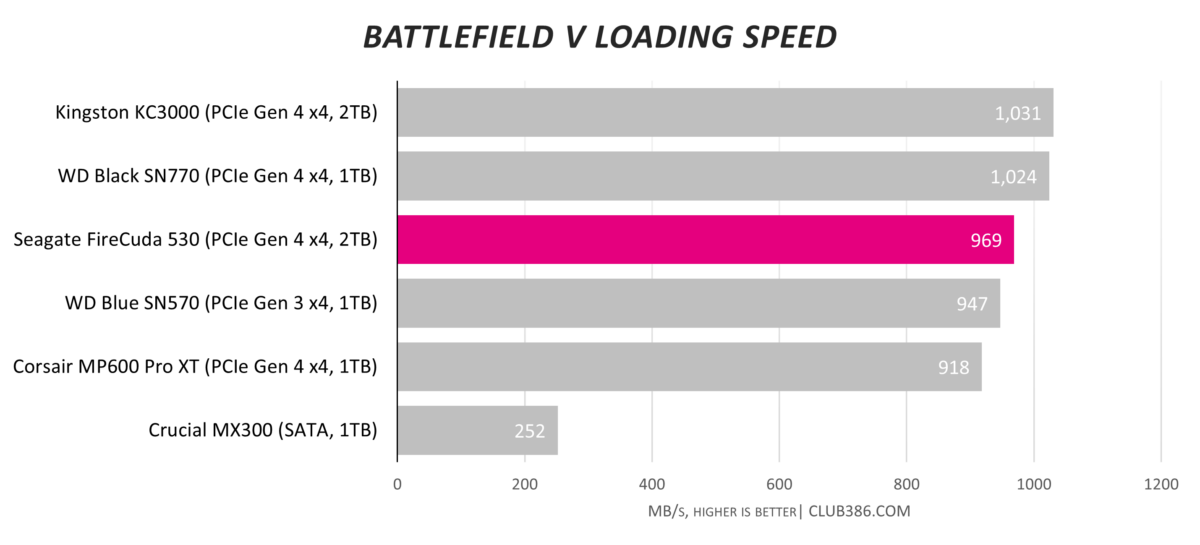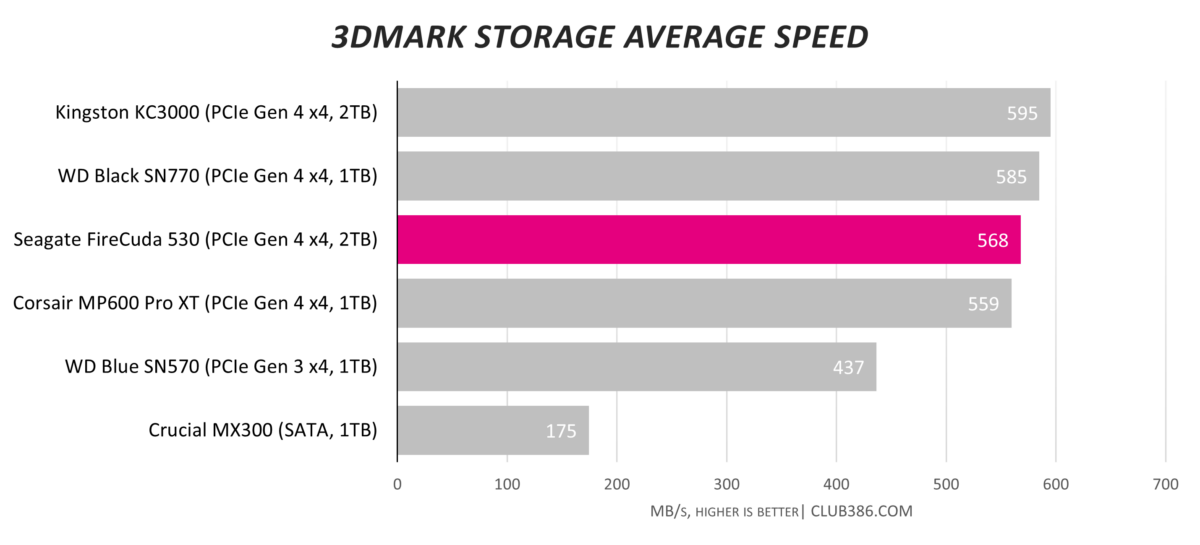 Falling a little behind the Corsair, WD and Kingston drives, we believe Seagate to use less dynamic caching than the trio. There's clear evidence it's faster than a modern entry-level drive (WD Blue SN570) and about 4x quicker than a decent SATA SSD.
SPECworkstation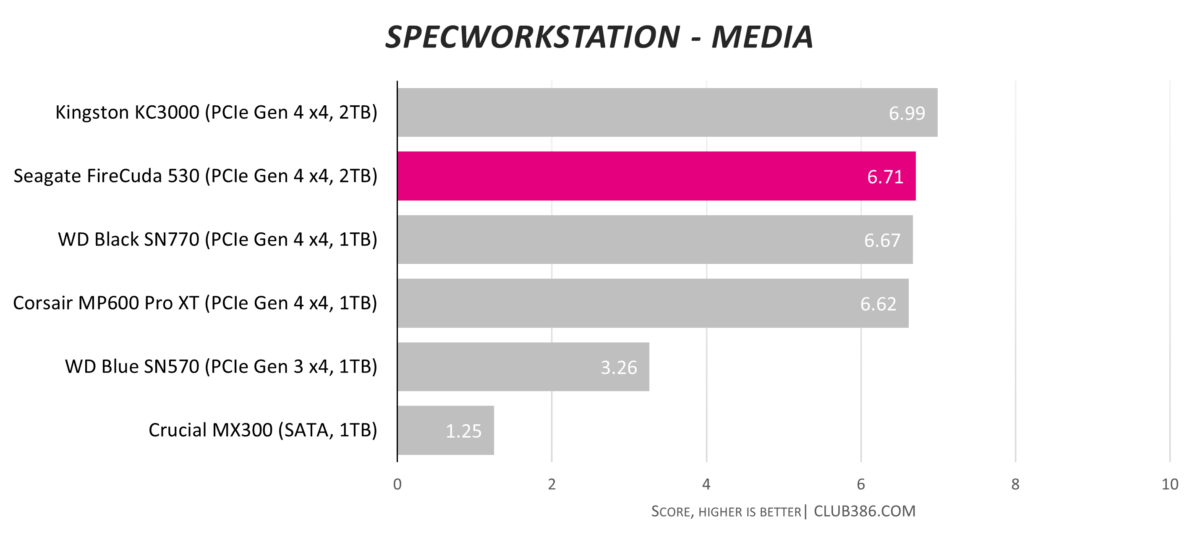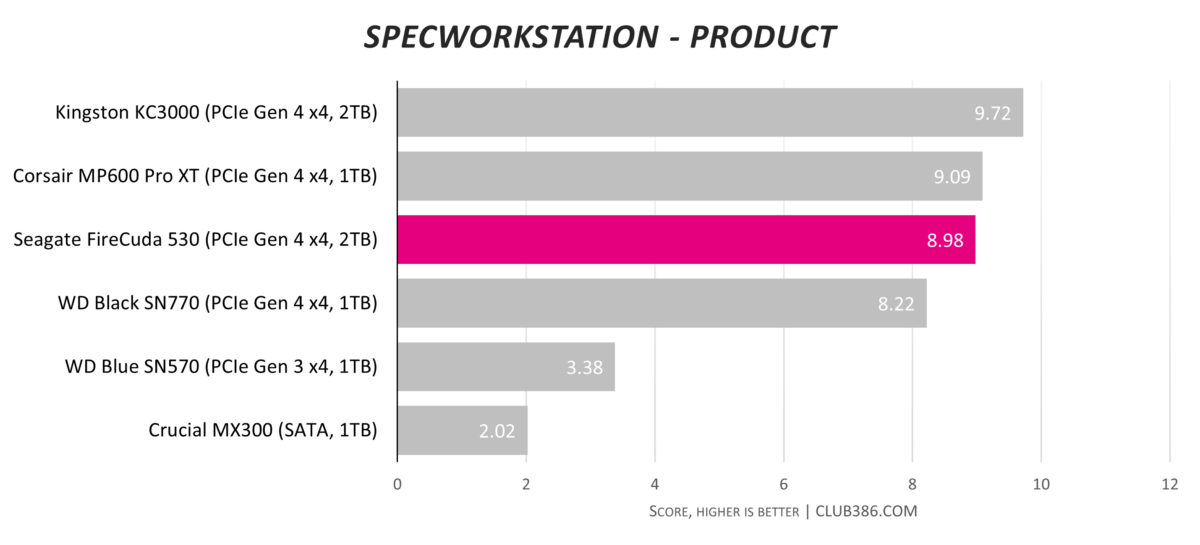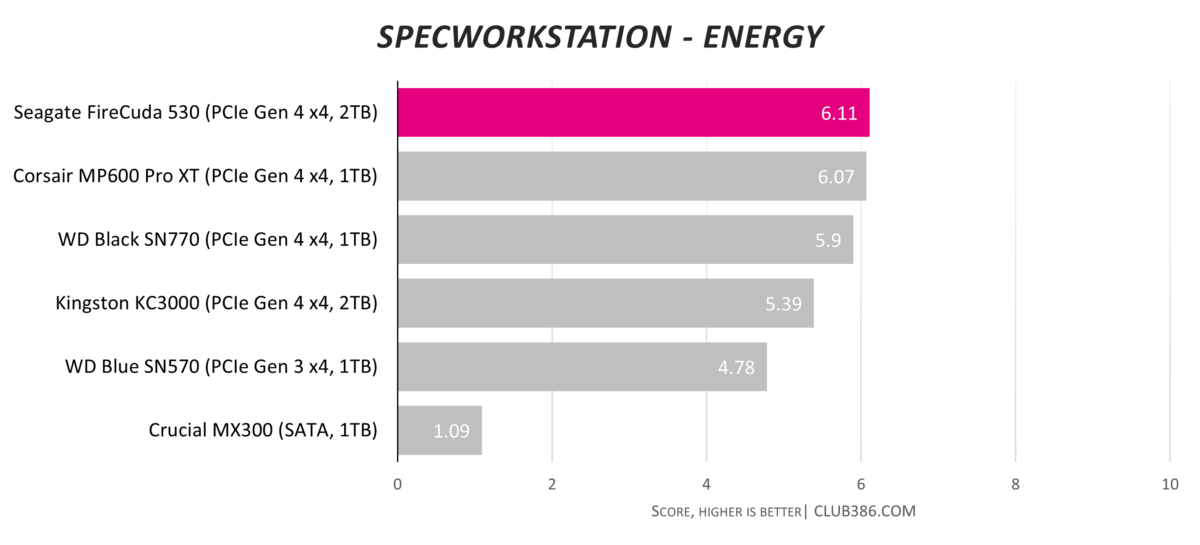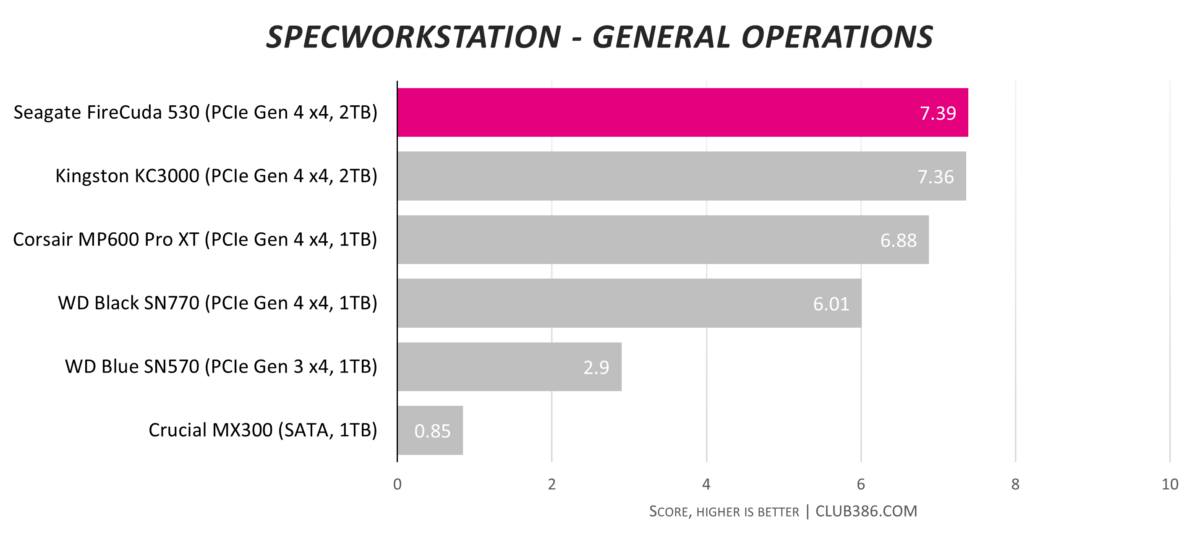 Our benchmarks become more stringent as we go down the page. SPECworkstation exacts a greater toll on the drives' controller and NAND combination.
Seagate FireCuda 530 does well here, topping two charts and placing well in others. Solid performance.
Iometer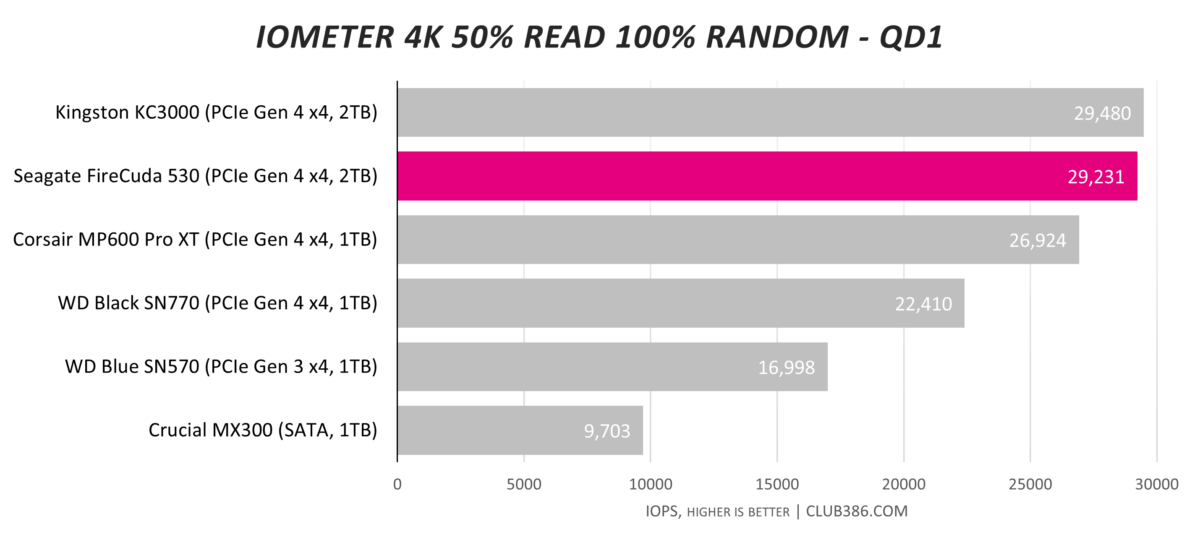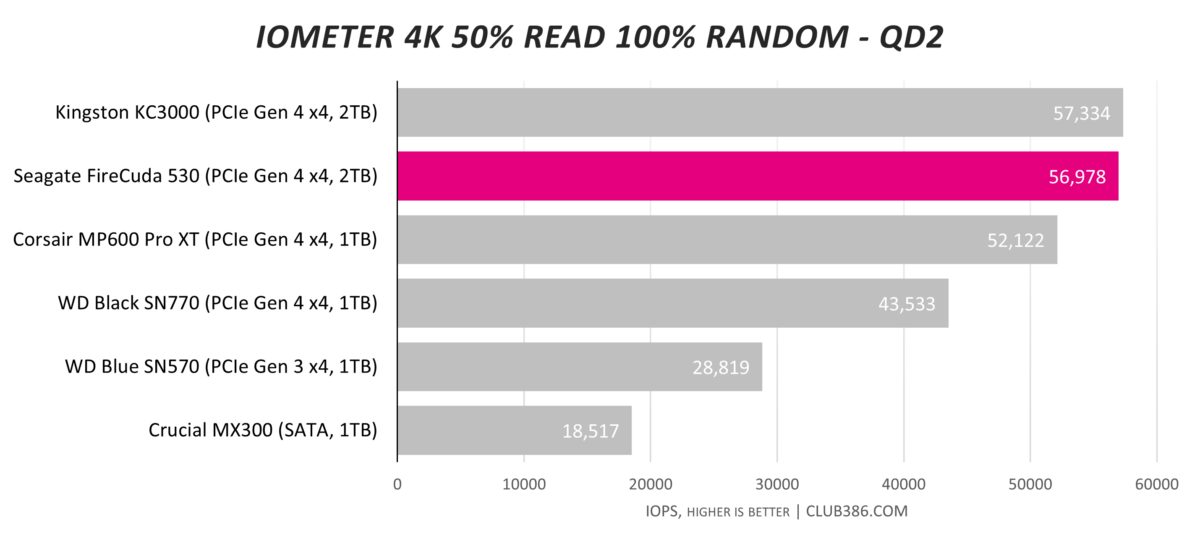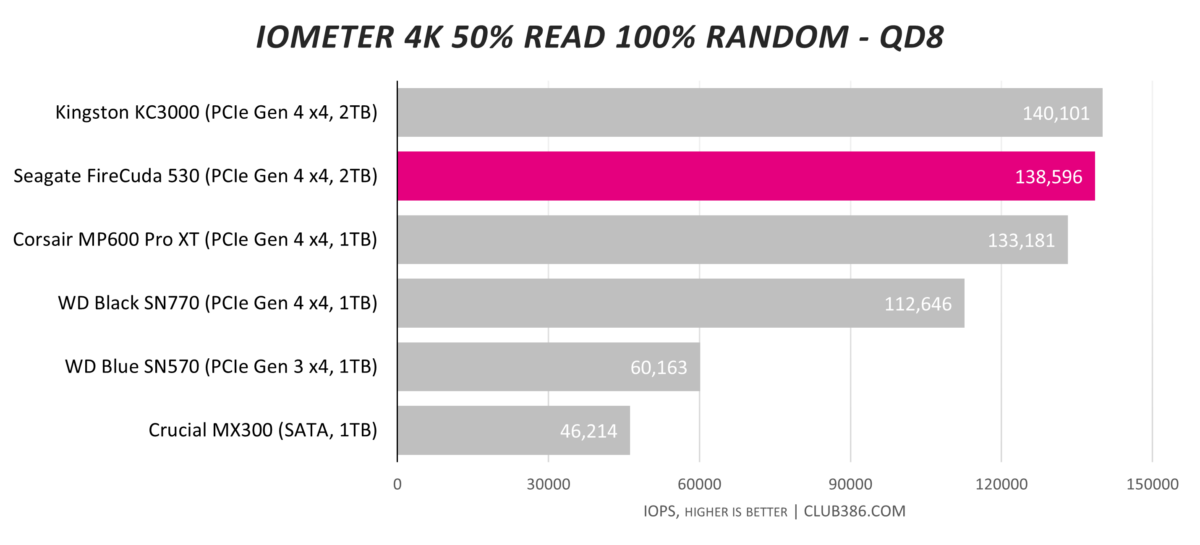 Iometer is a fantastic tool to evaluate storage. Configurable in thousands of ways, we choose to run the 4K aligned test with 50 per cent reads, 50 per cent writes, and 100 per cent random accesses. Think of it as zeroing-in on the controller and NAND's qualities, and better combinations ought to score higher.
Look at how closely the two Phison E18/Micron 176L NAND drives perform. Both produce excellent numbers.

Show your support for impartial Club386 reviews
Club386 takes great pride in providing in-depth, high-quality reviews built on honest analysis and sage buying advice. As an independent publication, free from shareholder or commercial influence, we are committed to maintaining the standards our readers expect.
To help support our work, please consider making a donation via our Patreon channel.
PCMark Storage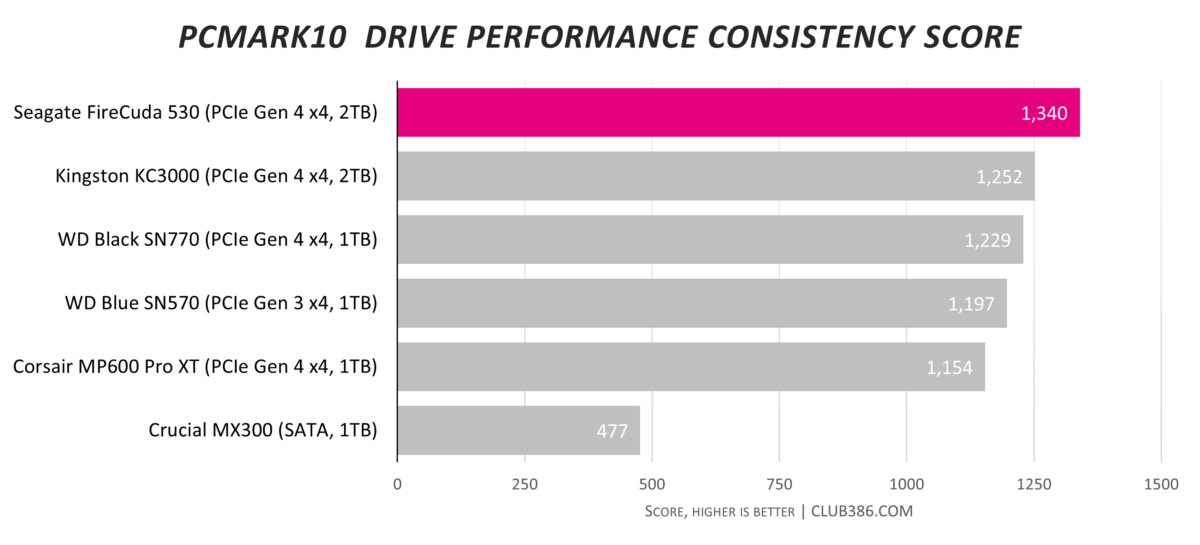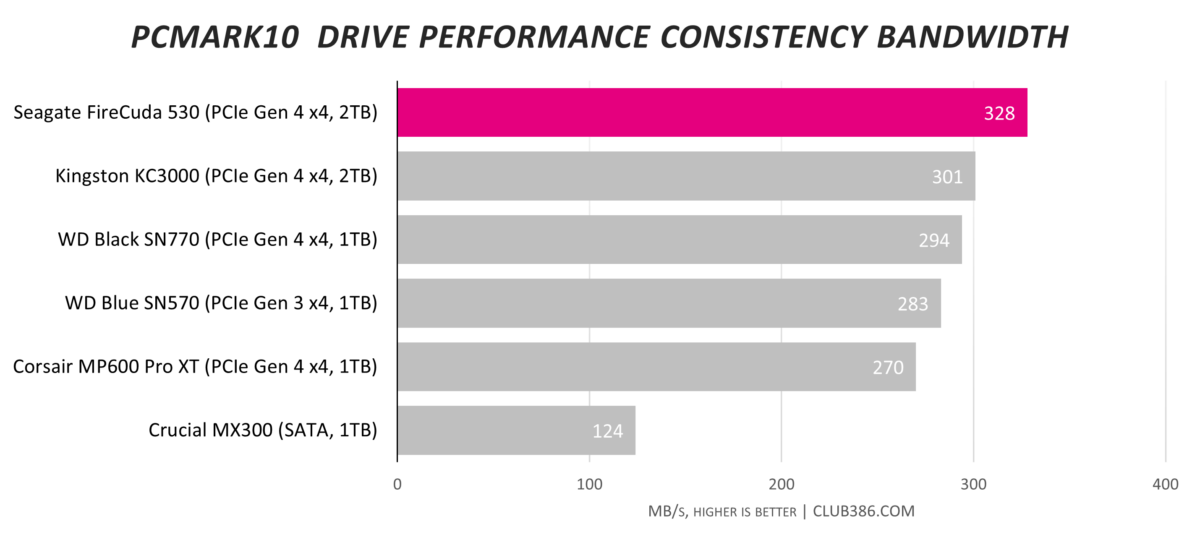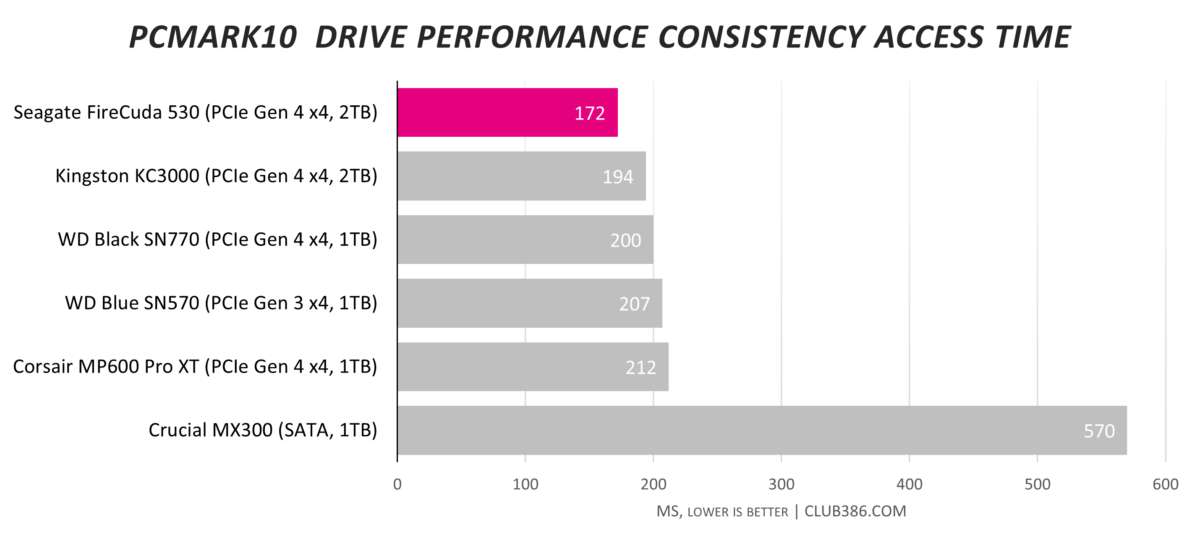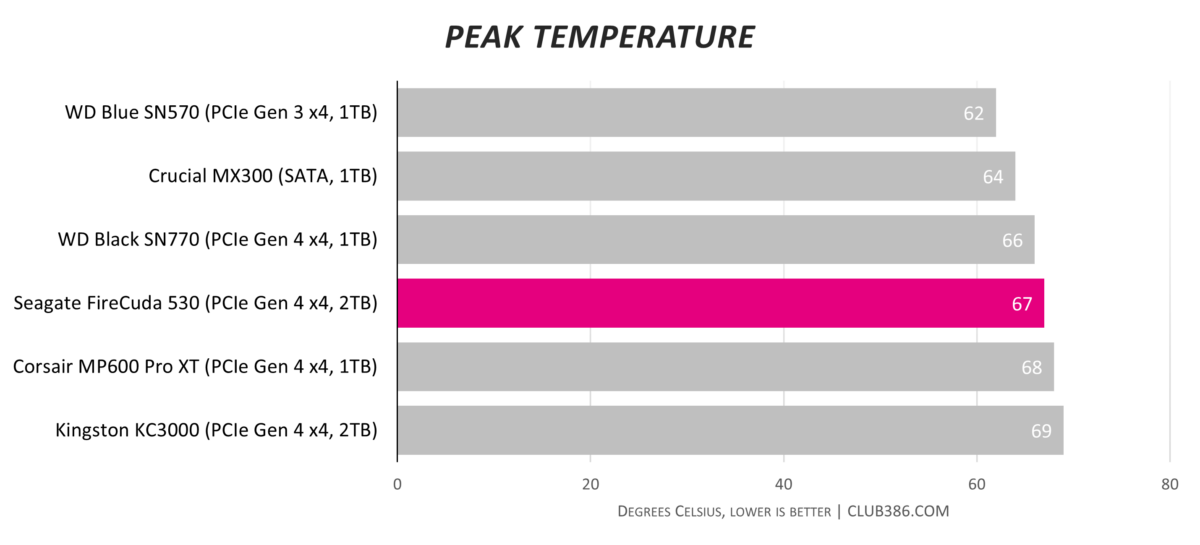 The toughest test is 12-hour-long PCMark 10 drive performance consistency. It writes 23TB plus up to three times the drive capacity. The test includes a degradation phase, a steady state phase, and a recovery phase. In-depth reporting shows how the performance of the drive varies under these conditions.
FireCuda 530 aces these charts, which is somewhat of a surprise given the Kingston KC3000 uses a larger dynamic SLC cache. Our best guess is the Seagate-validated firmware is tuned for exceptional steady-state performance.
Run in a bare, non-heatsink state, the drive remains relatively cool and shows no signs of throttling.
Conclusion
Seagate knew it was on to a winner when pairing the Phison E18 controller with excellent 176-layer 3D TLC NAND from Micron. Putting it together for FireCuda 530 ensures performance is crisp in every environment, particularly so for sustained steady-state workloads, while pricing is on-point for the various capacities.
Looking good and backed with the best consumer endurance numbers we have seen to date, it's hard to criticise a drive which costs around 10 per cent less than rival Kingston KC3000.
Aside from no baked-in encryption and a painful firmware update system, we have no further qualms in recommending the Seagate FireCuda 530 NVMe SSD as a high-performance upgrade for myriad systems.
Seagate FireCuda 530 2TB NVMe SSD
Verdict: A high-quality drive enhanced by an attractive price and rescue software.
---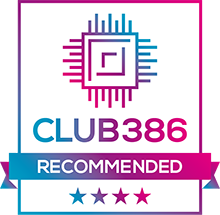 Pros
Robust performance
Excellent steady-state
Useful rescue software
Decent pricing
Cons
No encryption
Clunky firmware update
---
Club386 may earn an affiliate commission when you purchase products through links on our site. This helps keep our content free for all.
Rest assured, our buying advice will forever remain impartial and unbiased.