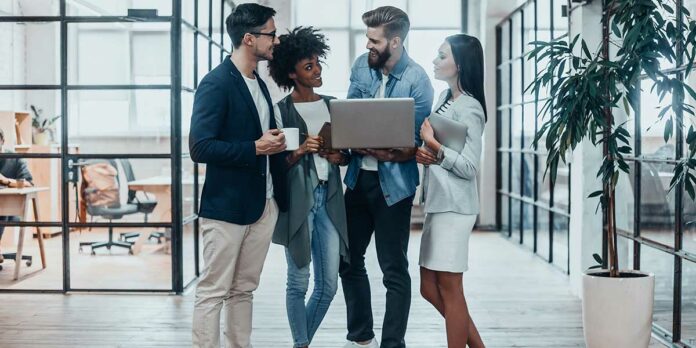 The following text is provided by AMD and published verbatim.
When it comes to hybrid work, IT leaders say the ability to effectively collaborate is their top concern, according to Foundry's 2022 Future of Work research. Concerns over employee morale and burnout are second on the list, followed by worries about maintaining secure systems and processes.
But there's good news: some of these issues can be addressed by using laptops and devices that excel in three critical areas.
For starters, businesses need processor performance that's as good as, if not better than, the desktop machines of the recent past. Today's work devices must comfortably run productivity applications in parallel with highquality videoconferencing and collaboration tools.

"With the explosion of online meetings the whole ecosystem of business laptops has pivoted to support premium collaboration experiences on top of typical office apps," Michael Jasinski, product marketing manager at AMD, says. " In addition to better cameras, microphones, and Wi-Fi connectivity, processing performance that supports hybrid work is now a solid requirement."
Today's hybrid workers also need portability to take that processing power wherever they need it. That translates to smaller, lighter laptops, but it also means all-day battery life[1] — providing ample time away from the plug.

Today's professionals are "on the move from location to location," Jasinski says. "In this hybrid work environment, they're going from home to office frequently. In the office, they may be hoteling, so they don't have a dedicated workspace. And that might change throughout the work week, the month, the year."
Last, enterprises need sophisticated security features to help protect identities and company data as employees leave the corporate network for shared workspaces, coffee shops, and home networks with inconsistent security safeguards.

Meeting all of these criteria — and doing it well — may have been a tall order for earlier, less sophisticated devices. But the next generation of laptops delivers thanks to new processors from AMD.
A Higher Bar for Devices
Businesses have long sought processor performance in their employees' computers to maximize investments and ensure forward compatibility with evolving needs. In the era of hybrid work, that demand goes hand-in-hand with the expectation of extreme portability, including all-day battery life[2], that doesn't compromise performance.
And as employees settle in for part-time or even full-time work away from the office for the foreseeable future, new security demands raise the bar even higher for endpoints like laptops. That's because distributed workforces increase cybersecurity risk through attack surface expansion. That attack surface not only includes greater exposure to less secure networks but also increased physical access for attackers to devices used in public and semi-public places.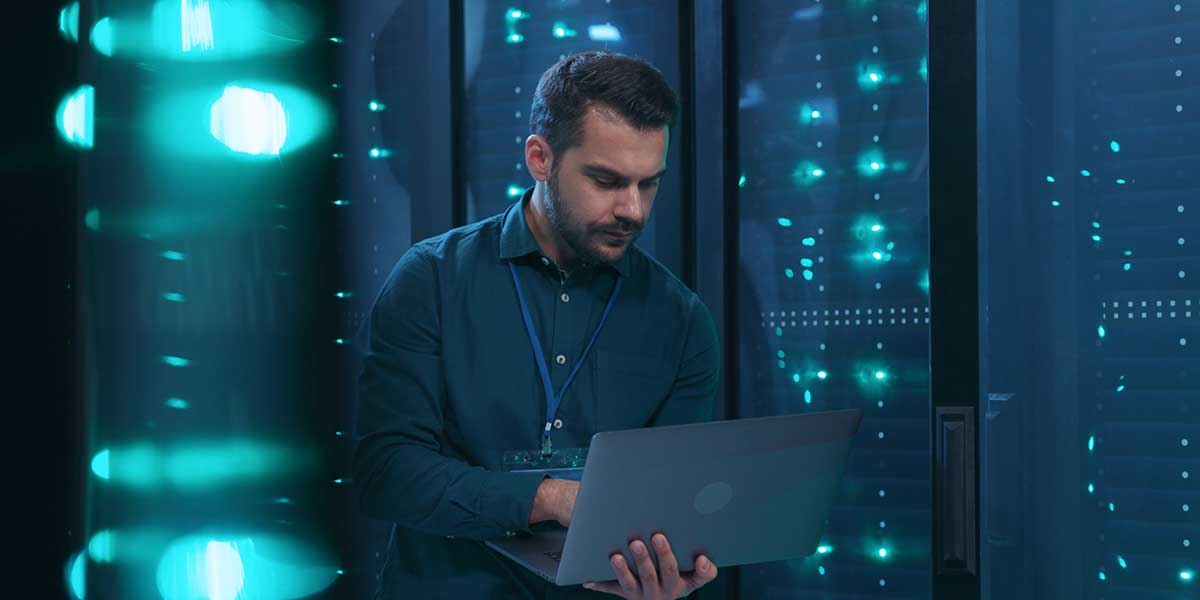 "It's not just, 'Hey, I left my laptop in the taxi,'" says Chuck Schalm, commercial business development leader at AMD. "It's increasingly that the devices end users have to access work are in unprotected spaces — their homes, cafes, all sorts of places in which physical access to the device is a higher probability than before."
Digital supply chain attacks, in which attackers gain access to systems through components used in developing those systems, are also on the rise. The SolarWinds attack of 2020 was a particularly high-profile example of this growing vulnerability.
The heightened security risks stemming from hybrid work mean commercial devices have to be more secure than ever before, locking down logins and data at every possible point of compromise, from the processor through the operating system.
The new generation of AMD processors helps professional laptops meet these demanding specifications.
Meeting the Challenge with Next-Gen Processors
AMD Ryzen™ PRO 6000 Series processors are designed for professional laptops and deliver the optimal balance between processor speed for demanding applications and intelligent power management to get through back-to-back online meetings untethered from cords. They're also designed at the silicon level to combat cyberthreats targeting machines rendered newly vulnerable by hybrid work.
Strong performance is vital for professionals on the go, who need to run up-to-date productivity apps while also conducting online meetings that further stress CPUs and graphics processors. Meeting this challenge, AMD Ryzen™ PRO 6000 Series processors feature up to eight high-performance cores and powerful integrated graphics capabilities.
None of this matters without portability, however. That's why the new chips are fast yet energy efficient, enabling laptop manufacturers to build thin, light workhorse machines that slip almost unnoticed into a shoulder bag.
Energy efficiency goes hand-in-hand with portability as it reduces the size of the battery packs laptops need to have on board. Intelligent power management features help processors run longer without compromising performance.
Efficiency also helps enterprises pursue sustainability goals, an increasingly important priority for IT departments. Lower power consumption means less energy used across PC fleets, and the savings add up. "Hypothetically, if you've got a fleet of 50,000 laptops, and they're using three watts less each per hour of Teams meetings, that's 30 kilowatt hours saved, or the equivalent of 118 pounds of coal, per hour, just by using the right processor in your laptops" Jasinski points out.
Protecting the Hybrid Workforce
Equally critical for the hybrid workforce is security.
Multilayered security features built into new AMD processors help secure data at multiple levels, from the chip to the OS and the applications they support. These features depend on close collaboration between device ecosystem partners.
"AMD is only a piece of the puzzle," Schalm says of multilayered security. "There's also the OS and firmware developers. By working together, we ensure that all those pieces are secure."
One example is AMD Shadow Stack, which helps prevent malware from taking over the process steps of legitimate software. "There is no elegant software-only solution to the problem," Schalm says. "Part of it has to reside in the hardware of the processor itself."
AMD Shadow Stack works with Microsoft Windows to flag potential problems and to help stop compromised software from executing — or even shut down a compromised system before malware can reach valuable data.
Building for the Future of Work
Hybrid work puts new demands on enterprises as employees come and go from offices, homes, and elsewhere.
Laptops and work devices need to be fast, portable, and more secure. "Striking the right balance between performance and portability is critical for the hybrid work experience," Jasinski says. "Making sure frequency gains aren't overpowering the power consumption requirements for good battery life is an art and a science."
AMD is dedicated to that art and science, combining performance and power consumption with each generation of processors and working with partners to provide the multilayered security businesses need. It's all to help business and IT leaders rest easy knowing their topline concerns are covered.
Learn more at AMD.com.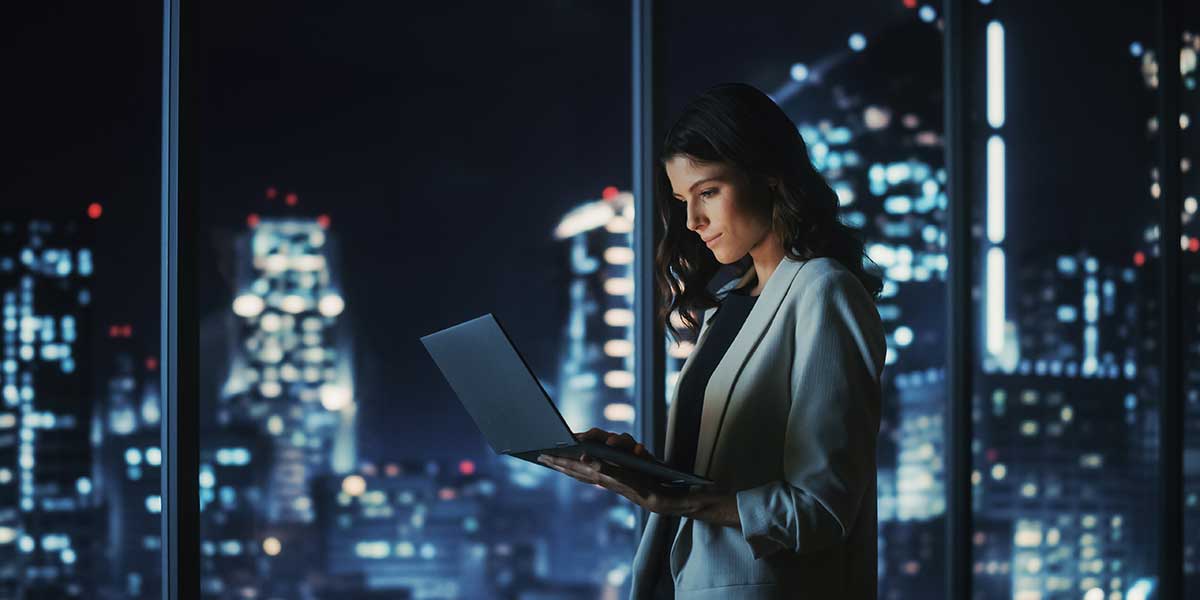 ---
[1] AMD defines "All Day Battery Life" as at least 8 hours of continuous battery life. All battery life scores are approximate. Actual battery life will vary based on several factors, including, but not limited to: system configuration and software, settings, product use and age, and operating conditions. GD-173.
[2] AMD defines "All Day Battery Life" as at least 8 hours of continuous battery life. All battery life scores are approximate. Actual battery life will vary based on several factors, including, but not limited to: system configuration and software, settings, product use and age, and operating conditions. GD-173.