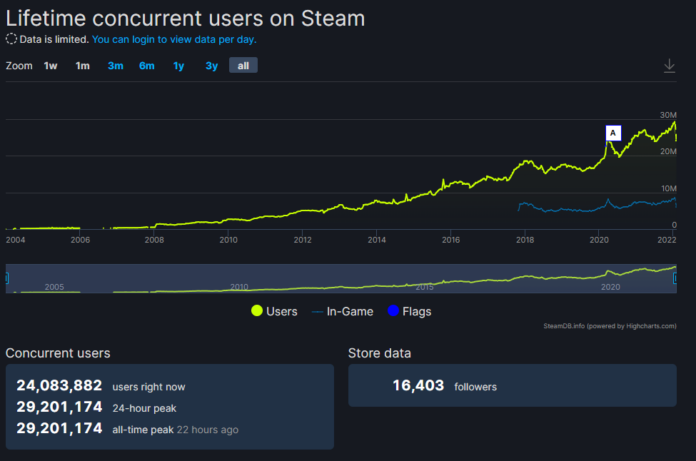 The preeminent video distribution game service from Valve continues to set record after record, indicating rude health for the PC gaming industry.
First passing 1m concurrent users in 2008, Steam has gone from strength to strength by extending its catalogue as PC gaming has become more popular.
The pandemic has wrought havoc around the world but has been kind to Valve as people understandably eschew social gatherings in favour of isolationist gaming. Steam's own data suggests the service gained about 8m concurrent users as the pandemic hit. Though users understandably sloped off as the summer encroached and restrictions were lifted across the globe, it appears as if gamers are out again in force.
30m incoming
Steam reported a colossal 29.2m concurrent users yesterday, helped in no small measure by the excitement surrounding the release for the PC version of God of War.
Yet it's old favourites that continue to dominate. CS: Go, Dota 2 and PUBG routinely swap places in the medal table, and just these three titles account for nearly 2m concurrent players at any given time. Even the 100th most-played game, Sekiro: Shadows Dies Twice, racks up 7,800 concurrent players, while breaking into the top 10 requires having at least 70,000 gamers favouring your title.
Valve's reach is set to grow larger as the portable Steam Deck hits shelves, so the short-term future is rosy.
It is only a matter of time until the 30m barrier is breached. We wouldn't bet against it happening this weekend. Question is, will you be one of them?