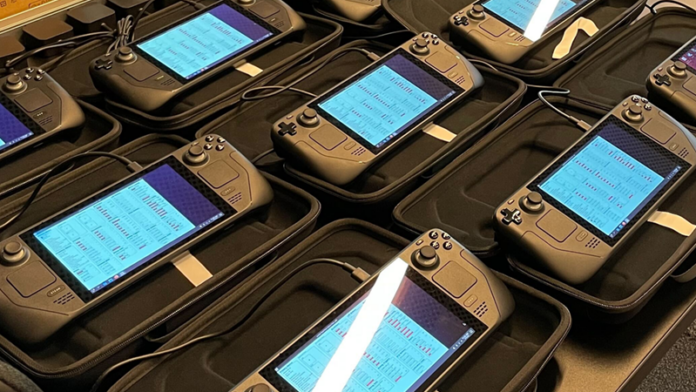 New year, new hope. Following the disappointing postponement announced toward the tail end of 2021, Valve has issued an update to confirm that its eagerly anticipated Steam Deck is on course to ship in 4-6 weeks' time.
The ambitious handheld is attempting to fully realise the potential of mobile PC gaming through the use of an AMD APU based on the Zen 2 CPU and RDNA 2 GPU architectures. Excitement has been building since the Steam Deck was first announced back on July 15, 2021, with many eager enthusiasts having pre-ordered the very next day.
Pricing starts at £349 for the base 64GB model, rising to a £569 for a range-topping 512GB bundle, and Valve is now backing up its shipment claims with visual proof that "production build is ramping up."
We're told that developer kits are being sent out "in quantity," giving developers a short window to test game compatibility and apply for official verification. Games confirmed as verified will be identified in the Steam store with a green tick, and we're intrigued to see how many titles make the cut on day one, given that hundreds of dev kits are said to have been "shipped out in the last month."
Is there anything that can halt the Steam Deck march? Despite the reassurance, Valve is acutely aware conditions in today's market can change at a moment's notice. Though the manufacturer reckons "we'll be able to start getting these out the door by the end of February," that good news is tempered by the admission "global pandemic, supply issues, and shipping issues notwithstanding."
As before, users who have placed an order can check their reservation status at store.steampowered.com/steamdeck.