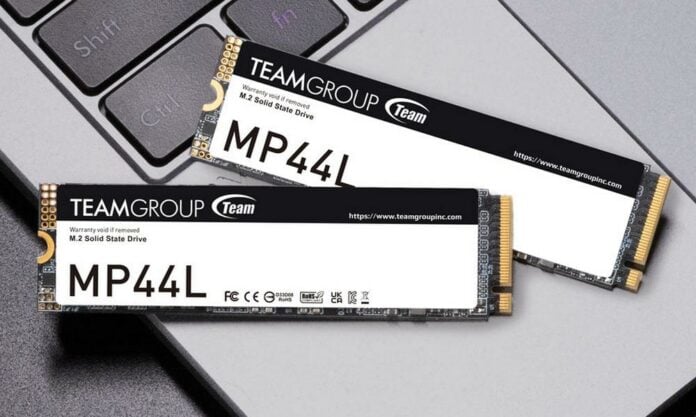 TeamGroup has added a new SSD to its MP series featuring PCIe Gen 4 x4 interface with capacities ranging from 250GB up to 2TB.
Available in 250GB, 500GB, 1TB and 2TB sizes, the MP44L is an NVMe SSD using Gen 4 x4 PCIe connectivity – allowing it to achieve up to 4,650MB/s, 5,000MB/s, 5,000MB/s, and 4,800MB/s read, plus 1,900MB/s, 3,700MB/s, 4,500MB/s, and 4,400MB/s write speeds, respectively, on Crystal Disk Mark benchmark. Phew.
Then for each model in order, you are getting 220K, 440K, 525K, and 525K read IOPS, plus 470K, 545K, 550K, and 550K write IOPS. These are not exceptional figures compared to SSDs we have tested previously, but pricing seems to be lower than some, so let's call it a draw.
Moving on to durability, TeamGroup rates these models for 200TBW, 300TBW, 600TBW, and 1200TBW, going from the smallest to the largest model, with a 1.5m-hour MTBF. Now, these are okay numbers, and for normal use you should be fine here.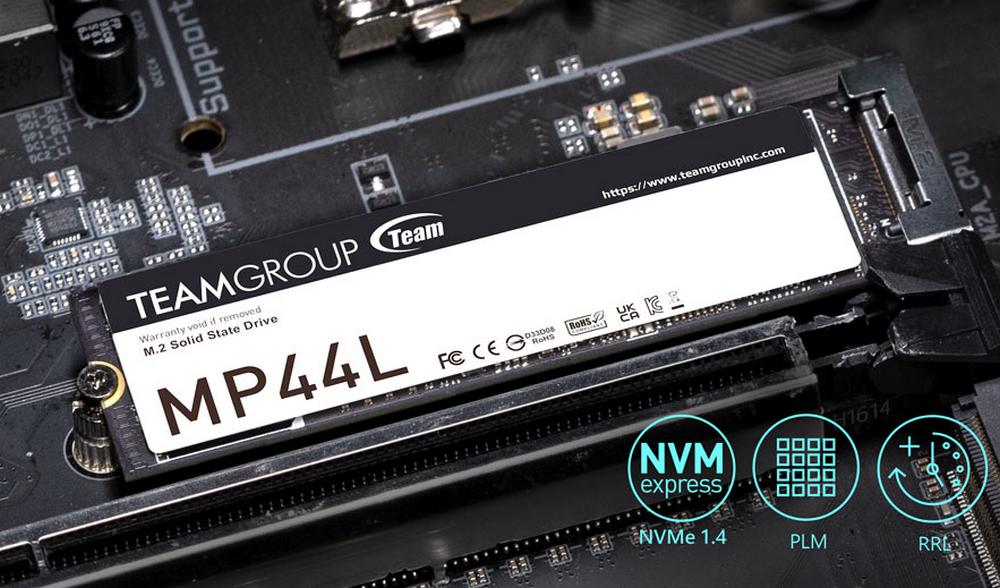 MP44L measures only 80mm (L) x 22mm (W) x 2.25mm (H) thanks to its thin heatsink made of graphene-coated aluminium foil. This allows it to be installed without interference in small machines such as laptops and NUCs, or on motherboards that have integrated heatsinks.
Interestingly, going up from the 250GB model, we see constant speed improvements, but arriving at the top the 2TB version is slower than its 1TB sibling. This is contrary to what we generally see with SSDs – the more flash, the faster the SSD gets, partly because more NAND chips mean the controller can read and write to all of them at the same time. Perhaps TeamGroup is restrained because lowering performance on the 2TB drive is a way to keep heat under control.
Same goes for pricing, as buying two 1TB SSDs cost less than a single 2TB. Usually, you would assume that one SSD uses fewer building materials and packaging than two, thus lowering manufacturing price.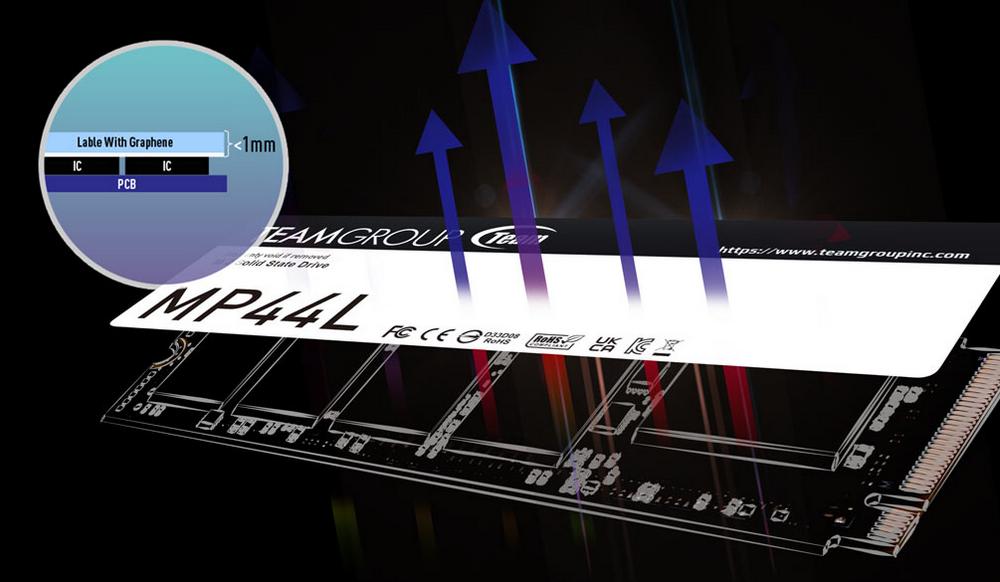 The MP44L doesn't have any DRAM so uses SLC for caching. As long as you don't write beyond the SLC cache allocation, you shouldn't feel any slowdowns. While TeamGroup doesn't mention how much cache each SSD is equipped with, other brands use up to 30 per cent of total capacity.
Finally, all variants support LDPC (Low-Density Parity Check Code), Windows TRIM, and NVMe 1.4 standard. Plus, you can check your drive health and performance via TeamGroup's SMART monitoring software.
The first batch of MP44L drives are expected to be available for purchase on Amazon and Newegg in North America in late August 2022, priced at $49.99, $79.99, $135.99, and $287.99, respectively, for 250GB, 500GB, 1TB, and 2TB models all backed by a five-year warranty.