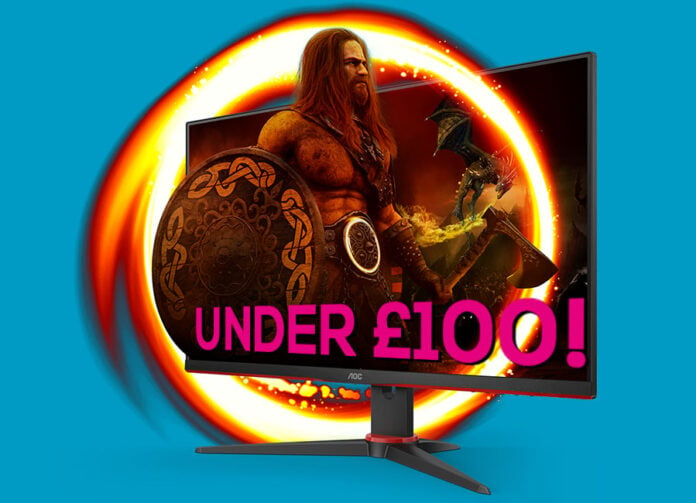 AOC Gaming 24G2SPAE
---
"A 165Hz refresh rate, well over twice the industry standard of 60Hz, makes games run smooth as silk. Realize the potential in your graphics card. Forget screen tearing and forget motion blur. Feel your reflexes become one with the action. Never look back."
We earn a commission if you make a purchase, at no additional cost to you.
We've often stated that a new monitor is the most transformative upgrade a PC gamer can make, and though finding the right panel to suit your needs can be a bit of a chore, tumbling prices help separate the wheat from the chaff.
Right now, the AOC Gaming 24G2SPAE is a stand-out choice at an all-time-low of just £98.97. For under a hundred quid, this 24in IPS panel touts a full-HD resolution, 1ms response time, and swift 165Hz refresh rate complete with AMD FreeSync Premium adaptive synchronisation.
Despite growing popularity of larger QHD panels, fast, affordable 1080p monitors continue to be the preferred choice with good reason. It won't take an exorbitant graphics card to achieve the requisite framerates and a 24in setup fits in just about any room, making the likes of the 24G2SPAE a prime pick for a huge number of gamers.
Dimensions come in at 539mm x 421mm x 227mm including stand, viewing angles for an IPS screen tend to be better than most, and it's officially certified as G-Sync compatible, too. Connectivity options include DisplayPort 1.2 and HDMI 1.4, and the latter is ideal for running a latest-generation game console at up to 120Hz.
Fancying something a little larger and higher resolution? It's an exciting time to be in the market for a new display, as even 4K 144Hz solutions are more affordable than ever before.
Club386 is always on the lookout for unmissable PC component bargains. Follow on Twitter or Facebook to keep up to date with the latest deals, and subscribe to our free weekly newsletter to be kept abreast of all the latest developments in the world of tech.