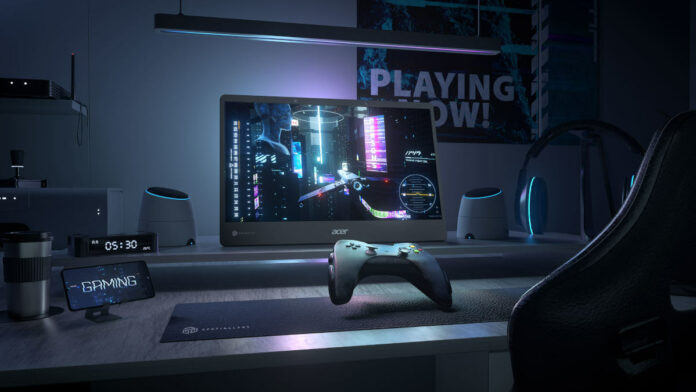 May 18 marked Acer's Global Press Conference 2022 event and brought along a plethora of new product announcements to market. What really caught our eye was the announcement of two intriguing portable monitors, the SpatialLabs View and View Pro.
The collaboration seeks to bring the almost forgotten stereoscopic 3D viewing experience back to 2022, both for gaming and content creation.
The magic trick is made possible thanks to the use of specialised optical lens, two eye-tracking cameras and AI software, that when working in conjunction eliminate the need for those cumbersome passive or bulky active 3D glasses of yesteryear.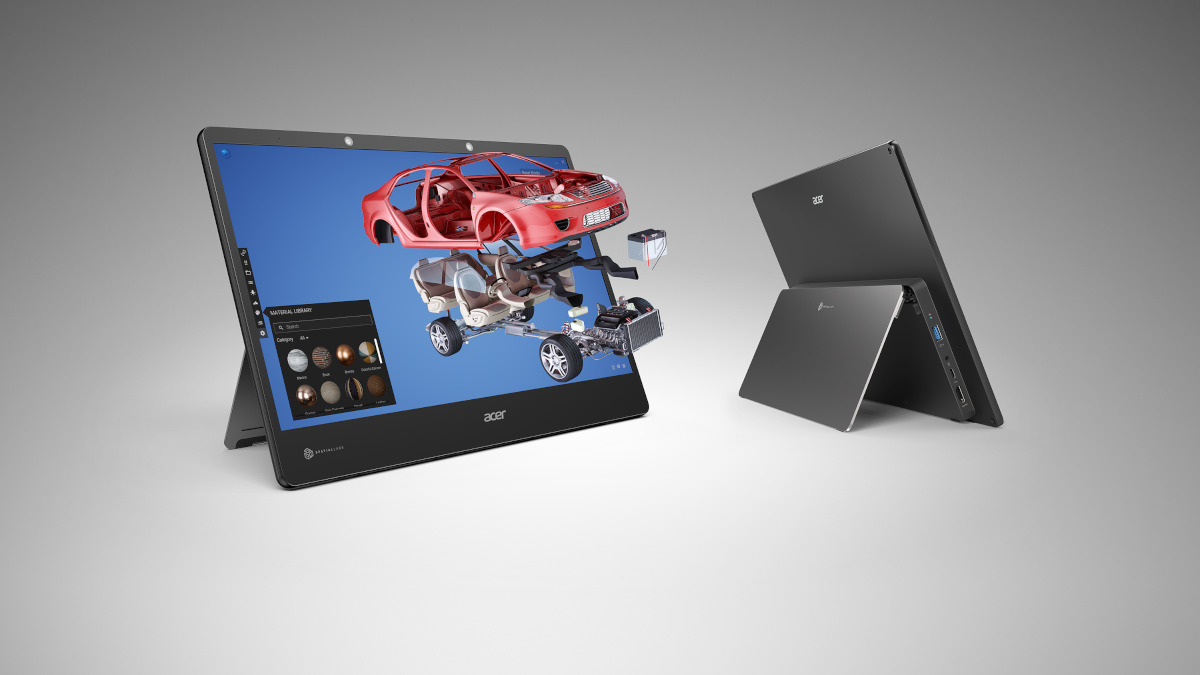 Based on the images provided, the device comes in a sleek aluminium chassis, accompanied by a useful built in kickstand. The View Pro images confirm the left side appears to carry a single power LED, USB 3.2 Gen 2, power port, Thunderbolt Type-C and a single HDMI. Over on the right is a single volume rocker, power button and SD card slot, but whether or not the regular View model retains the same connectivity remains to be seen.
While both are 15.6in 4K capable displays and largely feature the same internals, the differences essentially boil down to the intended use case. While View Pro is aimed squarely at professionals and content creators, the regular View is intended for gaming and mainstream use. Acer reckons "SpatialLabs View bridges the professional gap, bringing stereoscopic 3D to PC games, media content, and even user-generated content"
Weighing in at less than 1.5kg, both devices are capable of an impressive 400-nit peak brightness and 100 per cent coverage of the Adobe RGB colour gamut. Recommended specs for the host PC suggest an Intel Core i7 CPU or higher and RTX 2080 graphics for desktop users, while laptops require an RTX 3070 Ti equivalent GPU.
The software is what makes these products stand out from the crowd. SpatialLabs' True Game promises one-click stereoscopic 3D in 50+ modern and classic titles, most notably Forza Horizon 5, God of War, No Man's Sky and The Witcher 3: Wild Hunt. The full games list is available here.
A few additional tweaks to the View Pro make it better suited to a professional working environment. For Creative professionals who use CAD and 3D design software such as Revit, Solidworks and Cinema4D daily, SpatialLabs Model Viewer has been integrated for easy transition. Maya and Blender 3D artists can view their creations being rendered in real time 3D via SpatialLabs Go, a proprietary AI solution.
Pricing starts at $1,099 (approximately £890) though Acer states this will vary between regions. No official release date was given either, save for a launch window of "this summer."
While we see the value in professional 3D design application, one question remains – will gamers be able to give up high frame rates in pursuit of immersive 3D gameplay? And are we at the stage where VR Headsets have eliminated the need for 3D-capable screens? A thought to ponder upon indeed.