AOC has taken the wraps off its first fifth-generation monitors from the Agon series, featuring good ergonomics, a QHD resolution and up to 170Hz refresh rate starting at less than £300.
Let's begin with design since both displays share the same. Here we have slim bezels on the top and sides, with a V-shaped stand offering 150mm height, -20°/+20° swivel, -5°/+23° tilt and 90° pivot adjustments for the most comfortable viewing position, alongside a customary 100x100mm VESA mount. On the back we find some red gaming accents with an Agon logo on top plus some air vents and a headset holder. Nothing over the top like RGB rainbow or logo projectors, yet arguably not stealthy enough to be used as an office display. A gaming product through and through.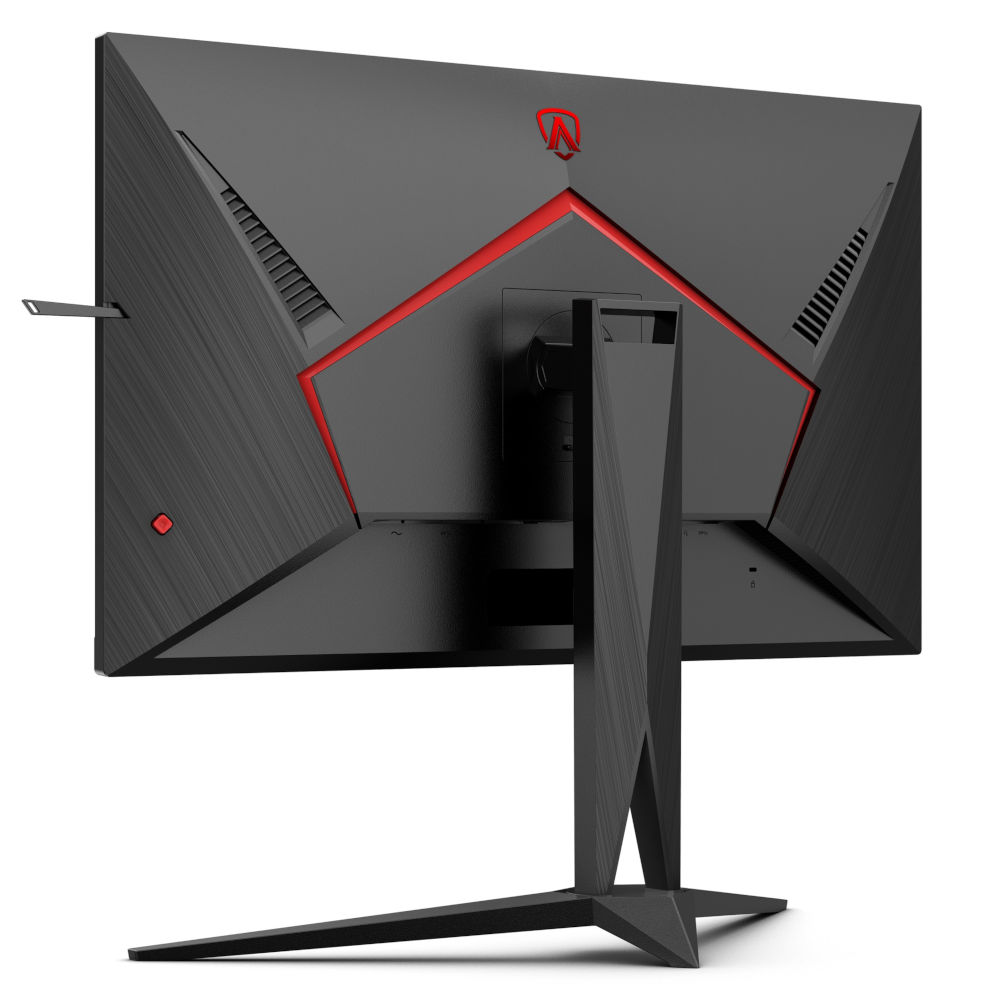 Agon AG275QX/EU
The AG275QX is a flat 27in monitor packing a QHD (2560×1440) IPS panel capable of running at up to 165Hz or 170Hz overclocked with a 1ms (GtG) pixel response time, allowing fast reactions in competitive games. FreeSync Premium adaptive-sync helps eliminate any tearing caused by frame-mismatch, and AOC states G-Sync Compatible status has already been confirmed. Note that the sync range starts at 48Hz and goes up to the maximum refresh rate.
This display is advertised as having a 1,000:1 contrast ratio and 400-nit brightness, both within the range of typical IPS capabilities. It is also certified DisplayHDR 400, although AOC didn't mention any local dimming zones, indicating that it's a basic HDR implementation, which is normal at this price tier, so don't get your hopes up.
Thanks to its 10-bit panel offering 1.07 billion colours and 94 per cent of DCI-P3 colour space, colour-accurate work isn't outside the realms of possibility, as AOC's out-the-box calibration is typically pretty decent.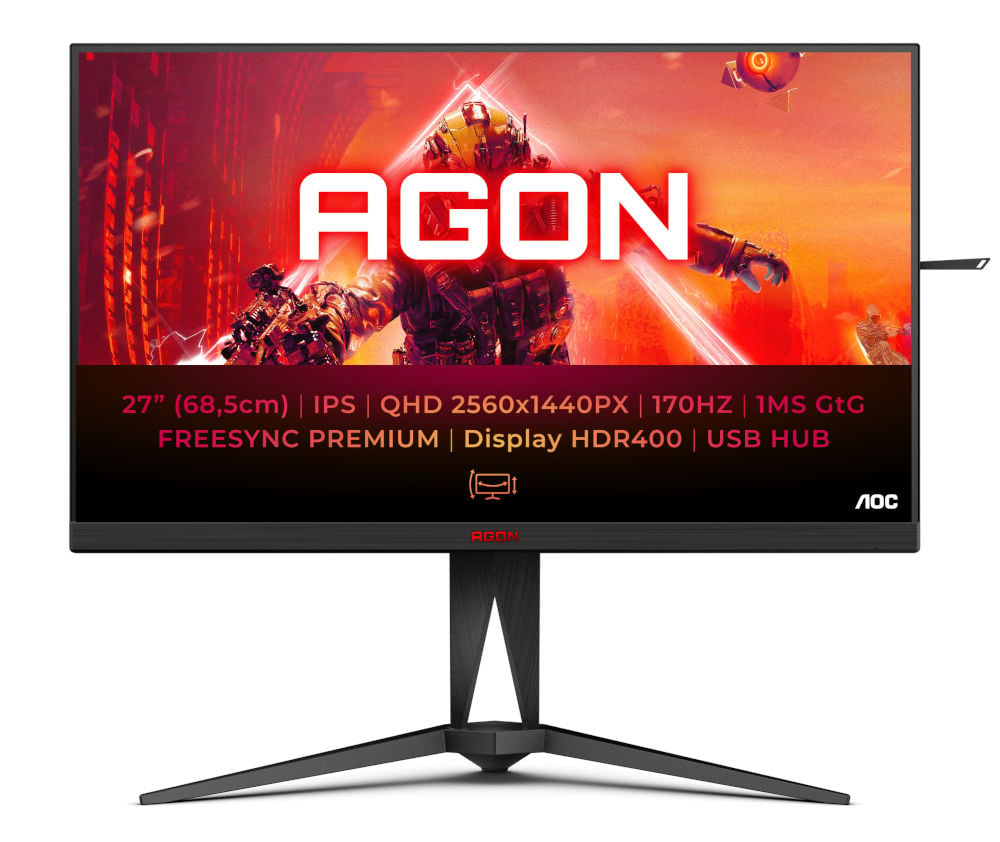 Agon AG275QXN/EU
The AG275QXN is again a flat 27in monitor, but this time housing a more affordable VA panel touting QHD resolution and maximum 165Hz adaptive sync (no 170Hz overclocking here). A flat VA may be interesting for those who play in the dark yet refuse to go with the more common curved VA screens. Pixel Response time is still at 1ms (GtG), showing how VAs are no longer the infamous slow technology.
Spec-wise, we have an IPS-beating 3,000:1 contrast ratio, and identical 400-nit brightness, meaning, you guessed it, DisplayHDR 400 certification. HDR is neither panel's strong suit, yet we like the fact that AOC is giving customers a choice of IPS or VA; each has unique characteristics and gamers will know which suits their personal tastes and preferences.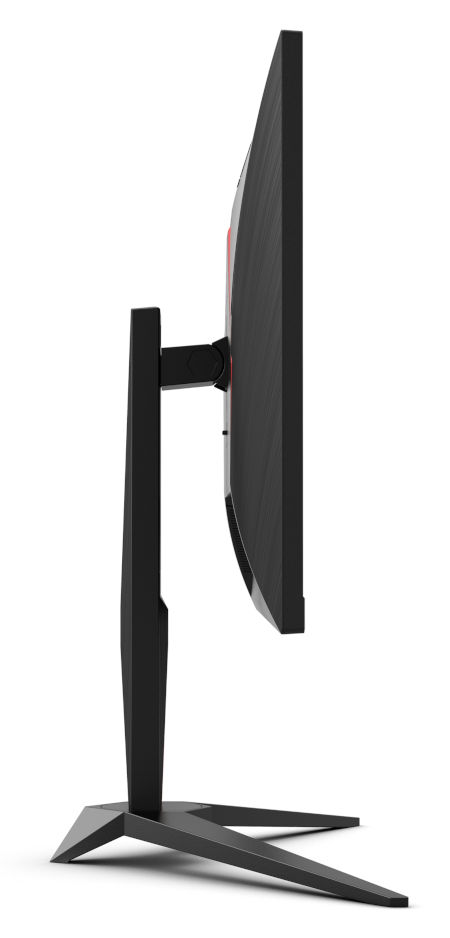 I/O is identical between the two models, comprising two HDMI 2.0 (144Hz max), two DisplayPort 1.4, a four-port USB 3.2 Gen 1 Hub (one port has fast charging), and a 3.5mm headphone out.
Both monitors can be used in Console Mode, which accepts a 4K 120Hz signal and downscales it to QHD 120Hz. A nice feature, but a bit late to the party as Sony recently added QHD (1440p) on its PlayStation 5 consoles; Xbox Series S|X already offers native support.
If you find both models compelling and can't pick one, I favour IPS for competitive or online games, though VA has its merits for solo/story-driven games that allow you to appreciate deeper blacks.
Finally, included with each monitor you have HDMI, DisplayPort and USB cables all measuring 1.8m long, enough to get you started. Backed by a three-year warranty, the Agon AG275QX/EU and AG275QXN/EU will be available from September 2022 at £339.99 and £279.99 MSRP, respectively.