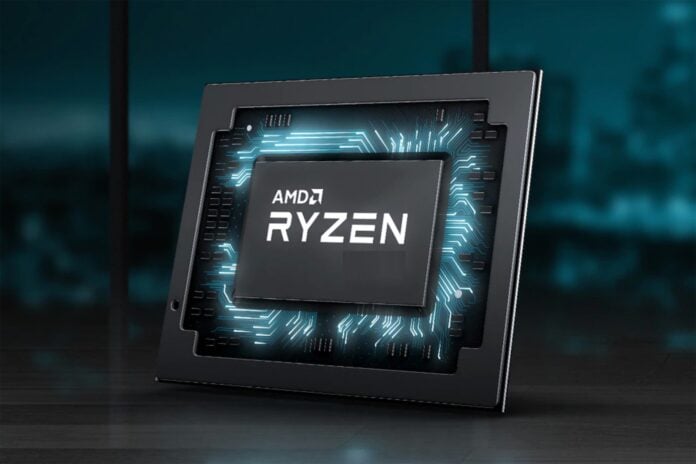 Following on from brief details this morning, AMD's main launch thrust for its own CES press conference revolves around the Ryzen 6000 Series mobile processors, codenamed Rembrandt.
These chips are primed to go into a wide range of performance laptops in 2022, starting with models released in February. Similar to the Ryzen 5000 Series mobile launch last year, there are a number of U-series and 5-series chips, for thin-and-light and gamer/content creator laptops, respectively, and we'll come to those in a moment, but let's first focus on the technology.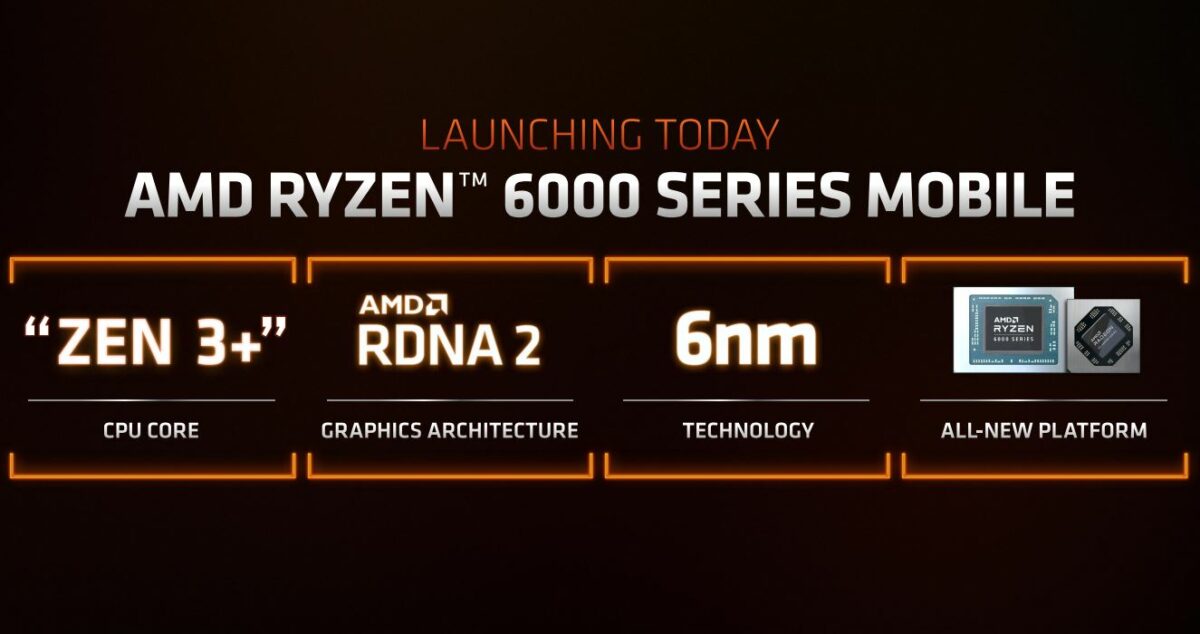 In a nutshell, Ryzen 6000 Series mobile, built on 6nm, updates the CPU cores from incumbent Zen 3 to Zen3+, makes wholesale changes to the integrated graphics by dropping the GCN 5th Gen Vega architecture in favour of RDNA 2 powering the latest slew of discrete desktop and mobile GPUs, and is built on a new, smaller manufacturing process from partner TSMC. As the guts of the chips are improved in every facet, the underlying platform sees a solid upgrade, too.
Zen 3+ optimised for performance-per-watt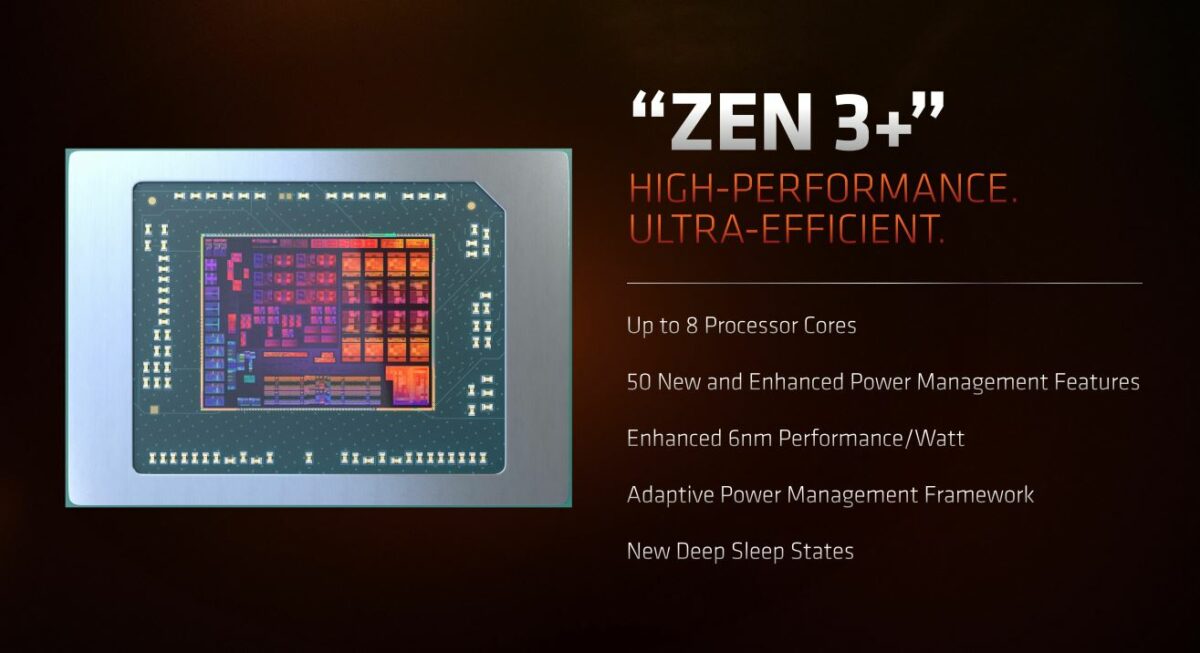 AMD doesn't go into a whole heap of detail on Zen3+ during the livestream, other than to say it's designed with power firmly in mind. Reading between the lines, AMD – in conjunction with the natural advantages emanating from a shift to a smaller, leaner manufacturing process – has optimised the voltage/frequency curve such that the cores are able to either run at higher frequencies or operate at the same level with significantly less power than last-generation Cezanne/Lucienne Ryzen 5000 Series mobile.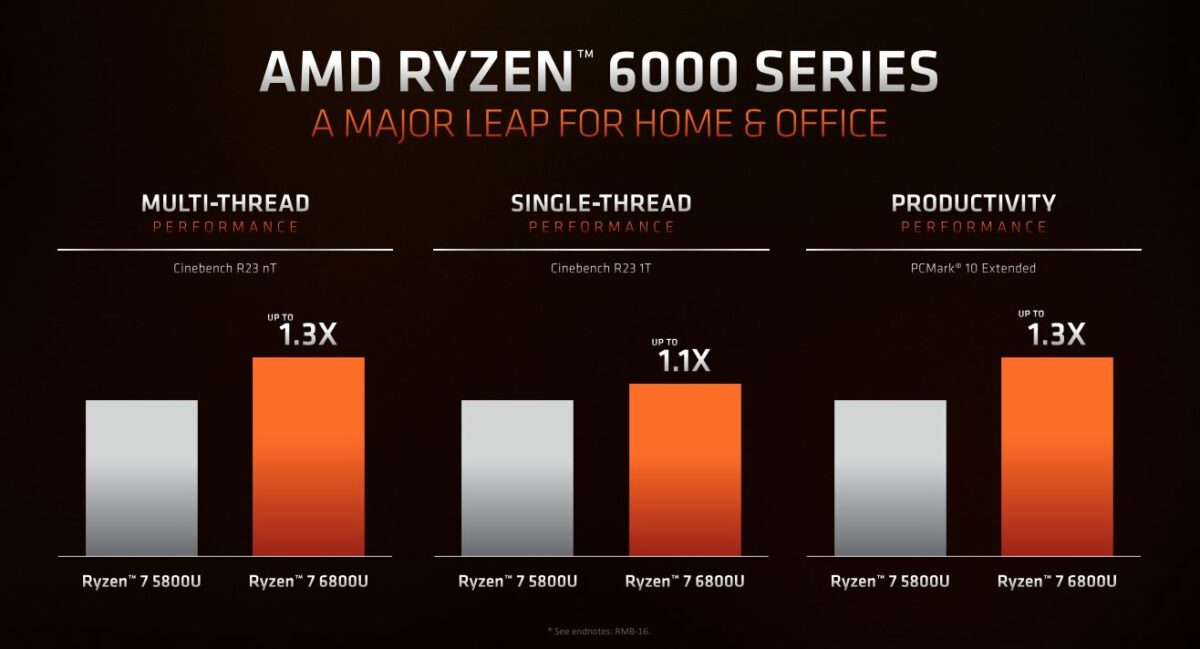 The higher single- and all-core frequency claim is particularly evident in low-power scenarios typically the realm of the U-series chips. AMD reckons the top-bin Ryzen 7 6800U is up to 30 per cent faster than last-gen Ryzen 7 5800U, which was no slouch, whilst being better still in single-thread tasks and overall productivity. These gains are to be expected from a combination of optimisation and process-node improvement.
More telling performance gains arrive courtesy of the RDNA 2 graphics featured in every 6000 Series mobile chip.
From Vega to RDNA 2 – the real change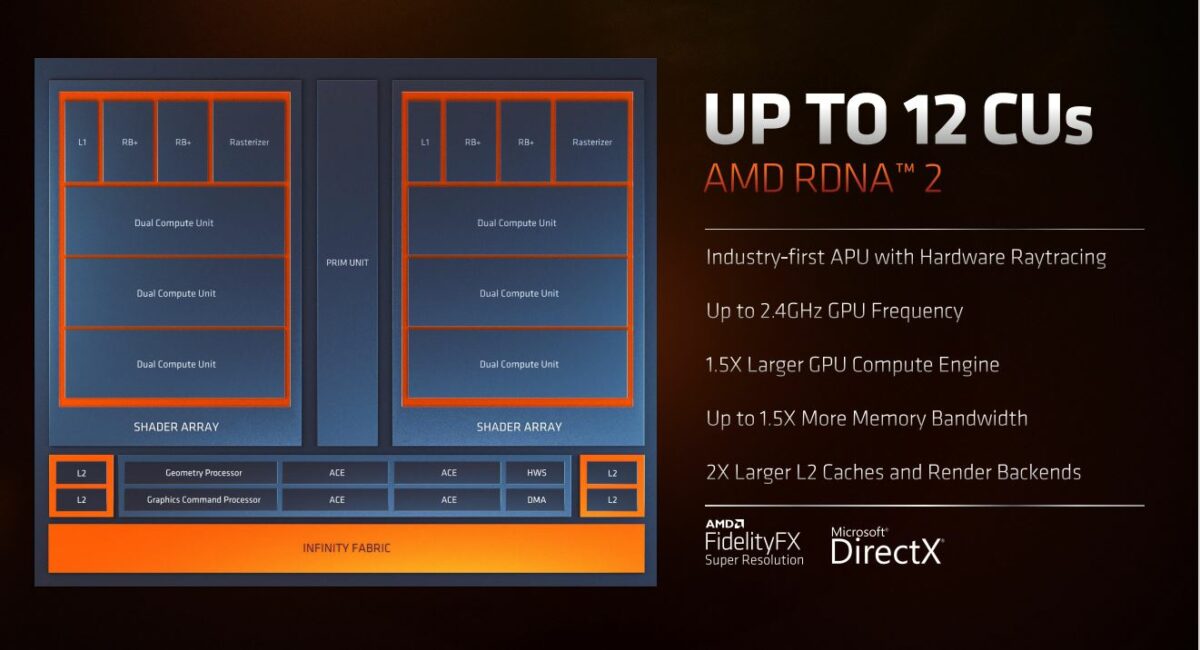 Depending upon configuration, AMD shoehorns up to 12 CUs for the integrated graphics. It's difficult to compare RDNA 2 to older Vega on a pure numbers' account as each architecture does varying amounts of work per clock cycle. Don't get drawn into shader units and bandwidth; the real proof of the pudding is in the framerates or productivity gained from one generation to the next.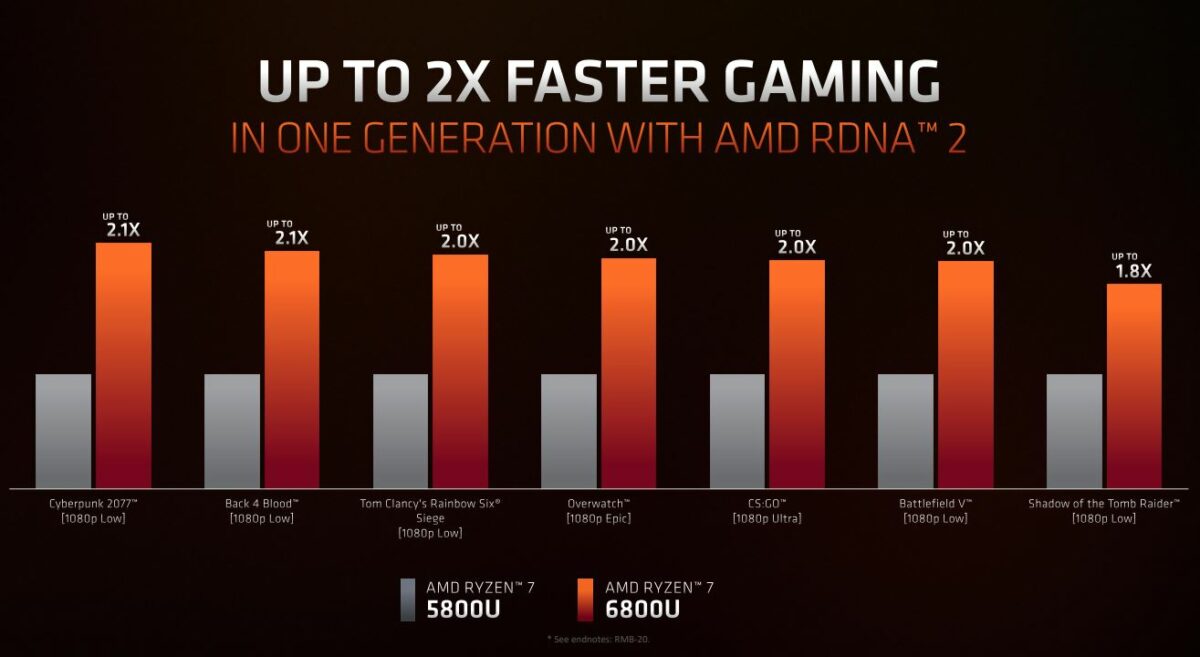 Eking out a 20 per cent gain on the CPU side is hard to do unless the total number of cores and threads changes between models from one year to the next – they don't here. Implementing a new GPU architecture, however, pays far more dividends. AMD's content to say the framerate horsepower of the Ryzen 7 6800U's graphics is about double that of the Ryzen 7 5800U… and comfortably ahead of the competition.
Bear in mind that the devil is in the details. AMD is comparing a 15W Ryzen 7 5800U vs. a 28W Ryzen 7 6800U, thereby giving the latter almost twice the power budget of its predecessor. Not quite an apples-to-apples comparison, right?
Any manufacturer-supplied chart therefore needs to be treated with some suspicion, especially as rivals are gearing up for new technology of their own in 2022 and may skew the results more in their favour. Father Time will reveal all.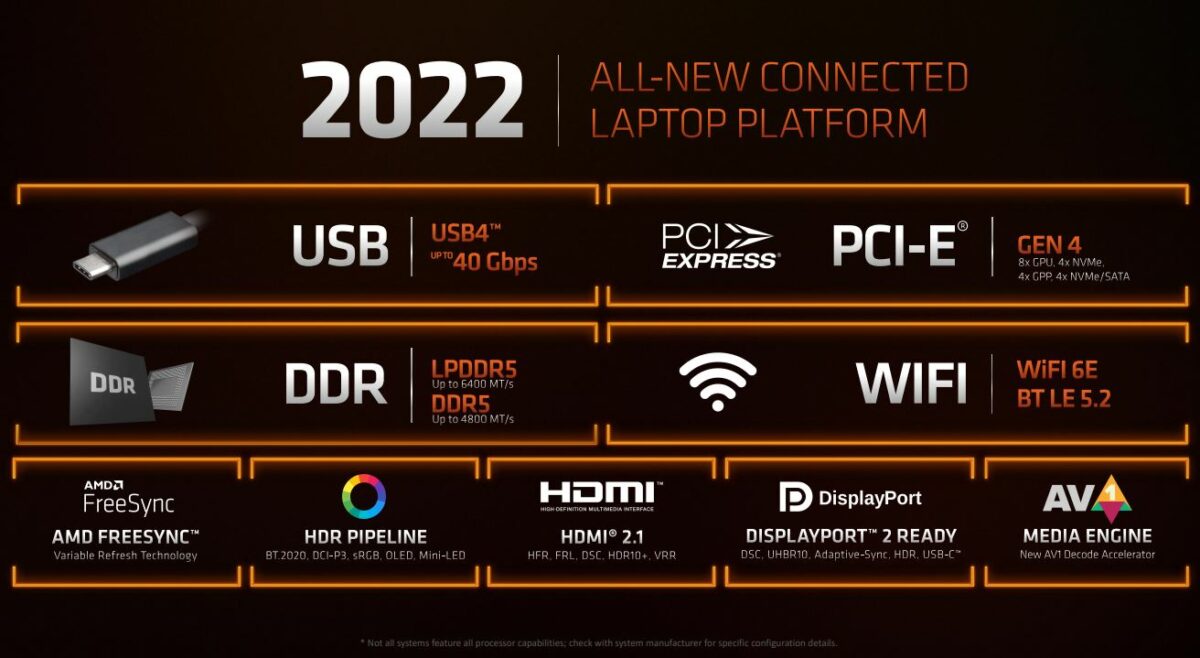 It's important to improve the platform as well as the APU residing within it. AMD offers support for USB4 – likely through a third-party chip – PCIe 4.0 for graphics and super-fast M.2 storage, options for DDR5 and LPDDR5, which is a first for AMD, and the latest iteration of Wi-Fi. There's no obvious weak link on the platform front.
Models, feeds and speeds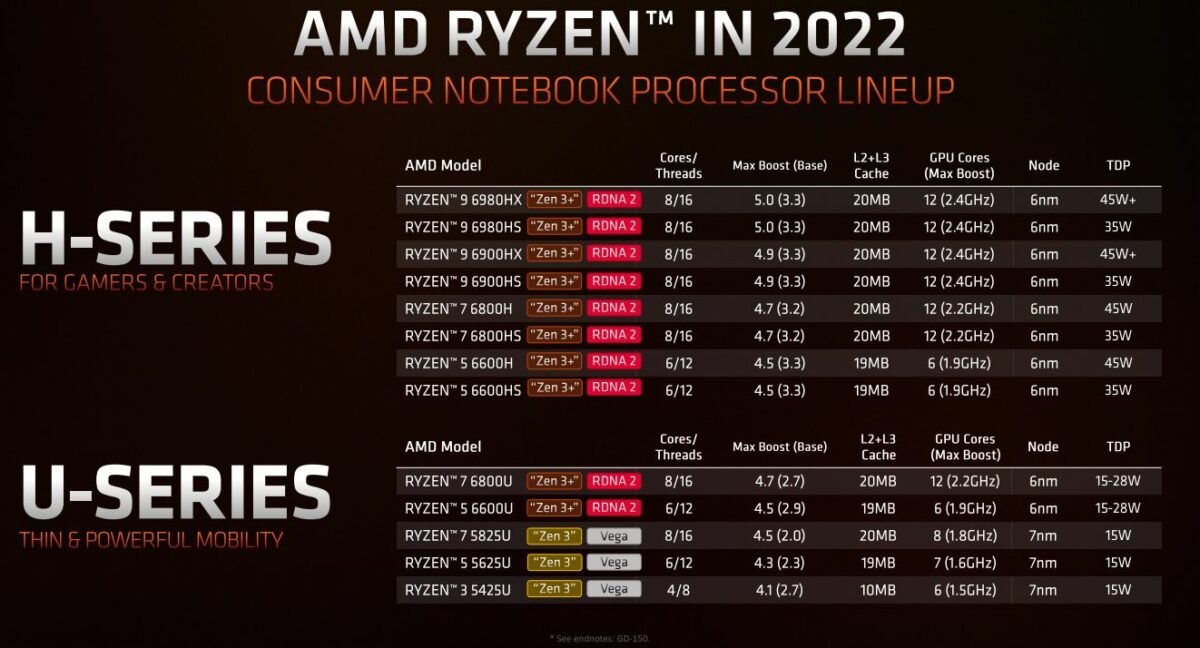 Remember that H-series chips are destined for powerful laptops usually presented in larger form factors and housing a discrete graphics card. This is why the thermal power limit is typically twice that of U-series models.
The 2022 H-series stack resembles the 2021 portfolio insofar as every Ryzen 9 and Ryzen 7 model is equipped with eight cores and 16 threads. Speaking to the Zen 3+ architecture, note the 5GHz peak boost speed, up from 4.8GHz on last year's Ryzen 9 5980HS/HX. Caching structure remains the same, however, and base speeds are similar.
It's the graphics that are the biggest performance drivers and they make most sense on the U-series chips. Why? Because these APUs are likely to be used in thin-and-light laptops that preclude the presence of a discrete video card, thereby putting all the graphics onus on the baked-in GPU.
To that end, the Ryzen 7 6800U appears to be bit of a beast, offering the same base configuration as the high-end H-series APUs, albeit at a restrained thermal budget. No wonder AMD is keen to extol its virtues in various slides.
It's worth knowing that not all Ryzen 6000 Series mobile chips are home to RDNA 2 graphics. Like last year, some older technology is moved over for markets where cutting-edge technology is not as important as value. For those, the Vega architecture suffices.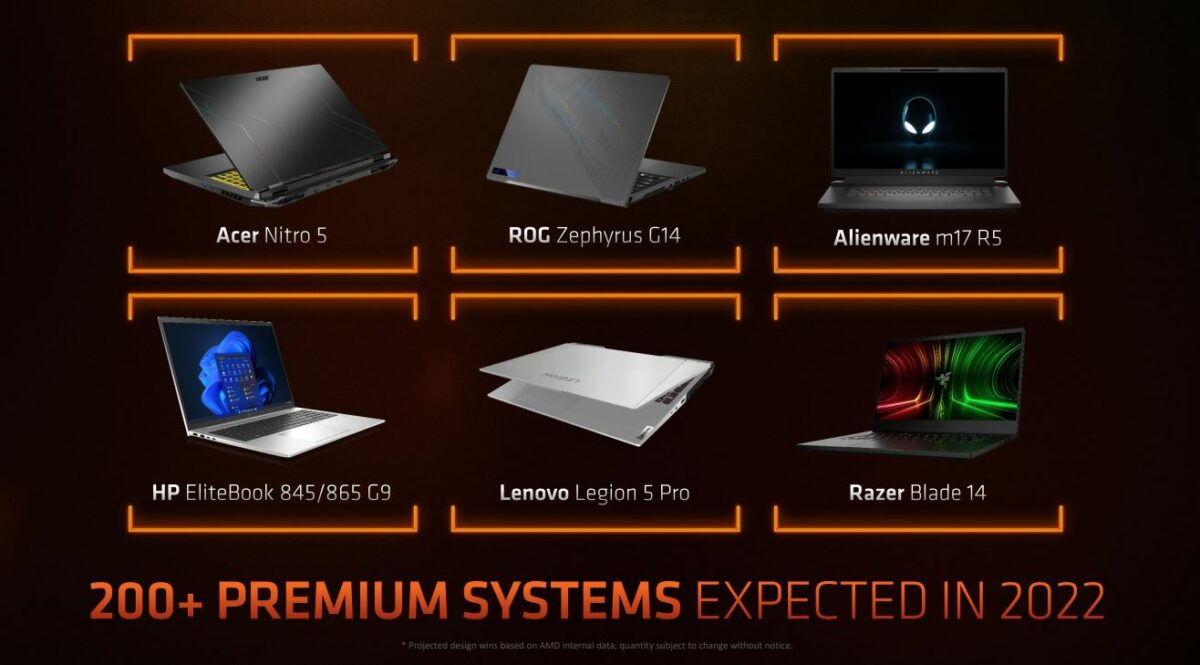 The CES wrap
Expect a slew of designs coming out in the months ahead. It is unknown how the current logistics backlog is likely to affect production and shipping dates, which is unfortunately common across the industry.
As a first look at the new Ryzen 6000 Series mobile APUs, there appears to be an adequate leap in CPU performance, a vast rise in integrated GPU capability, and better power management, leading AMD to claim up to 24-hour battery life.
AMD Ryzen 6000 Series mobile vs. Intel 12th Gen Core mobile is a battle we're keen to see in earnest.