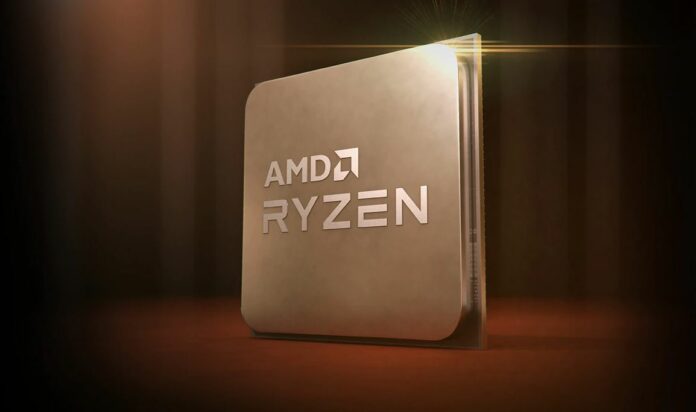 Demonstrated exactly a year ago by CEO Lisa Su, AMD is today unveiling its first gaming CPU endowed with what it terms '3D Stacking' tech. Enter the Ryzen 7 5800X3D.
This new chip is based on established Ryzen 5000 Series desktop technology for the main, translating to a Zen 3 architecture powering eight cores and 16 threads. Compared to the regular Ryzen 7 5800X, released in October 2020, operating at 3.8GHz base and 4.7GHz boost, you might be surprised to learn the new chip technically operates at slower speeds.
Innovation outside of architecture and process
Actual frequency doesn't stop AMD from crowning the new addition as the fastest Ryzen gaming chip ever produced, and the reasoning lies with 3D Stacking technology.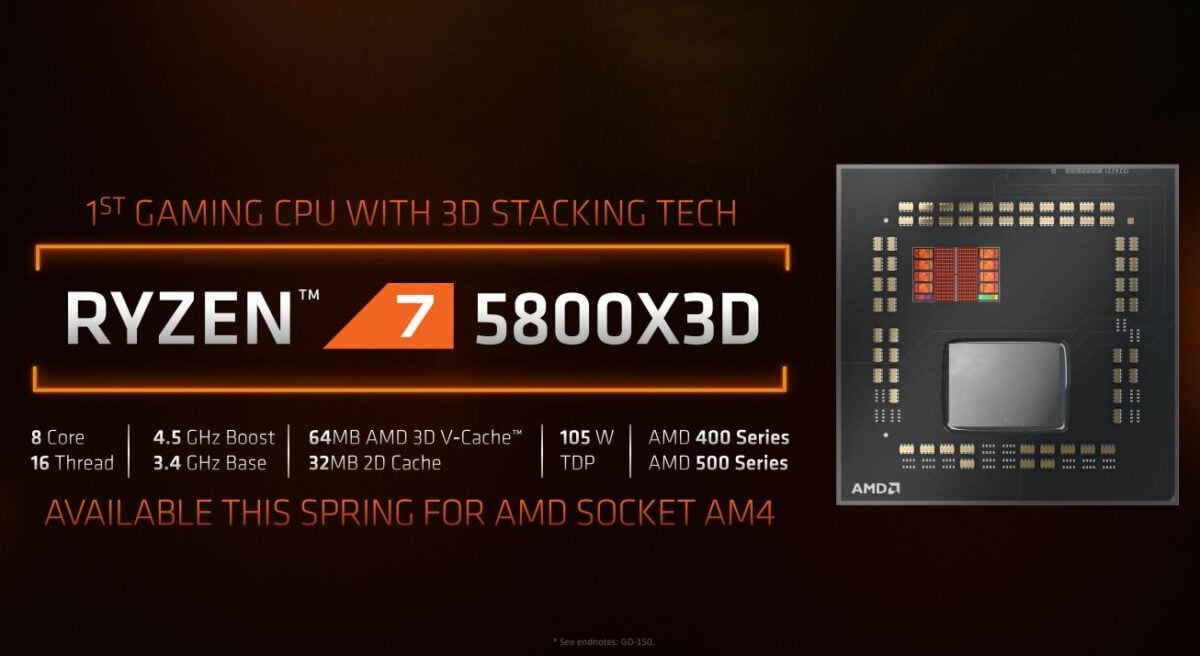 AMD's stacking technique pertains to how it adds extra L3 cache to the processor. Using a novel technique whereby an extra 64MB of cache is stacked vertically on each chiplet, and knowing the Ryzen 7 5800X houses all eight cores on a single chiplet, it's logical the 5800X3D is home to an additional 64MB of AMD 3D V-Cache.
And that's the key difference; holding more on-chip cache is beneficial because it is an order of magnitude faster than accessing the same information held in system memory or, as a last resort, computer storage.
AMD likely reduced the operating frequencies to accommodate the same 105W TDP as its non-3D progenitor, which makes sense as many midrange motherboards are built with a certain specification in mind.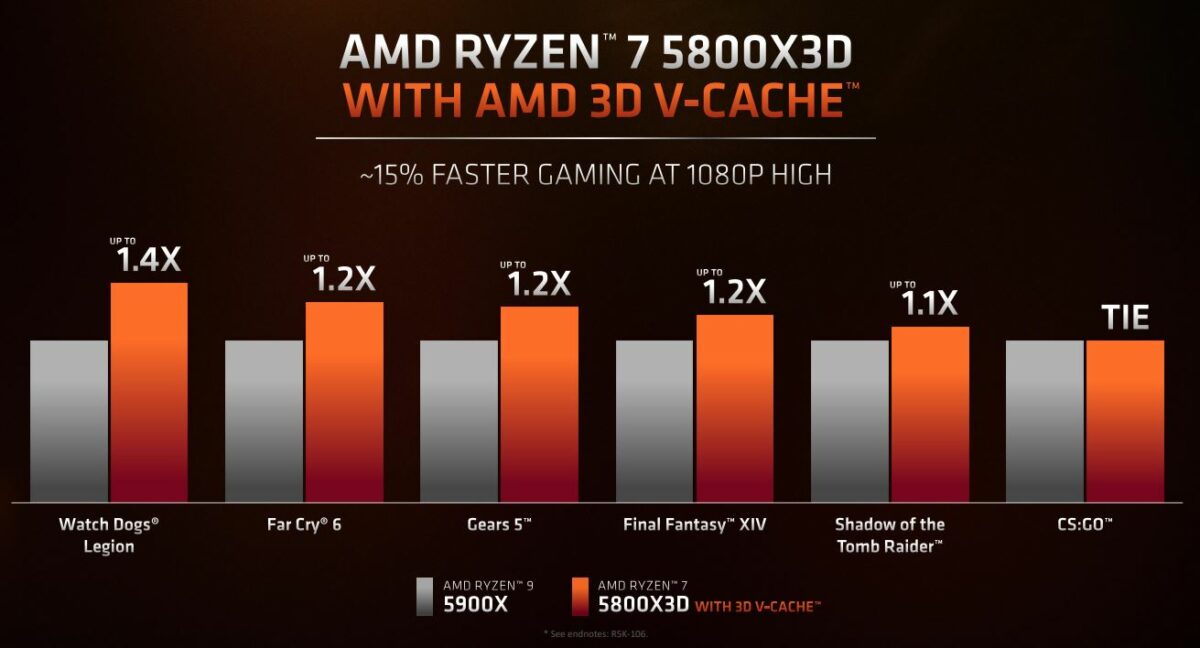 Battling it out for the PC gaming crown
Reading between the lines, AMD has deliberately chosen the single-chiplet Ryzen 7 processors as they offer the lowest latencies of high-end bunch – Ryzen 9s have another chiplet to contend with.
In its own testing, AMD puts forward convincing arguments in favour of 3D V-Cache by showing a solid uptick in performance when compared against a Ryzen 9 5900X at 1080p. The 15 per cent purported improvement ties in with the claims first made last year.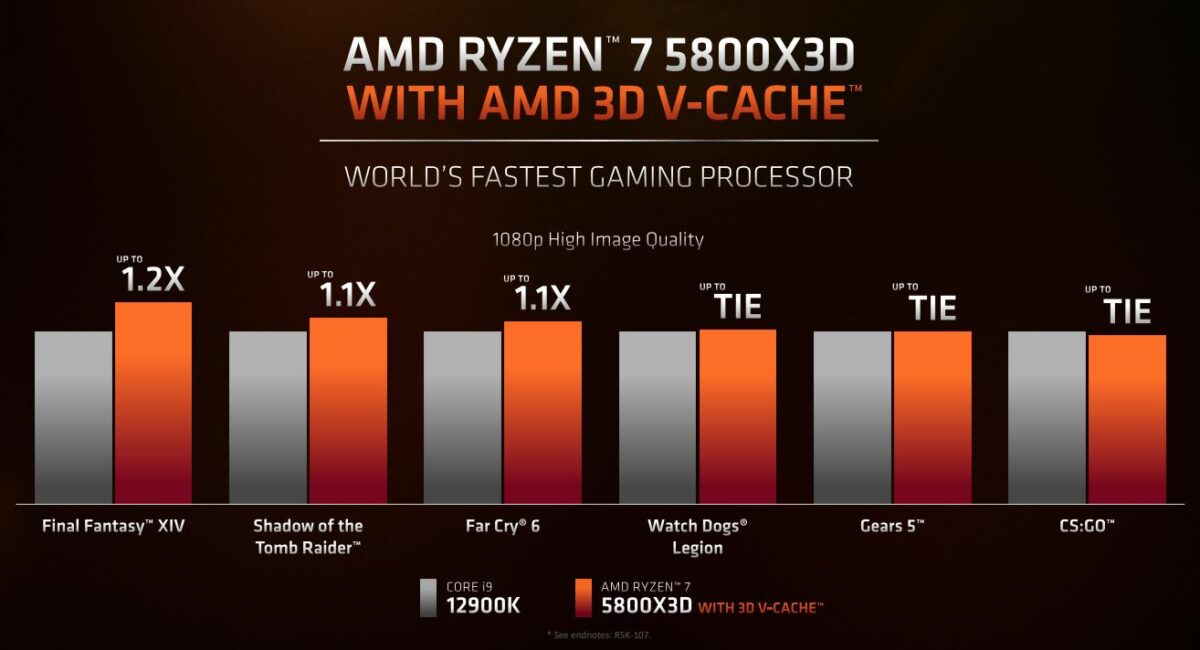 One can argue that Intel's impressive 12th Gen Core 'Alder Lake' processors have necessitated a response from AMD. In that regard, AMD's own testing reveals roughly a tie between this cache-heavy Ryzen and the top-line Intel Core i9-12900K for gaming duties.
Intel is keen to push 12th Gen Core as the ultimate gaming processors so this release from AMD may force Team Blue into launching special-edition models pre-binned at higher speeds. For the gaming crown every MHz matters, evidently.
Moving from a technology concept to full retail model validates 3D V-Cache technology. What we don't yet know is the exact release date – spring is suitably vague – or the price. Expect it to attract a reasonable premium over presently available Ryzen 7 5800X.