Jump to: Inside | Performance | Conclusion
Want a capable everyday PC small in size and easy on the wallet? ASRock believes it has the answer with the £200 DeskMeet X300 AMD Ryzen-based small-form-factor (SFF) PC sold as a barebones unit.
SFF systems have a lot going for them. Ideal for home, office or students getting ready for university, most of the hard work is done for you. ASRock serves Intel 12th Gen Core and AMD Ryzen with identically-sized B660 series and X300 series, respectively.
Measuring 168mm wide, 218mm tall and 219mm deep, the eight-litre chassis is a little larger than, say, an Xbox Series X. Nevertheless, it sits comfortably on a desk and has more potency than first meets the eye.
Not to be confused with the much smaller DeskMini X300 touting an SFX form factor motherboard, DeskMeet X300 sensibly ups the scale to Mini-ITX. Doing so enables ASRock to shoehorn a discrete dual-slot graphics card measuring 200mm long, which is handy if on-chip graphics don't cut the mustard.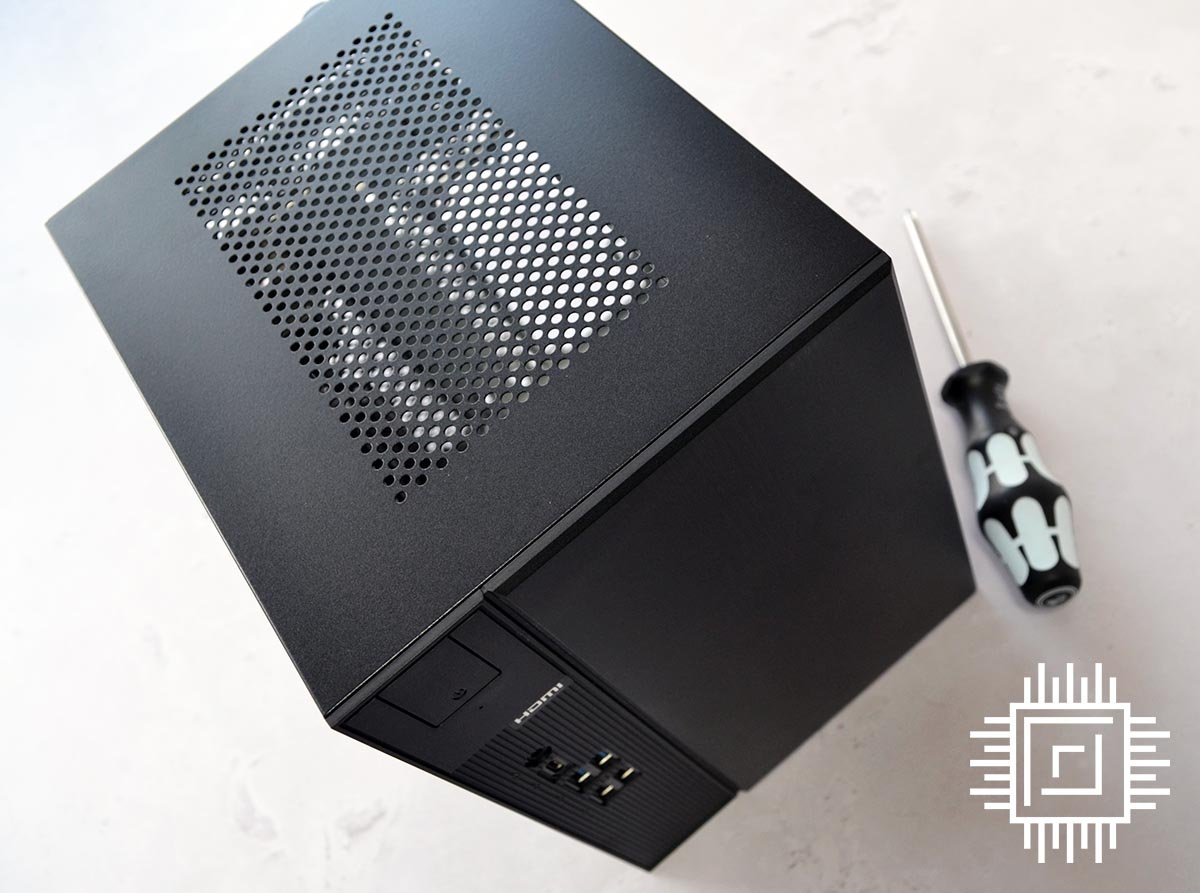 It's a tidy-looking thing alright. The side casing is aluminium while the front plastic. Ventilation holes on the top and right-hand side provide plenty of opportunity to exhaust hot air.
Keeping it simple, DeskMeet X300 features a single USB 3.2 Gen1 Type-C (5Gbps), two 3.2 Gen1 Type-A, and two 2.0. Though fine for most uses, we'd much rather see 10Gbps USB in lieu of the older ports. A headphone jack and power button round out the front.
Inside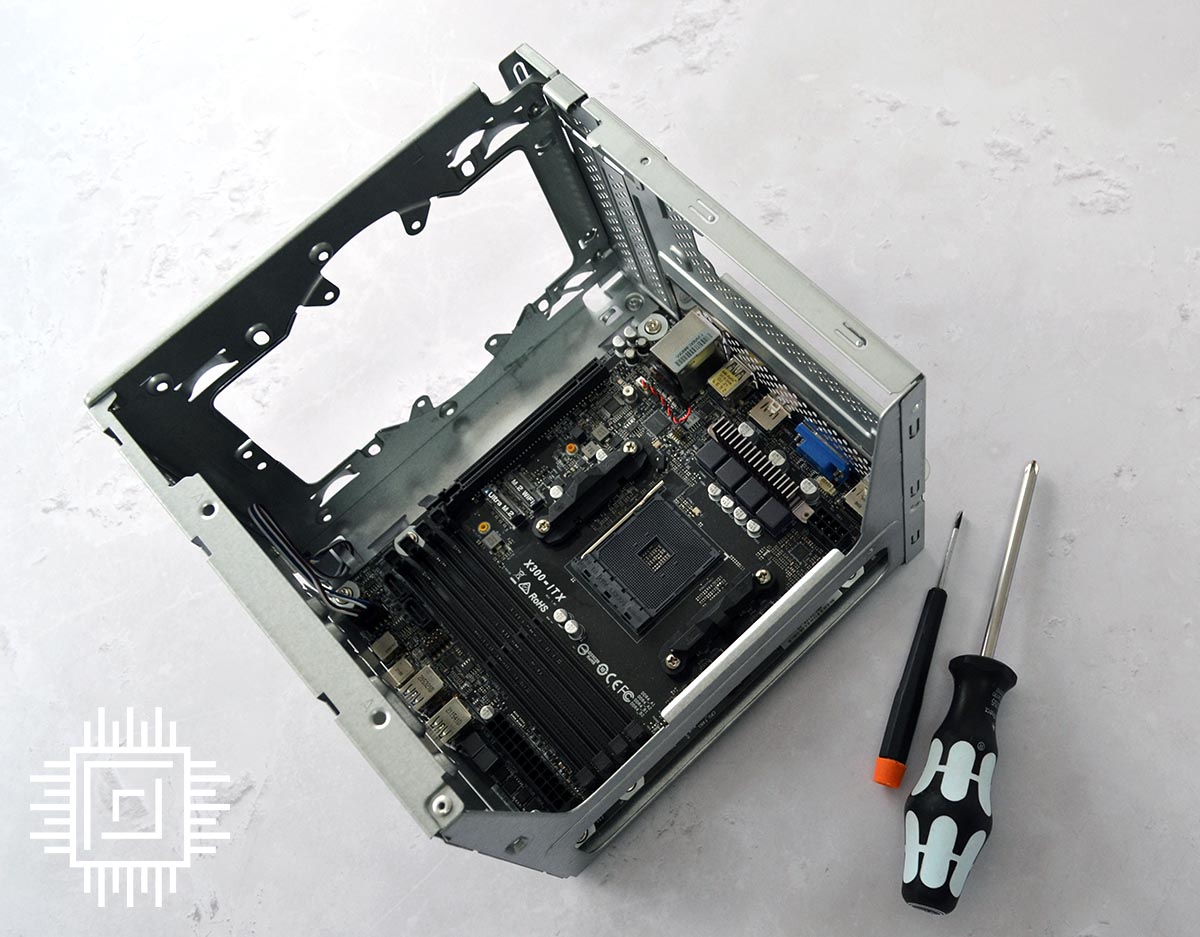 Accessing the innards is straightforward. Sliding forward the cover reveals the X300-ITX motherboard. The chassis can be positioned either vertically or horizontally and ASRock provides four stick-on feet for whichever orientation you choose. An 80 Plus Bronze 500W PSU is bundled as part of the package, leaving the user to supply the CPU, memory, SSD and, optionally, graphics card.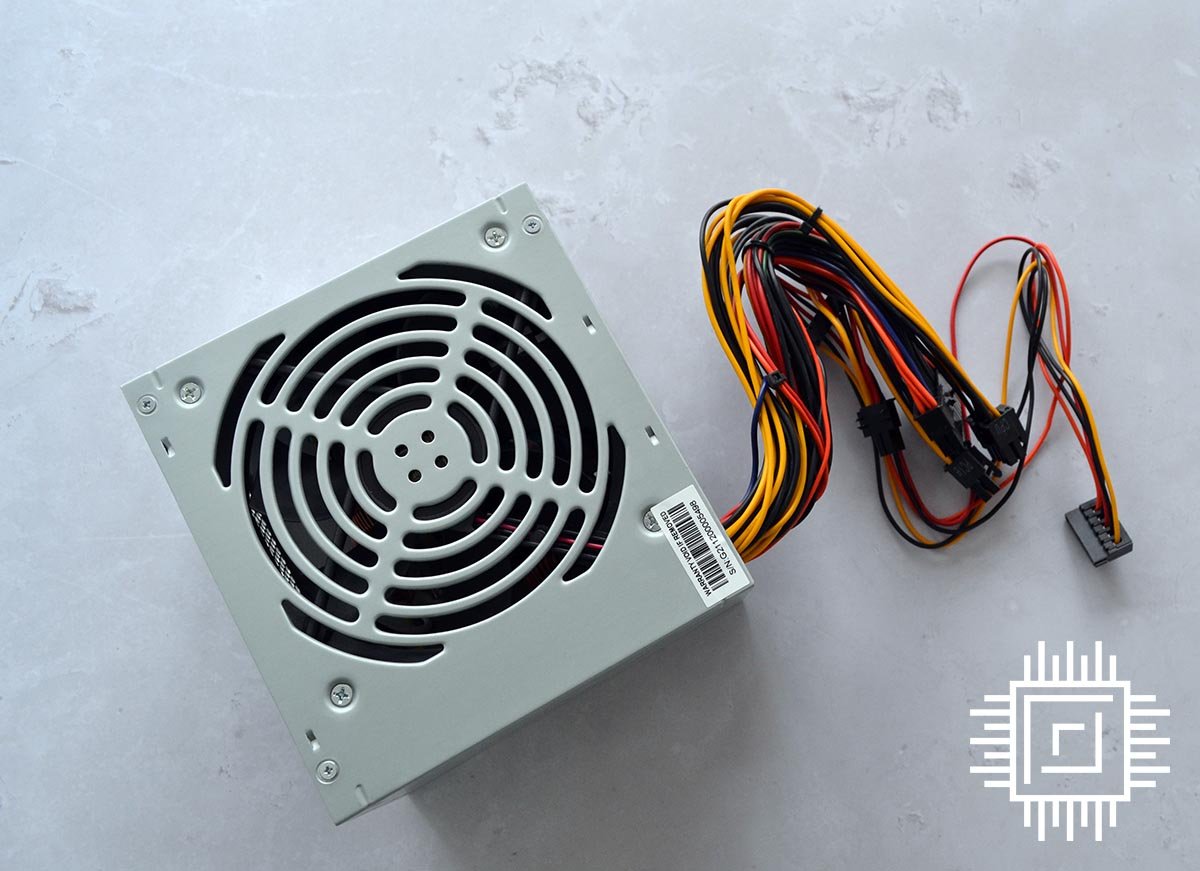 It's the use of a full-ATX supply that pushes out DeskMeet X300's size. ASRock could have used smaller SFX and TFX models, but doing so would inflate price as they're not as common. Built by Channel Well Technologies – a well-known OEM producing many top-tier retail supplies for the likes of Corsair – the GPT500S-A model is average in most regards. 38A on the 12V rail is enough for a system of this ilk, while two SATA and a single 6+2-pin PCIe cable is the minimum we'd need.

Show your support for impartial Club386 reviews
Club386 takes great pride in providing in-depth, high-quality reviews built on honest analysis and sage buying advice. As an independent publication, free from shareholder or commercial influence, we are committed to maintaining the standards our readers expect.
To help support our work, please consider making a donation via our Patreon channel.
Having ATX introduces certain limitations to be aware of. Situated to the right of the motherboard, CPU cooler clearance reduces to 54mm, according to ASRock. That's not quite true as there's a few extra millimetres spare, and the issue is mostly moot as AMD's in-the-box Stealth Wraith cooler fits in comfortably.
Given modest dimensions, DeskMeet X300 limits AM4 CPUs to 65W; these can include G-series parts imbued with onboard graphics, and something like the Ryzen 5 5600G, available for £160, is a fine match.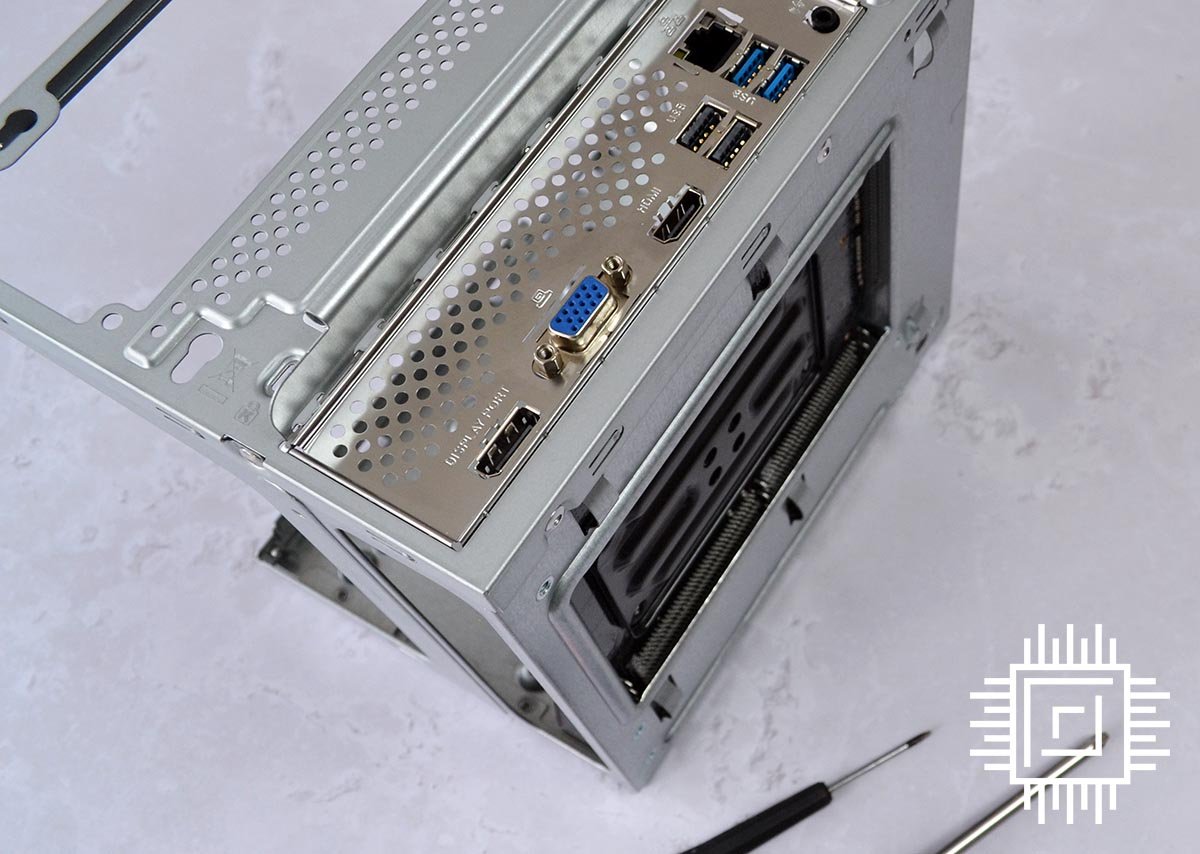 Rear I/O shows just how much room the PSU takes up. If you're so inclined, the supplied ATX PSU can be swapped out for a space-saving SFX – ASRock has the necessary mounting holes – leaving more room for airflow and cooling.
Knowing G-series chips are useful, DeskMeet X300 has both DisplayPort 1.4 and HDMI outputs. USB remains relatively half-hearted, with two 3.2 Gen 1 and two 2.0. Ethernet, meanwhile, is of the standard Gigabit variety from Realtek. Conspicuous by its absence is integrated Wi-Fi/Bluetooth.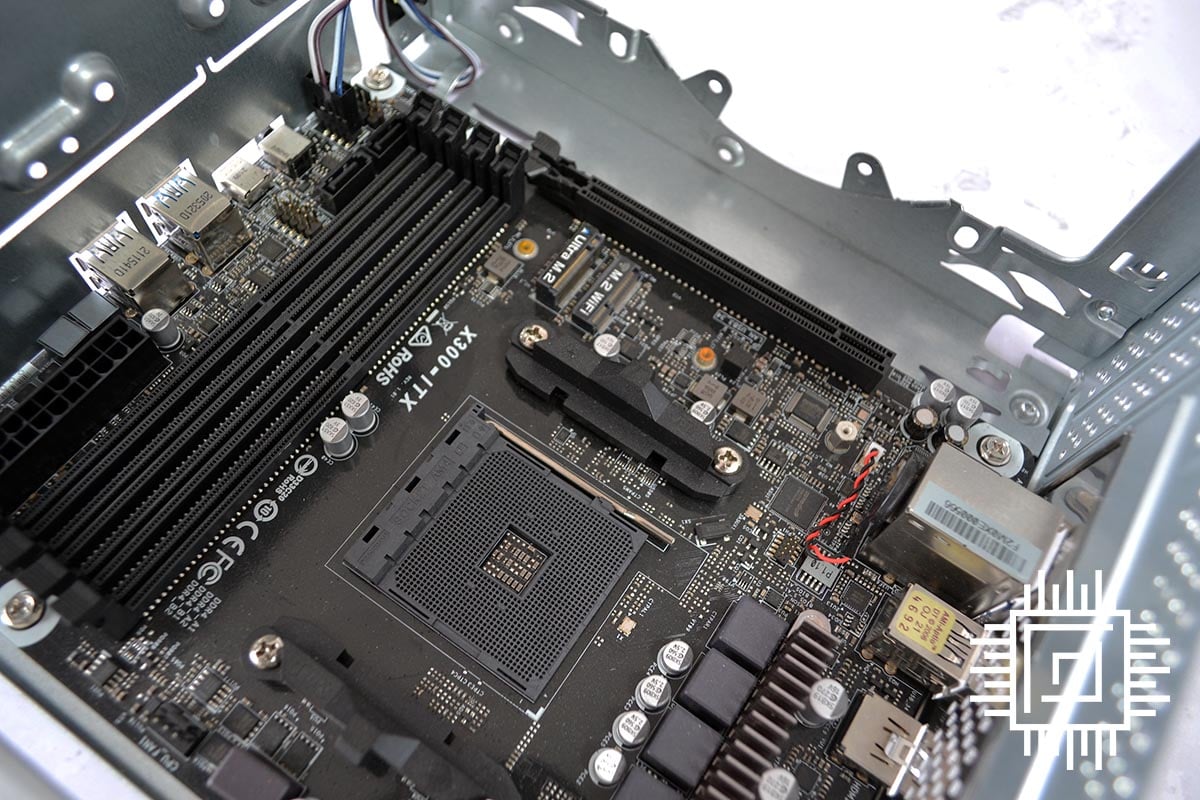 DeskMeet X300 provides stacked M.2 slots. The lower is primed for said Wi-Fi and is presented in the 2230 form factor. Bear in mind no card is in the bundle. Upper slot's more common 2280 form factor accommodates storage, though do understand the chipset only supports PCIe 3.0 x4. The same is true of the single x16 slot directly above, which will cause bandwidth issues if pairing up with, for example, a Radeon RX 6400 running with a PCIe 4.0 x4 interface; one that drops down to PCIe 3.0 x4 in this configuration. A couple of SATA are useful for older drives, as well.
ASRock is generous in the memory department by providing four slots. We'd recommend building in this order: CPU cooler, M.2 slot, memory, GPU, PSU cables and then PSU securing via provided screws.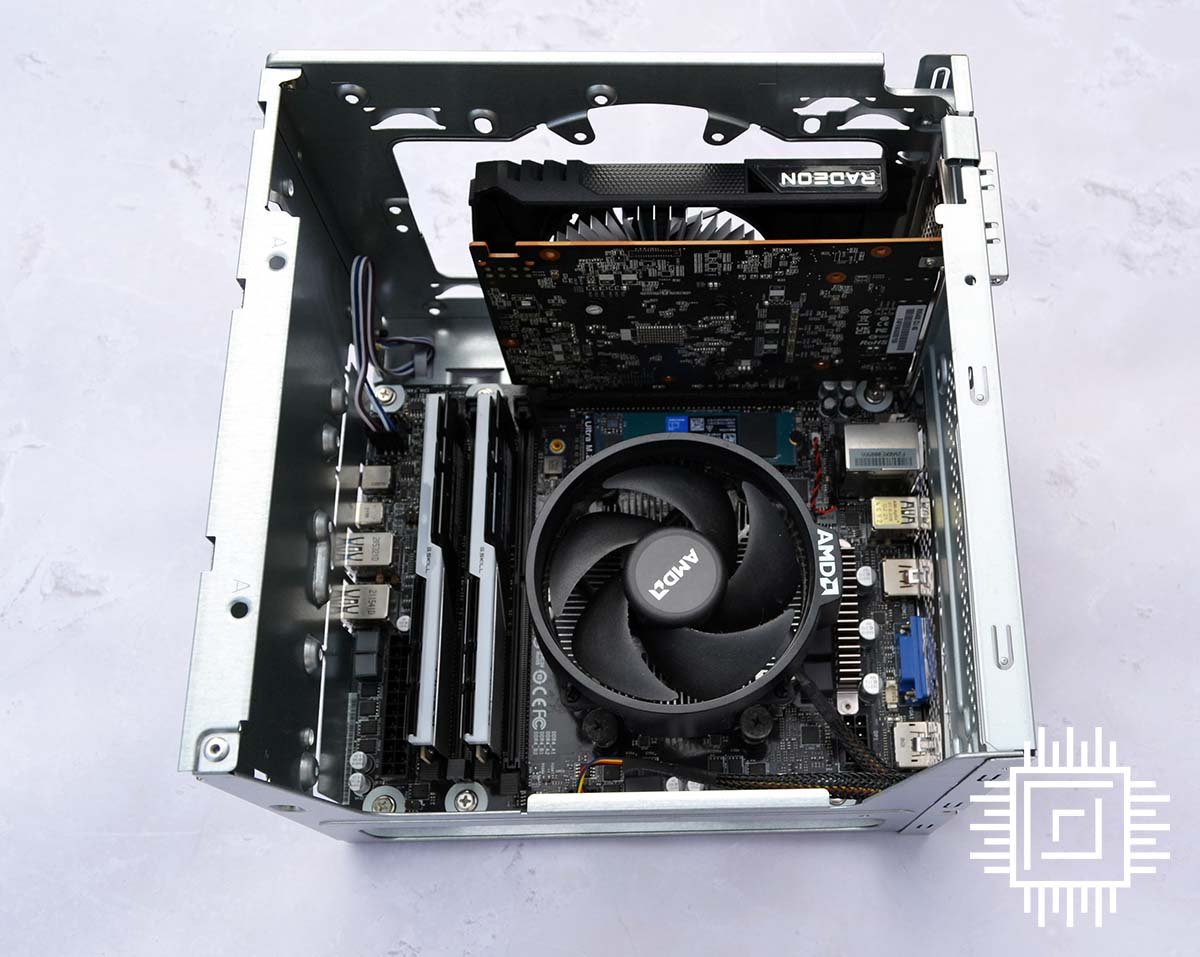 It is scandalously unfair to compare the performance of DeskMeet X300 against multi-thousand-pound systems regularly reviewed on these pages. The real question to answer is whether general performance can be brought up to a reasonable level in 2022.
To that end, we have used an AMD Ryzen 7 5700G processor, 32GB of DDR4-3200 RAM, a 1TB WD Blue SN570 SSD, and for gaming tests, ASRock's very own Radeon RX 6400 Challenger ITX graphics card.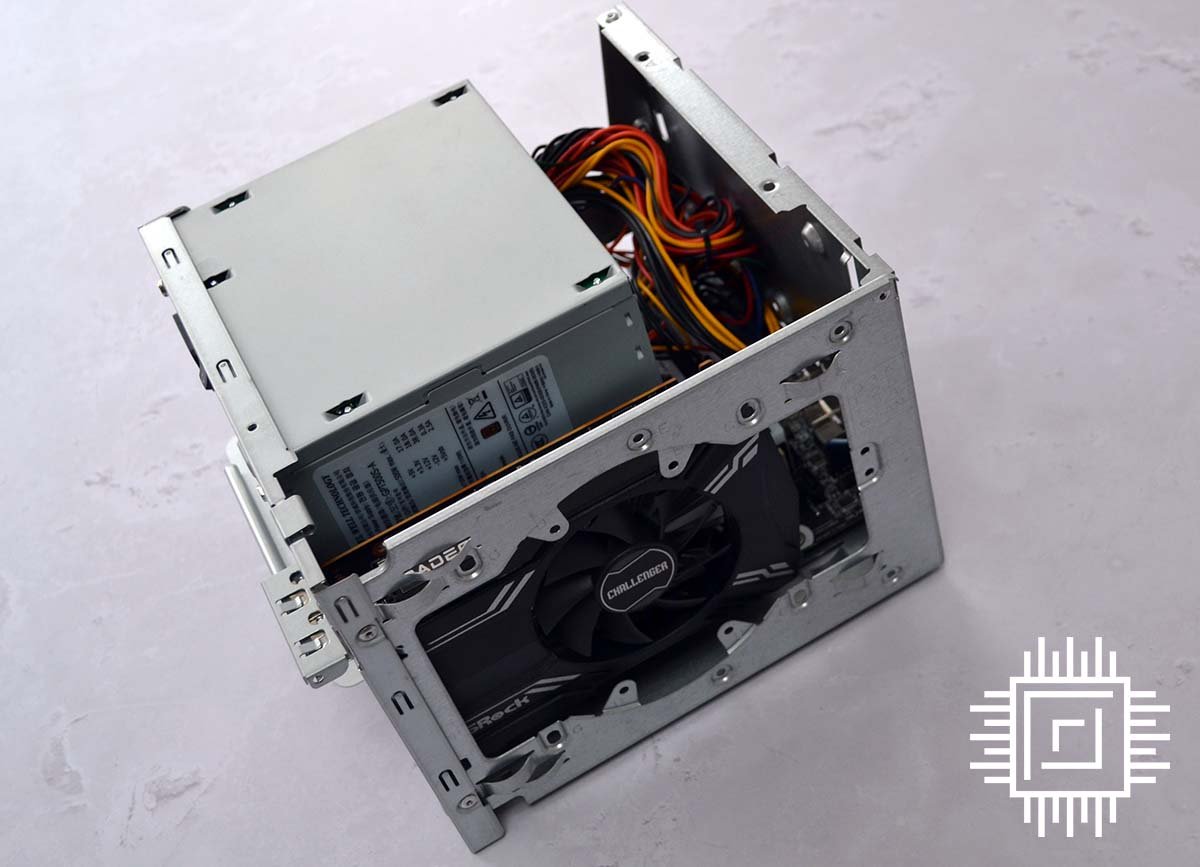 CPU Performance
| | ASRock DeskMeet X300 |
| --- | --- |
| Cinebench R23 single-core (marks) | 1,411 |
| Cinebench R23 multi-core (marks) | 13,104 |
| PCMark 10 (score) | 5,974 |
| Geekbench 5 multi-core (score) | 9,985 |
PCIe 3.0-riding Ryzen 7 5700G is powerful enough for everyday tasks. We look for at least 1,000 marks in the single-core Cinebench test and 10,000 for multi-core. The eight-core, 16-thread chip makes easy work of those baseline standards, and more than decent performance is underscored by solid results in PCMark 10 and Geekbench 5.
On a personal note, DeskMeet X300 ran absolutely fine as a daily driver for emailing, web browsing and photo editing.
GPU Performance
| | Ryzen 7 5700G IGP | Radeon RX 6400 |
| --- | --- | --- |
| 3DMark Night Raid (marks) | 17,240 | 37,674 |
| 3DMark Time Spy (marks) | 1,617 | 3,985 |
| Dota 2 (fps @ 1080p) | 84 | 158 |
| GTA V (fps @ 1080p) | 57 | 114 |
| FF Endwalker (fps @ 1080p) | 28 | 64 |
| Forza Horizon 5 (fps @ 1080p) | 26 | 63 |
Ryzen 5700G uses GCN 5th Gen GPU technology that's now been superseded by RDNA 2 in mobile-only Ryzen 6000 Series. If you're sensible and play older games, the baked-in IGP delivers acceptable results at a FHD resolution. In fact, newer games such as Forza Horizon 5 are just about playable at high-quality settings, though an entry-level discrete card can double framerate with ease.
Testing shows the 500W PSU is overkill. Deskmeet X300 idles at just 29W with Radeon RX 6400 installed, rising to a maximum 139W when gaming. Stressing all CPU cores yields only 110W, too. Knowing this, perhaps an SFX 300W PSU is preferable. Of course, one can kit out this SFF box with higher-performing components; the size enables a Ryzen 9 5900 and GeForce RTX 3060 mini-ITX.
Temperature levels are decent, too, with the CPU averaging 83°C during a 10-minute all-core burn test, and with only the GPU and PSU fan to contend with, noise is comfortable, registering a peak 42.2dB on our meter.
Conclusion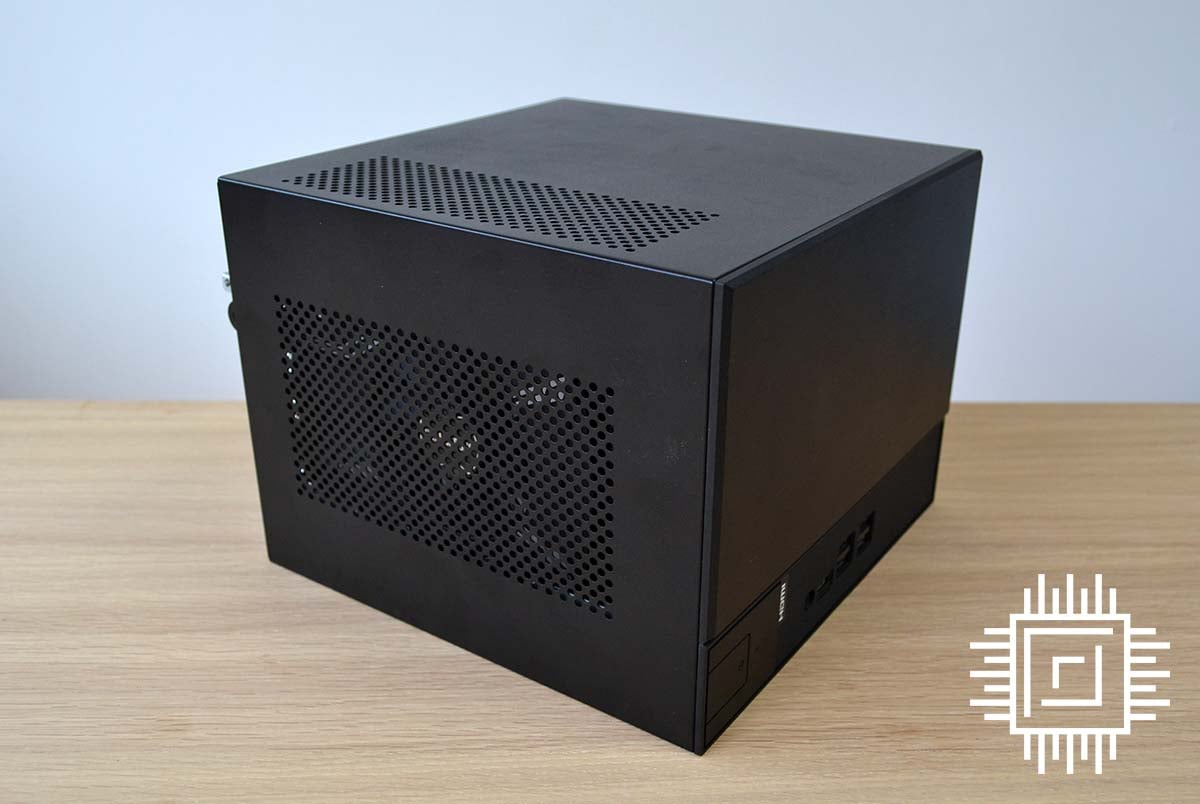 ASRock's DeskMeet X300 is a capable little PC box that's easy to build into and, when configured with reasonable components, offers wholly competent performance for everyday tasks and enough muscle to game at FHD with generous quality settings. Such attributes make it naturally appealing to a wide range of users looking for a low-cost system with all the major bases covered.
And there is the rub. Most don't need a super-powerful computer for day-to-day-work, and ASRock's little box can be made into a capable performer easily enough. Packed with a sensible array of componentry, DeskMeet X300 still ought to set you back less than a PlayStation 5.
Priced at just £200 for a barebone unit, a well-rounded mainstream PC can be built for £500 – simply supply the RAM, SSD, cooler and, optionally, graphics card. Value becomes a major play, and save for some minor criticism about using older USB, we have no major complaints.
ASRock DeskMeet X300
Verdict: Appealing to the masses, ASRock's capable little box is easy to build into.
---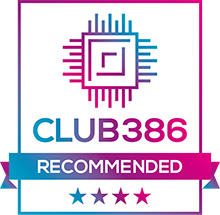 Pros
Easy SFF build
Good value
Room for discrete GPU
Stays cool and quiet
Cons
Old USB
Wi-Fi optional

---
Club386 may earn an affiliate commission when you purchase products through links on our site. This helps keep our content free for all.
Rest assured, our buying advice will forever remain impartial and unbiased.