Card | Performance | Conclusion
AMD recently invested precious 6nm silicon for two mainstream graphics cards built on the RDNA 2 architecture. Radeon RX 6500 XT and RX 6400 ply the £150-£200 market and make a case for gamers looking for FHD thrills and spills.
Club386 took a look at RX 6500 XT earlier, surmising the GPU's savage chops were too deep at the £199 price point. Knowing RX 6400 is cut from the same Navi 24 cloth, let's see if an ASRock card can do better.
Club386 Table of Doom™
| GPU | RX 6600 XT | RX 6600 | RX 6500 XT | RX 6400 | RX 570 |
| --- | --- | --- | --- | --- | --- |
| Launch date | Aug 2021 | Oct 2021 | Jan 2022 | Jan 2022 | Apr 2017 |
| Codename | Navi 23 | Navi 23 | Navi 24 | Navi 24 | Polaris 20 |
| Architecture | RDNA 2 | RDNA 2 | RDNA 2 | RDNA 2 | GCN |
| Interface | PCIe 4.0 x8 | PCIe 4.0 x8 | PCIe 4.0 x4 | PCIe 4.0 x4 | PCIe 3.0 x16 |
| Process (nm) | 7 | 7 | 6 | 6 | 14 |
| Transistors (bn) | 11.1 | 11.1 | 5.4 | 5.4 | 5.7 |
| Die Size (mm²) | 237 | 237 | 107 | 107 | 232 |
| Processors | 2,048 | 1,792 | 1,024 | 768 | 2,048 |
| ROPs | 64 | 64 | 32 | 32 | 32 |
| Infinity Cache (MB) | 32 | 32 | 16 | 16 | – |
| Ray accelerators | 32 | 32 | 16 | 12 | – |
| Boost Clock (MHz) | 2,589 | 2,491 | 2,815 | 2,321 | 1,244 |
| Peak GFLOPs | 10,605 | 8,928 | 5,765 | 3,565 | 5,095 |
| Memory Type | GDDR6 | GDDR6 | GDDR6 | GDDR6 | GDDR5 |
| Memory Size (GB) | 8 | 8 | 4 | 4 | 4/8 |
| Memory Clock (MT/s) | 16,000 | 14,000 | 18,000 | 16,000 | 7,000 |
| Memory Width (bits) | 128 | 128 | 64 | 64 | 256 |
| Memory Bandwidth (GB/s) | 256 | 224 | 144 | 128 | 224 |
| Power Connector (pin) | 8 | 8 | 6 | N/A | 8 |
| Board Power (watts) | 160 | 132 | 107 | 53 | 150 |
| Launch MSRP (USD) | 379 | 329 | 199 | 149 | 169 |
Radeon RX 6400 analysis
RX 6400 ought to be frugal on power and relatively cheap to produce thanks to a tiny 107mm² die packing 5.4bn transistors. AMD actually debuted Navi 24 on mobile at the turn of the year, and you may recognise some of the vital stats from Radeon RX 6500M.
The obvious family comparison is RX 6500 XT, and the specs speak for themselves. The dearer GPU accommodates 62 per cent more compute power and 12.5 per cent more memory bandwidth thanks to marginally faster GDDR6 memory.
AMD's decision to use an economical PCIe 4.0 x4 interface is questionable as many users will run this card on a PCIe 3.0-capable system, rendering card-to-system bandwidth the lowest we've seen in a while. There's certainly scope to lose a chunk of performance even at a FHD resolution when in PCIe 3.0 x4 mode, and we'll investigate the exact impact further on down.
AMD's specs suggest a mere 53W board power, necessitating no external power cables from the PSU. Any partner building RX 6400 cards occupying a form factor larger than Mini-ITX needs a good talking to.
AIB models ought to be cool, whisper-quiet, small, and have enough horsepower to drive IGP-beating visuals at the ubiquitous FHD resolution, preferably with medium- or high-quality settings. Let's examine if ASRock's Radeon RX 6400 Challenger ITX card hits all these straps.
ASRock Radeon RX 6400 Challenger ITX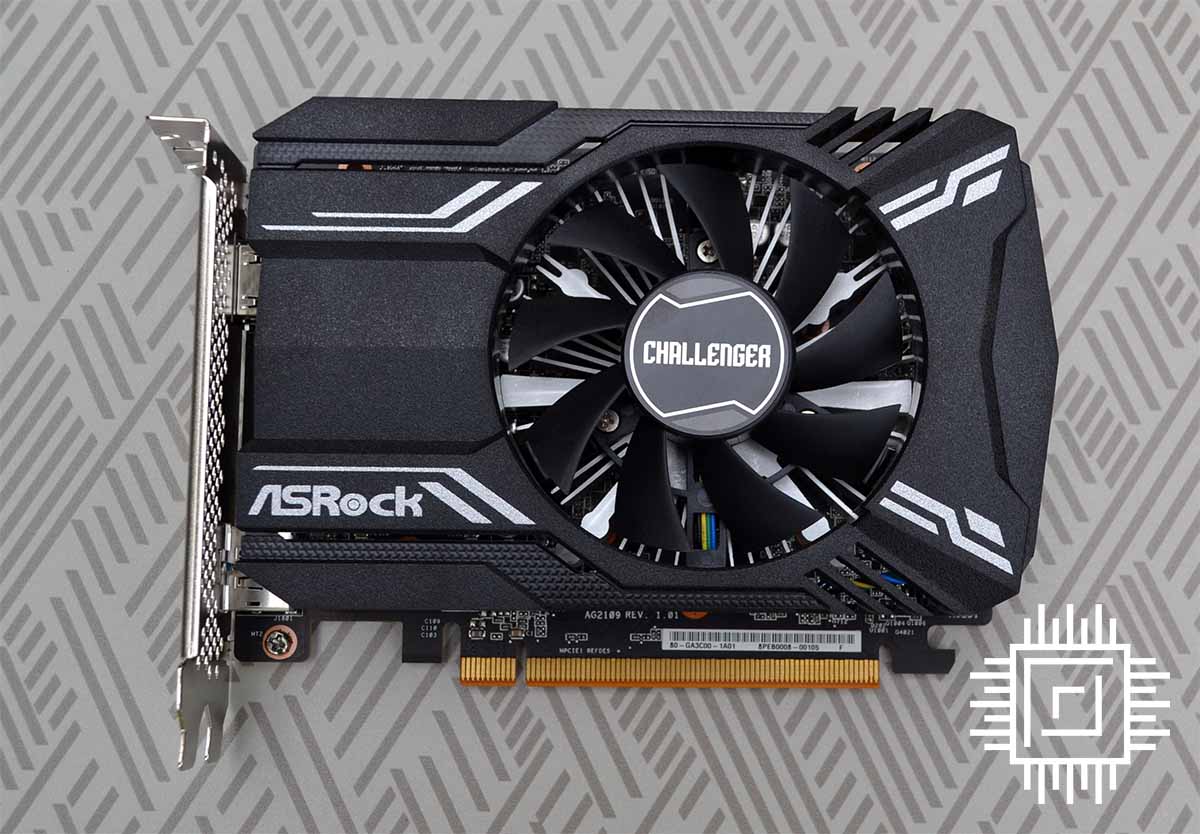 There's not to much to Challenger ITX, and that's a good thing. Measuring 162mm long, 112mm tall, 39mm wide and weighing just 273g, this pint-sized offering neatly fits into myriad chassis. Simplicity is evident in single-fan cooling sat on top of a CPU-like heatsink. Though a quiet proposition overall, the fan switches off completely at low loads.
RGB, heatpipes and cost-adding extras all drop by the wayside, while the overall aesthetic is reminiscent of entry-level cards from yesteryear.

Show your support for impartial Club386 reviews
Club386 takes great pride in providing in-depth, high-quality reviews built on honest analysis and sage buying advice. As an independent publication, free from shareholder or commercial influence, we are committed to maintaining the standards our readers expect.
To help support our work, please consider making a donation via our Patreon channel.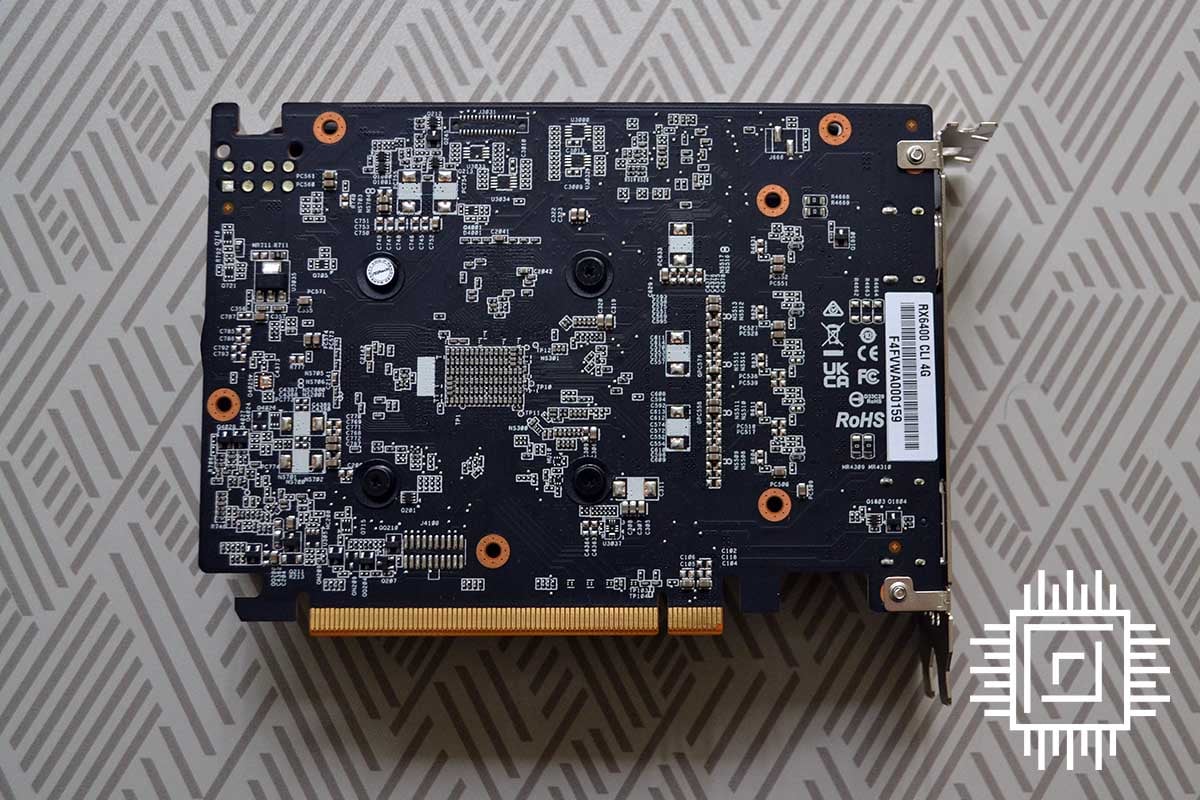 Backplate? No, sir. You'll notice there are markings for an 8-pin power connector – not used here – so ASRock is repurposing the PCB from other mainstream cards in its arsenal.
There are no heroics in the frequency department, either, with an AMD-matching 2,321MHz core boost speed on the 768 shaders allied to 4GB of GDDR6 memory operating at 16GT/s. It's worth knowing AMD's GPU features hardware-based raytracing – its effectiveness at this end of the market remains largely in question – yet rival GTX 1630 does not.
Logs show our sample hums along at a steady 2,342MHz real-world speed, which is only a tad higher than the boost clock prescribed by ASRock and AMD. It's usual for mainstream cards to run a fair bit quicker than on-the-box specs, so this one's bit of an anomaly.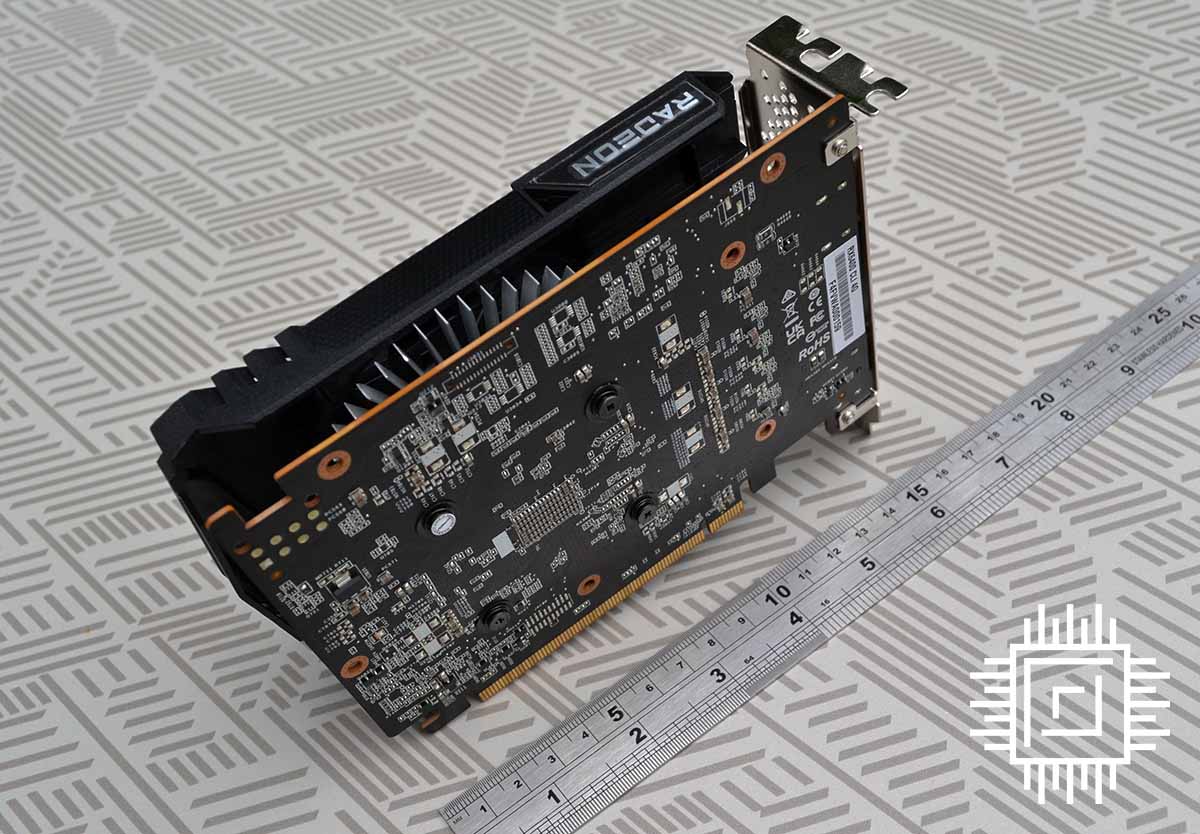 You can feel the OEM origins of RX 6400 seep through in the industrial design. This is the type of card Dell and HP lap up for mid-range gaming systems, and it wouldn't surprise us in the least if ASRock provided OEMs with RX 6400 GPUs just like this one.
Eagle-eyed readers may recall RX 6500 XT carried but two display outputs. The same is true of RX 6400; ASRock opts for DisplayPort 1.4 DSC and HDMI 2.1.
Latest indications are the ASRock Radeon RX 6400 Challenger ITX retails for approximately £150, putting it in the crosshairs of Nvidia's GeForce GTX 1630.
Performance
We're using driver versions 22.5.2 and 516.59 for RX 6400 and GTX 1630, respectively, on our Ryzen 9 5950X benchmarking system. Which is best as the first upgrade from integrated graphics? Roll on, benchmark numbers.
ASRock's card enjoys a commanding lead over GTX 1630, but don't let that fool you. Even RX 6500 XT manages 5,548 marks here.
Going by experience, any score below 5,000 doesn't bode well for great performance at FHD with decent image-quality settings. Let's hope we're proved wrong.
RX 6400 features 12 hardware-based ray accelerators that are a tick box exercise rather than useful in games. We know this because the card returns only 3.8FPS in the 3DMark DXR test.

We usually benchmark this title at very high-quality settings. Doing so swamps both cards' meagre 4GB framebuffers and renders the game unplayable. Dropping down to medium is much better, without a great loss in image fidelity, and RX 6400 Challenger ITX continues to lead GTX 1630 handsomely.

Yet it's fair to say many will look upon these first-upgrade cards with eSports in mind. In that case, the ASRock card is supremely smooth at FHD with very high quality activated.

Which is not something we can say for Far Cry 6. These numbers are produced without raytracing; turning it on results in Far Cry 6 resembling a slideshow. Here is where AMD's FSR technology comes in, elevating base performance by a goodly amount through cutting-edge upscaling. Being an RDNA 2 card, RX 6400 is able to run FSR efficiently.

A well-coded game that's also popular is lapped up by RX 6400; it's also hard to ignore the massive performance uptick over, you guessed it, GTX 1630.

FHD60 with high-quality settings is doable on RX 6400 but not on GTX 1630.

The abject performance of GTX 1630 actually paints the otherwise perfunctory RX 6400 in a positive light.



We expect vitals to be excellent for these mainstream cards. ASRock doesn't disappoint with its whisper-quiet model ideally at home in small-form-factor systems.
Radeon RX 6400 may not be a big puncher when considered in isolation, but up against its immediate peer, GTX 1630, it wins every test.
Overclocking and PCIe 3.0
We'd normally provide information on how to extract a little more performance by way of overclocking. Unfortunately for Radeon RX 6400, AMD locks out the possibility of doing so, and no third-party application is able to access frequencies. A shame that, but understandable as it was first introduced as an OEM product.
Setting the card into PCIe 3.0 x4 mode, thereby replicating performance availed on older systems that remain legion, we noted an average 12.2 per cent framerate drop across our games. Something to be wary of.
Conclusion
It's only fair to evaluate a graphics card once the competition has released a rival offering. Naturally, it's the best graphics card in the £150 space considering the Radeon RX 6400 is currently up against Nvidia's sluggish GTX 1630, and there's actually merit in considering entry-level RDNA 2 on the desktop.
Performance is way ahead of GTX 1630 when run at FHD and medium/high quality settings – Intel's upcoming Arc A380 is an eagerly anticipated arrival, mind – and therefore RX 6400 makes a case as the first sensible discrete consideration beyond integrated graphics.
Yet it's still not cheap at around £150, and such is the current AMD stack, faster RX 6500 XT doesn't cost all that much more. Value remains poor in isolation but, ironically, good when compared to GTX 1630, which as a recently introduced GPU is the best thing that could have happened to RX 6400. Nevertheless, we firmly believe this GPU ought to do more for its money.
ASRock's Challenger ITX doesn't commit any obvious faux pas. It's small, mercifully lacking the unnecessary 6-pin power connector, extremely quiet and very cool. A reasonable buy at £150… but, underscored by the RX 6400 GPU not being a powerful mid-range solution, it would be so much more attractive at the magic £100.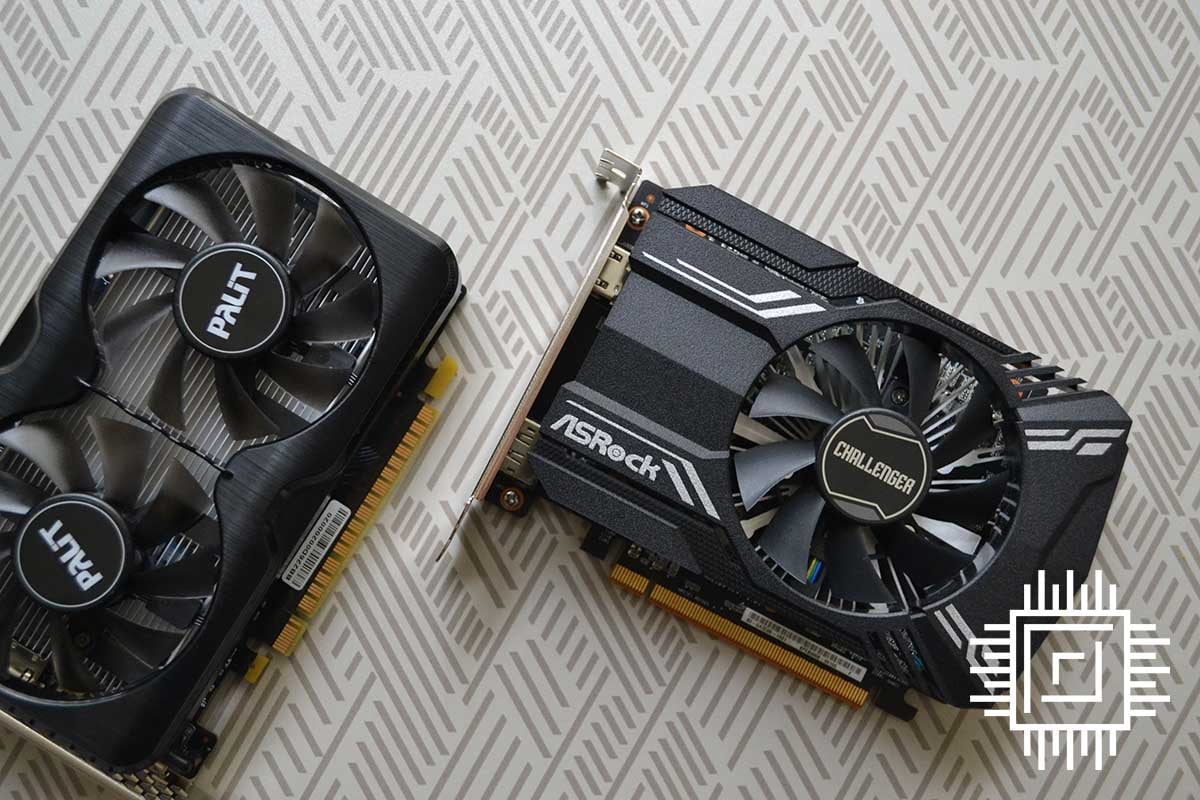 ASRock Radeon RX 6400 Challenger ITX
Verdict: A decent interpretation of the RX 6400 GPU, ASRock does most things right.
---
Pros
Sensible form factor
Very quiet
No 6-pin connector
Fan stops when idling
Much faster than GTX 1630
Cons
Raytracing an afterthought
Still feels expensive at £150
Only two video outputs
---
Club386 may earn an affiliate commission when you purchase products through links on our site. This helps keep our content free for all.
Rest assured, our buying advice will forever remain impartial and unbiased.