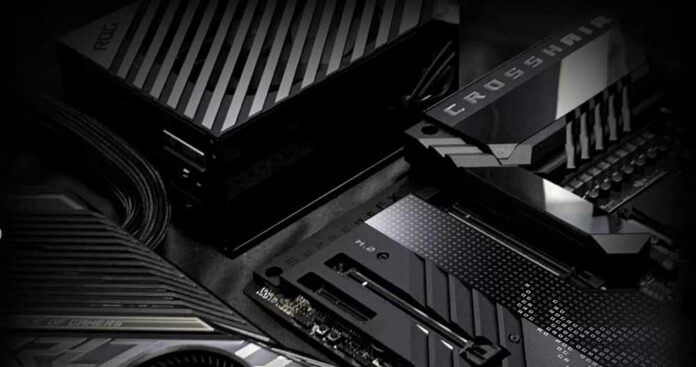 It's no surprise to Asus being a frontrunner for AMD's upcoming AM5-supporting X670E chipset-based motherboards. The Taiwanese giant has announced popular ROG Crosshair Hero and Extreme updates to the Ryzen 7000 series-supporting cast.
ROG Crosshair X670E Hero
We have been using the Hero board for many generations on both Intel and AMD hardware. Often cited as the gold standard to which others must aspire to, Hero has added incremental features over time. The X570 Crosshair VIII version currently retails for around £400, so certainly not cheap, and is a decent partner for Ryzen 7/9 chips.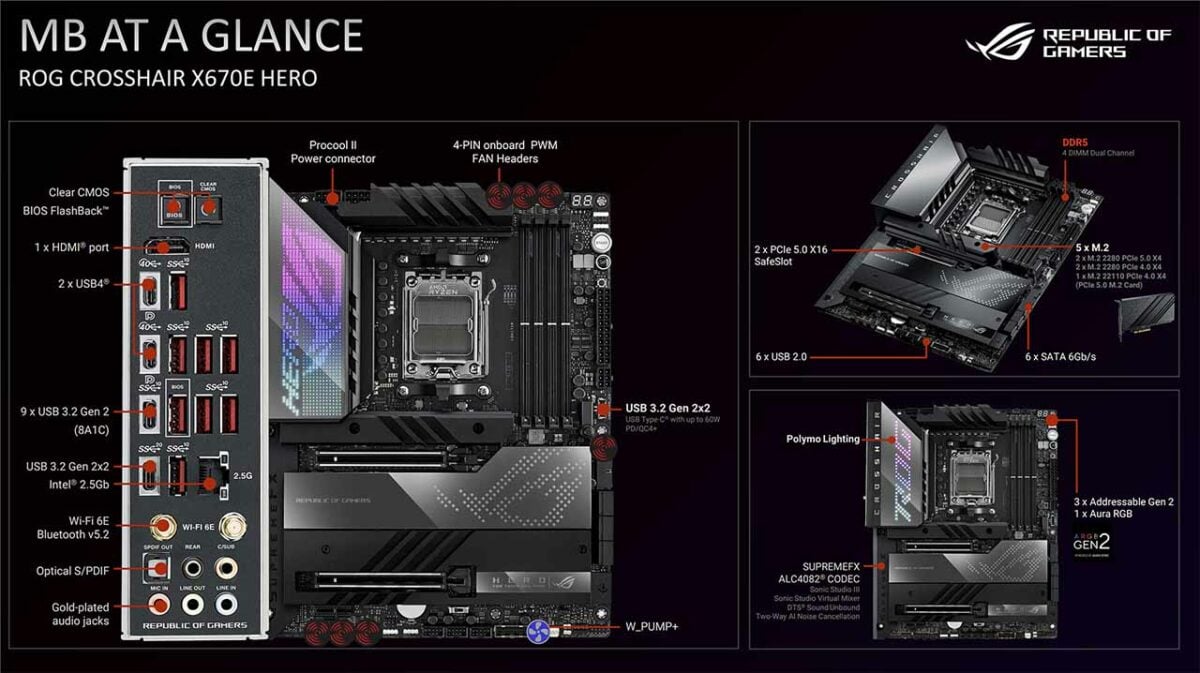 It's not a case of Asus swapping out the socket and being done with Hero. X570 and X670E boards look rather different, from a rotation of the Hero RGB 'Polymer' lighting over the I/O section to a change in heatsinks at the bottom of the board.
X670E Hero goes heavy with M.2 storage, featuring two PCIe 5.0 x4 slots, two PCIe 4.0 x4 and a single, longer (22110) PCIe 4.0 x4. There's also a PCIe 5.0 M.2 card, but it is unknown if that is optional or provided in the box.
Graphics support is also robust; Asus provides twin PCIe 5.0 x16 slots, though we don't know at this juncture if both work at full speed simultaneously. We're fans of the single USB 3.2 2×2 Type-C front-panel connector and, as befits a £400-plus board, there's the deluxe ALC4082 audio codec.
The I/O section is one of the most comprehensive we've seen thus far. USB 4 Type-C is becoming prevalent on top-end boards and Asus provides two ports, yet it doesn't seem like they support Thunderbolt 4. Nine USB 3.2 Gen 2 Type-A (10Gbps) are paired alongside single USB 3.2 Gen 2×2 (20Gbps) Type-C.
Intel provides a 2.5G LAN and Asus includes a single HDMI port for enabling Ryzen 7000 series graphics. Remember, they aren't for gaming, but rather as an output for productivity and diagnostic purposes. Expect top-notch Wi-Fi and more fan headers than you can shake a large stick at.
ROG Crosshair X670E Extreme
The Extreme version takes everything up a notch. Out goes Hero's 18-phase power delivery and in comes a 22-phase beast, with each offering up to 110A per stage. Good luck in getting 2,000W through a next-gen Ryzen.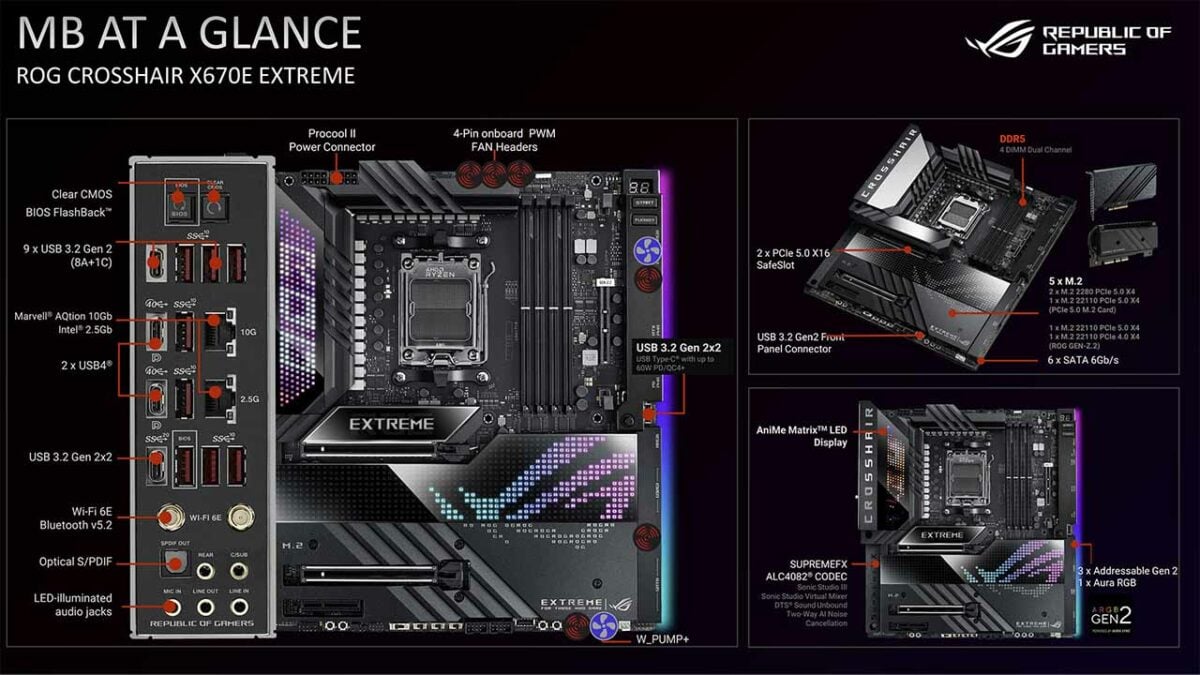 Both boards boast more prominent 'Crosshair' branding along the I/O-covering side. Extreme features the same storage connectivity, too, so refer back to Hero for more details.
The biggest change on the I/O panel is the addition of a 10G LAN from AQtion. Adding it removes Hero's HDMI output, but if you're contemplating the £700-plus Extreme board, running integrated graphics is likely to be far down the list of criteria.
From the pictures it appears as if Asus has done away with the 2in OLED screen present on the X570 model. That's no bad thing, especially if pricing is reduced a little as a direct result of the move.
Impressed with Asus' X670E line-up? We'll let you know our in-depth thoughts come review time. Not long to go now.