Cooler Master just announced a multiple-purpose game and workstation that's shaped like a semi-opened eggshell, shines with the power of glorious RGB, and weighs as much as a baby elephant (343.5kg, to be exact).
The Orb X is over-the-top opulence at its finest, reserved for those with deep pockets and large floor spaces. Stating the obvious, it's a biggun! Besides bordering nearly a half-a-ton in weight, dimensions come in at 1,881mm (L) x 1,810mm (W) x 2,088mm (H). The overall design can be best described as a futuristic cocoon-style pod that's centred around the user for full immersion.
Materials are consistent with what you'd expect from a humongous cockpit. The skeleton, or underlying structure, is made of metal, while the exterior finish of high-quality, mirror-finished ABS plastic, and the throne is an ergonomic recliner made of genuine luxurious leather. The pod also comes in two colourways, either Universe Black or Arctic White.
It's a visually-ominous affair, owed to the entire thing being covered by RGB accent lighting. Starting from the top is an automatic shuttle dome that opens and closes via a touch of a button and reveals the aforementioned centred recliner that's fitted with an adjustable headrest and footrest support.
I/O ports and controls are fitted alongside either arm rest and include a USB hub with support for four USB 3.1 Gen 1 Type-A ports, two USB 3.1 Gen 1 Type-C ports, a single headphone jack, and a power-on button in the shape of the Cooler Master logo. Last but not least, the accompanying desk swivels outward for easy seating, and has a cool QI-wireless charger built-in for that added bit of convenience. Nice.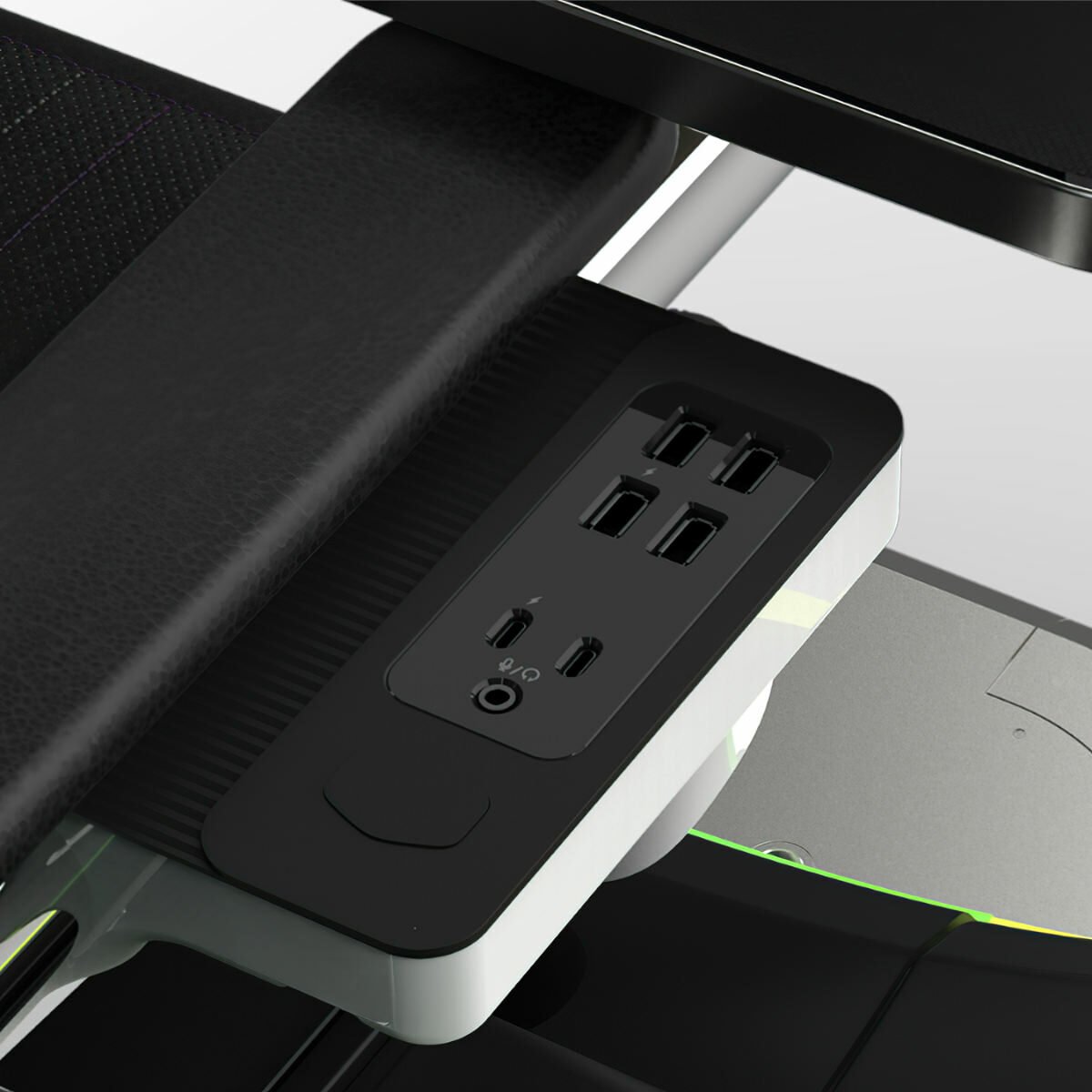 Moving swiftly on, close the dome and you'll be greeted with a screen mount that supports either a large 49in ultra-wide monitor or three 27in monitors. Audio is provided by a 2.1-channel speaker system, with the subwoofer hidden dead-centre at the bottom of the seated position. Finally, a hidden compartment situated in the rear of the pod is where users get to add their prebuilt PC or console, accessible via a sleek, slide-out tray.
Is it cool? Well, depends on who you ask. Is it expensive? Undoubtedly yes, even though pricing and availability has yet to be confirmed.
Looking toward Cooler Master's closest competitor in the space, Acer's 2019 Predator Thronos Air can be had from anywhere between £11,000 to £15,000, so a calculated guess puts it around that ballpark figure. For now, those interested can register on a waiting list, until it is eventually made available for pre-order.