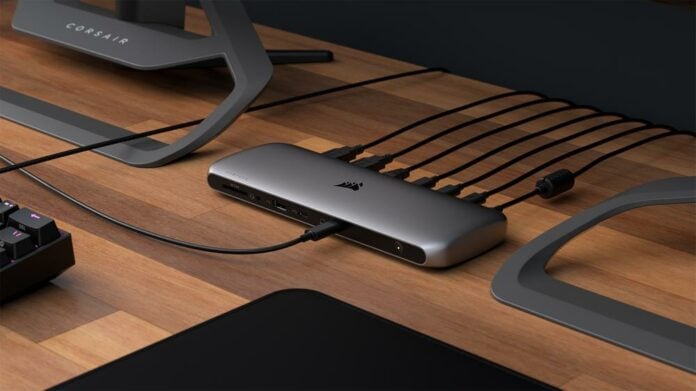 Corsair has unveiled the TBT200 Thunderbolt 4 Dock replacing the HDMI ports and Gigabit Ethernet of the older TBT100 with one Thunderbolt 4 10Gbps, one USB-A 10Gbps, and a much faster 2.5Gbps Ethernet.
The design is sleek and sober, as there is no RGB bling or aggressive gaming colours anywhere on the dock, making it perfect for professional environments. On the bottom we there are three large rubber pads that should adhere quite well to the desk.
The connectivity is centred around Type-C Thunderbolts and Type-A USB ports. Compared to the previous model, TBT200 provides extra power to your host device while having more flexible ports.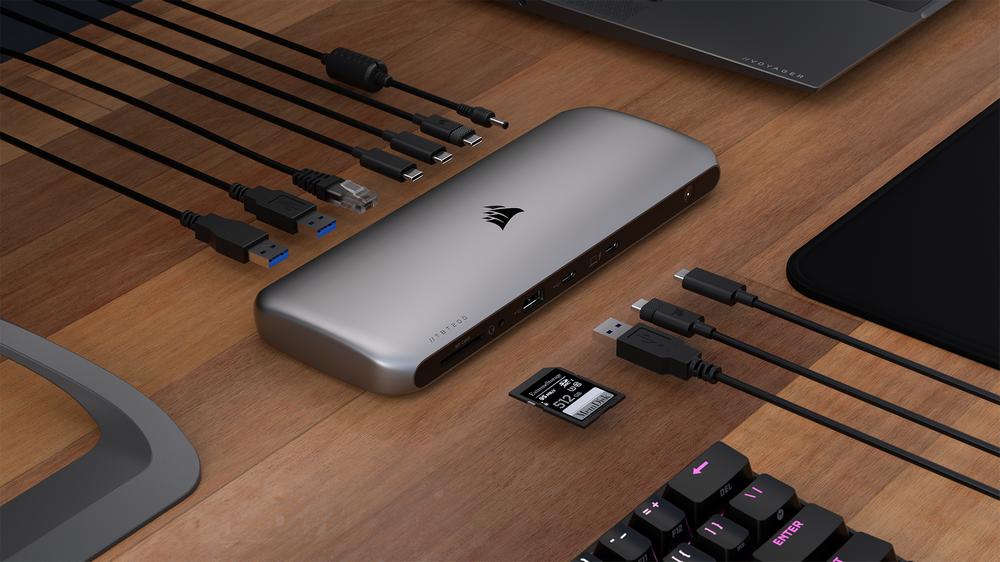 Starting from the front there is an SD card reader (UHS-II SD 4.0), a 3.5mm combo audio jack, one (7.5W) USB-A 10Gbps, one (15W) USB-C 10Gbps, a Thunderbolt 4 upstream port, and a power button. Note that a host laptop can receive up to 96W for charging.

On the back you get a power port, three Thunderbolt 4, a 2.5Gbps Ethernet, two (7.5W) USB-A 10Gbps, and a Kensington lock. While some users may miss a faster 5Gbps or 10Gbps Ethernet port, for most 2.5Gbps should be plenty fast.

Personally, I think the upstream Thunderbolt 4 port linking the Dock to the host machine should have been put on the side. That way it's still accessible if the user wants to switch between multiple machines, all while keeping the cable away for a cleaner look and more free desk space.

This Dock comes bundled with a 0.8m-long Type-C-to-Type-C Thunderbolt 4 cable, a 1m Type-C to HDMI cable, a 1m Type-C-to-DisplayPort cable, and a power-supply capable of delivering 150W. It's nice to see both video-cable types included, making it ready to stream dual 4K60 video outputs straight away. This is better than having dedicated video ports which take up useful space and lock you from connecting different devices.
Compatible with Chromebooks, Mac OS 10.14 Mojave and Windows 10 onwards, the TBT200 Dock will be available in early December priced at £319.99, backed by a two-year warranty.