Corsair has inadvertently announced its upcoming MP700 PCIe 5.0 M.2 NVMe 2.0 SSD through a leaked video that has since been taken down. As expected, the Internet has managed to save the vital details.
Right from the get-go, we can't help but be intrigued by the huge similarities between Corsair's and CFD's PCIe 5.0 offerings. Both seem to be using the exact same cooler made of a chunky heatsink and a small (probably 20mm) fan. Even the number of screws and the little hole on the side of the heatsink are identical. Only the logo is different, obviously. So does this mean Corsair is licencing an SSD from another manufacturer? we don't know yet, but it wouldn't be the first time a brand puts its logo on a white-label product.
Describing the upcoming drive, Corsair's commentary states: "Experience the performance of PCIe Gen5 storage in your system, with up to 10,000MB/sec sequential read and 9,500MB/sec sequential write speeds for amazingly fast save, boot, and load times."
"The high-bandwidth NVMe 2.0 interface and high-density 3D TLC NAND flash memory offer outstanding performance and longevity. Slot the MP700 directly into your motherboard thanks to its M.2 2280 form-factor, while a stylish aluminum heatsink helps manage temperatures and reduce throttling. Microsoft DirectStorage enables unprecedented load times when playing compatible games," adds the manufacturer.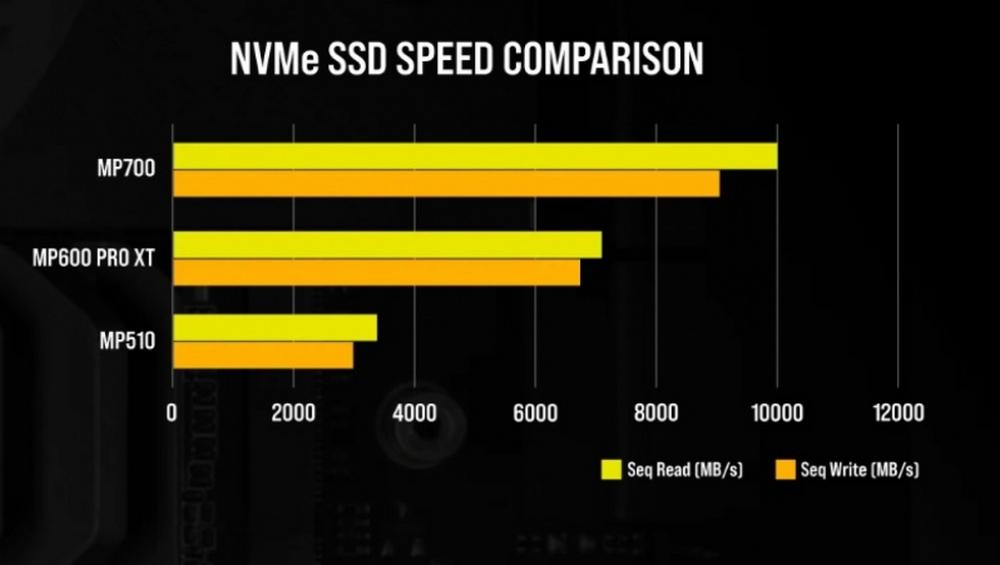 The captured specs perfectly match those of CFD's drive, namely, up to 10,000MB/s sequential read and 9,500MB/s sequential write. But since Corsair didn't provide any further information, we are tempted to assume that like the CFD PG5NFZ, the MP700 could reach 1,500,000 read IOPS and 1,250,000 write IOPS on potential 2TB and 4TB variants. Given Corsair's long partnership with Phison, the MP700's controller will probably be Phison's PS5026-E26 coupled to some amount of TLC NAND flash.
Either way, the numbers are impressive and easily surpass Corsair's best available M.2 SSD, the MP600 PRO XT 4TB, which maxes out at 7,100MB/s read and 6,800MB/s write. Such drives couldn't go any faster – its limiting factor being the PCIe 4.0 interface speed limit – but not that bottleneck has been alleviated, 10GB/s is going to become increasingly common for the enthusiast market.