Jump to: Performance | Conclusion
Expanding storage is now easier than ever. Myriad M.2 drives take care of internal capacity enhancements and truly pocket-sized external SSDs offer a hassle-free method of moving large files around with the minimum of fuss.
Though Crucial has called time on supporting Ballistix memory, more resource is poured into expanding the storage division. Available for some time, the X8 Portable SSD now majors on value, with the 1TB model fetching £80 and 2TB just £140. Worth a closer look, don't you think?
Crucial goes about building the X8 in a familiar way by connecting to a computer via USB-C. A supplied 25cm cable is suitable for newer systems, while for everyone else, we commend Crucial for also including a USB-C-to-A adapter.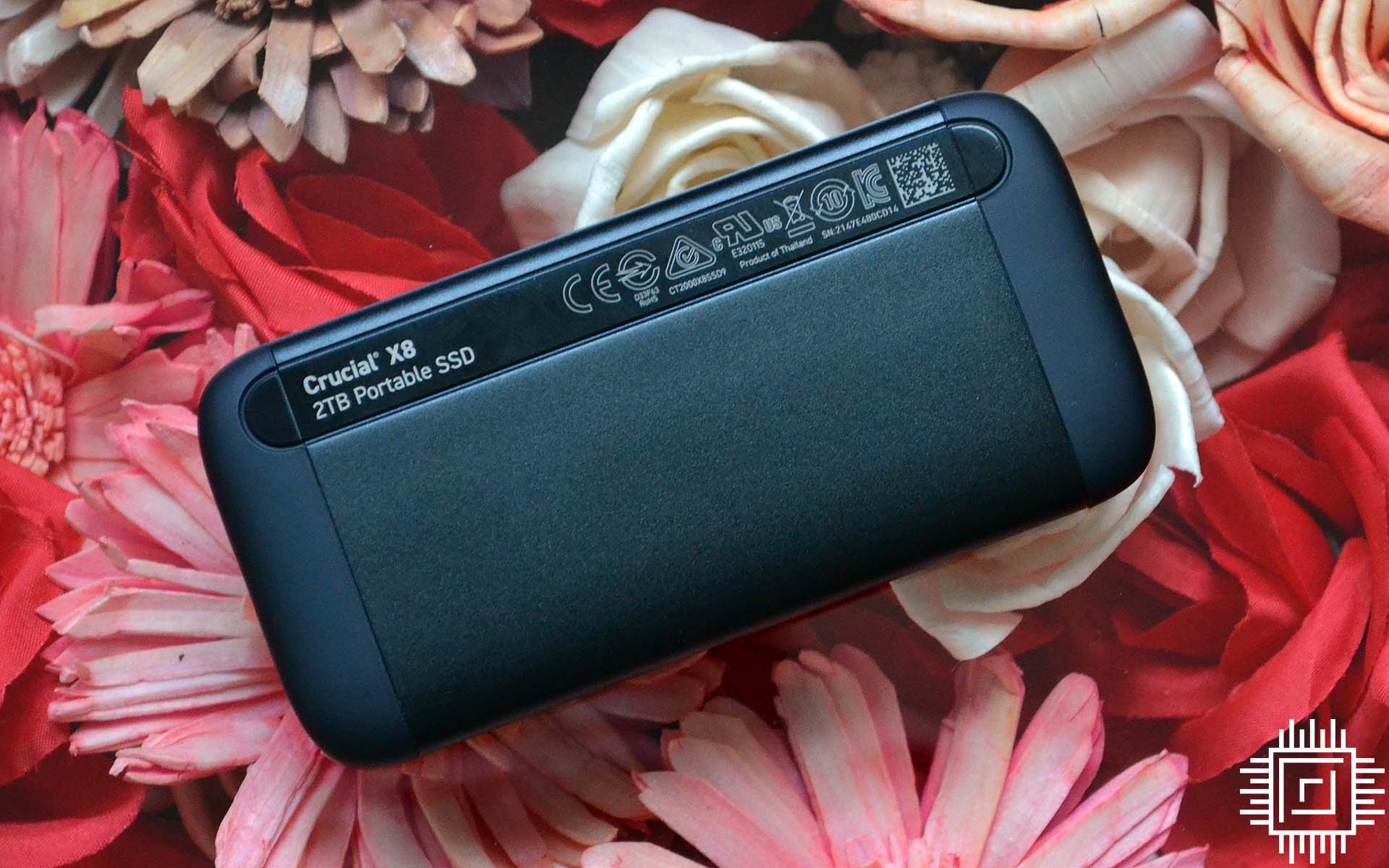 The X8 2TB is neither the smallest nor lightest of external SSDs, mind, as measurements of 110mm length, 53mm height and 11.5mm thickness are at odds with the very latest drives. At 97g, there's reassuring heft emanating from a high-quality anodised aluminium finish that does an adequate job at repelling fingerprints and is drop-tested to 7.5 feet. X8's only available in black, which is a good thing.
Looking closer, there are no activity lights to break up the unibody construction. To the drive's design credit, the external casing – ending in grippy, rubberised sections that ought to avoid easy marking – does a great job at keeping everything cool; internal temperature rose to merely 48°C after 10 minutes of sequential writing, while the casing ran only five degrees warmer than ambient room level.
Inside, Crucial uses 64-layer QLC NAND allied to a four-channel Silicon Motion SM2263 controller bridging over to USB. X8 opts to include the version using DDR4 memory – there is another relying on the Host Memory Buffer (HMB) interface for buffering duties – but do appreciate sequential speed is capped at 10Gbps, even though the controller and NAND can run faster in a PCIe-attached M.2 NVMe environment.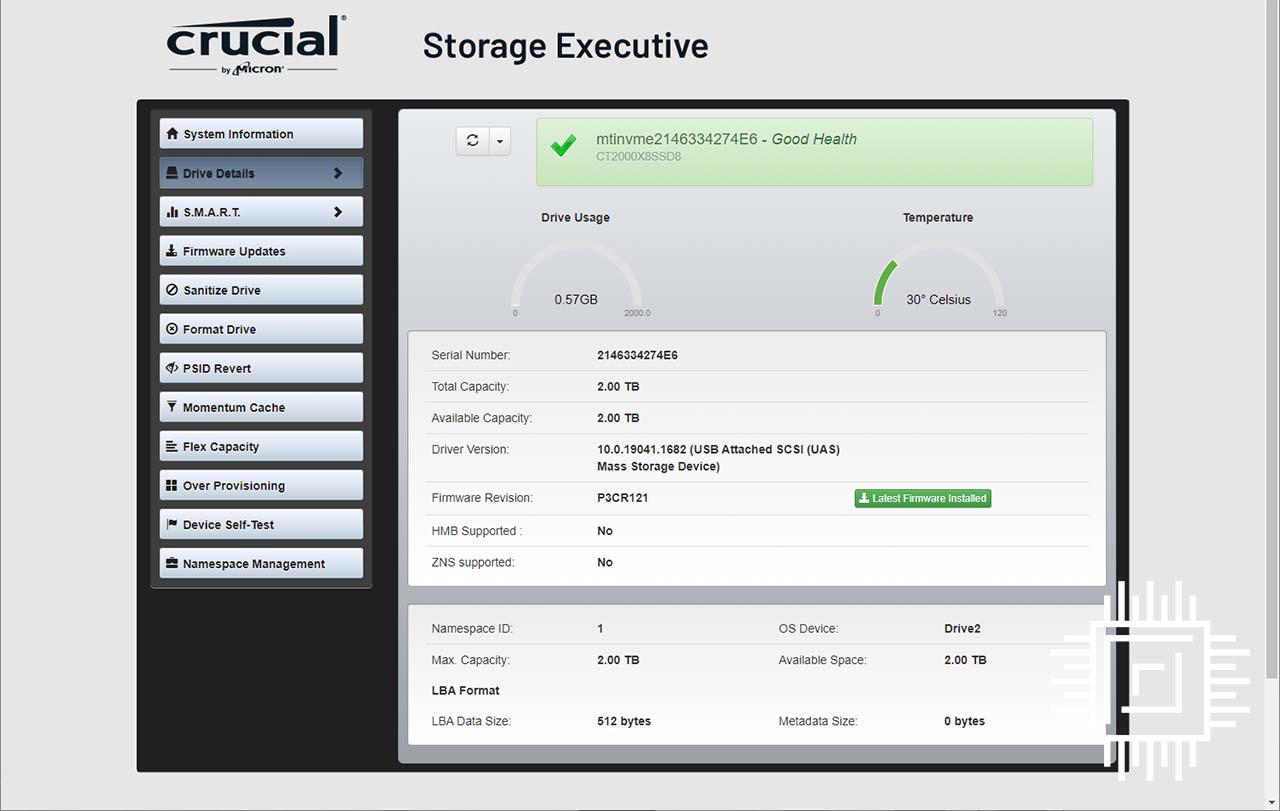 That's no great problem as the vast majority of client devices don't feature the newer 20Gbps controller. Going for mass-market adoption rather than fastest interface certainly helps in keeping value in check, and Crucial does well in the compatibility stakes. There's support for laptops and desktop computers, of course, as well as PS4/PS4 Pro, Xbox One/X, Android, MacOS and 2018's iPad Pro. Formatted to exFAT out of the box for immediate use on Windows or MacOS machines, Crucial backs X8 with a three-year warranty.
There are no applications on the drive itself, save for a weblink offering the company's Storage Executive software as a free download, though the 239MB package is unnecessarily bulky.
Performance
| Comparison Drives | Interface | Speed | Capacity |
| --- | --- | --- | --- |
| Kingston XS2000 | USB Type-C | 20Gbps | 2TB |
| Crucial X8 | USB Type-C | 10Gbps | 2TB |
| SanDisk Extreme Pro Portable | USB Type-C | 20Gbps | 1TB |
| WD MyPassport SSD | USB Type-C | 10Gbps | 1TB |
We test on a Gigabyte Aorus Z690 Master motherboard equipped with a 20Gbps USB I/O. A 1TB Corsair MP600 Pro XT PCIe 4.0 x4 NVMe host SSD is used to minimise transfer bottlenecks.

Sequential read and write speed is exactly where we'd expect an external 10Gbps drive to be. The internal NAND and controller effectively saturate the connection, and we wonder how much faster the X8 would be if a 20Gbps interface was used instead.

Show your support for impartial Club386 reviews
Club386 takes great pride in providing in-depth, high-quality reviews built on honest analysis and sage buying advice. As an independent publication, free from shareholder or commercial influence, we are committed to maintaining the standards our readers expect.
To help support our work, please consider making a donation via our Patreon channel.
We can actually determine potential by looking across to the Kingston drive. It uses a Silicon Motion SM2320G controller outfitted with said 20Gbps connection. There's more to it, of course, as the Kingston also uses faster NAND.

Real-world transfer numbers are usually not as high as synthetic benchmarks. Moving a 67GB large-file folder to and from the host computer results in appreciably lower numbers. Nevertheless, transferring, say, 20GB in 30-odd seconds means you won't be waiting around long.
Shifting gears by trying to tease out exactly where the drive's QLC memory gives up the ghost, we managed 340GB of writing before speed dropped from around 640MB/s to 110MB/s. That's quite the reduction, but the good news is very few folks will write a third of a terabyte in one go.


2TB is a juicy number when it comes to holding lots of games, and there's no reason why you can't do this on last-gen consoles and for ever-growing Steam libraries.
Acting as a proxy in understanding speed when moving or installing games, there is little difference between the best and worst here.
Point is, it is all too easy to be blinded by headline sequential transfer speeds. For most, a high-capacity, high-value 10Gbps external SSD will do, and that's exactly how Crucial pitches it.
Conclusion
Increasing capacities and falling prices make external USB-based SSD storage more attractive than ever. Though not the fastest drive on the market, Crucial's X8 Portable SSD, available in 1TB and 2TB capacities, makes a strong case for a number of reasons.
Costing £140 for the review 2TB model, value is an obvious and strong play. Excellent construction, a handy Type-A adapter, and low internal and external temperatures are further positive points. Yet, being fair, it's not the smallest or sleekest external drive in its class, performance drops off substantially at the 340GB transfer mark, and no on-drive software isn't ideal.
All that said, the Crucial X8 2TB is a fine choice for users looking to mate high capacity with reasonable cost. Recommended to Joe Average.
Crucial X8 Portable SSD 2TB
Verdict: A safe choice balancing capacity, cost and performance.
---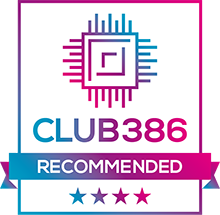 Pros
Good value
Solid construction
Type-A adapter
Keeps cool
Cons
Larger than many
Speed drop-off at 340GB
---
Club386 may earn an affiliate commission when you purchase products through links on our site. This helps keep our content free for all.
Rest assured, our buying advice will forever remain impartial and unbiased.