Jump to: Comparison | Performance | Conclusion
Intel's 12th Gen Core Alder Lake CPUs serve as a great destination for PC enthusiasts. Spanning Core i3-12100F all the way up to Core i9-12900K, there is something for most budgets.
Discerning buyers eyeing Core i9 will inevitably look at the Z690 chipset. Able to handle 241W maximum turbo power with ease – something not all cheaper B660 boards can do – there's no shortage of competition.
Gigabyte enthusiast subsidiary Aorus reckons Z690 Master is a great choice at £400, gracing good looks with impressive cooling, five M.2 slots, 10GbE LAN, 20Gbps USB, and enhanced power delivery. In fact, on first glance, all that's missing is Type-C Thunderbolt support. Let's peer closer.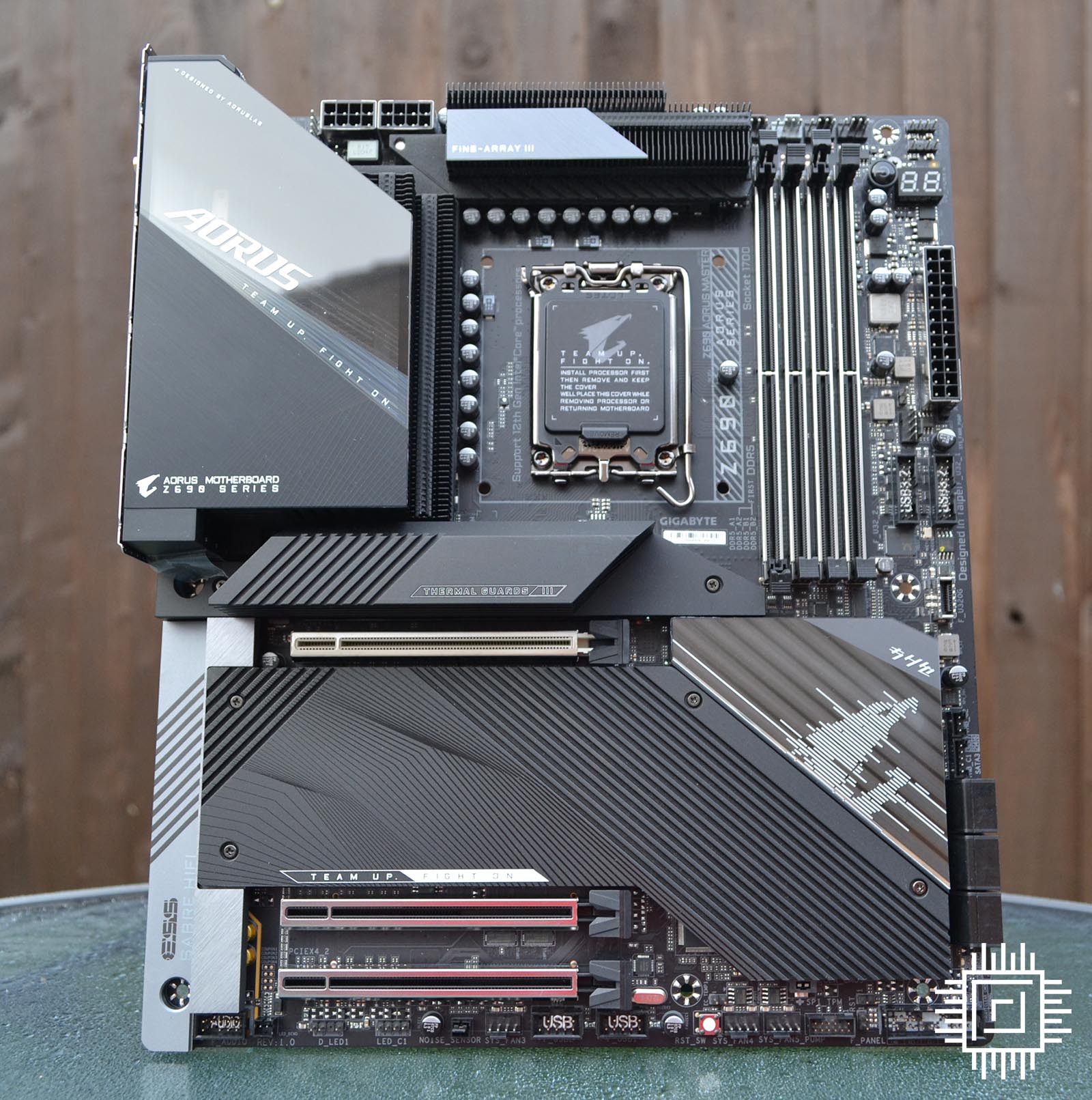 Aorus sensibly opts for an eATX form factor so as not to cramp the board's style. Extra available width is put to use by enlarging the left-hand VRM heatsink and installing a plastic shield over it. Not only does this look good, a modicum of RGB is contained in the semi-transparent upper section.
Excellent power delivery comes by way of a 22-phase power supply, of which 19 are provisioned for the CPU. Knowing each phase is capable of 105A, there's almost 2,000A on offer. Even a meagre 1V supply means almost 2,000W on tap, or way in excess of what any overclocked Core i9 can pull.
Having thoroughly robust power delivery is one aspect, another is cooling. Helping dissipate a more sensible 300-400W, attributable to a heavily-overclocked chip, are two of the chunkiest heatsinks we've seen on a consumer board. Both use a wide metal base and well-built fin structure on top. A full-width rear brace adds to the board's 2,410g heft.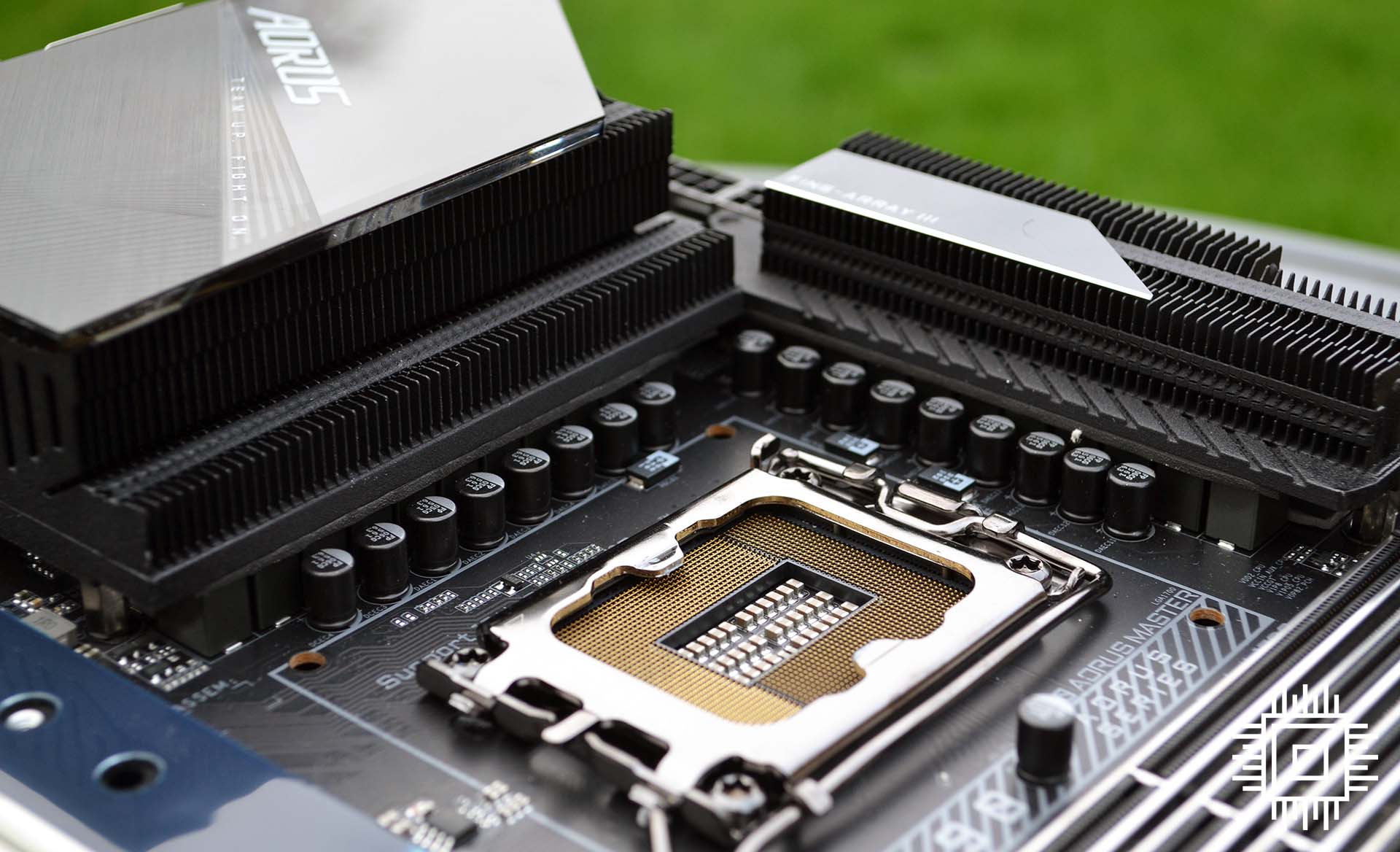 Keeping to a £400-ish price point means lavish extras such as OLED displays go by the wayside; that's a good move on Aorus' part, as Z690 Master focusses on what really matters. We like the positions for the 10 fan headers, generally located at the edges, front-facing USB 20Gbps is augmented by dual 10Gbps connectors. Power, debug LED and temperature sensors also make sense, while Z690 Master leaves plenty of space around the socket to mount cooling. We even appreciate the upper VRM heatsinks fins are moved a few millimetres back to aid larger cooler installation.
The board features only two RGB zones – the aforementioned lighting by the Aorus logo and another above the chipset heatsink. Augmenting these is user-installable RGB by way of addressable LED and RGB headers along the bottom edge.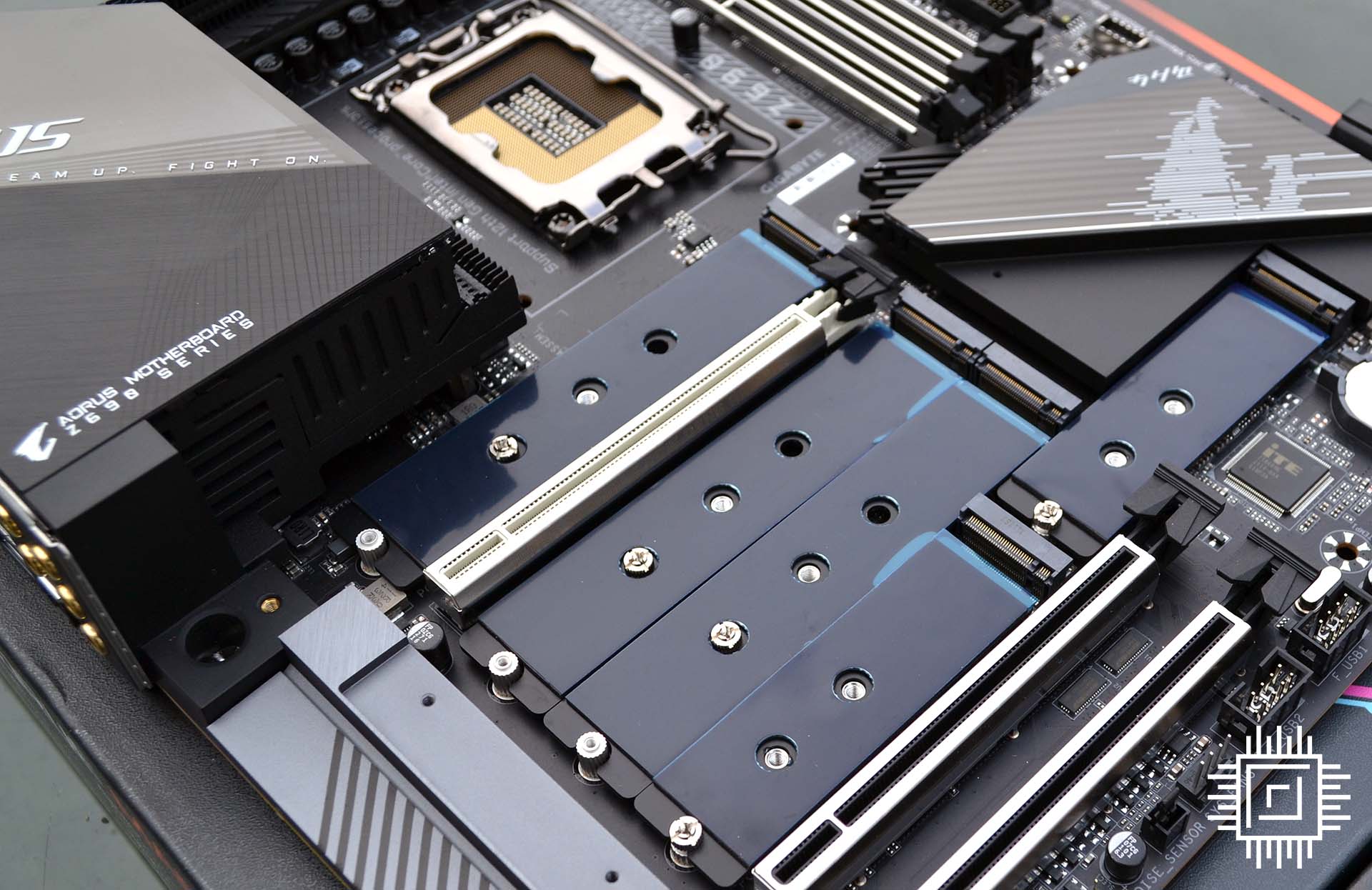 Going back to the original picture reveals a large heastink-clad section between the three PCIe x16 slots. Aorus uses this to house all five M.2 slots. The top connector runs off the CPU at PCIe 4.0 x4 speeds, the other four emanate from the chipset, of which three operate at PCIe 4.0 x4 and the other PCIe 3.0 x4 (M2C_SB). All support standard 2280 drives whilst the top three cover longer 22110 drives.
We're impressed by the quality of the heatsinks, especially for the primary CPU-connected drive, which is double-height and reduces a Kingston KC3000's peak temperature from 69°C to 58°C.
One downside of M.2 congregation is squeezing of both lower PCIe x16 slots, which have no room between them. In other words, you can't install three double-width graphics cards, and there is no provision for PCIe x1.
Comparison
| | ASRock Z690 Taichi | MSI MEG Z690 Unify | Asus ROG Maximus Z690 Hero | Z690 Aorus Master |
| --- | --- | --- | --- | --- |
| Price | £520 | £515 | £520 | £410 |
| Memory | DDR5 | DDR5 | DDR5 | DDR5 |
| CPU power delivery | 19-phase 105A | 19-phase 105A | 20-phase 90A | 19-phase 105A |
| M.2 | 3 (2 PCIe 4.0) | 5 (4 PCIe 4.0) | 5 (3 PCIe 4.0, 1 PCIe 5.0) | 5 (4 PCIe 4.0) |
| SATA | 6 | 6 | 6 | 6 |
| USB 20Gbps | 1 (board) | 2 (I/O, board) | 1 (board) | 2 (I/O, board) |
| Total rear USB | 8 | 10 | 11 | 11 |
| LAN | 2, 1 2.5G + 1 1G | 2 2.5G | 1 2.5G | 1 10G |
| Physical PCIe | 3 x16, 1×1 | 2 x16, 1 x4 | 2 x16, 1 x4 | 3 x16 |
| Audio | ALC 1220 | ALC 4080 | ALC 4082 | ALC 1220 |
| RGB | Yes | No | Yes | Yes |
| Thunderbolt 4 | Yes | No | Yes | No |
| Fan headers | 8 | 8 | 8 | 10 |
| Video output | Yes, HDMI | No | Yes, HDMI, DP | Yes, DP |
| Form factor | ATX | ATX | ATX | eATX |
Comparing against a host of other high-end Z690 boards, which are typically £100 dearer, shows Z690 Aorus Master competes well on all fronts. Thunderbolt 4 over USB would have been nice, though there's support via a header.
Being ultra-picky, the audio could do with a bump to Realtek's latest codec, ALC 4082, and it would be preferable to have both DisplayPort and HDMI as rear outputs.

Speaking of which, there's little space for Aorus to add more. Five 10Gbps USB Type-A are joined by another Type-C. Faster 20Gbps support is availed on this section by Type-C next to DisplayPort, and there is enough of everything for us not to nit-pick further.
Overall, Aorus does a sterling layout and features job for Z690 Master.
Firmware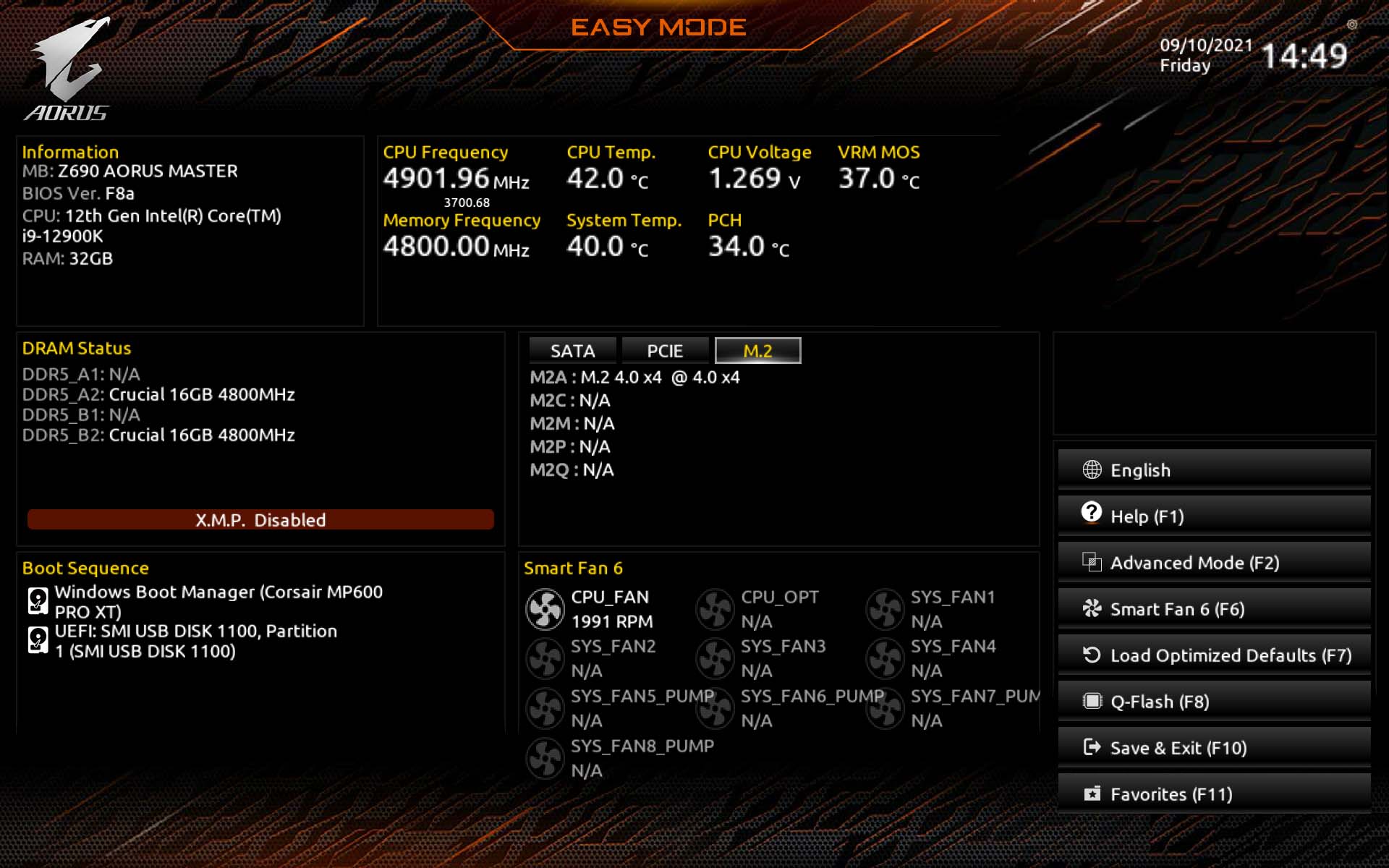 Firmware is perfunctory rather than feature-rich. Being FHD makes it easy to read and, to Aorus' credit, smooth to scroll through. Though everything makes sense once you dial in Advanced Mode (F6), we don't like having to navigate to further sub-fields for overclocking and tinkering.
Asus is still the leader in the firmware field, but the Windows-based App Center does a good job in replicating important functions in an OS environment.
Full breakdown of testing methodology is found on the second page of this review.
Performance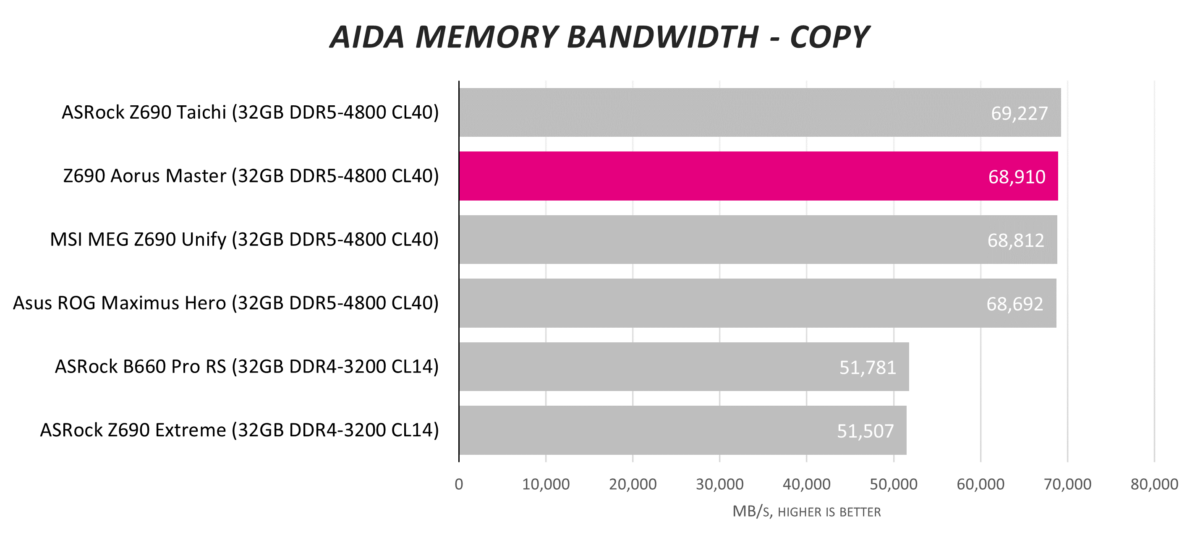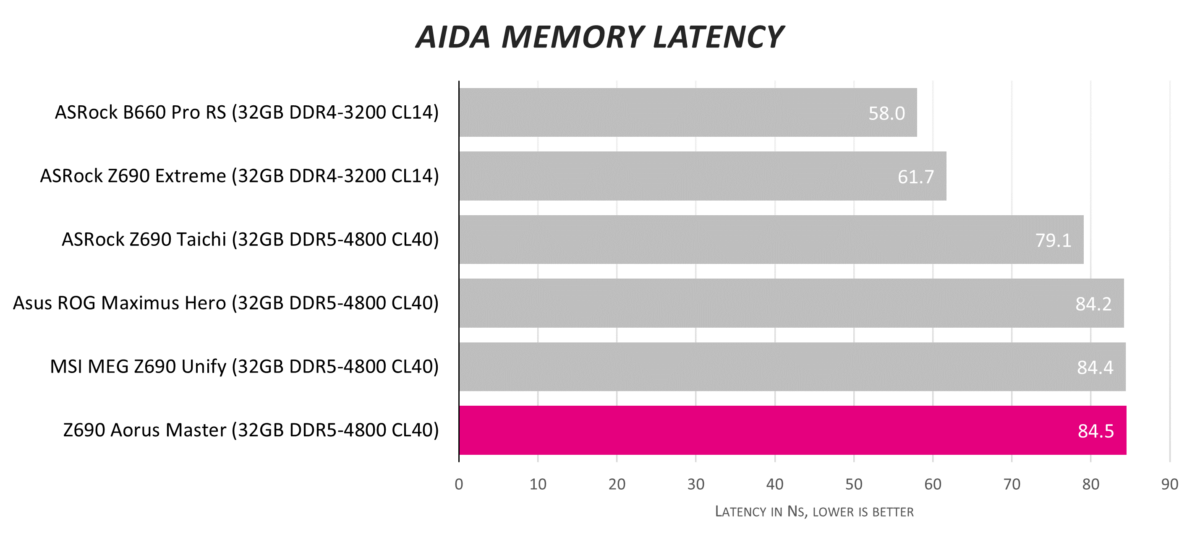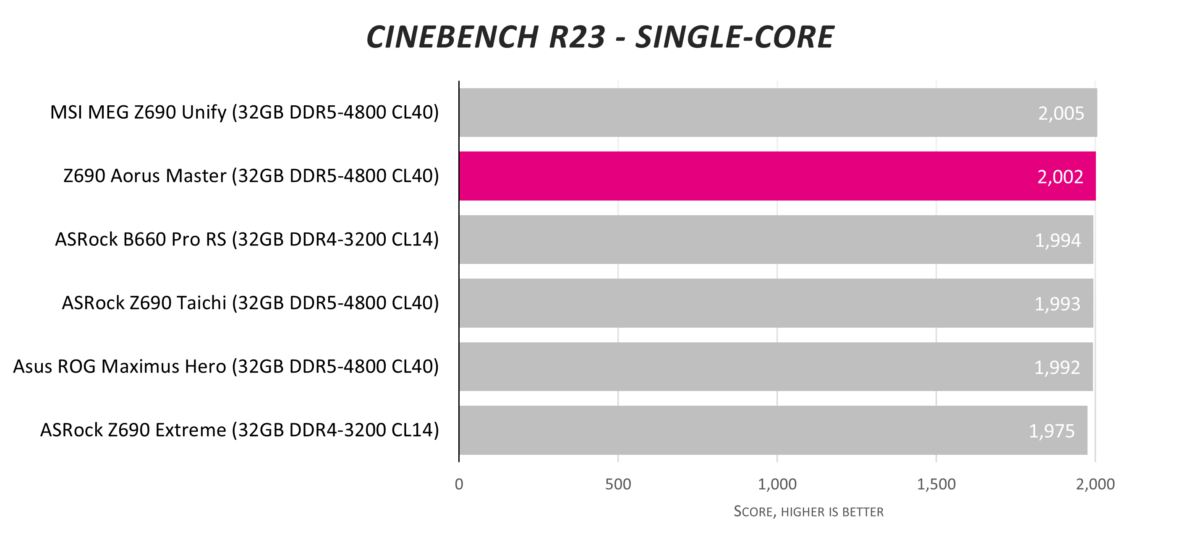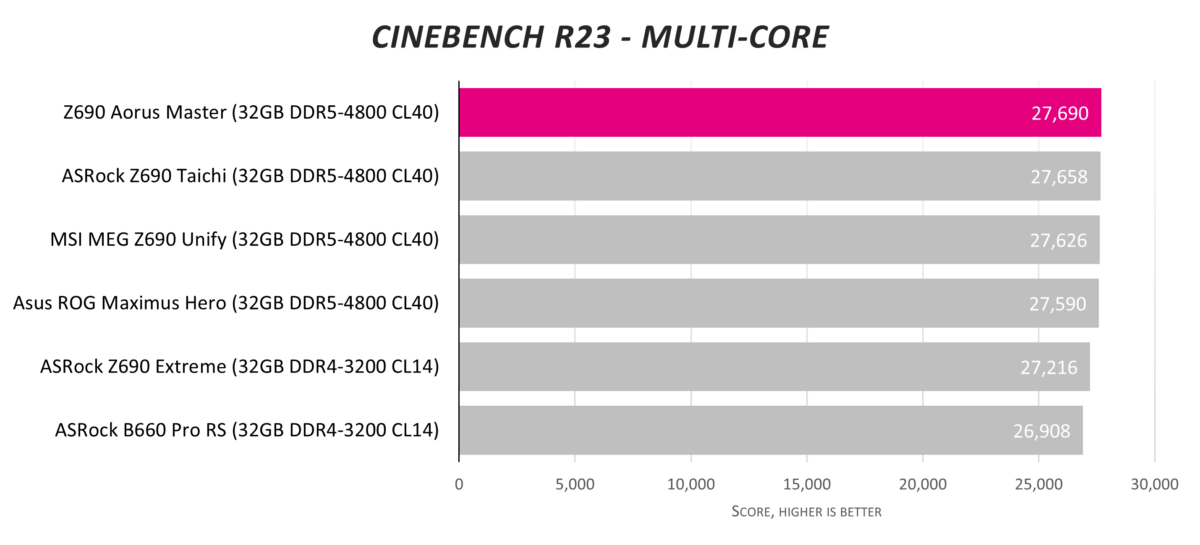 Memory and CPU performance is exactly where it ought to be once we install maximum turbo power.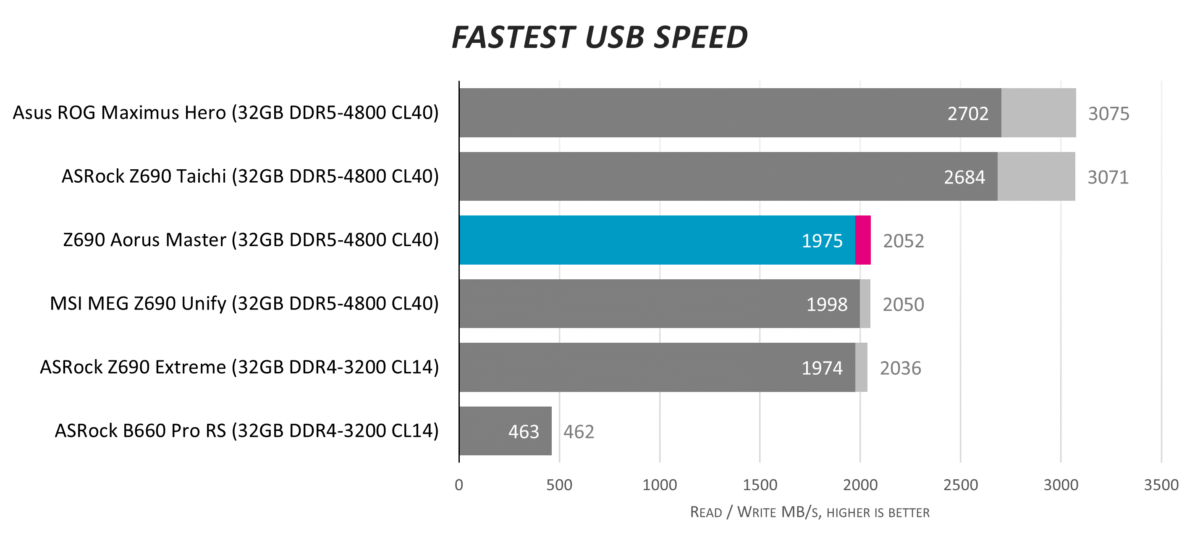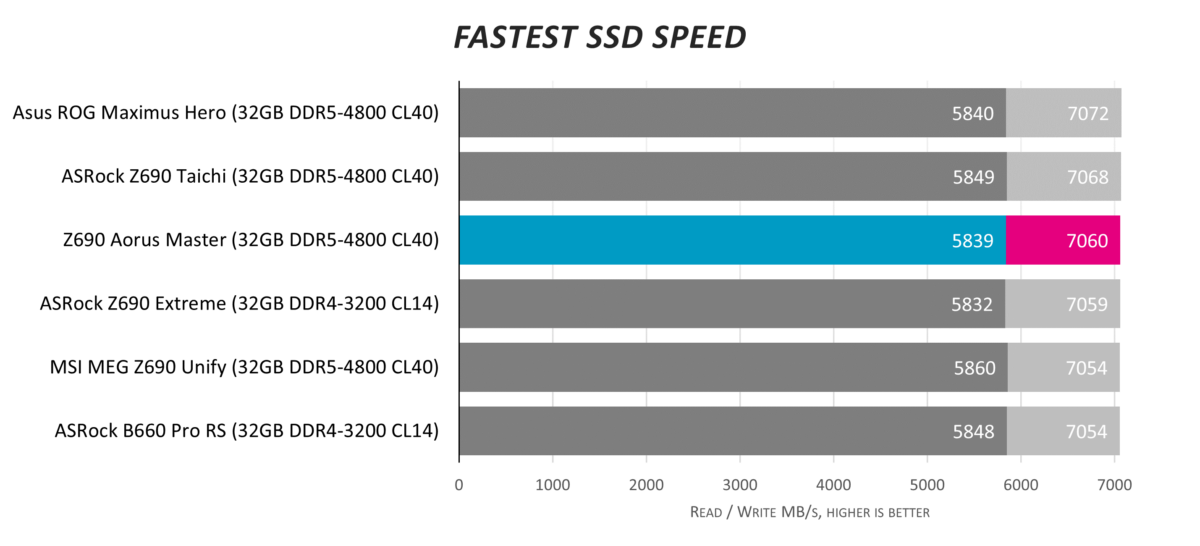 Fastest USB speed takes Thunderbolt and regular transfers into account. 20Gbps is the minimum we'd like to see from a Z690 board.
PCIe 4.0 x4, meanwhile, works precisely as expected across all 600 series motherboards.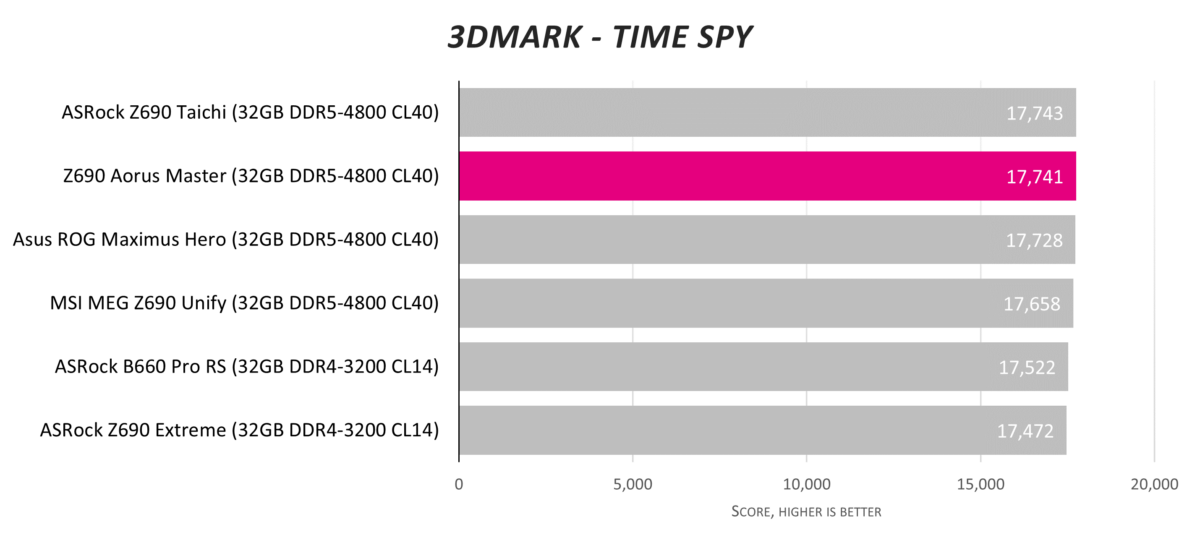 Show your support for impartial Club386 reviews
Club386 takes great pride in providing in-depth, high-quality reviews built on honest analysis and sage buying advice. As an independent publication, free from shareholder or commercial influence, we are committed to maintaining the standards our readers expect.
To help support our work, please consider making a donation via our Patreon channel.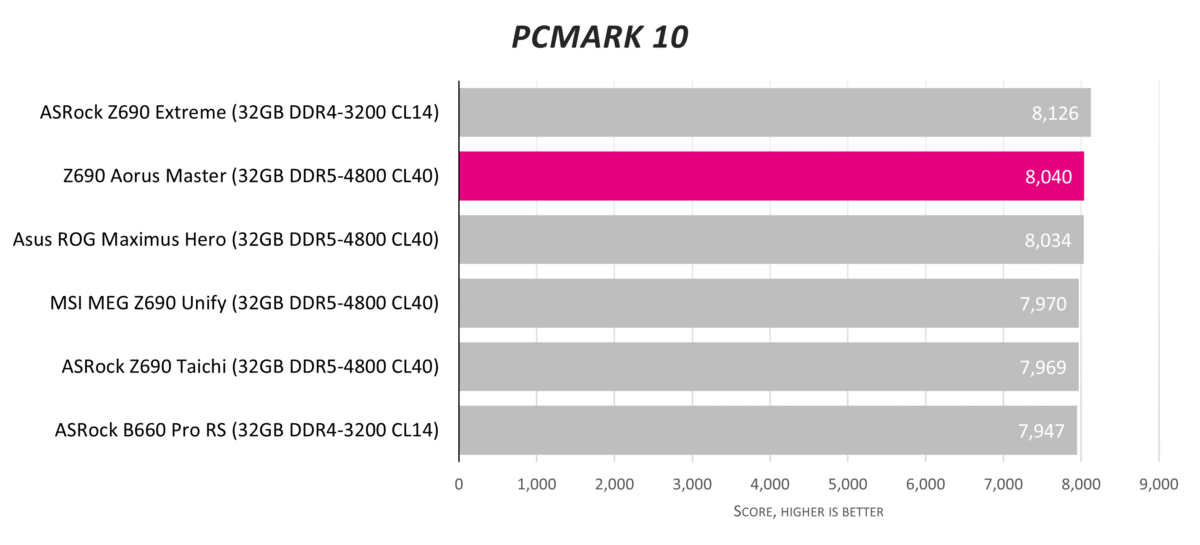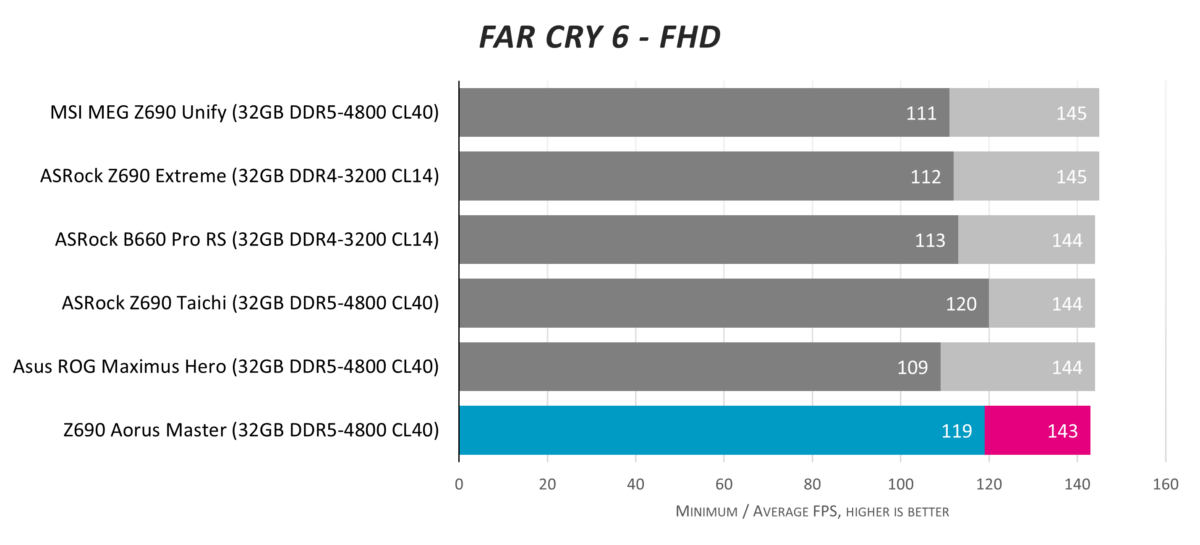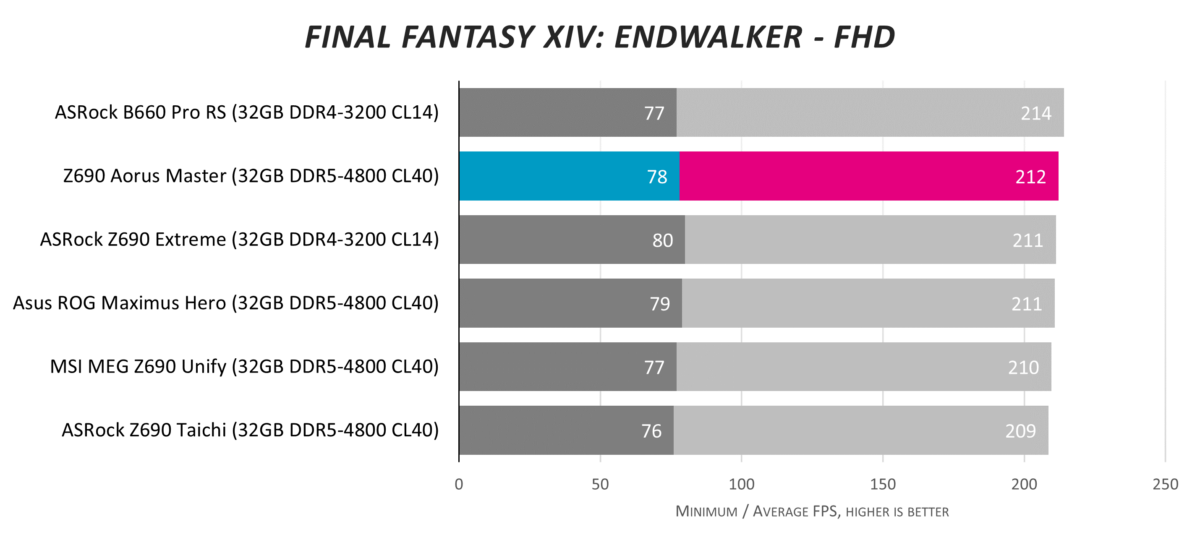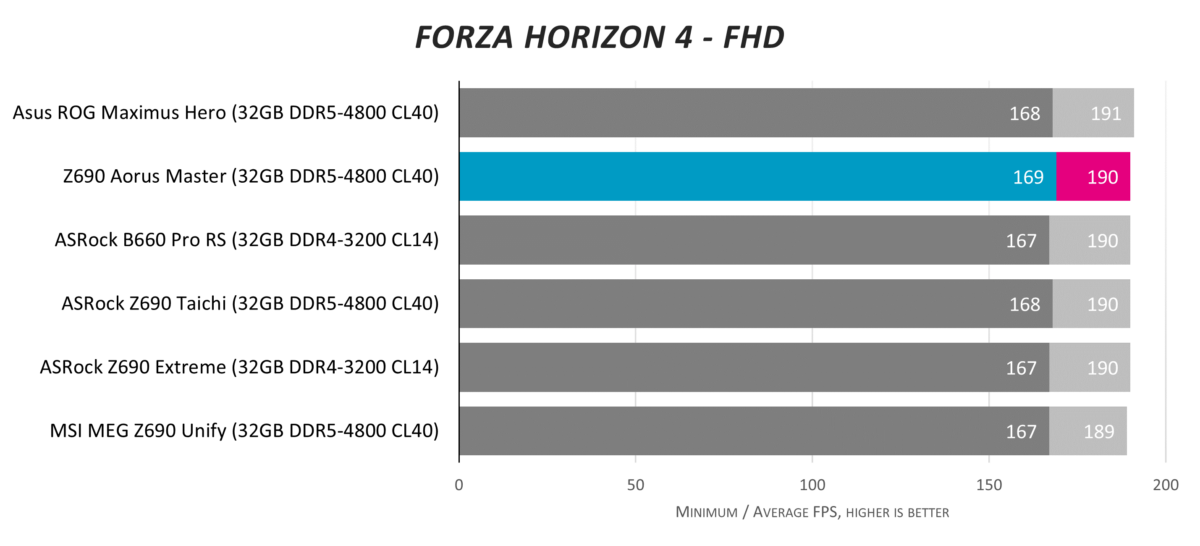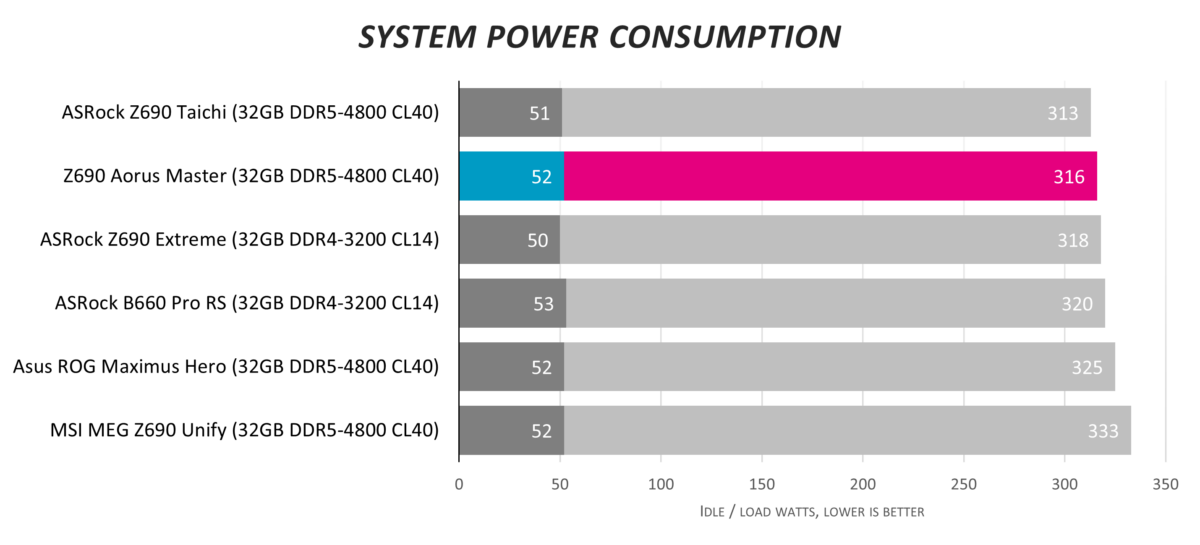 We've established performance is where we'd like it to be on a well-configured Z690. The Master also does well with respect to power consumption, where a lower voltage is applied to keep the Core i9-12900K humming along at required speeds.
A maximum VRM heatsink temperature of 55°C under all-core load speaks to the proficiency of Aorus' cooling, meaning there's plenty of scope for overclocking without worrying about the board becoming too toasty.
Overclocking
| | ASRock Z690 Taichi | MSI MEG Z690 Unify | Z690 Aorus Master | Asus ROG Maximus |
| --- | --- | --- | --- | --- |
| Maximum CPU speed at 1.4V | 5,100MHz | 5,100MHz | 5,100MHz | 5,100MHz |
| Maximum Memory Speed at 1.4/1.2V | 5,700MT/s | 5,600MT/s | 5,700MT/s | 5,600MT/s DDR5 |
| Cinebench R23 multi-core | 28,394 score | 28,318 score | 28,430 score | 28,297 score |
| Far Cry 6 – FHD | 150/124 fps | 149/113 fps | 150/122 fps | 148/112 fps |
All Z690 boards have excellent power delivery. Differences in the quality of the CPU are more important than underlying Z690. Nevertheless, the Master matches ASRock Z690 Taichi for highest memory speed.
Running at 1.4V and 5,100MHz returns a maximum VRM temperature of 62°C, which is well within operating limits.
Conclusion
Eschewing fancy, expensive extras such as OLED screens, Z690 Aorus Master hits a lower price point than immediate rivals whilst keeping features that matter most.
Excellent power delivery, high-quality cooling, five M.2 slots, 10GbE networking and an attractive aesthetic combine well at the £410 fee. Benchmark performance is sharp and overclocking on-point, as well.
Minor gripes are a lack of Type-C Thunderbolt and use of older audio technology, but that's it. Appreciating all the good on offer, we have no hesitation in recommending Z690 Aorus Master for a premium Intel 12th Gen Core build.

Verdict: A great board for a premium Intel 12th Gen Core build.
Pros
Five M.2 slots
Great power delivery
10GbE Ethernet
Good looks
Cons
No Type-C Thunderbolt 4
Older audio
Club386 may earn an affiliate commission when you purchase products through links on our site. This helps keep our content free for all. Rest assured, our buying advice will forever remain impartial and unbiased.