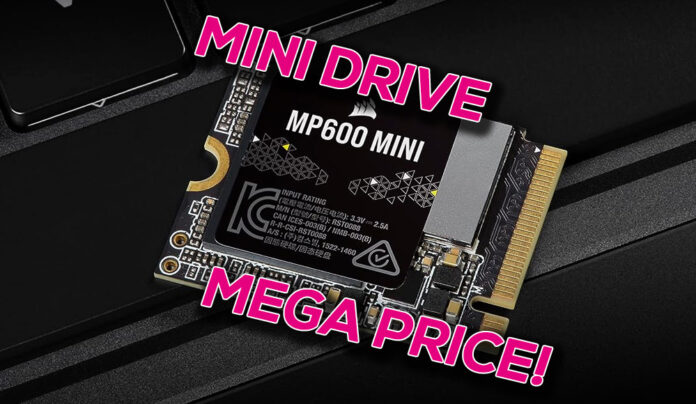 1TB Corsair MP600 Mini
---
"The Corsair MP600 Mini provides great storage performance in a tiny package that's ideal for the Steam Deck and Microsoft Surface, achieving rapid read and write speeds."
We earn a commission if you make a purchase, at no additional cost to you.
The way storage prices have been going of late, there's a good chance you've already upgraded the drive in your PS5 or desktop PC, but there are other, similar opportunities not to be missed.
Compact M.2 2230 SSDs are proving increasingly useful given the growing popularity of handheld gaming PCs, and prices have dropped to all-time lows. A frontrunner in the value stakes is Corsair's 1TB MP600 Mini, now listed at £74.99 in the UK and $92.99 US.
The same drive fetched £95 just last month, marking this a genuine 21 per cent discount, and the combination of high-density 3D TLC NAND and PCIe 4.0 x4 interface deliver speeds of up to 4,800MB/s in a miniscule M.2 2230 package.
Drives adhering to the ultra-compact form factor remain a rare breed – hence the premium over regular-sized and readily-available 2280 – yet costs are coming down and the Corsair is the best deal we've seen to date. The MP600 Mini is officially marketed as "ideal for the Steam Deck," yet there are many other portable systems that would stand to benefit from such an upgrade, including the Asus ROG Ally and various Microsoft Surface PCs.
Game installations aren't getting any smaller, so stock up on storage while the going's good, but Steam Deck users should be aware that Valve officially cautions against opening up its popular handheld for DIY upgrades. That said, the manufacturer also appreciates that some of us can't help but tinker. If you're that way inclined, the following video will show you exactly how to get to the M.2 slot in question.
Club386 is always on the lookout for unmissable PC component bargains. Follow on Twitter or Facebook to stay up to date with the latest deals, and subscribe to our free weekly newsletter to be kept abreast of all the developments in the world of tech.