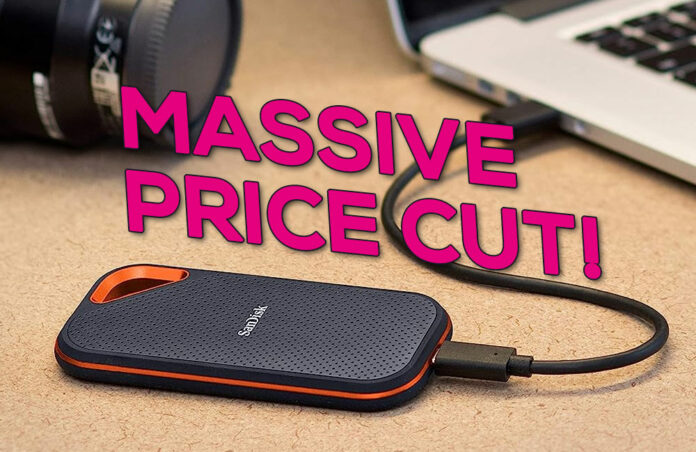 4TB SanDisk Extreme Pro
---
"From the brand trusted by professional photographers worldwide, the SanDisk Extreme Pro Portable SSD provides powerful solid state performance in a rugged, dependable storage solution."
We earn a commission if you make a purchase, at no additional cost to you.
Storage prices are hitting incredible lows across the board. There's a good chance you've stocked-up on a bargain internal SSD these past few months, but it's worth looking outside the PC as portable drives are also tumbling in price.
An eye-catching choice is the 4TB SanDisk Extreme pro Portable SSD, whose fee has been slashed by 70 per cent, reaching an astonishing low of $229.99 direct from WD or $269.99 at Amazon. The compact, ruggedised road-warrior companion ticks the right boxes with water and dust resistance, USB-C 3.2 Gen 2×2 connectivity, plus speeds of up to 2,000MB/s, but it's the bargain price tag that adds genuine appeal.
Savings in other regions aren't quite as significant – a 10 per cent drop at Amazon UK brings pricing down to £347 – yet if you're willing to wait a short while, Amazon US will ship to our shores at a total cost of around £235 including delivery.
Why has the price fallen so significantly? A severe drop in the cost of NAND Flash memory is one reason, but the SanDisk model in question may also have been reduced massively to clear stock following an unexpected firmware bug. Earlier this year, the 4TB model in question was found to be erroneously wiping user data or failing entirely. Whoops! A firmware update has since been made available to address the issue, yet consumer confidence in the drive has rightly taken a hit.
Is it worth taking the gamble on a high-capacity drive that has a poor track record? That's a personal choice, yet the price is tempting, and SanDisk parent company WD states "we addressed this firmware issue in the manufacturing process, and we can confirm that the issue is not impacting currently shipping products."
Don't need something quite so quick? There are bargains to be had elsewhere. Some might view the Crucial X6 4TB Portable SSD as the safer option. Peak performance isn't quite as dramatic at up to 800MB/s, yet the tiny form factor is ideal for slipping inside a pocket, and pricing has been slashed by over 50 per cent to £185 / $210. Excellent value for a spacious 4TB solution.
4TB Crucial X6
---
"How much can you carry between the tips of your fingers? With the Crucial X6 Portable SSD, the answer is: A lot!"
We earn a commission if you make a purchase, at no additional cost to you.
Club386 is always on the lookout for unmissable PC component bargains. Follow on Twitter or Facebook to stay up to date with the latest deals, and subscribe to our free weekly newsletter to be kept abreast of all the developments in the world of tech.