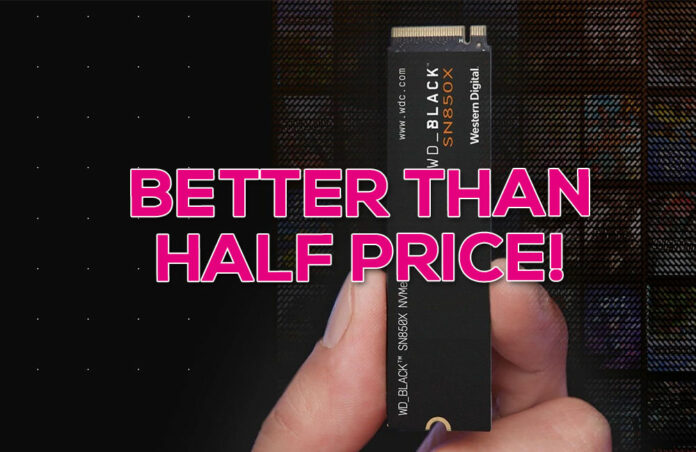 WD_Black SN850X 4TB
---
"Crush load times and slash throttling, lagging, and texture pop-ins for a smooth, fast experience that lets you compete at your absolute peak."
We earn a commission if you make a purchase, at no additional cost to you.
Which is the best SSD to buy right now? That's debatable depending on whether your prioritise performance, capacity or absolute value, but there's one thing we know for certain; the 4TB WD_Black SN850X has to be part of that conversation, especially after this week's epic price cut.
The drive in question launched less than a year ago alongside a lofty £671 MSRP. It was a good SSD then, but crashing NAND flash pricing is such that the very same drive is now retailing for £278 at Amazon UK or $283 over in the US. Yes, you are reading that right, and a near-60 per cent price cut transforms the 4TB SN850X from good to great.
WD's flagship PCIe 4.0 M.2 NVMe SSD employs SanDisk TLC NAND and an LPDDR4 cache to deliver sequential read and write speeds of up to 7,300MB/s and 6,600MB/s, respectively. If such specifications are gobbledygook to you, put it this way, few drives offer this level of overall refinement.
While the 4TB range-topper is on the receiving end of the heftiest price cut, smaller capacities are also reduced at the time of writing with the 2TB SN850X listed for £129, another all-time low. Will prices come down even further for next week's Prime Day? It's impossible to say, but if you live for today, note there's never been a better time to invest in a quality SSD.
Club386 is always on the lookout for unmissable PC component bargains. Follow on Twitter or Facebook to keep up to date with the latest deals, and subscribe to our free weekly newsletter to be kept abreast of all the latest developments in the world of tech.