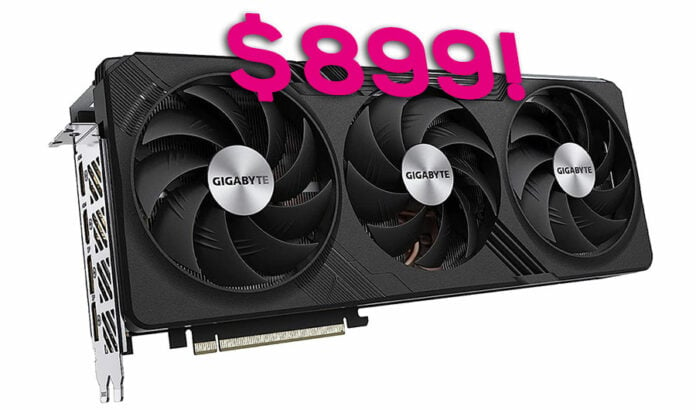 GIGABYTE RX 7900 XTX Gaming OC
---
"Experience unprecedented performance, visuals and efficiency at 4K and beyond with AMD Radeon RX 7000 Series graphics cards."
We earn a commission if you make a purchase, at no additional cost to you.
Much like all you DIY PC builders out there, the Club386 team is keeping a close eye on component bargains this coming week in the hope of grabbing a Prime Day deal. Our search has unearthed an early gem in the high-end graphics space, as Gigabyte is taking the axe to Radeon RX 7900 XTX pricing with a generous $130 coupon.
The offer, only available at Amazon US at the time of writing, takes an already-reduced card from $1,029.99 down to $899.99. Comfortably the lowest we've seen for what is AMD's flagship GPU, and with a WindForce 3X cooler in tow, you're getting a lot of card for your money.
Graphics pricing in the mid-to-high-end space has been simmering these past weeks. Here in the UK, second-rung Radeon RX 7900 XT has occasionally been spotted below the £750 mark, and if others follow Gigabyte's lead on top-end XTX, the knock-on effect could pave the way to price cuts further down the Radeon and GeForce stacks.
Good news for gamers as inflated GPU pricing was never likely to last. The mining boom is over, shortages are no longer an issue, and after a lukewarm reception to the current-gen crop, launch-day prices are seemingly proving hard to sustain. Might we see Radeon RX 7900 XT below the £700 mark in the near future? Here's hoping.
Club386 will be keeping a beady eye on Prime Day deals, helping you land the best bargains in tech. Follow on Twitter or Facebook to stay up to date with the latest deals, and subscribe to our free weekly newsletter to be kept abreast of all the developments in the world of tech.