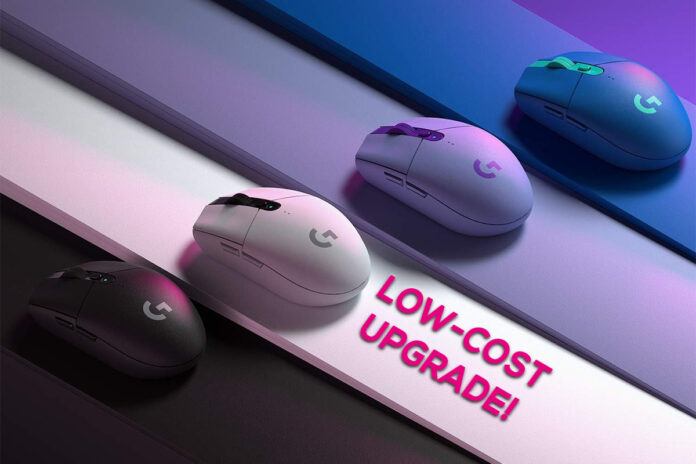 Logitech G305 Mouse
---
"G305 is very light, coming in at only 99 grams, made possible thanks to the lightweight mechanical design and ultra-efficient battery usage."
We earn a commission if you make a purchase, at no additional cost to you.
Logitech sale events are a bit like DFS; they always seem to be on, but you need to time it right to grab an actual bargain. That time is now, as a bunch of Logitech G peripherals are reduced to the lowest prices we've seen in months.
Pick of the bunch for a low-cost upgrade is the G305 Lightspeed wireless mouse, whose price has plummeted to £29.90 in the UK or $34.99 US. A welcome saving over RRP, and a bargain for an ultralight gaming mouse with half-a-dozen programmable buttons and 12,000DPI sensor.
G305 weighs just 99g, making it ideal for those who appreciate a nimble pointer for fast-paced games, and though of no benefit to your aim, we love the available colour options. You do pay a premium for mint or blue, but both black and white are 50 per cent off.
Sifting through the available deals, another noteworthy option is the G915 TKL Lightspeed wireless keyboard, whose price has also unceremoniously been cut in half, from £219.99 to just £109, or $155 in the US. The RRP is admittedly unrealistic amid frequent sales, yet this is the lowest price we've seen for the G915 in the past year.
It'll cost an extra £20 to get it in white – who can resist? – and low-profile GL mechanical switches promise high performance at half the height. Lovely-looking piece of kit with dedicated media controls plus a volume roller, and it's suitably petite, too, measuring just 368mm x 150mm in size.
Logitech G915 Keyboard
---
"G915 TKL features Lightspeed pro-grade wireless, advanced Lightsync RGB, and high-performance low-profile mechanical switches."
We earn a commission if you make a purchase, at no additional cost to you.
There's always that lingering doubt – will it be cheaper on Black Friday? – but if you were planning on a new keyboard and mouse in any case, these are deals worth knowing about.