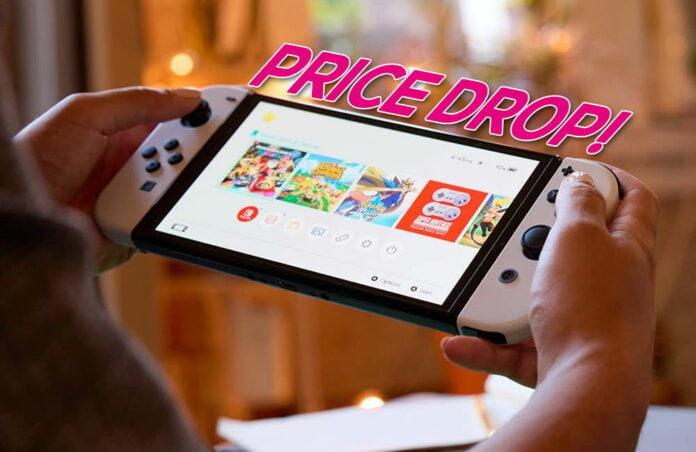 Nintendo Switch OLED
---
"The large screen's vivid colours and high contrast deliver a rich handheld and tabletop gaming experience, bringing games to life whether you're racing at top speed or squaring off against enemies."
We earn a commission if you make a purchase, at no additional cost to you.
Savvy shoppers keeping a close eye on Amazon's Prime Day event will note that genuine deals are already beginning to seep through. The pick of the bunch for console gamers is the Nintendo Switch OLED, which has dropped to £284.99, marking the lowest price we've seen in 2023.
The offer represents a near-10 per cent discount over RRP and is applicable to both the white and neon blue/red models. First introduced in October 2021, the upgraded OLED handheld features a 7in 720p OLED display, 64GB of internal storage, a wider adjustable stand, and a new dock with a helpful LAN port.
Whether or not it's worth upgrading from an original Switch is debatable, yet for those in the market for their first handheld, Switch OLED offers console convenience in a tried-and-trusted form factor. Though the console's origins date back to 2017, Switch's huge popularity can be attributed to Nintendo's stellar catalogue of games, including Super Mario Odyssey, The Legend of Zelda: Tears of the Kingdom and, of course, Mario Kart 8 Deluxe.
Switch OLED is backward compatible – meaning all Switch games to date will work with the newer model – and if you're wanting something with a little more flair, Nintendo's Special Edition Zelda: Tears of the Kingdom console has also been reduced for the first time, dropping from £319.99 to £294.99. Do be mindful, as while the console's Zelda-inspired makeover looks fantastic, the game itself is not included as part of the package.
Zelda: Tears of the Kingdom Edition
---
"Features a special design from The Legend of Zelda: Tears of the Kingdom (sold separately), including the familiar Hylian Crest from the Legend of Zelda series on the front of the dock."
We earn a commission if you make a purchase, at no additional cost to you.
Will Switch OLED drop even lower come Prime Day, taking place next week, July 11-12? Only time will tell, but we suspect the current price will be hard to beat.
Club386 will be keeping a beady eye on Prime Day deals, helping you land the best bargains in tech. Follow on Twitter or Facebook to stay up to date with the latest deals, and subscribe to our free weekly newsletter to be kept abreast of all the developments in the world of tech.