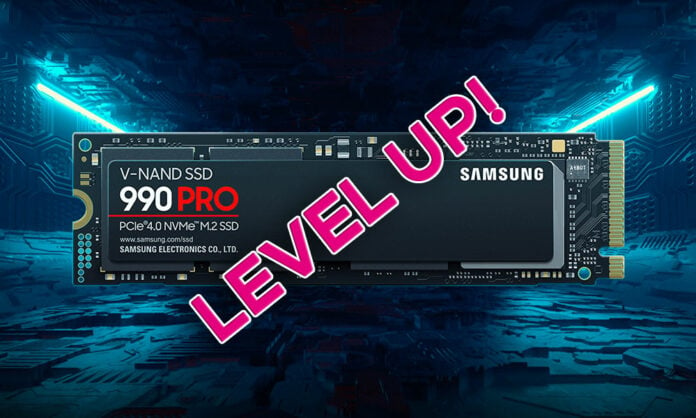 2TB Samsung 990 Pro
---
"The best gameplay experience. A more than 55% improvement in random performance enables faster loads for ultimate gaming realism on PS5 and DirectStorage PC games."
We earn a commission if you make a purchase, at no additional cost to you.
Mirror, mirror, on the wall, who makes the fairest SSD of them all? That's debatable, but Samsung is pretty adamant it rules the roost. The world's leading SSD manufacturer describes its latest 990 Pro as, quite simply, "The Ultimate SSD."
We'd temper such lofty claims by arguing it's probably the ultimate PCIe 4.0 SSD, sans availability of a 4TB model. That said, if 2TB is ample for your needs, Samsung's drive is a natural upgrade path for many, particularly now that pricing has dropped more in line with the competition.
Browsing the retail shelves this morning finds the 2TB 990 Pro readily available for £133 / $150. The same drive was available for less earlier in the year as part of a cashback promotion, but with said offer having expired, the current upfront fee represents an excellent price for a heady drive.
What's interesting this time around is that the heatsink-clad model, which usually attracts an off-putting premium, has also come down significantly in certain regions. While UK pricing remains stubbornly high, the 2TB 990 Pro with heatsink has plummeted to $160 over in the US. That's a mere $10 uptick for a slot-in PS5 upgrade.
2TB Samsung 990 Pro with Heatsink
---
"Experience longer-lasting, opponent-blasting speed. The in-house controller's smart heat control delivers supreme power efficiency while maintaining ferocious speed and performance, to always keep you at the top of your game."
We earn a commission if you make a purchase, at no additional cost to you.
Want to know if this is the drive for you? Check out our in-depth review for detailed specifications, analysis and, of course, all the benchmarks you're ever likely to need.
Club386 is always on the lookout for unmissable PC component bargains. Follow on Twitter or Facebook to stay up to date with the latest deals, and subscribe to our free weekly newsletter to be kept abreast of all the developments in the world of tech.