Jump to: Specification | Performance | Conclusion
Industry giant Samsung has been producing consumer solid-state drives (SSDs) for over a decade. First debuting with the SATA-based 470 in 2010, the 950 Pro NVMe drive appeared in 2015 and ushered in a new level of performance. Since then, successive generations have upped the ante and been considered a good benchmark to judge all others against.
Released in September 2020, the Samsung 980 Pro continues to be a go-to solution for enthusiasts and system builders alike. There's a lot to admire from the PCIe 4.0 x4 NVMe solution, from the totally in-house design – controller, DRAM and NAND – to healthy performance numbers in numerous applications. SI purchase managers rarely get fired for buying Samsung.
Yet competitors have been busy chipping away at 980 Pro's enthusiast credentials in the past two years, and many have usurped its pure performance. What was once a prime candidate is now having to battle in a congested field of attractive alternatives.
High time for another SSD champion from the South Korean multinational, don't you think? Drum roll, please. Enter Samsung 990 Pro.
PCIe 5.0 – Not This Time Around
Let's first quash all hopes of PCIe 5.0. No, sir, Samsung 990 Pro doesn't use the next-gen standard capable of 10GB/s-plus sequential transfers. A shame indeed, as PCIe 4.0 x4 remains the de facto performance standard until well into next year.
At the launch event attended by Club386 in late August, we enquired why this is the case when others are readying PCIe 5.0 drives. Samsung intimated that industry wide supply-chain problems and soft demand for the nascent interface technology ensure now is not an ideal time for consumer drives touting higher throughput. Rather, the focus is on building the best possible PCIe 4.0 x4 drive, catering for a larger, more established market, and 990 Pro is it. Makes sense when you think about it; large-scale producers like Samsung are rarely first to market with cutting-edge interfaces. Let the small fry try, then architect a better SSD when the dust has settled.
Specifications
| Samsung 990 Pro | 1TB | 2TB |
| --- | --- | --- |
| Controller | Samsung in-house Pascal | Samsung in-house Pascal |
| NAND | Samsung V-NAND TLC 7th Gen | Samsung V-NAND TLC 7th Gen |
| DRAM | 1GB LPDDR4 | 2GB LPDDR4 |
| Interface | PCIe 4.0 x4 | PCIe 4.0 x4 |
| Sequential Read Speed (MB/s) | 7,450 | 7,450 |
| Sequential Write Speed (MB/s) | 6,900 | 6,900 |
| Random Read IOPS (K) | 1,200 | 1,400 |
| Random Write IOPS (K) | 1,550 | 1,550 |
| Form Factor | M.2 | M.2 |
| Endurance (TBW) | 600 | 1,200 |
| Hardware encryption | Yes, AES 256-bit | Yes, AES 256-bit |
| Heatsink and RGB version | Yes | Yes |
| MSRP | TBC | TBC |
A perusal of specifications reveals the proof behind Samsung's confidence in 990 Pro being a top-notch solution for today and tomorrow. Available only in 1TB and 2TB capacities, with or without an optional heatsink, there is no 4TB model from the off, which is disappointing for enthusiasts requiring speed and capacity in one package.
Samsung is usually coy in revealing fine-grained details behind in-house SSD tech. We know 990 Pro uses a new controller referred to as 'Pascal,' instead of the 'Elpis' chip found on in-market 980 Pro, and both are built on a leading-edge 8nm process.
Tweaked for both higher performance and much better efficiency, the latter metric is especially important to Samsung as the company proudly states it "dramatically improves the SSD's power efficiency by up to 50% compared to the previous generation." We're unsure where this exact comparison is derived from – looking at both drives' specifications suggests a 5mW sleep power rating, up to 55mW when idling, and similar peak wattages during sequential reads.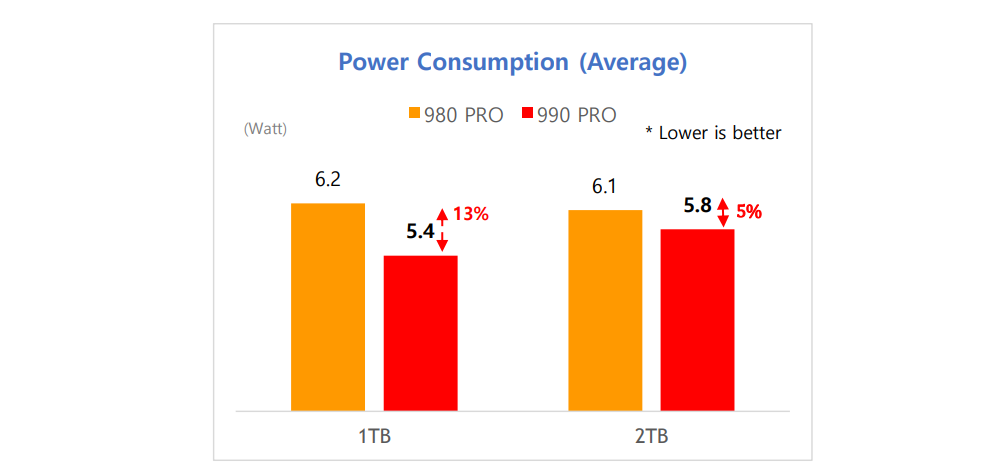 Some internal numbers paint a more optimistic picture, citing a 13 per cent improvement in average power consumption for the 1TB edition, but just five per cent for our review 2TB. Less important on the desktop, saving energy is paramount when installed in a laptop, where efficiency is as vital as performance.
Get past the technical goings on and the new drives are indisputably faster. Comparing 2TB models from the 990 Pro and 980 Pro generations, today's performance leader cranks up sequential read speed from 7,250MB/s to 7,450MB/s. That's fine, of course, yet the real jumpstart is with respect to sequential writes, building from only 5,100MB/s – an Achilles heel compared to other, more recent PCIe 4.0 SSDs – to a wholesome 6,900MB/s. A 35 per cent gain is not to be sniffed at.
Random IOPS see similar gains. How about shifting from 1,000K on 980 Pro's read and writes to 1,400K and 1,550K this time around? Thank you very much, new controller and NAND. 990 Pro is effectively pitched at a different level, purposely designed to extract the absolute most out of PCIe 4.0.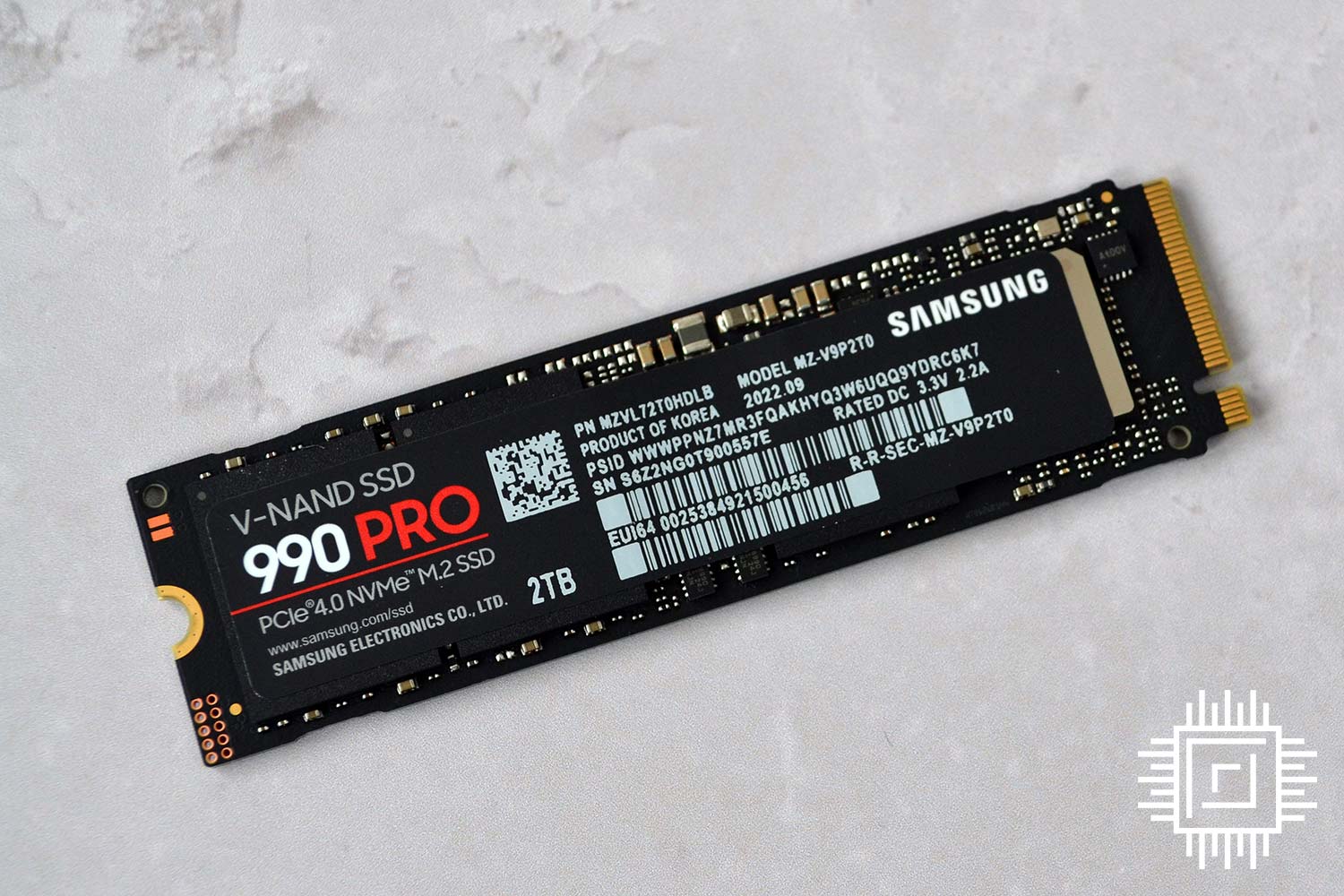 Far more robust enthusiast-level specifications are belied by the now-familiar Samsung design and appearance, which is remarkably similar to 980 Pro. Extending to also using a nickel-coated controller and having a four-chip arrangement on a single side of the PCB for a 2TB model, why fix something that's not broken? The drive continues to feature AES 256-bit full-disk encryption and is Opal V2.0/TCG-compliant, by the way.
An upgraded controller is met by improved NAND, with 990 Pro replacing the predecessor's V6 NAND with, you guessed it, V7. Not much is known about this new memory, other than to mention it's also built with energy efficiency in mind.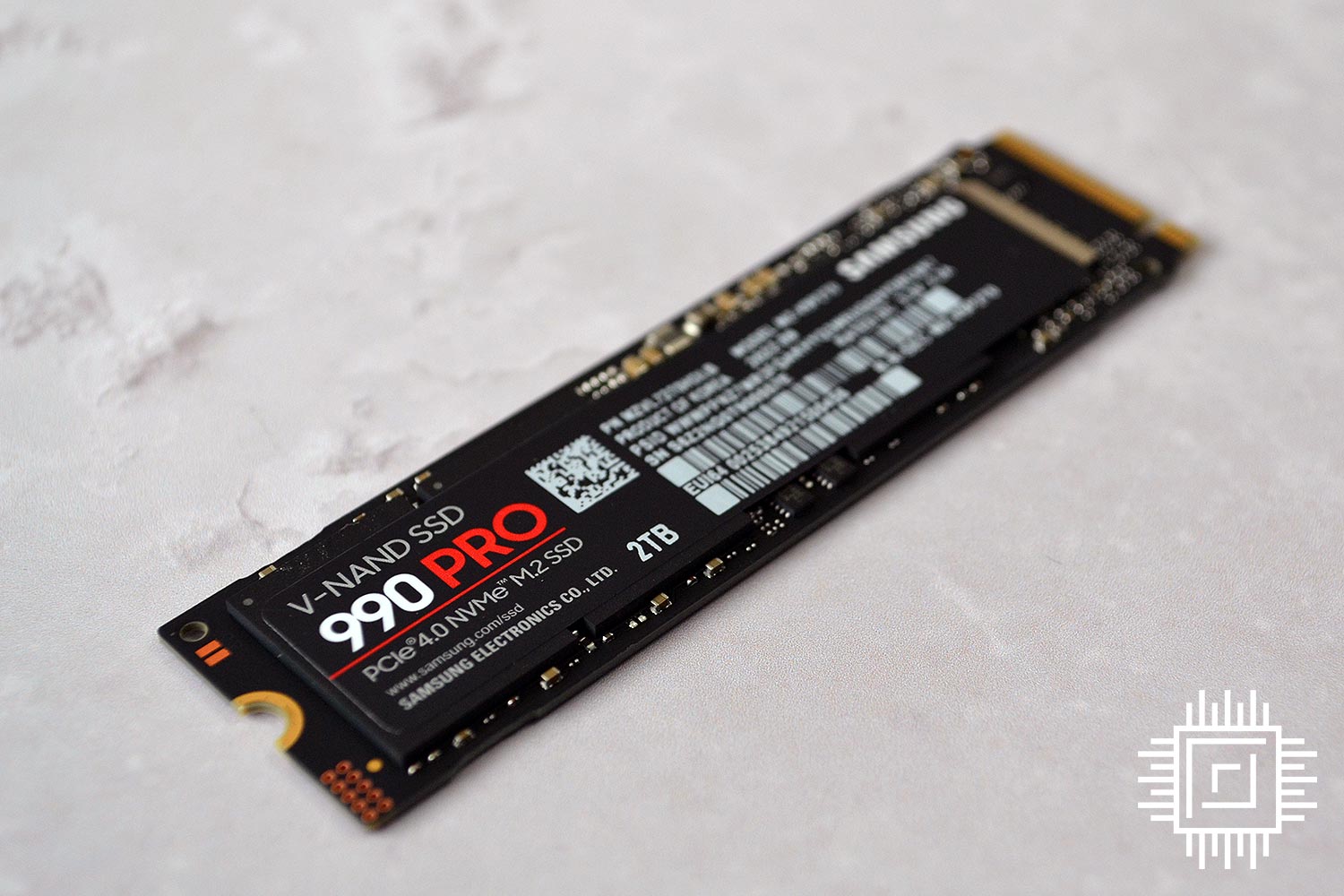 Samsung carries over the same endurance rating as the direct predecessor, leading to 1,200TBW for a 2TB capacity. Not as strong as many Phison-powered drives – the Seagate FireCuda 530, for example, has a 2,550TBW rating – we're not overly concerned with longevity as 990 Pro's rating translates to around 650GB of writing per day, every day, for the five-year warranty period. Good luck in breaching that.
Also like before, 990 Pro uses established 3-bit-per-cell TLC memory, which is automatically configured as a dynamic SLC cache under TurboWrite 2.0 technology. For the 2TB SSD, 10GB is pre-allocated, while a further 226GB is allotted on an as-needed basis. That's fine and dandy, yet a drive such as the Kingston KC3000 2TB configures over 600GB for the same purpose.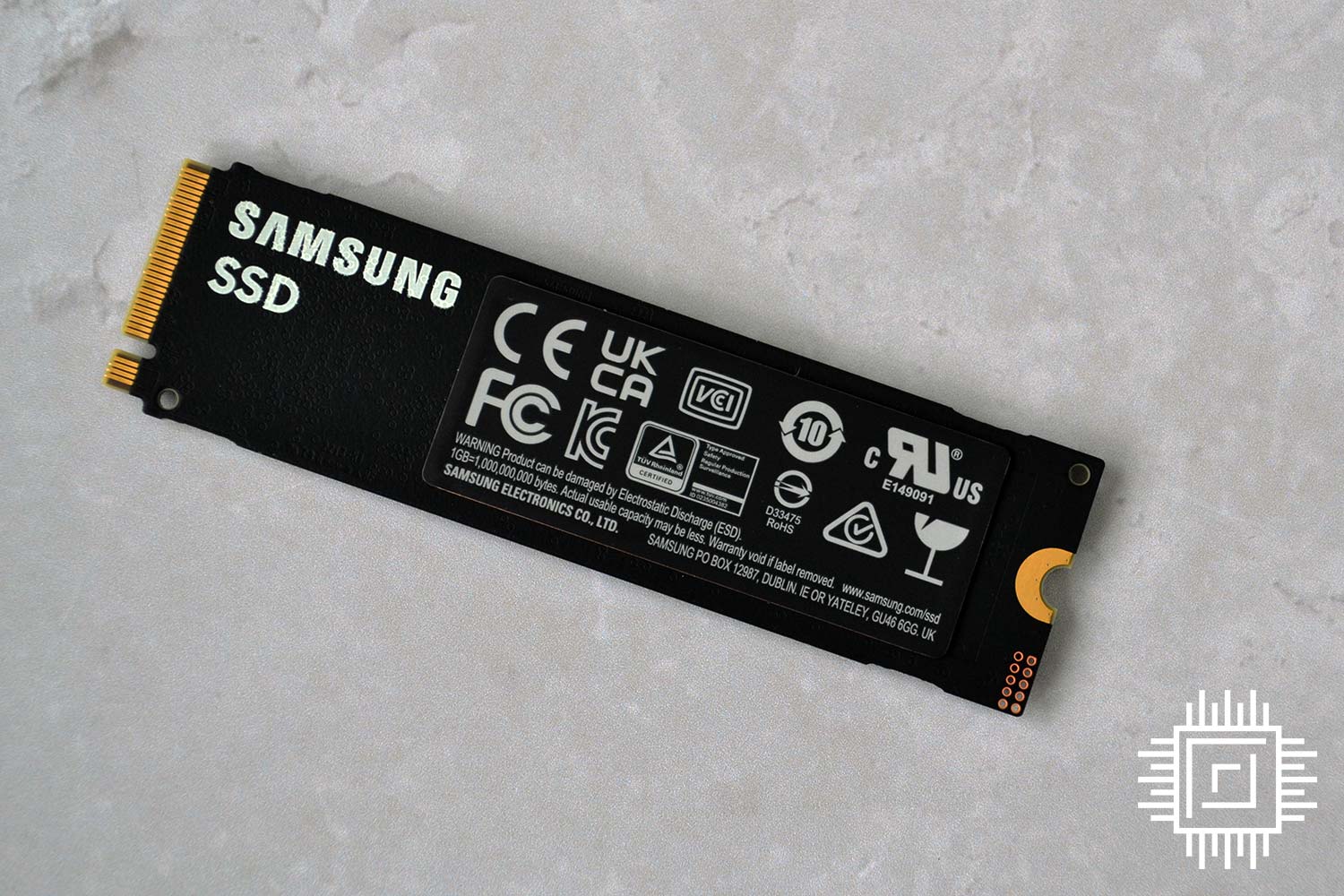 Samsung, where art thou 4TB SSD? There's plenty of space on the back to mount a couple of extra NAND ICs.
Those interested in the heatsink-clad drive can rest easy in the knowledge it features RGB lights for more glitz in your PCB. Going by pictures, it's a good-looking piece of kit that'll help keep temperatures in check if you don't have dedicated M.2 cooling on the motherboard.
Last but not least, impressive specs lend themselves to use in a PlayStation 5 as extended storage, and being only 8.2mm slim without additional cooling, 990 Pro ought to fit into compatible laptops.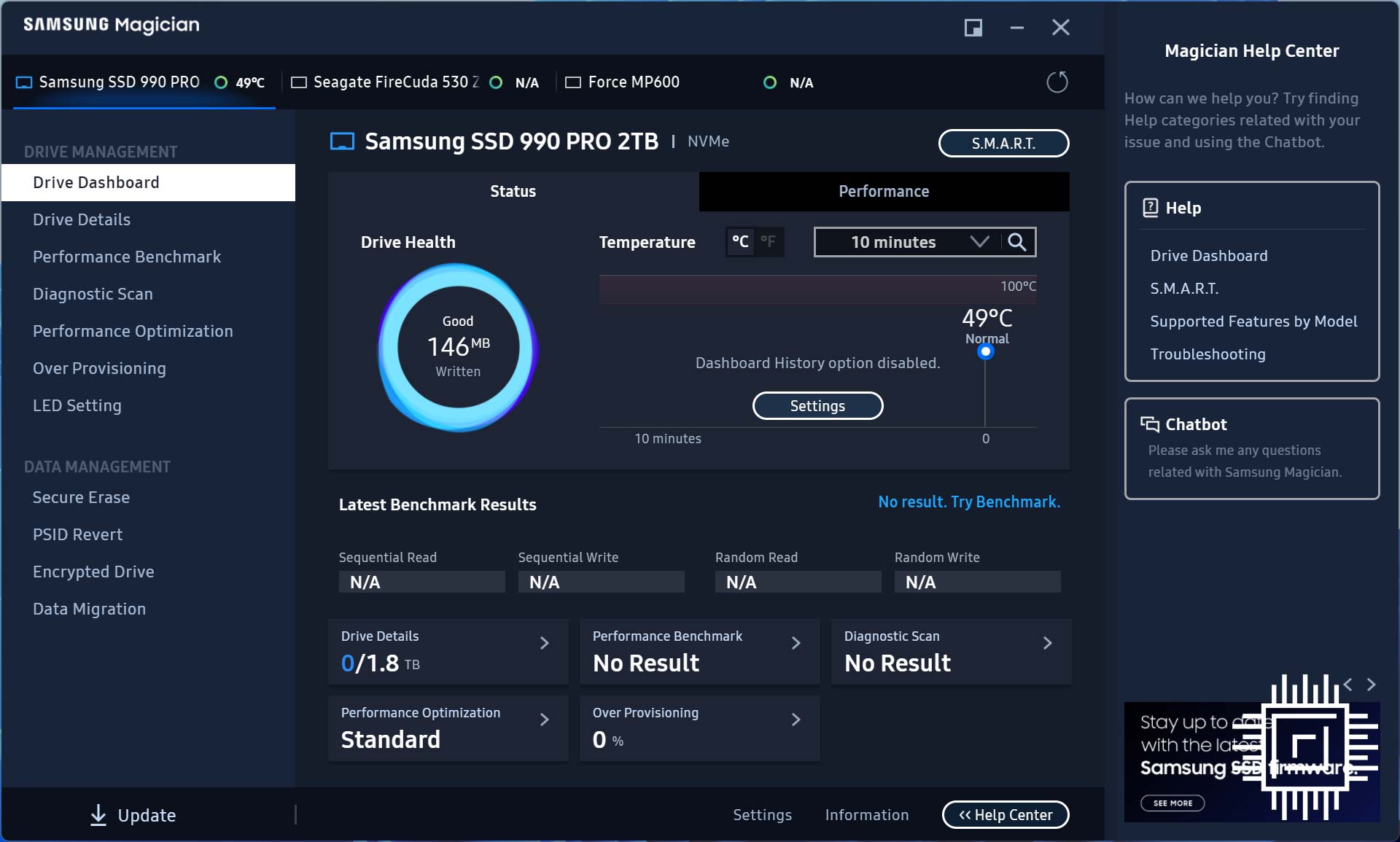 From our perspective, Samsung's Magician software is the most intuitive from the leading SSD providers. Rounding out the package, 990 Pro includes disk-cloning software to make migration easy.

Show your support for impartial Club386 reviews
Club386 takes great pride in providing in-depth, high-quality reviews built on honest analysis and sage buying advice. As an independent publication, free from shareholder or commercial influence, we are committed to maintaining the standards our readers expect.
To help support our work, please consider making a donation via our Patreon channel.
Tests are carried out on an AMD Ryzen 9 7950X CPU, Asus ROG X670E Hero motherboard, and 32GB G.Skill Trident Z5 Neo EXPO memory. SSD firmware is noted as 0B2QJXD7.
Transfer Speed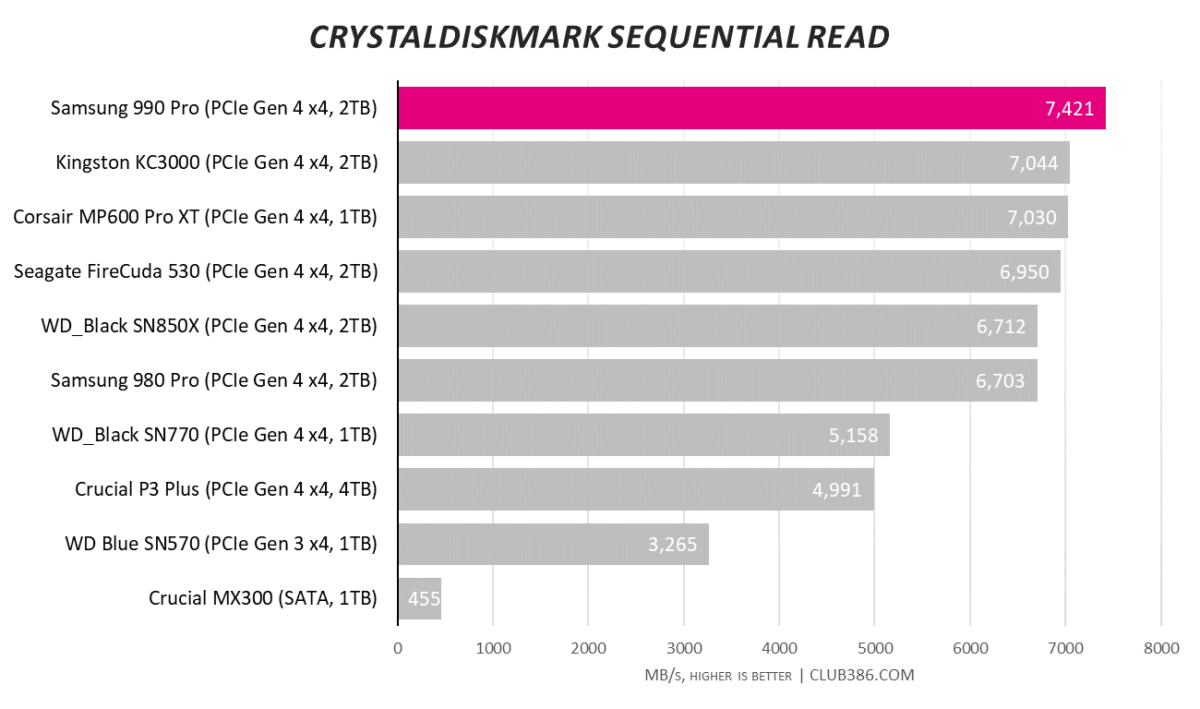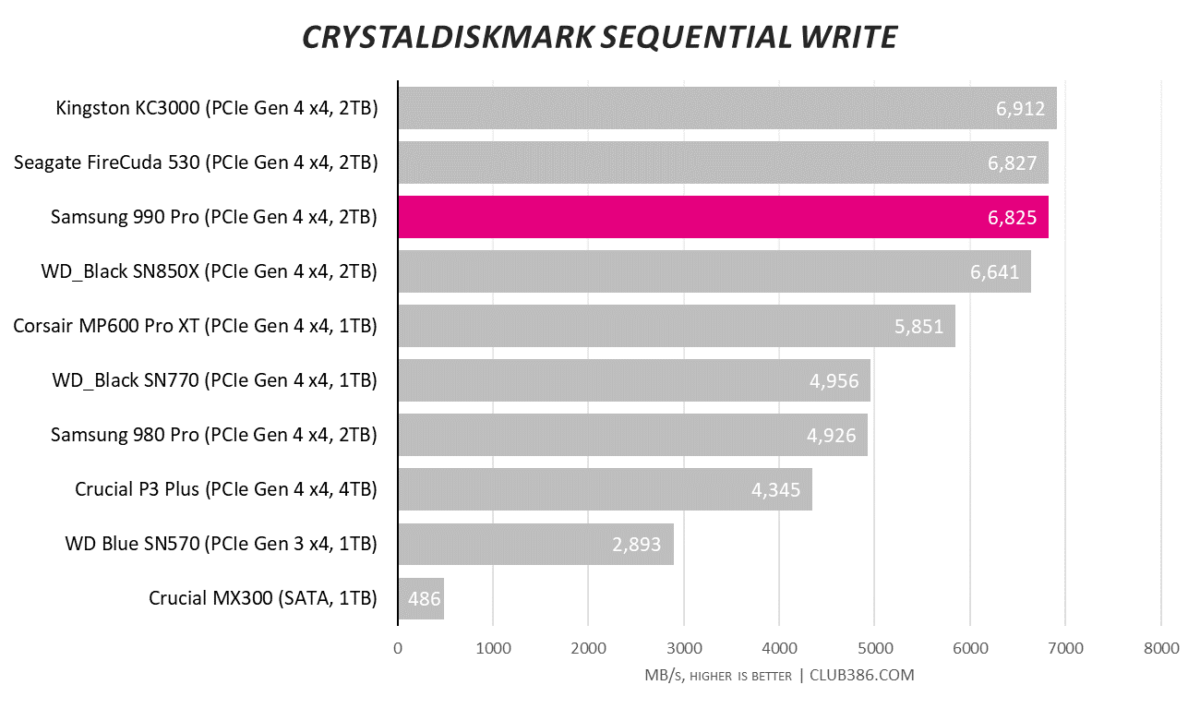 The straight-line speed improvements over 980 Pro are clear to see, particularly in the sequential writing test, where Samsung's fastest consumer SSD duly adds 38 per cent more oomph than 980 Pro. Doing so provides immediate access to the high-end PCIe 4.0 x4 party.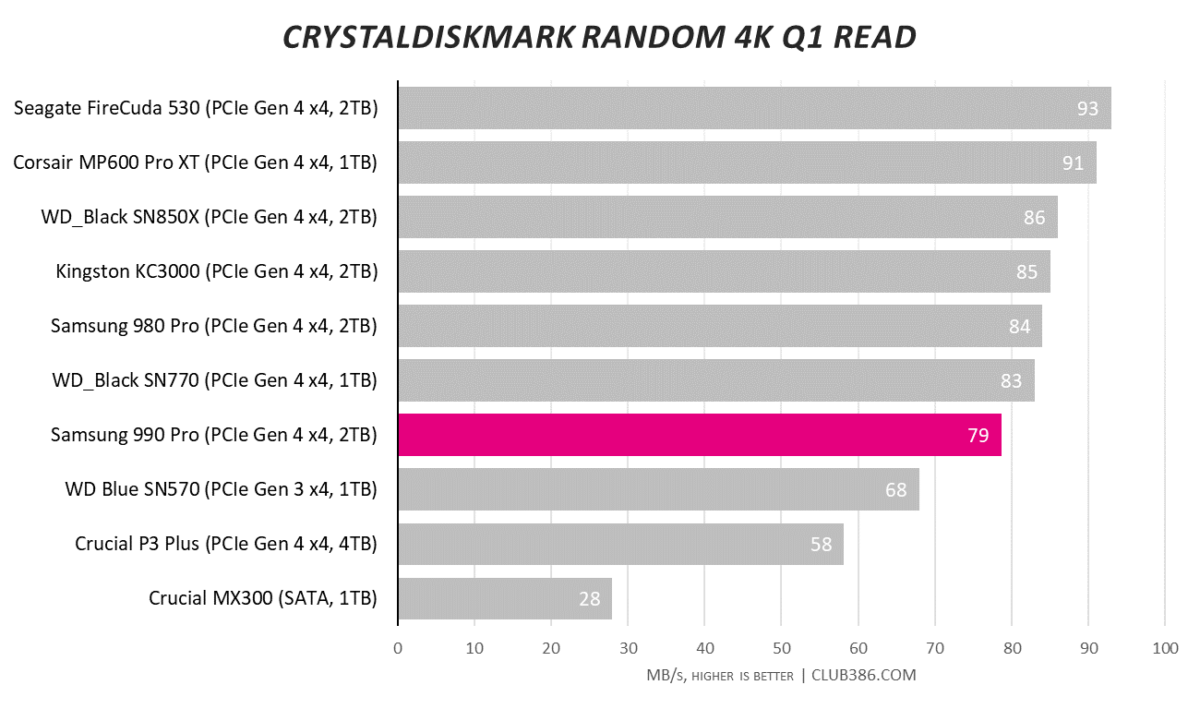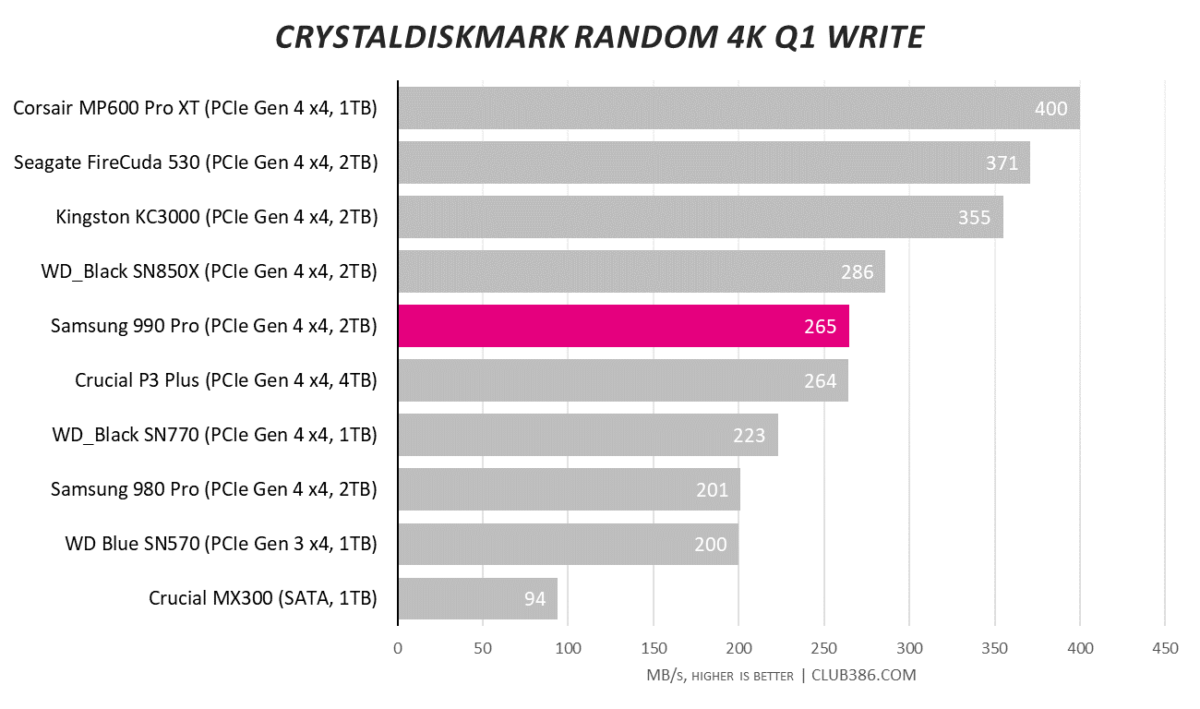 990 Pro remains a little ways off in the random tests. Nevertheless, it's sensible to take purely synthetic tests with the appropriate amount of caution.
Gaming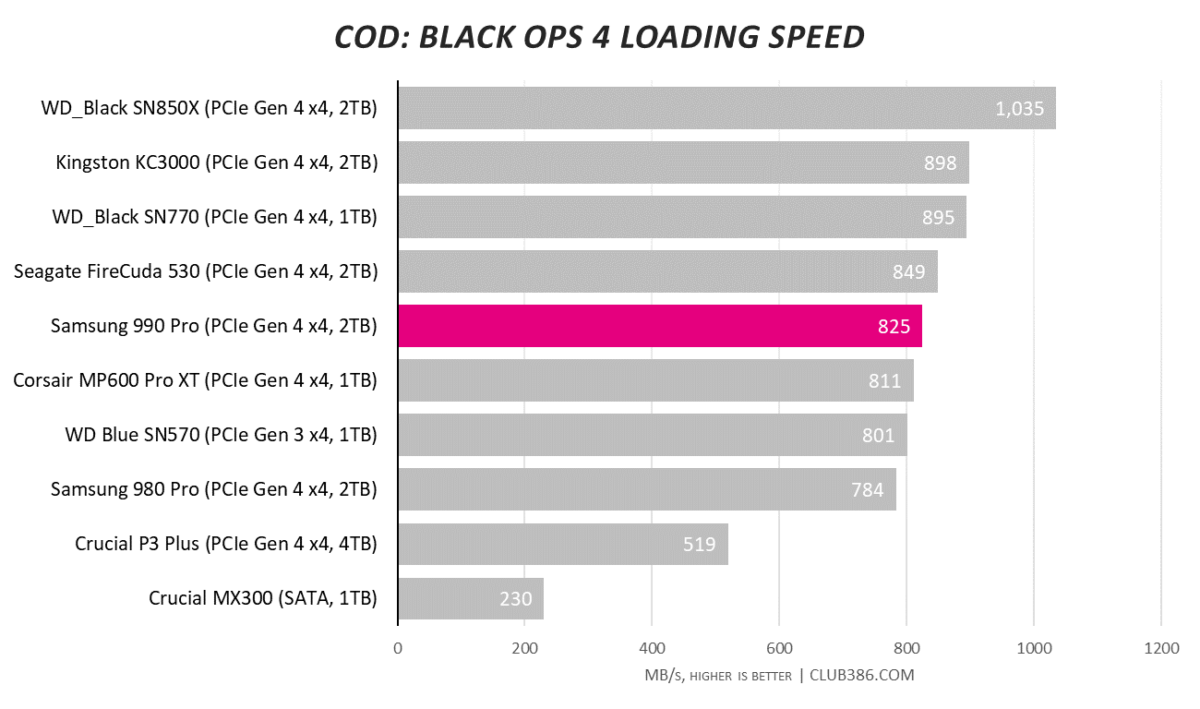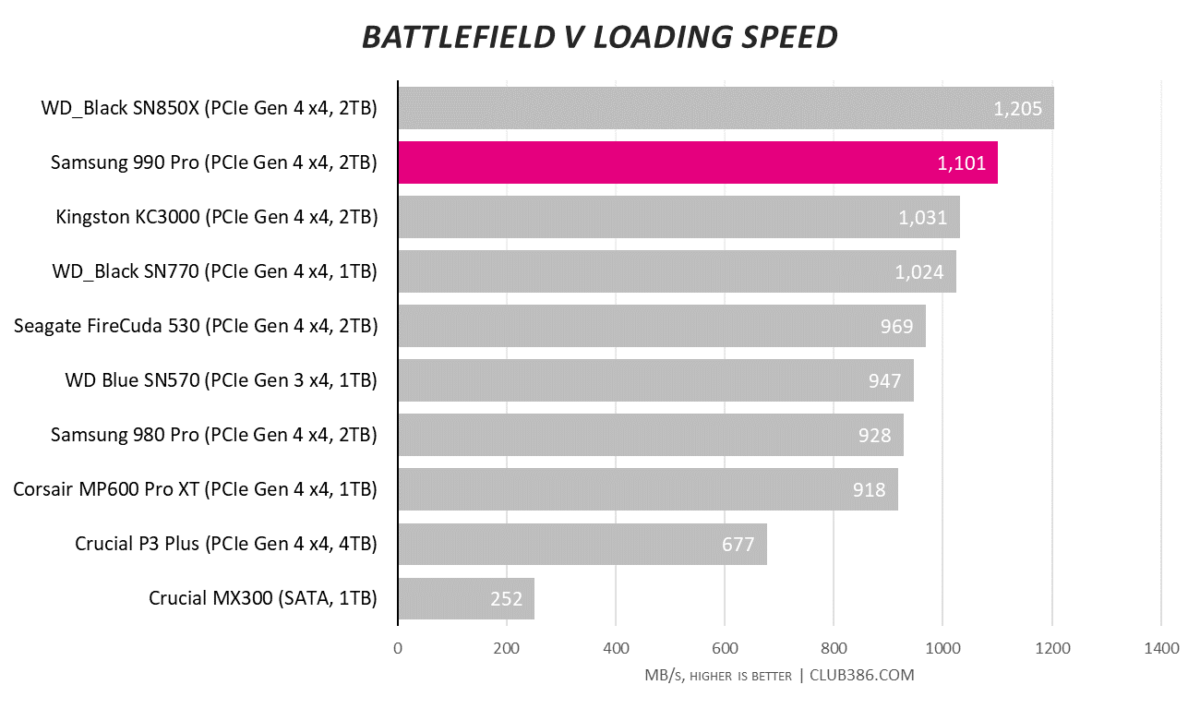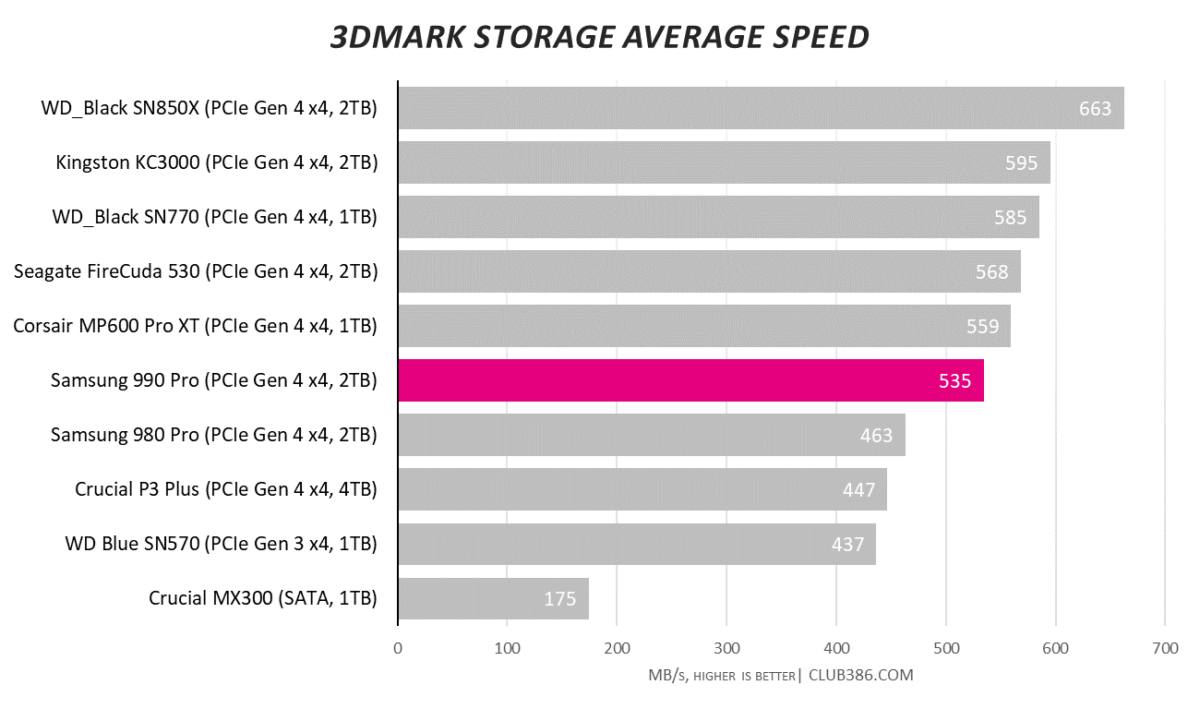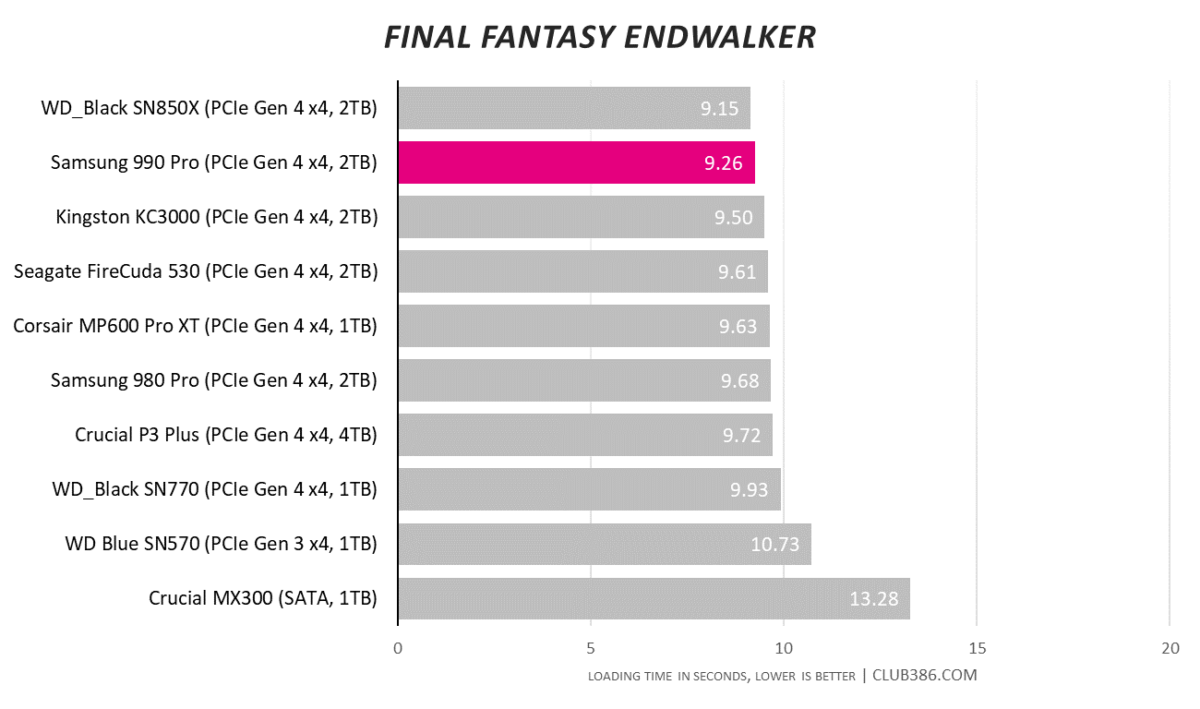 Solid results in gaming tests, too.
Professional Applications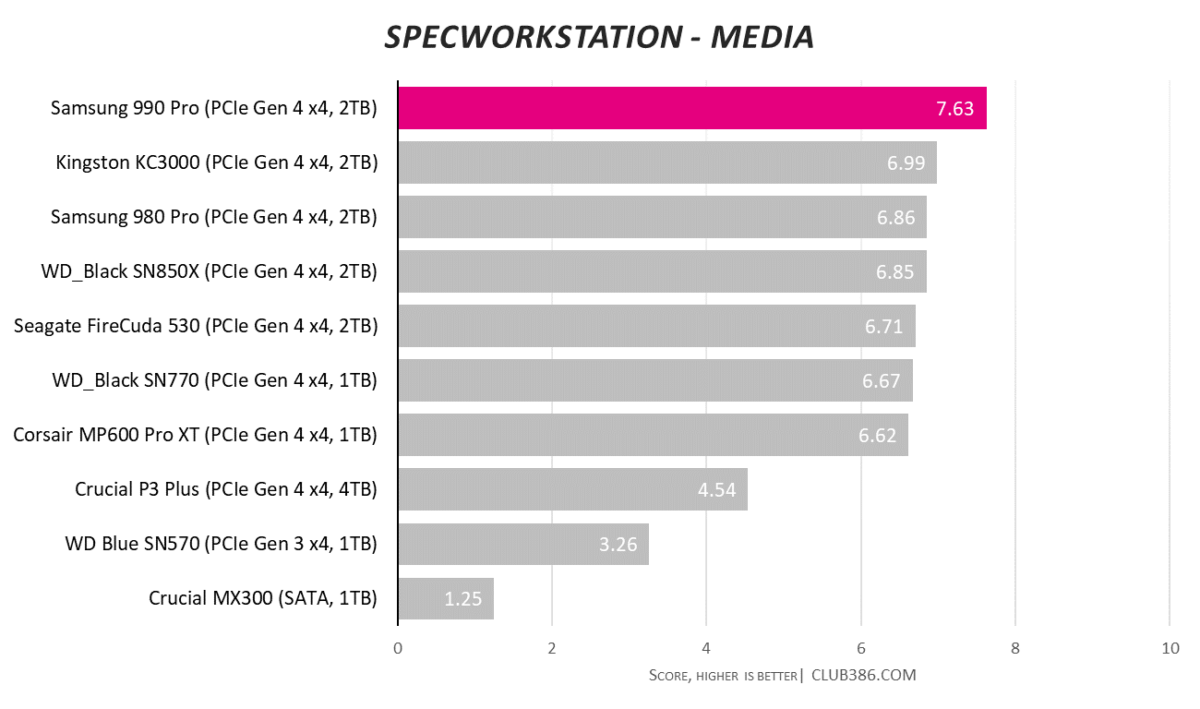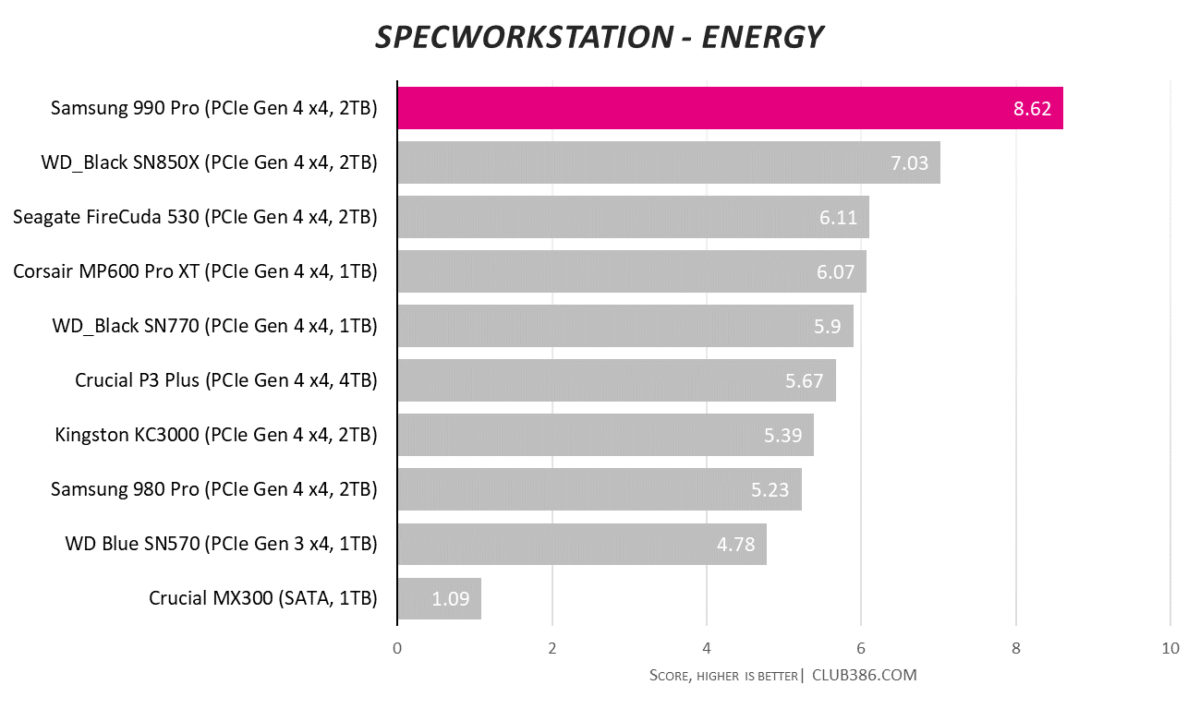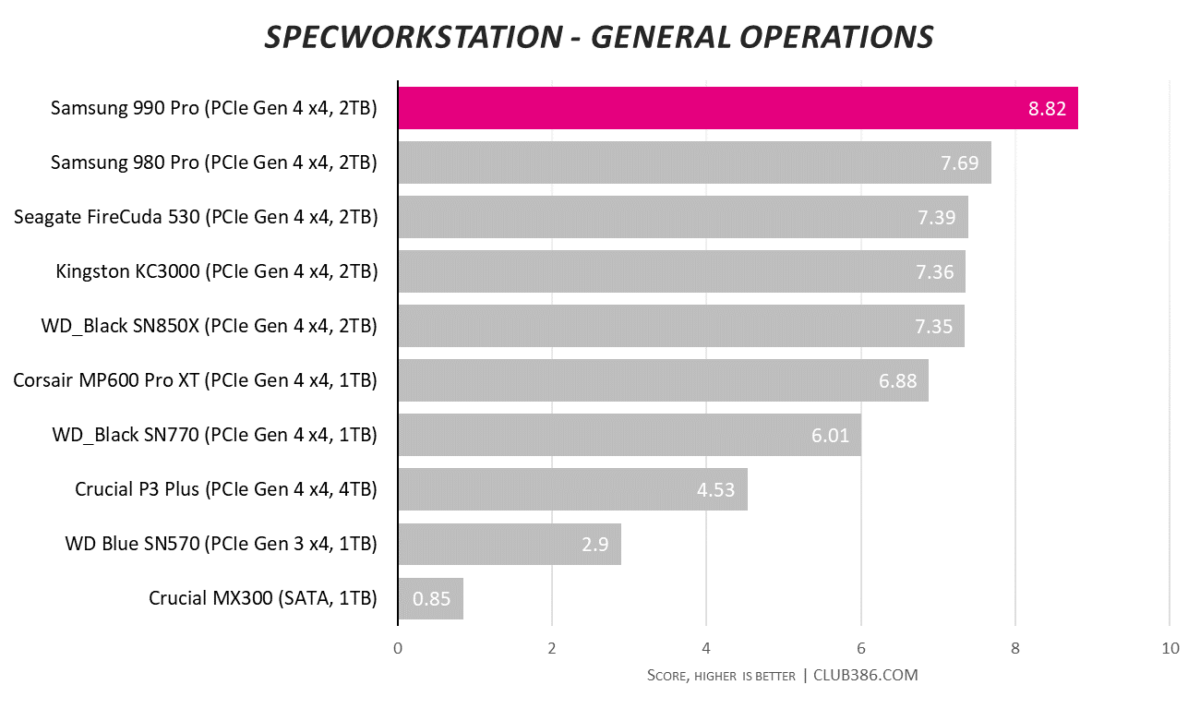 Well, hello, what wizardry do we have here. Samsung's claims of elevated sequential speed and class-busting IOPS certainly work well in SPECworkstation. A resounding win for 990 Pro 2TB.
Input/output Operations per Second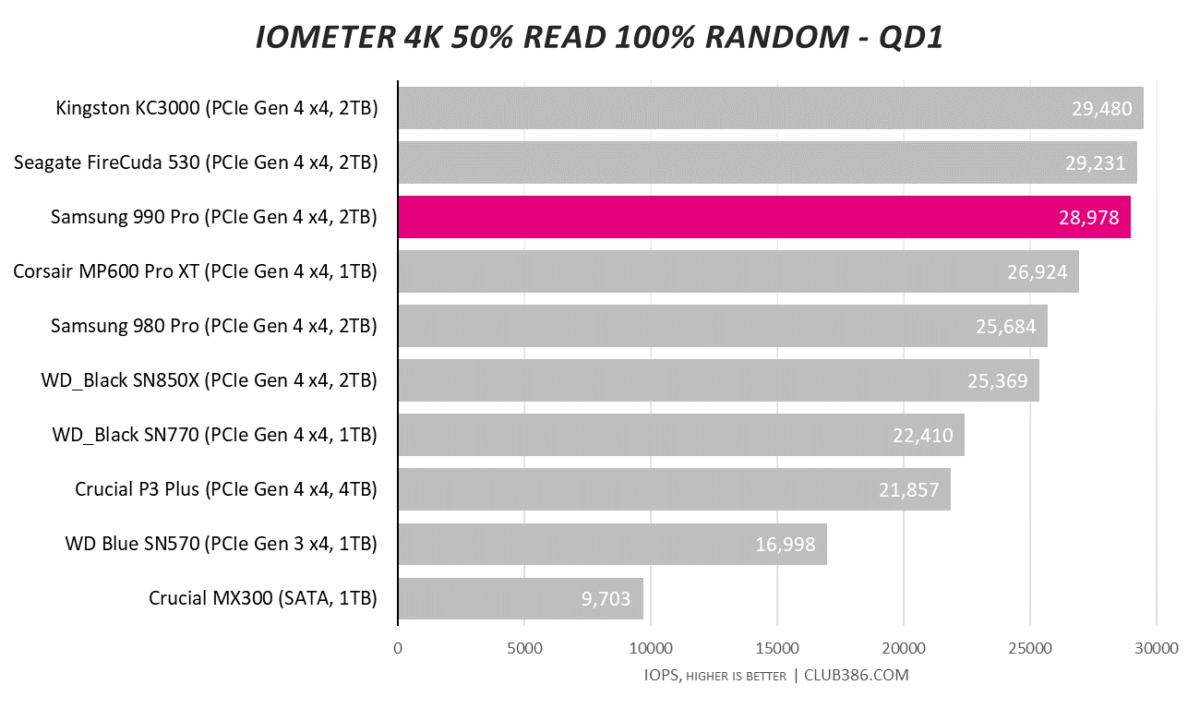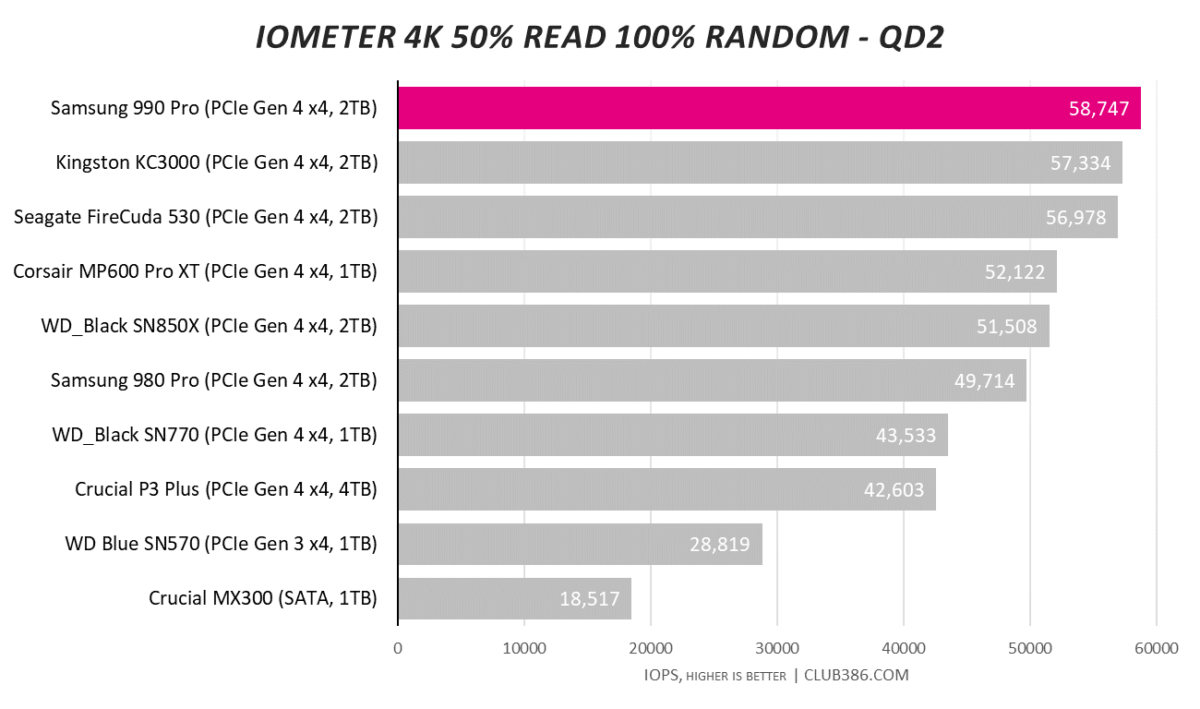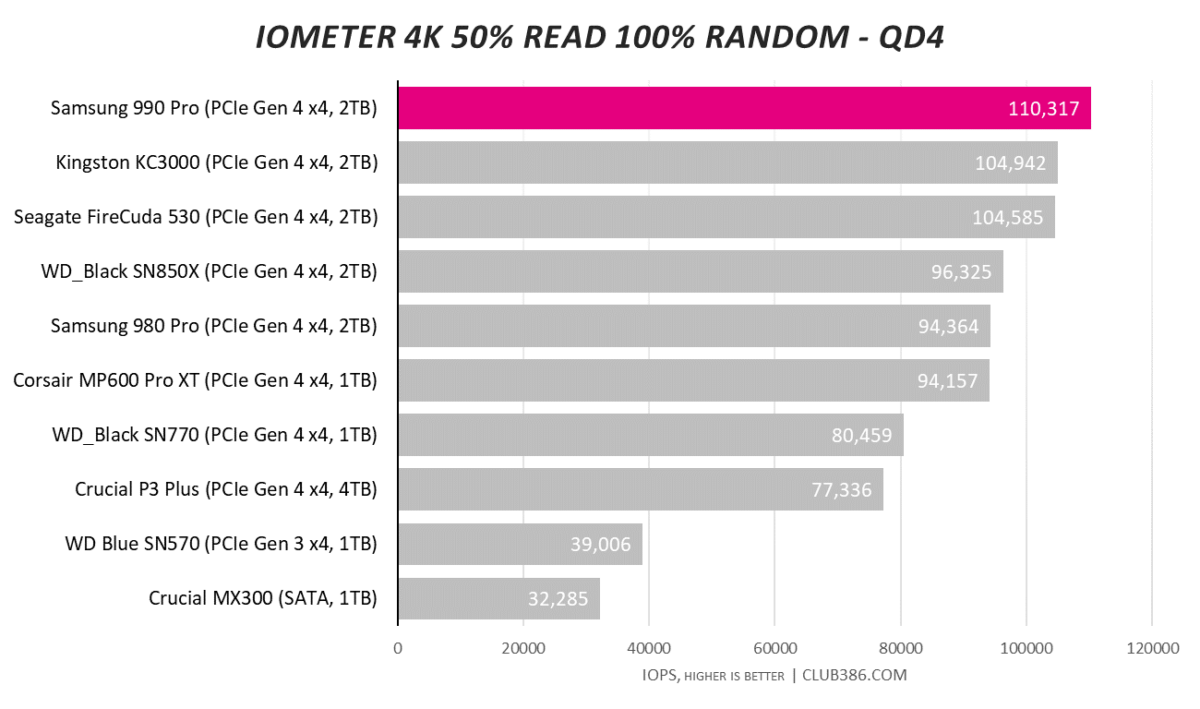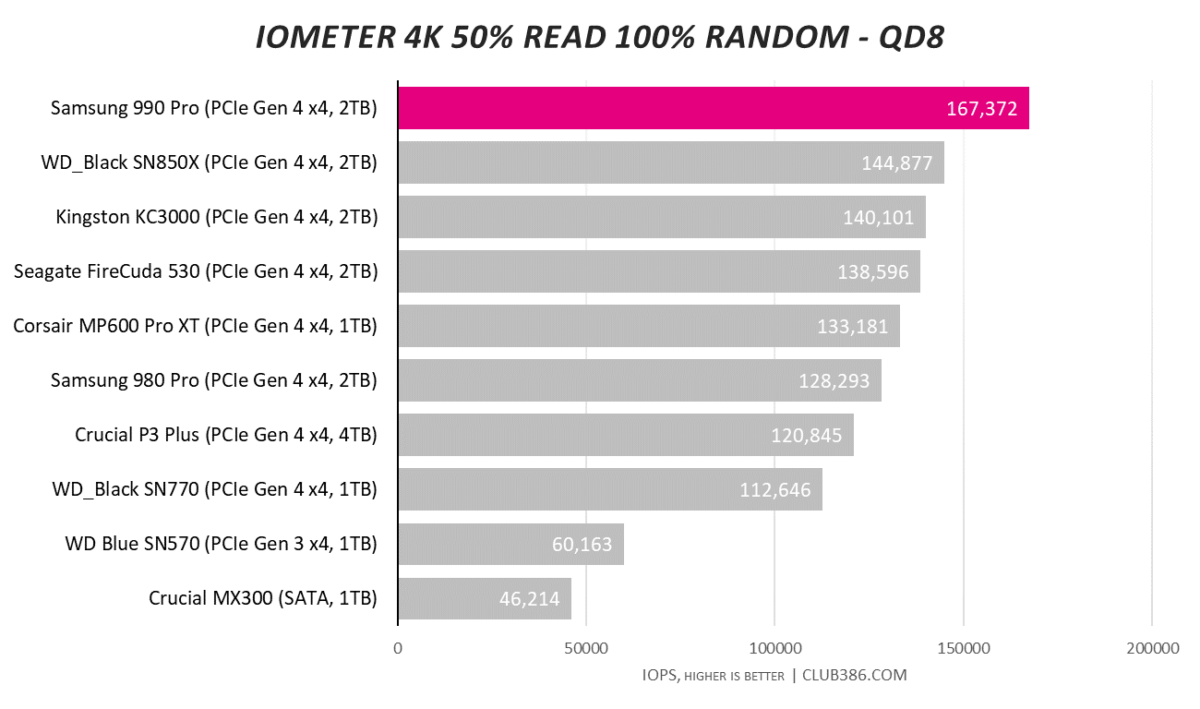 Starting off fast and finishing like Usain Bolt in his prime, 990 Pro blitzes the competition as further user load is introduced. Fantastic performance that underscores Samsung's bombast claims.
Extended Testing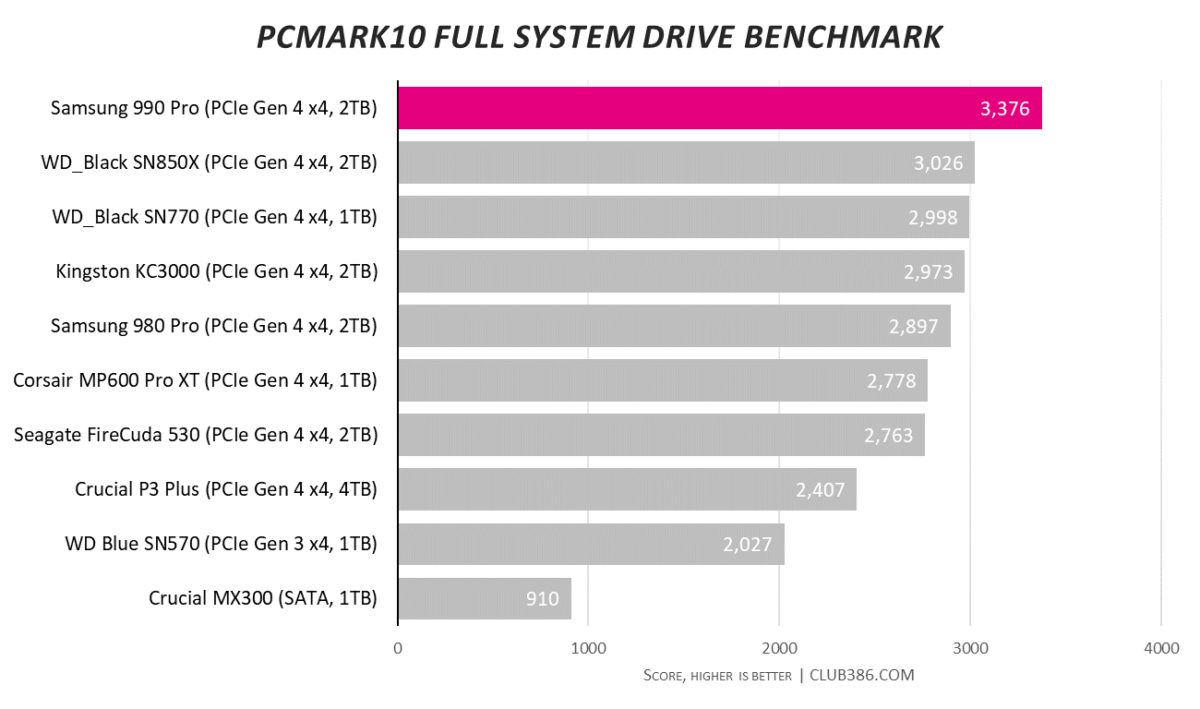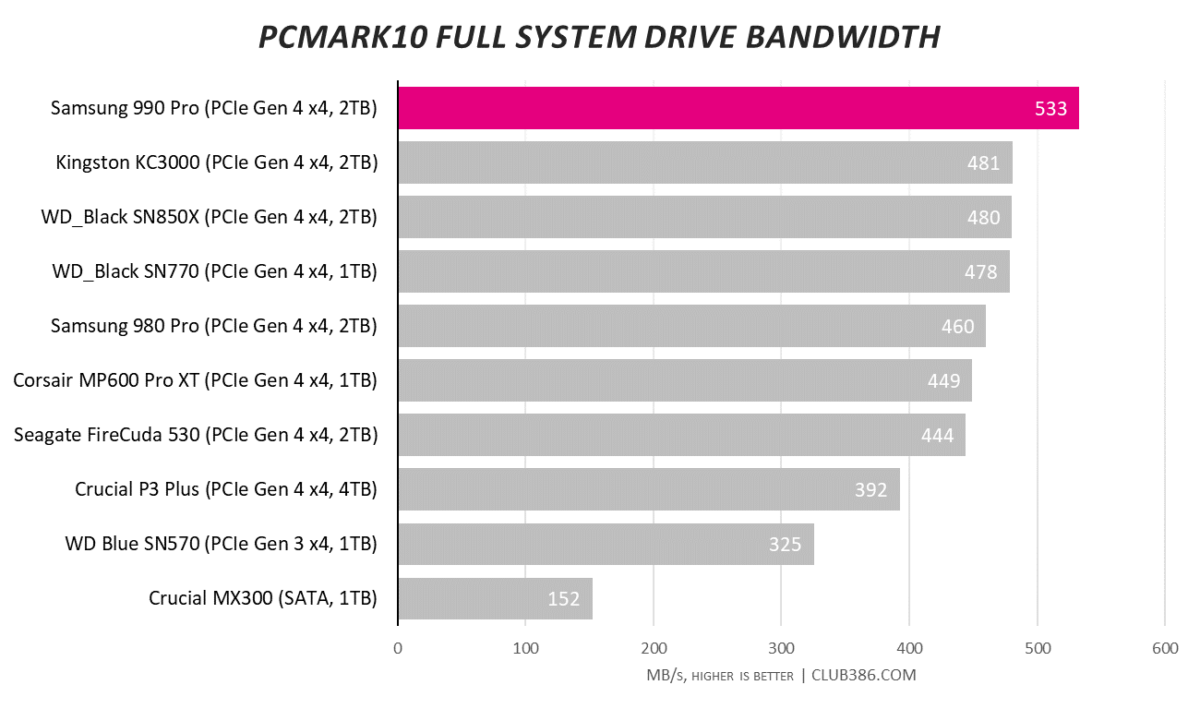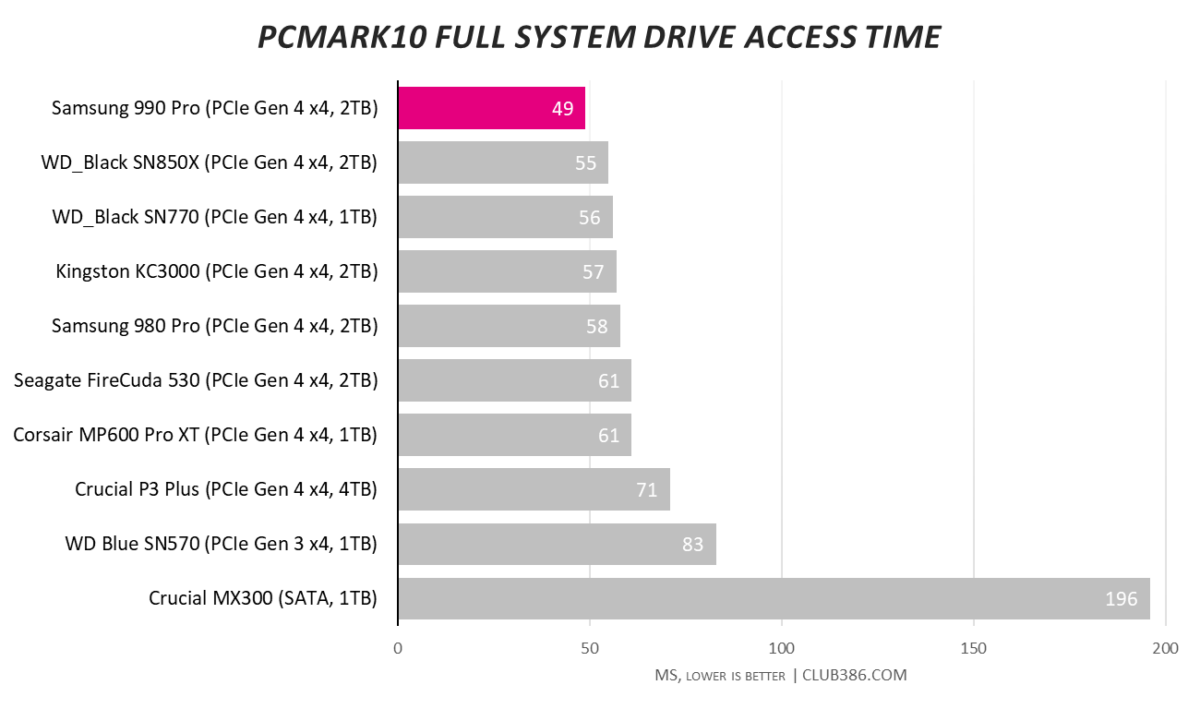 The full system drive test aptly separates the good from the bad. Taking gold in our SSD Olympiad again, with relative ease, we feel Samsung now sets the bar in the enthusiast SSD space… at least until PCIe 5.0 drives come into view.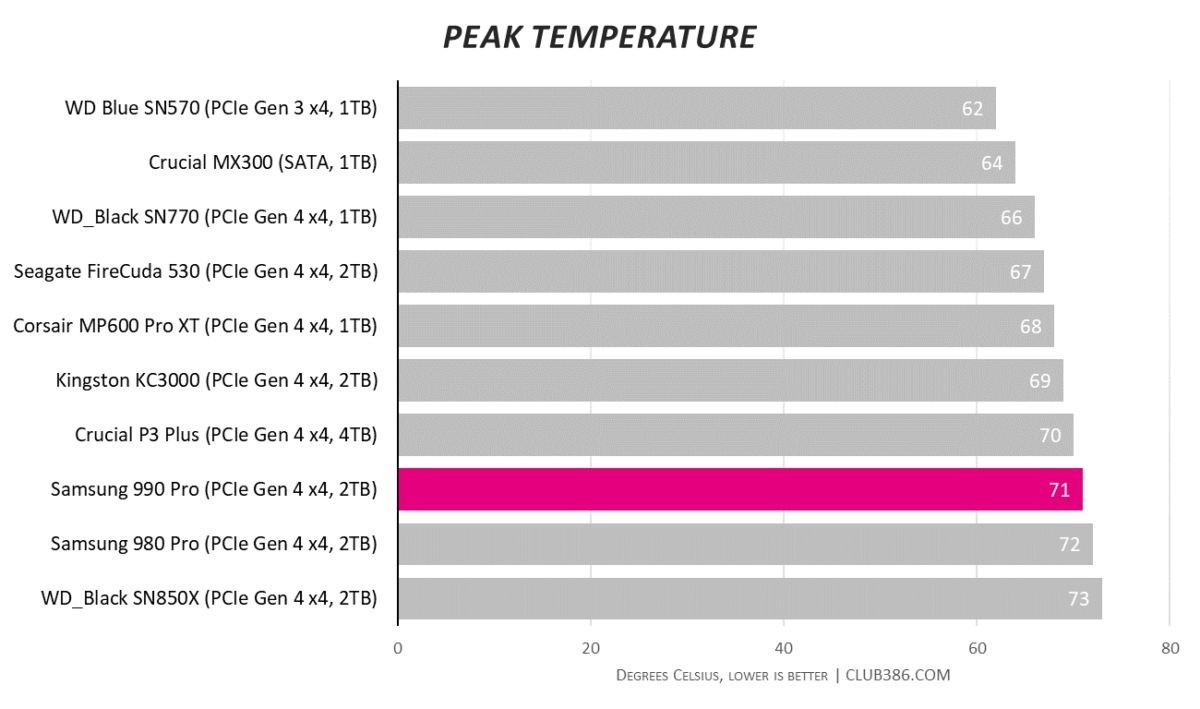 Such performance does result in a drive operating toward the warmer end of the scale, though none of the tested M.2 solutions show any adverse effects beneath our motherboard heatsink.
Conclusion
Samsung's decision to remain on a PCIe 4.0 interface with the latest 990 Pro SSDs raised curious eyebrows in the technology world. Enthusiasts at heart, we'd have preferred a forward-looking drive touting larger SLC caching and a 4TB option for those craving space and speed in equal measure. Get past that and the relatively safe Samsung 990 Pro is an excellent choice for today's premium PCs.
Rather than experiment with a next-gen interface, the latest high-performance drive aims to be the best in the established arena by using an enhanced controller and seventh-generation NAND. A wise move given current market conditions and significant penetration of existing PCIe 4.0-capable motherboards.
990 Pro rights many of the performance deficiencies of 980 Pro. Straight-line speed is solid, IOPS spectacular, and overall benchmark figures, particularly for professional applications, all point to a top-notch SSD from a well-known manufacturer. A drive that will feature in many high-end rigs, and rightfully so.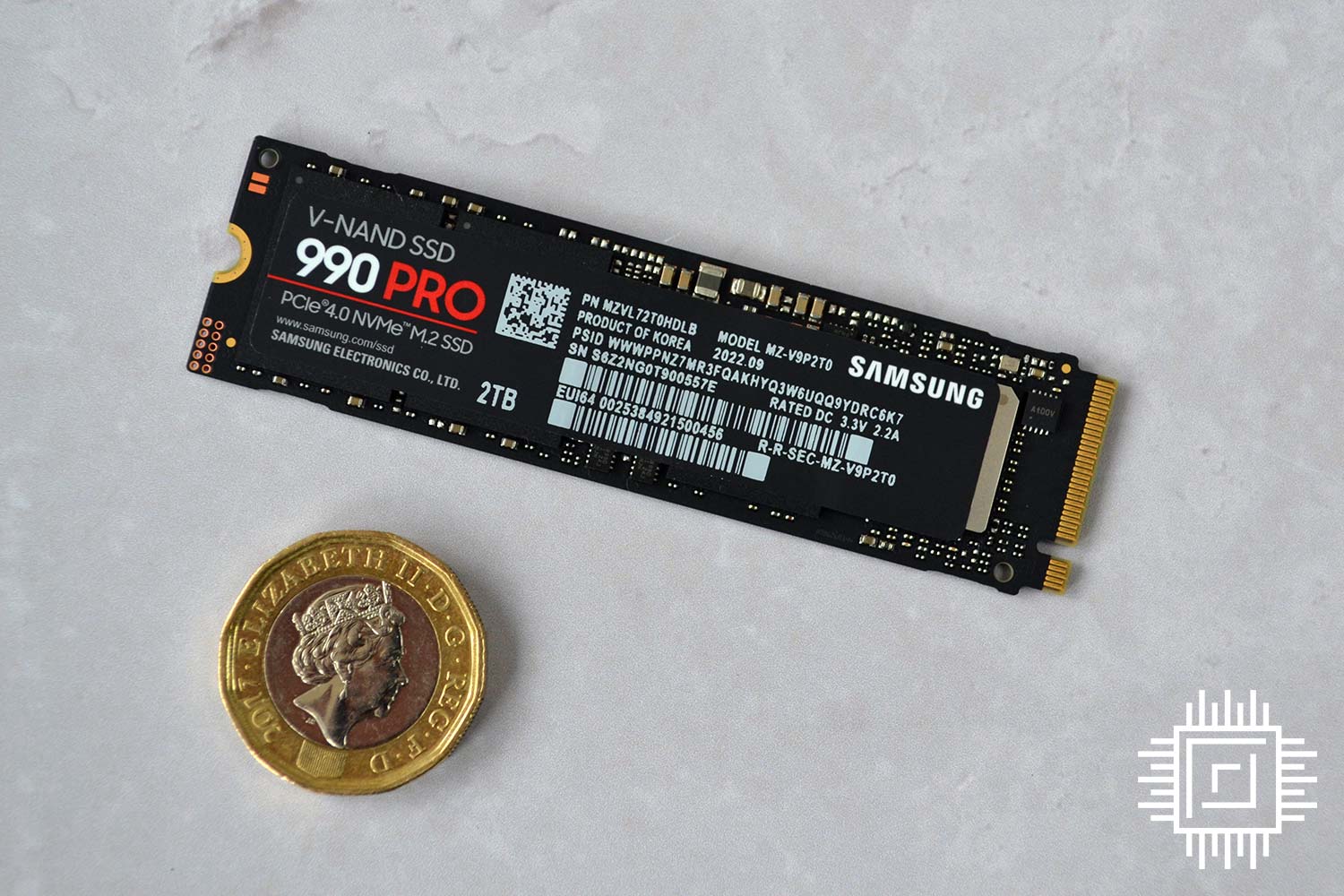 Samsung 990 Pro 2TB SSD
Verdict: Samsung builds the finest PCIe 4.0 consumer SSD for creators and professionals.
---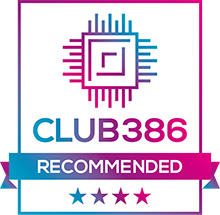 Pros
Fantastic performance
Hardware encryption
Good software
Heatsink option
Cons
No 4TB model
SLC cache not huge
---
Club386 may earn an affiliate commission when you purchase products through links on our site. This helps keep our content free for all.
Rest assured, our buying advice will forever remain impartial and unbiased.