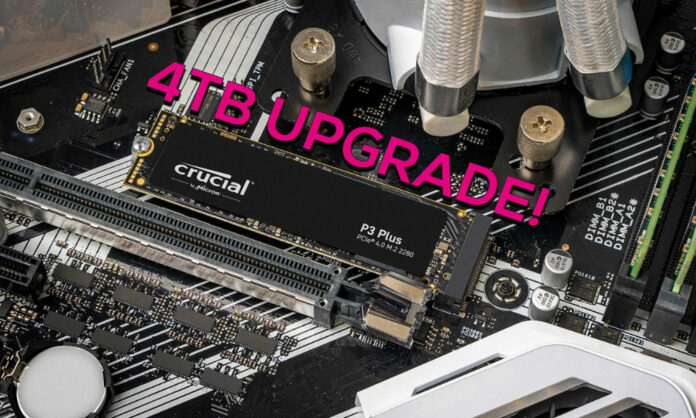 4TB Crucial P3 Plus
---
"Upgrade your PC with the fast Gen4 performance it needs at a price you want. The Crucial P3 Plus NVMe SSD delivers load times and data transfers that are 8.9x faster than SATA and 43% faster than the fastest Gen3 SSDs."
We earn a commission if you make a purchase, at no additional cost to you.
For those of us who remember paying a small fortune for 120GB SATA SSDs back in the day, the cost of superior M.2 drives in 2023 is nothing short of astonishing.
Tumbling NAND prices have transformed the market, and roomy 4TB SSDs that felt a pipedream not too long ago, are now readily available to mainstream audiences. Take, for example, the 4TB Crucial P3 Plus. Said drive touts massive capacity, sequential speeds of up to 4,800MB/s and trusted Micron components for a mere £170 GBP / $200 USD.
These are among the lowest prices we've ever seen for a 4TB M.2 solution, and regular readers may recall Club368 reviewed this very drive in late 2022. Our verdict back then was that of a worthy SSD whose only stumbling block was a £434 MSRP. Yep, that's right, the same drive now costs 60 per cent less!
It's worth revisiting our in-depth review to get to know the P3 Plus more intimately, but if you're in the market for an M.2 upgrade that's fast, spacious and backed by a five-year warranty from a trusted brand, few options are as compelling as the Crucial. Particularly at this price.
Club386 is always on the lookout for unmissable PC component bargains. Follow on Twitter or Facebook to stay up to date with the latest deals, and subscribe to our free weekly newsletter to be kept abreast of all the developments in the world of tech.