Most recent talk in the solid-state drive (SSD) world is about new possibilities becoming available with PCIe 5.0 x4 models now supported on the latest Intel and AMD chipsets. That may well be true, and speed transfers of 10GB/s stoke the imagination, yet the truth is such high-speed drives will fail to grab a sufficient foothold until next year. This is why it is imperative consumer SSD manufacturers have capable PCIe 4.0 x4 models in their arsenal. Balancing performance against availability and cost, a stellar drive in this field is sure to be a volume seller.
There's no shortage of choice. WD_Black, Samsung, and Seagate all ply this area with capable offerings. Looking to undercut them all on pricing whilst offering solid performance and a 4TB option, Crucial has recently introduced the P3 Plus series. Riding on PCIe 4.0 x4 and using in-house NAND, let's dive right in.
Specification
| Crucial P3 Plus | 500GB | 1TB | 2TB | 4TB |
| --- | --- | --- | --- | --- |
| Model | CT500P3PSSD8 | CT1000P3PSSD8 | CT2000P3PSSD8 | CT4000P3PSSD8 |
| Controller | Phison PS5021 | Phison PS5021 | Phison PS5021 | Phison PS5021 |
| NAND | Micron 176L QLC | Micron 176L QLC | Micron 176L QLC | Micron 176L QLC |
| DRAM | No | No | No | No |
| Interface | PCIe 4.0 x4 | PCIe 4.0 x4 | PCIe 4.0 x4 | PCIe 4.0 x4 |
| Sequential Read Speed (MB/s) | 4,700 | 5,000 | 5,000 | 4,800 |
| Sequential Write Speed (MB/s) | 1,900 | 3,600 | 4,200 | 4,100 |
| Random Read IOPS (K) | 350 | 650 | 680 | 650 |
| Random Write IOPS (K) | 460 | 800 | 850 | 900 |
| Form Factor | M.2 | M.2 | M.2 | M.2 |
| Endurance (TBW) | 110 | 220 | 440 | 800 |
| Hardware encryption | No | No | No | No |
| MSRP | £64 | £94 | £200 | £434 |
Fitting neatly between existing P3 and P5 Plus, the latest entrant takes a firm middle ground entailing strapping a PCIe 4.0 x4 interface to a controller fed by QLC NAND. Like its non-plus P3 brother, Crucial serves up 500GB to 4TB capacities, and that's a good thing.
Budget origins show through with the choice of the four-channel Phison PS5021 controller, which is at odds with the proprietory hardware used, for example, in the higher-performing P5 Plus. Nevertheless, Phison is a well-known name in the industry and also powers less expensive P2 drives.
Another method of making pricing more attractive rests with shifting from triple-level NAND (TLC) to quad-level NAND (QLC). Reasoning is simple enough – having more bits per channel reduces the amount of silicon required to build out a particular capacity, albeit at the expense of outright performance.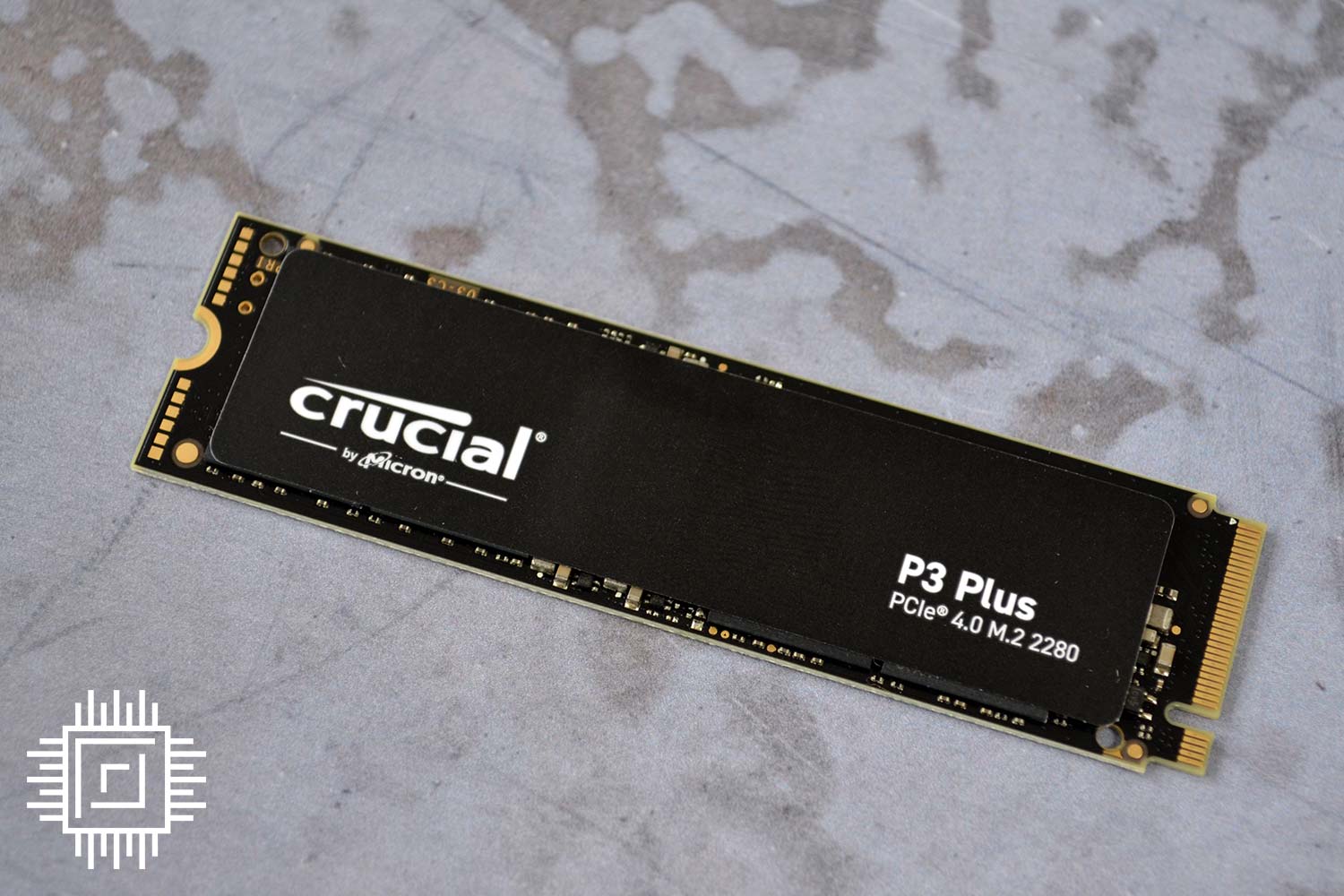 And this is why we see mid-spec transfer rates on the four models. The 500GB model is particularly weak in this respect, but let's not forget a peak 5,000MB/s read and 4,200MB/s write is comfortably speedier than any PCIe 3.0 x4 can manage. Even so, P3 Plus is not sufficiently fast to be certified for PlayStation 5 expanded storage use.
Keeping efficiency and cost further in check, P3 Plus is a DRAM-less design, meaning various buffering takes place via the Host Memory Buffer (HMB) protocol by using system memory instead of dedicated ICs on the SSD itself.
It's usual for the endurance rating not to be as robust on QLC-based drives. For example, the 2TB P3 Plus is endowed with a 440TBW rating compared with a whopping 2,550TBW for a Seagate FireCuda 530. Context is everything, though, as even Crucial's restrained figure equates to over 240GB of writing per day, every day, for the five-year warranty period.
Our 4TB sample is an exercise in design simplicity. A sticker covers four top-mounted NAND modules and controllers, while the rear is left bare. It's a testament to QLC density that such capacity is contained on one side, leading to the possibility of an 8TB dual-sided model in the future.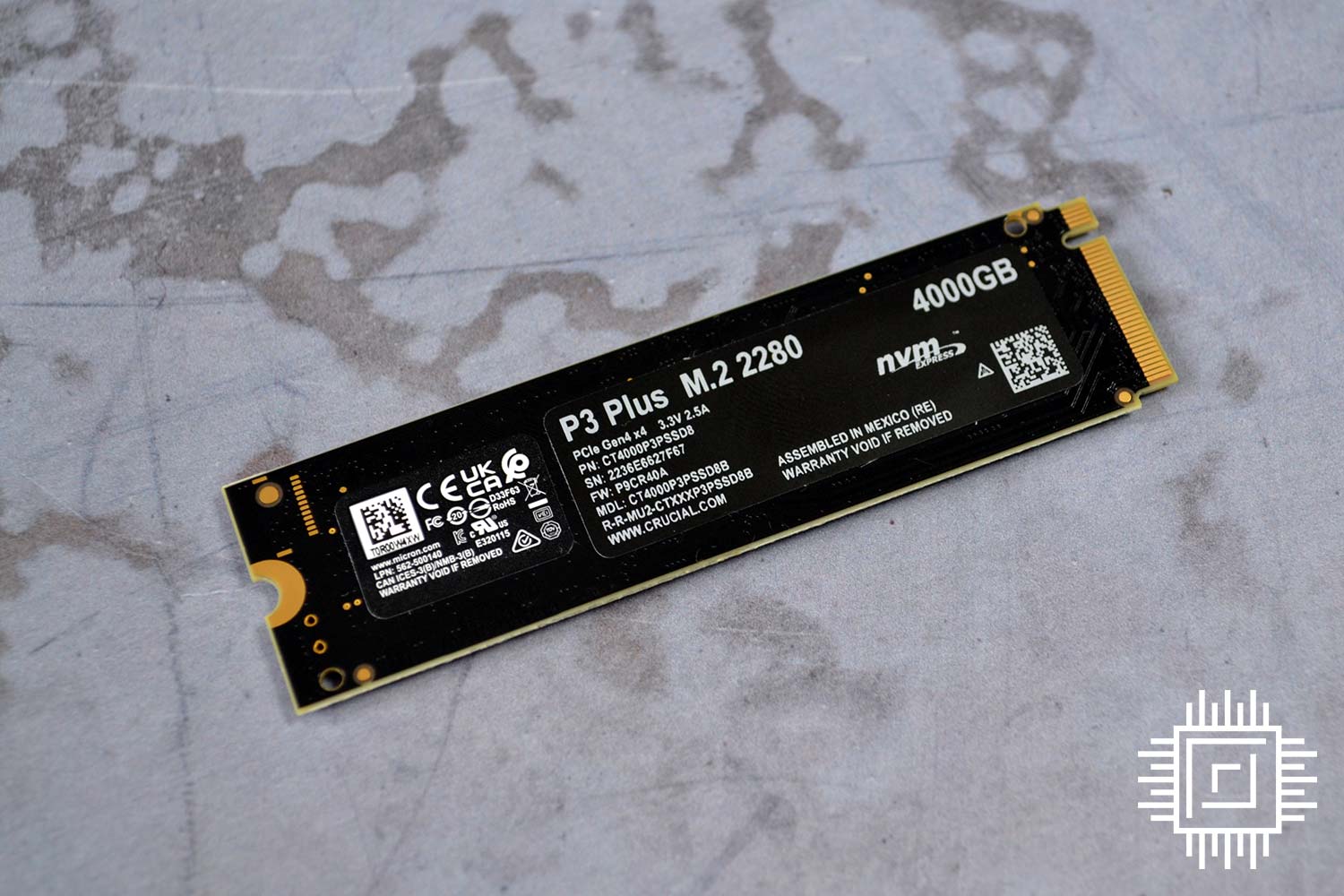 Keeping performance punchy, P3 Plus can designate QLC memory as higher-performance SLC across its entire capacity. This means the first 1TB or so remains at fast speeds, though the drop-off, as you'll note later, is painful.
Appreciating how Crucial positions the drive, it makes for an interesting storage-upgrade proposition for the latest laptops, assuming they have the requisite 2280 slot.
Prising away the sticker – which has no heat-dissipation properties, by the way – reveals four 1GB QLC NAND ICs sitting astride the Phison E21T controller. This combination affords peak reading speed of 4,800MB/s, writing purring along at 4,100MB/s, and random IOPS of 650K and 900K for both metrics, respectively. In other words, positively entry-level PCIe 4.0 territory.
There is absolutely nothing wrong with the specifications if pricing is set exactly right. Here's where P3 Plus hits the first stumbling block. The more performant P5 Plus' recent price cuts put it on a financial collision course with P3 Plus as both offer a 2TB capacity for around £200. One can argue there's no 4TB option for P5 Plus, which is true, yet Crucial needs to lower P3 Plus cost by at least 15 per cent so it stands tall against its own stablemate and wider market.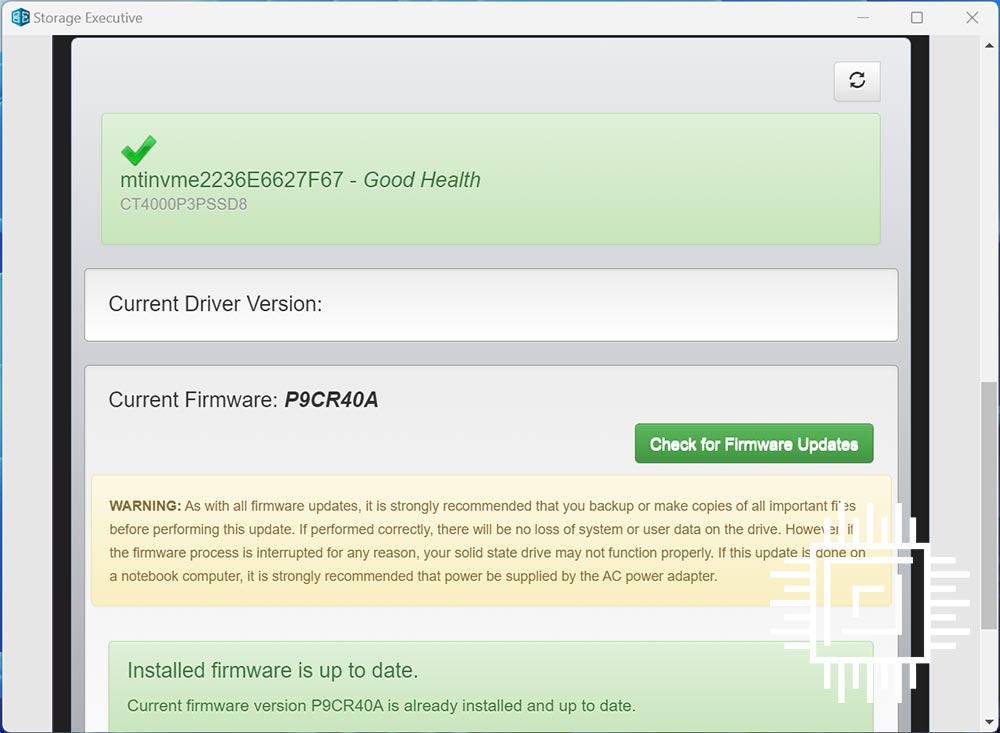 Storage Executive is Crucial's configuration utility. Simple in design, two features stand out. One is an easy method of updating the firmware and the second is Momentum Cache, which enables some of the PC's memory pool to cache commands to the Crucial SSD, increasing burst write performance.
Transfer Speed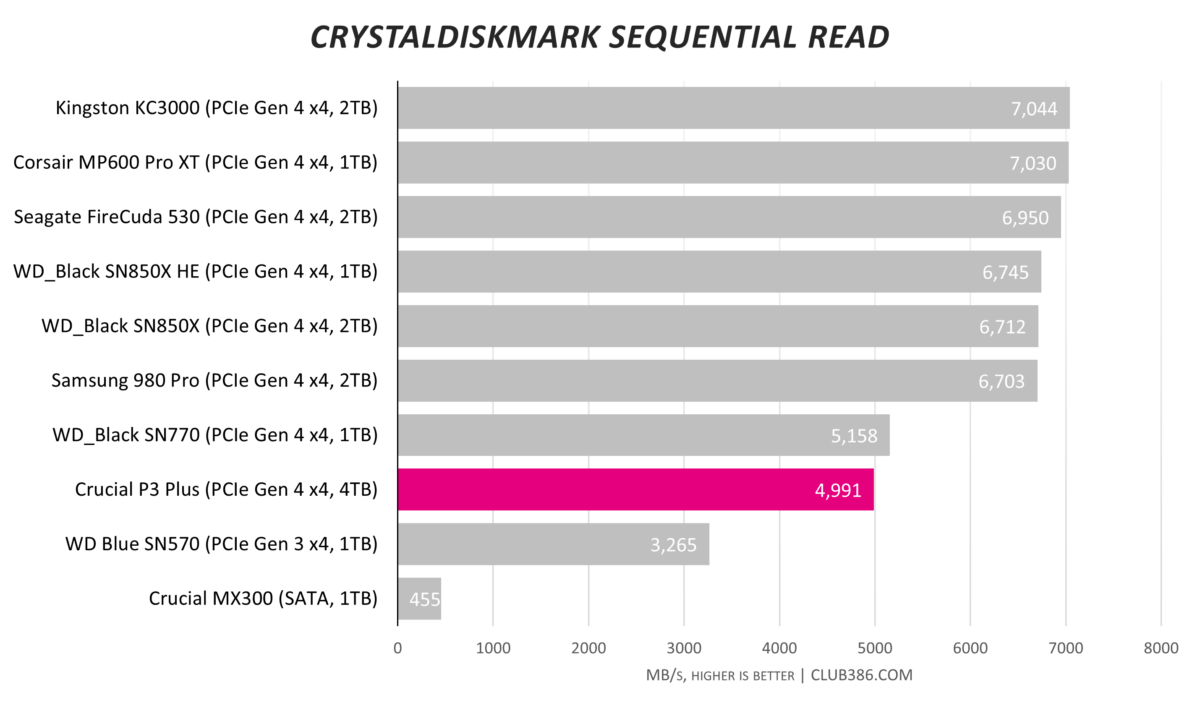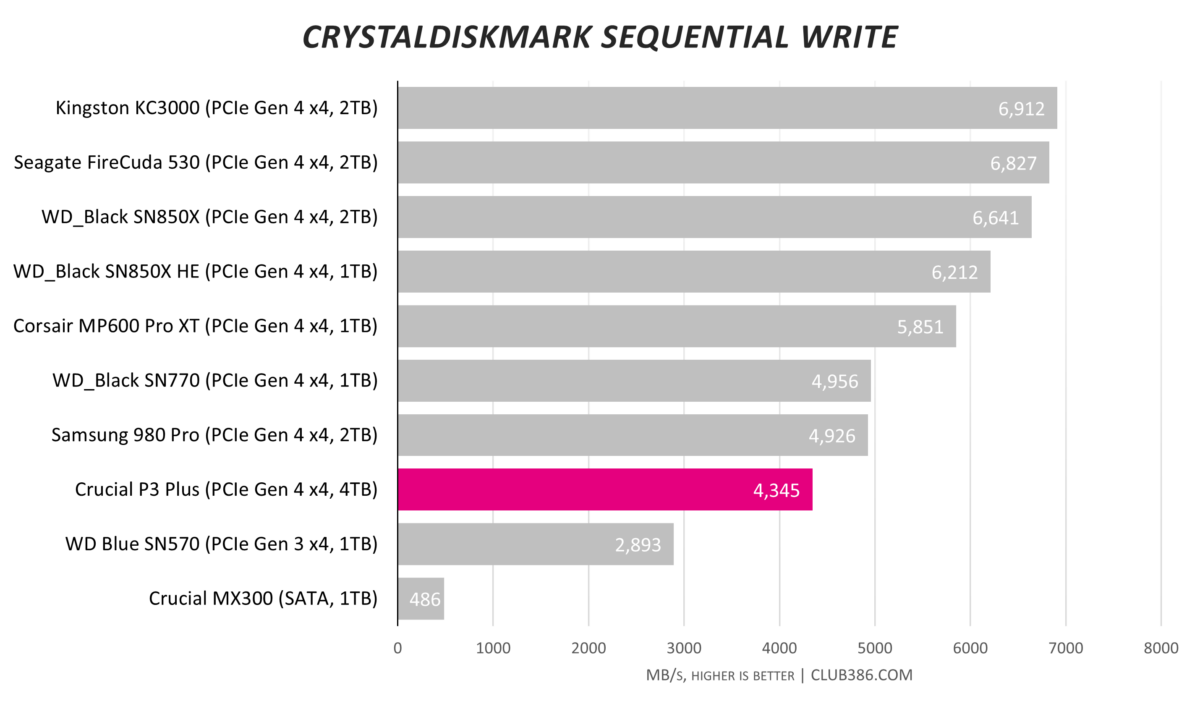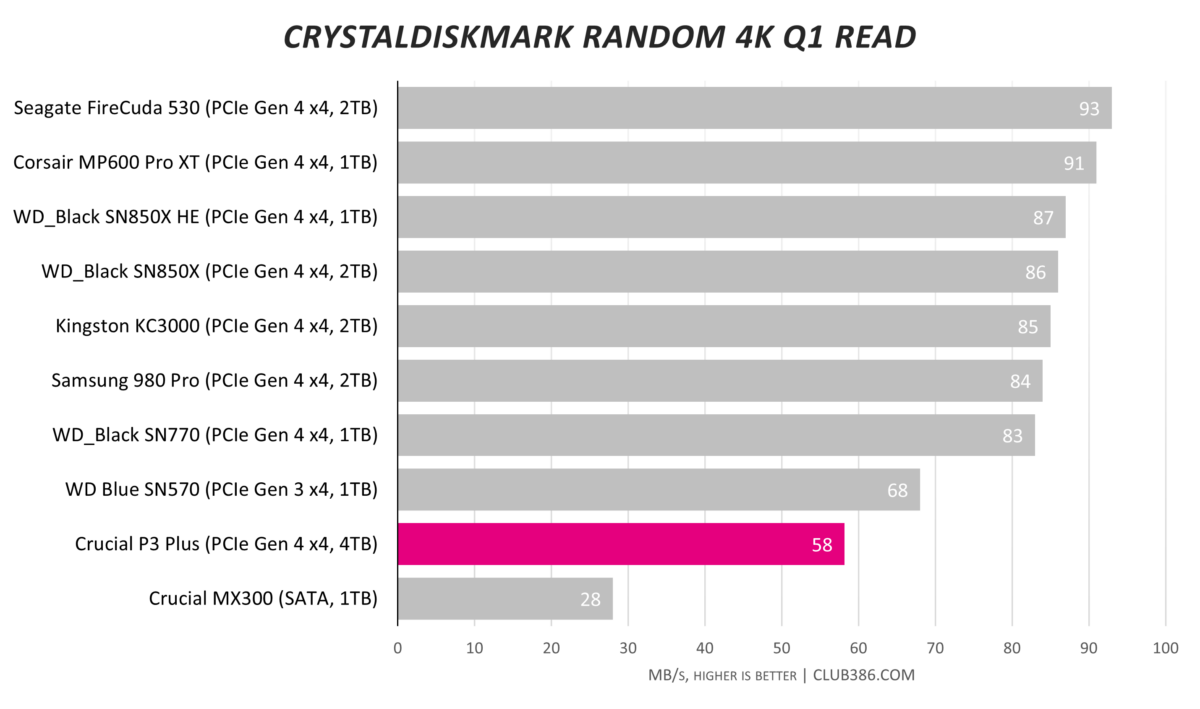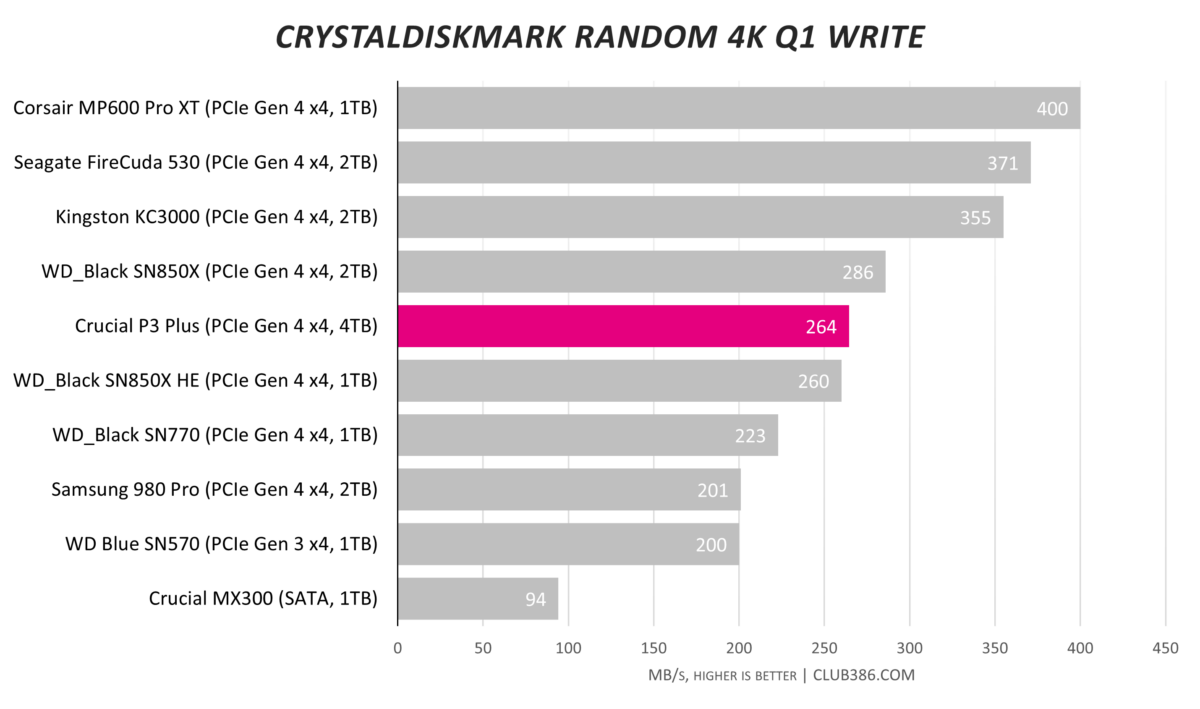 Sequential speeds are actually faster than what's on the 4TB box. Crucial's design choices show through in the lowest straight-line performance from any PCIe 4.0 x4 drive.
Gaming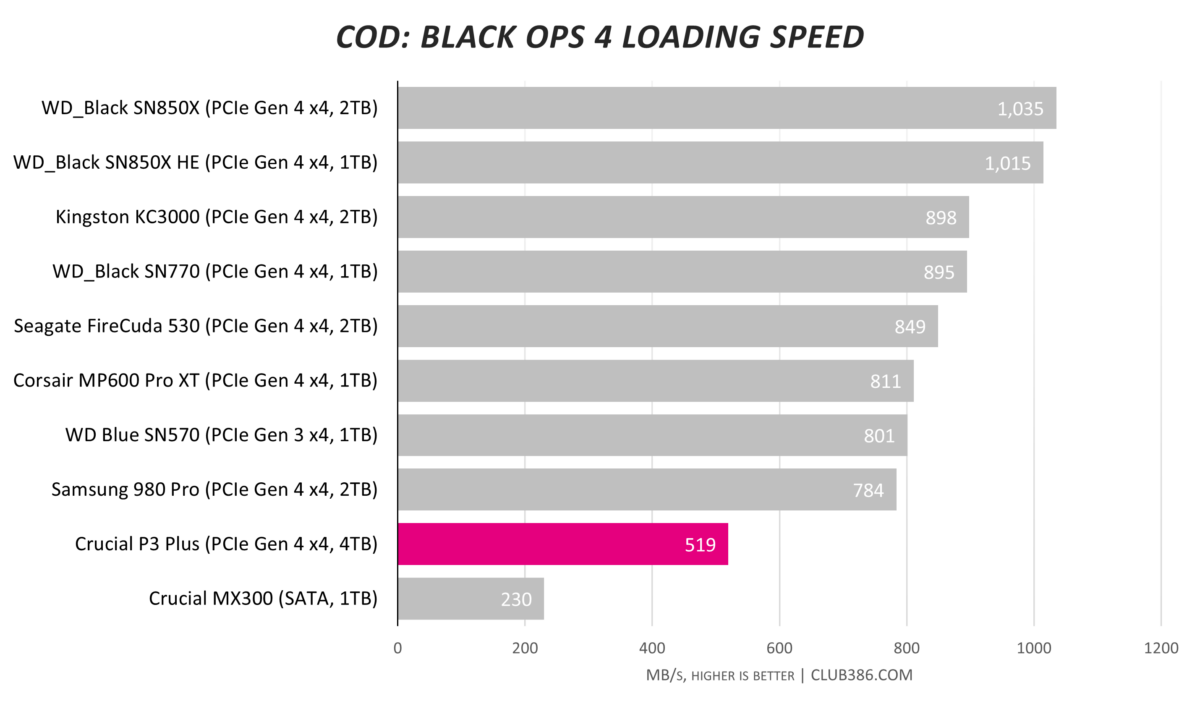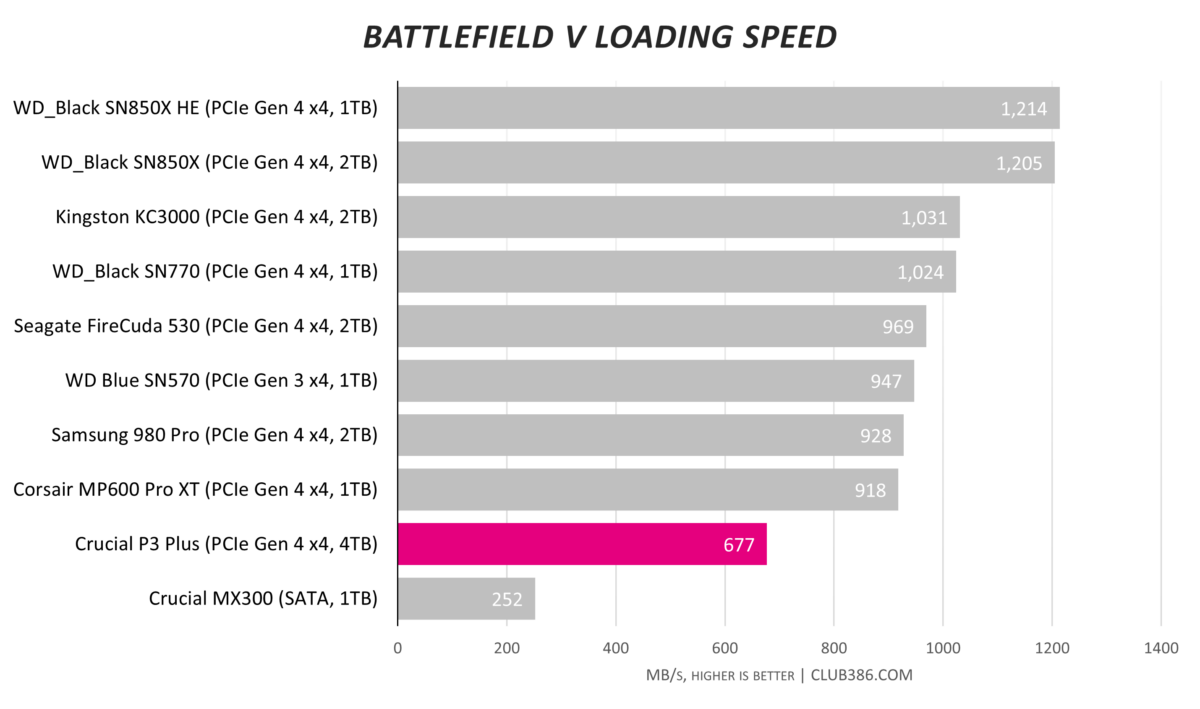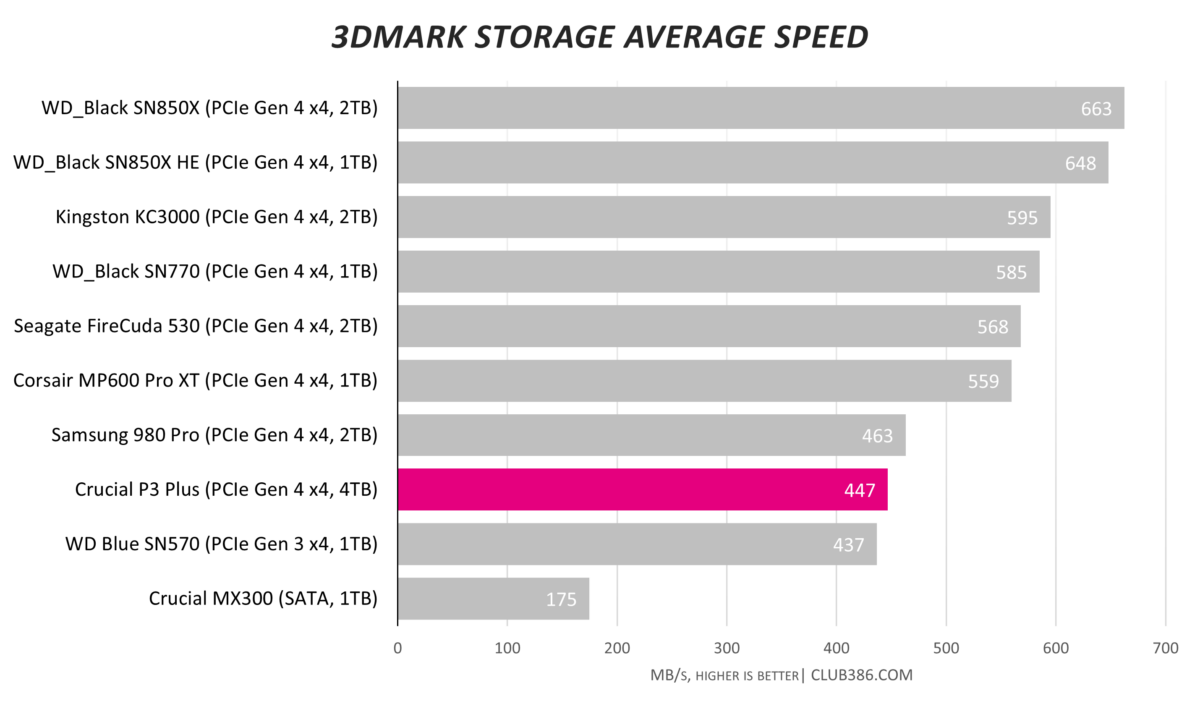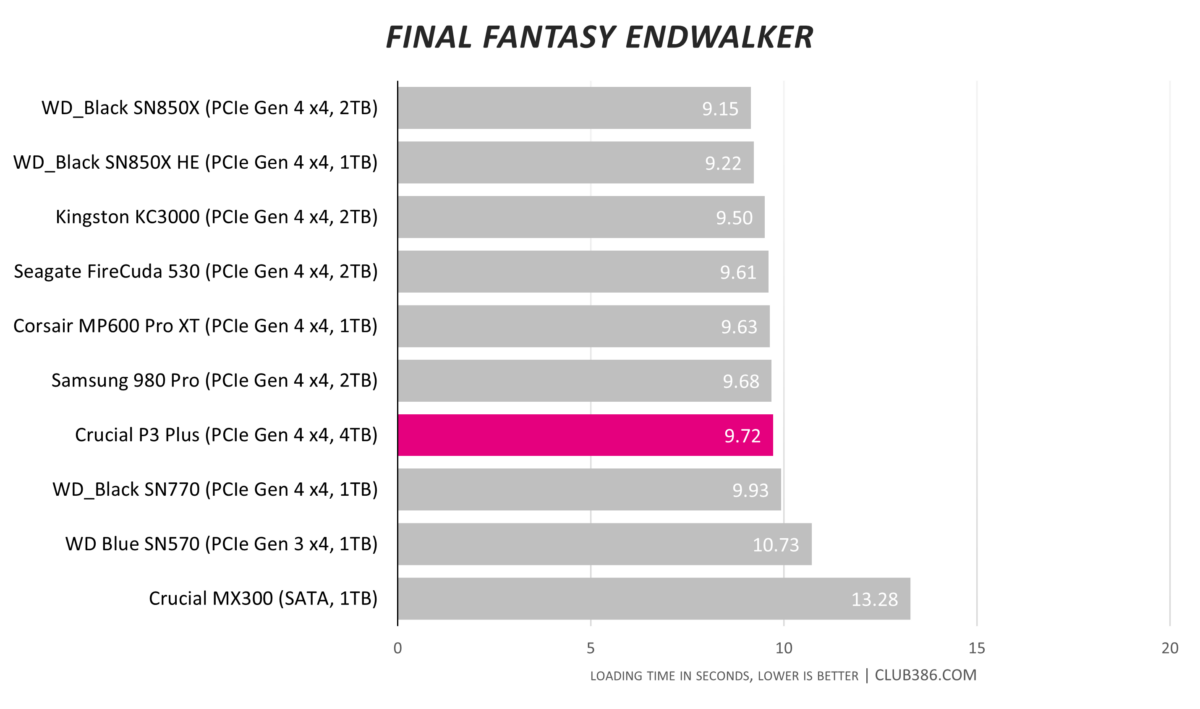 Using QLC NAND and not having onboard DRAM hurts gaming performance.
Professional Applications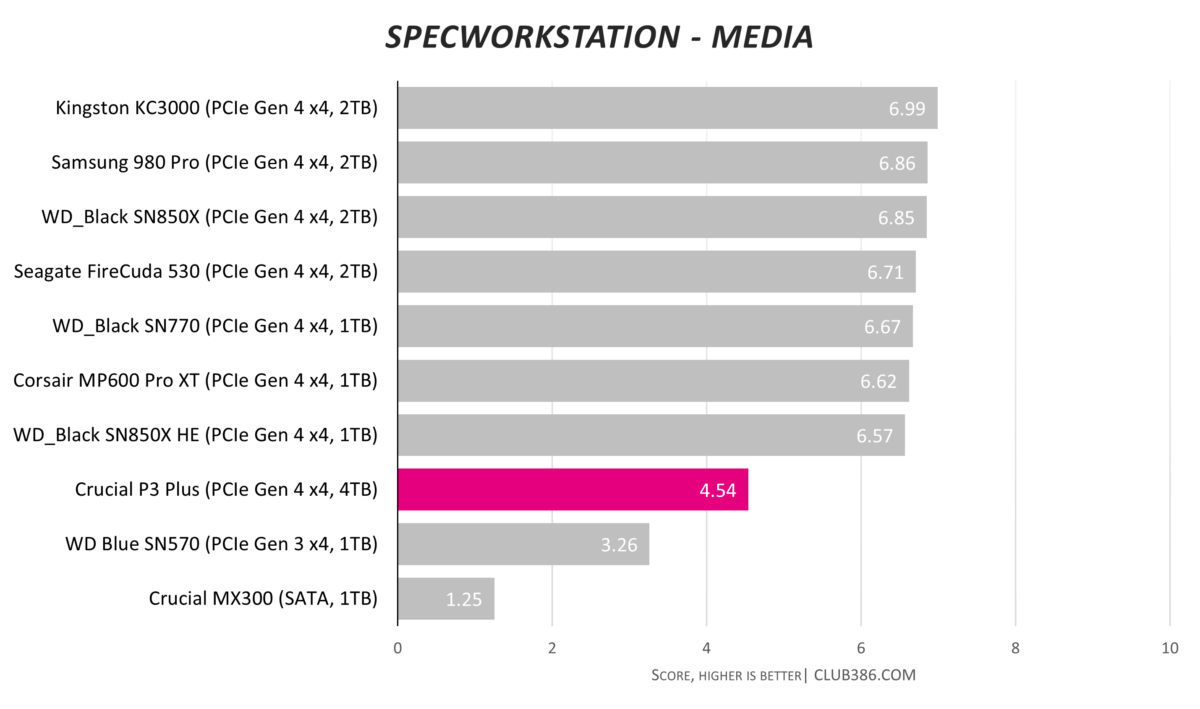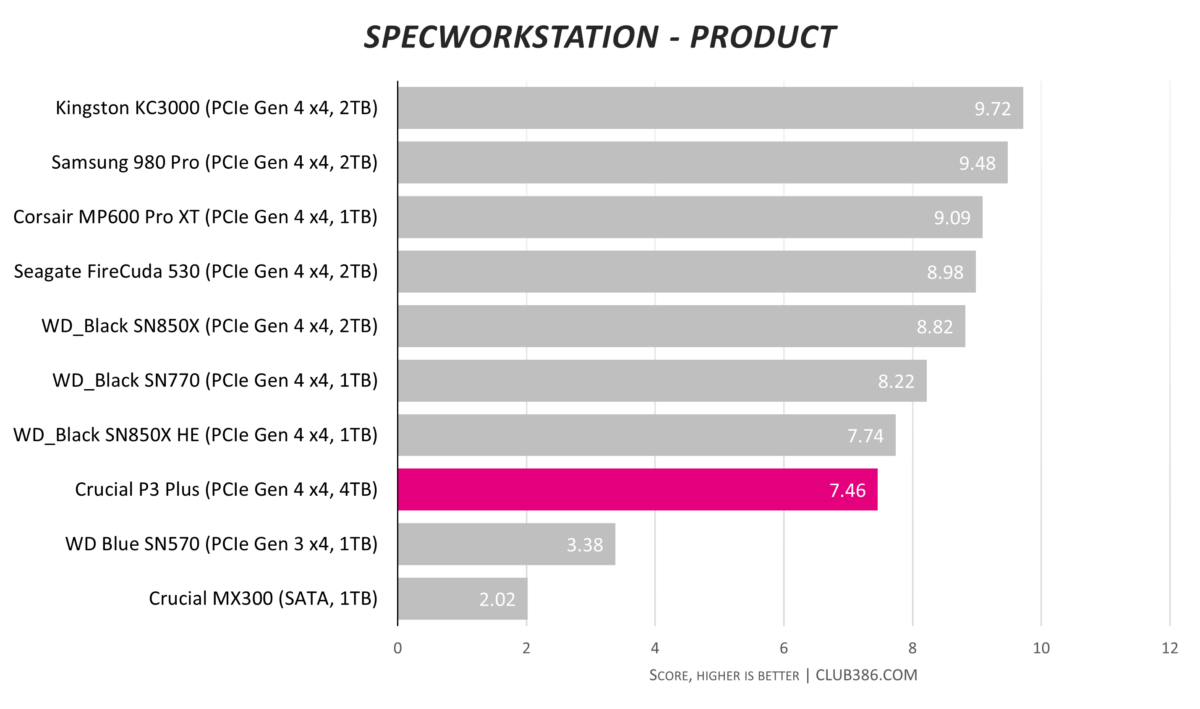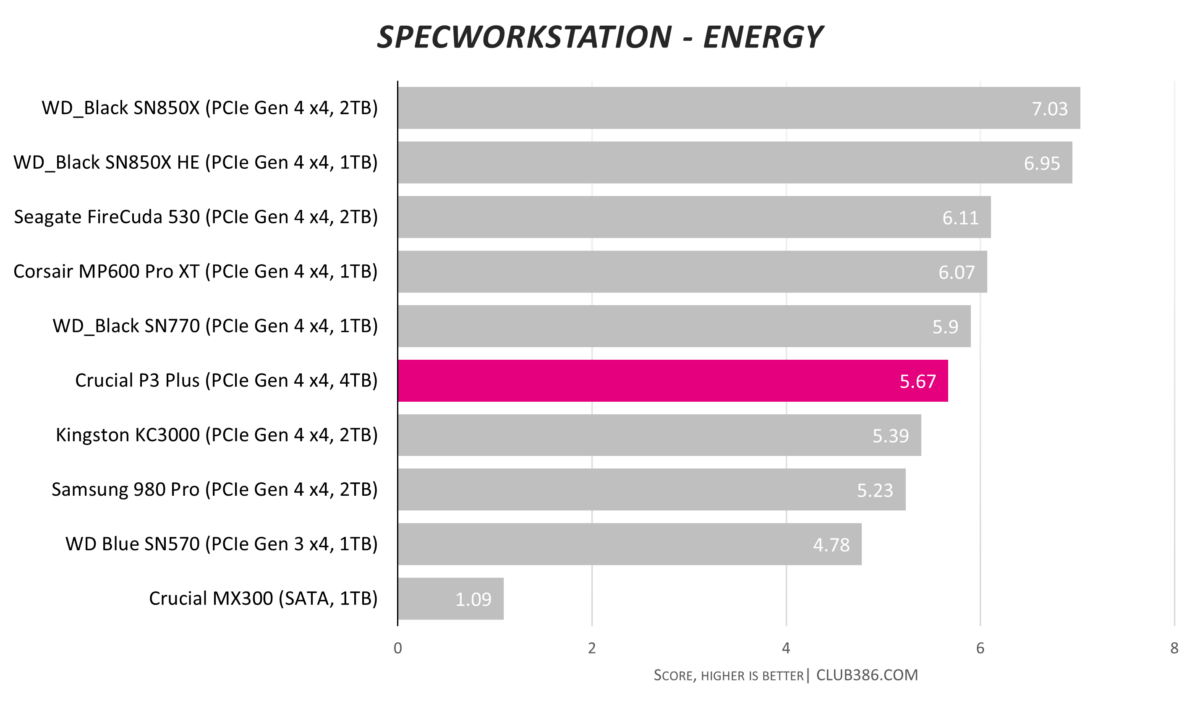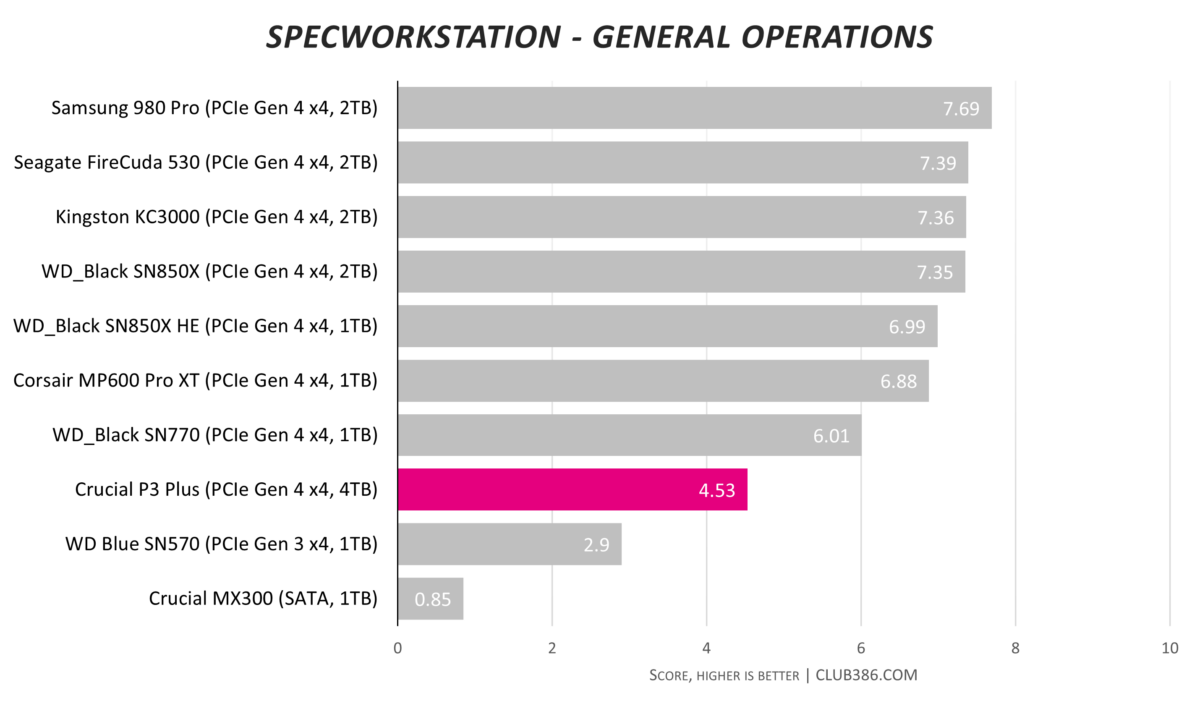 Generally bringing up the rear of the PCIe 4.0 x4 pack, P3 Plus is very much an entry-level drive in that firmament.
Input/output Operations per Second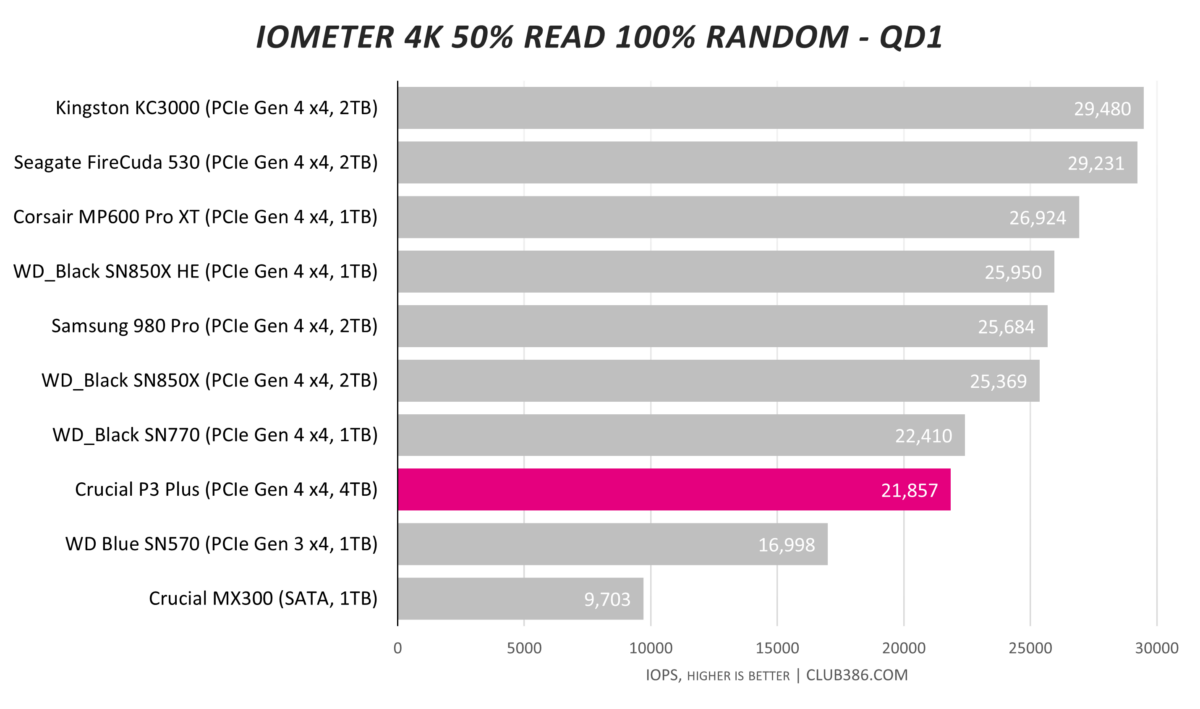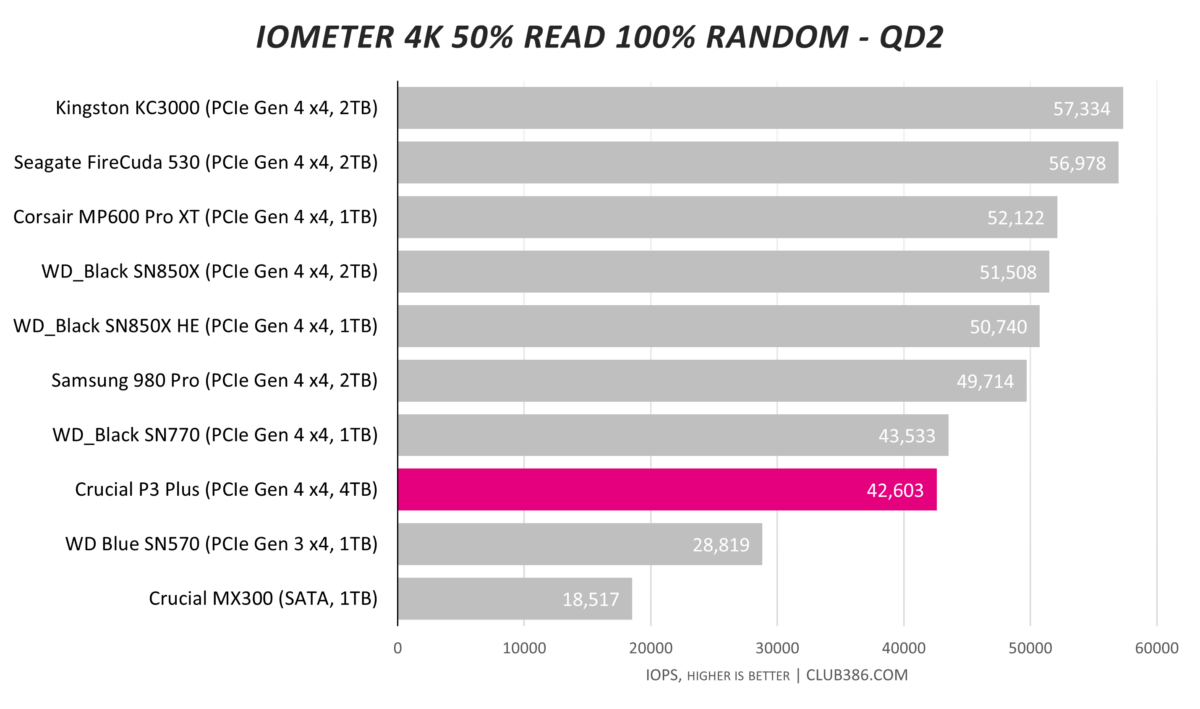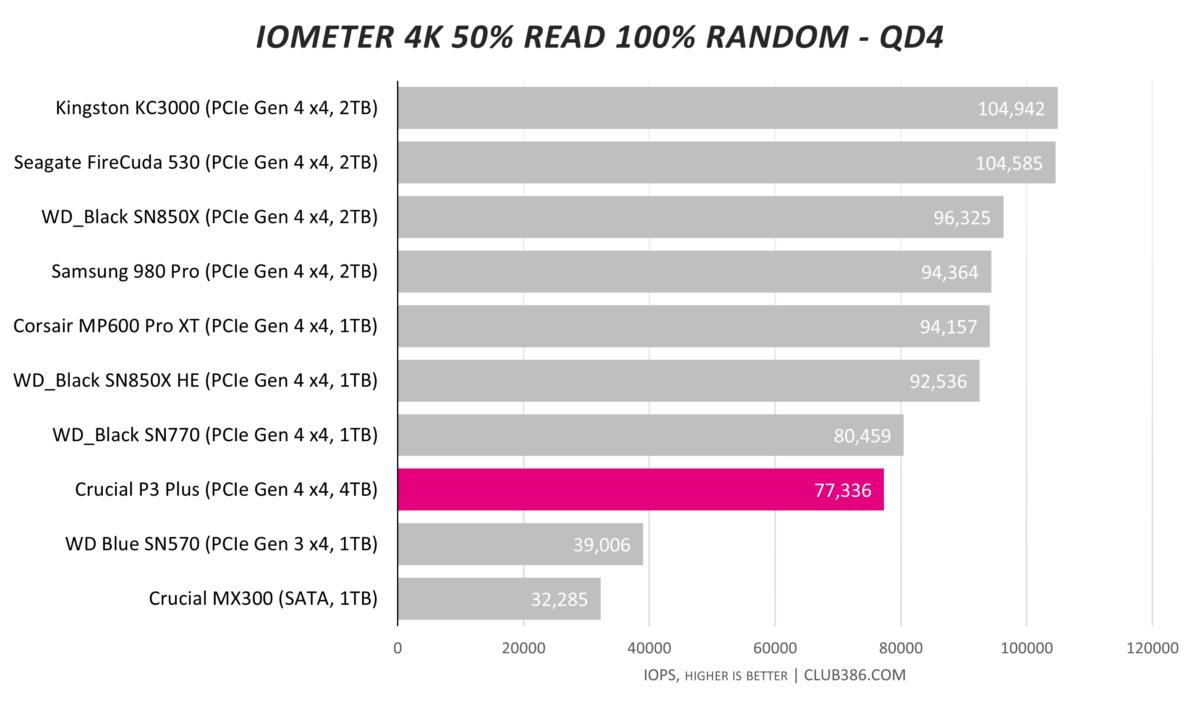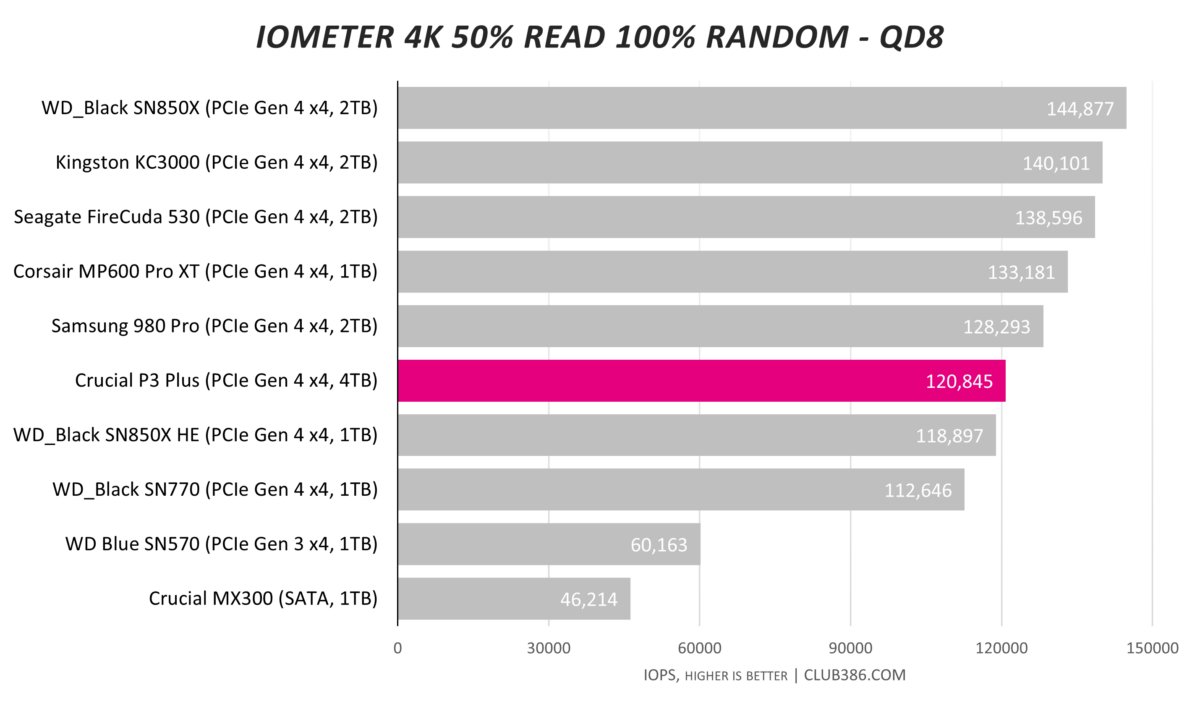 A key selling point for Crucial is differentiation from many PCIe 3.0 x4 drives on the market. P3 Plus is certainly faster than, say, a WD Blue SN570.
Torture Testing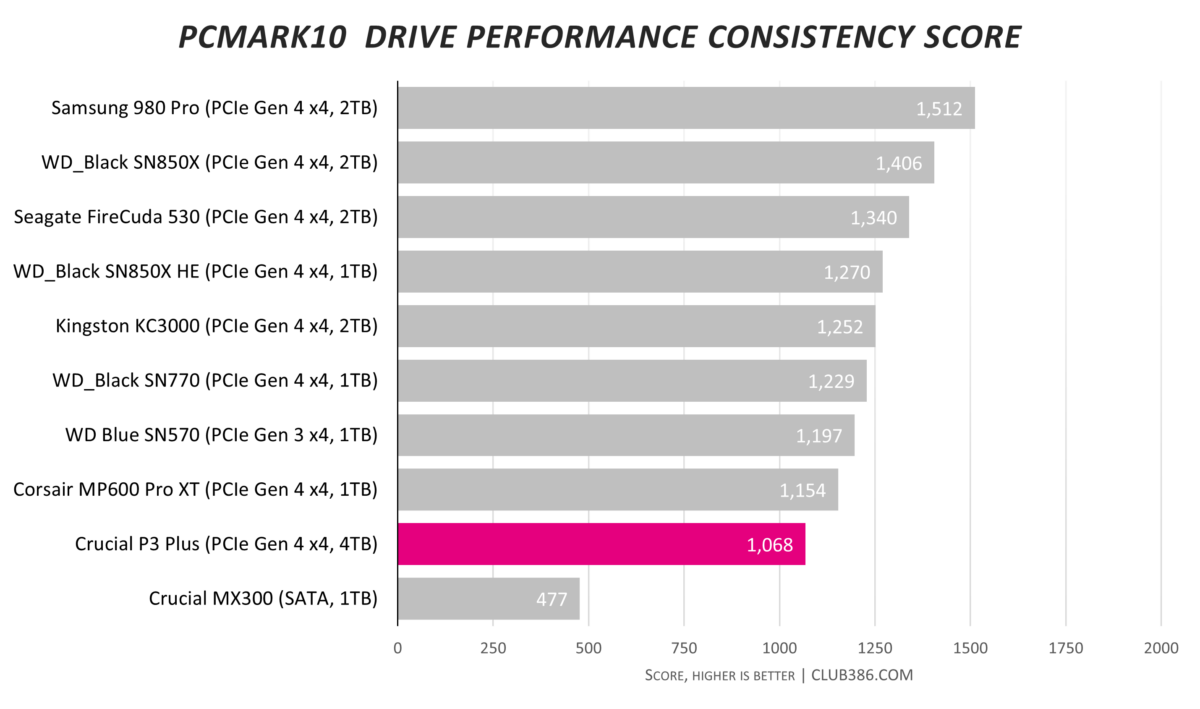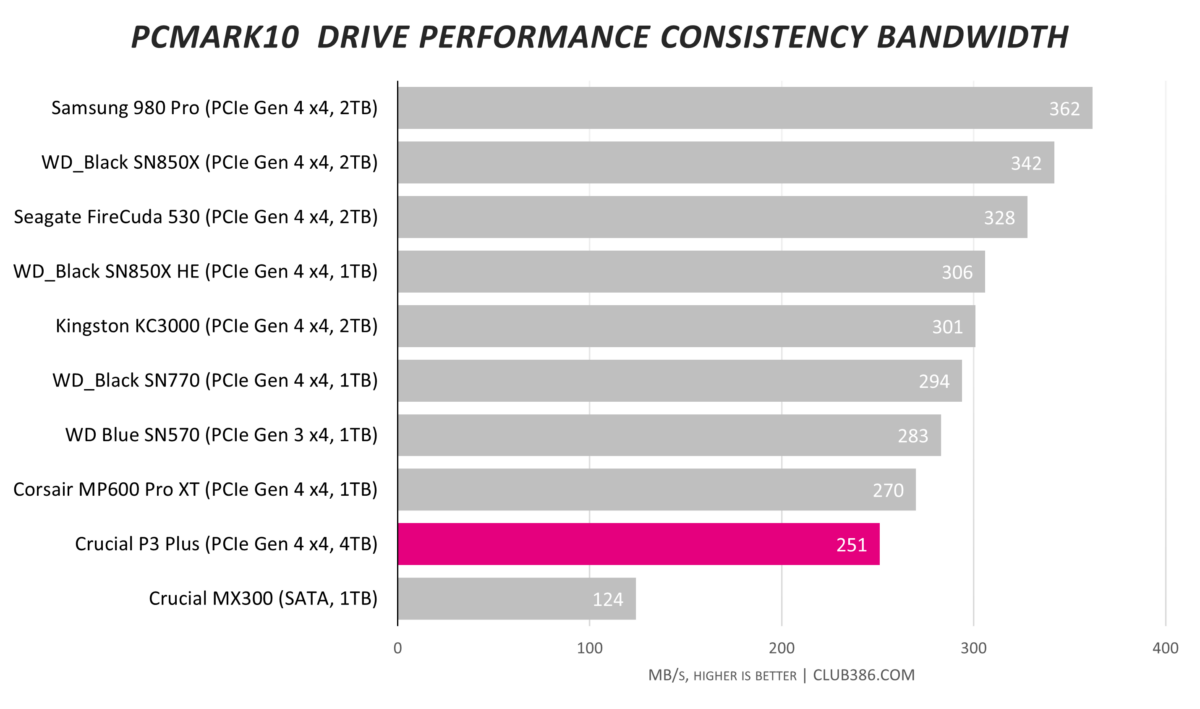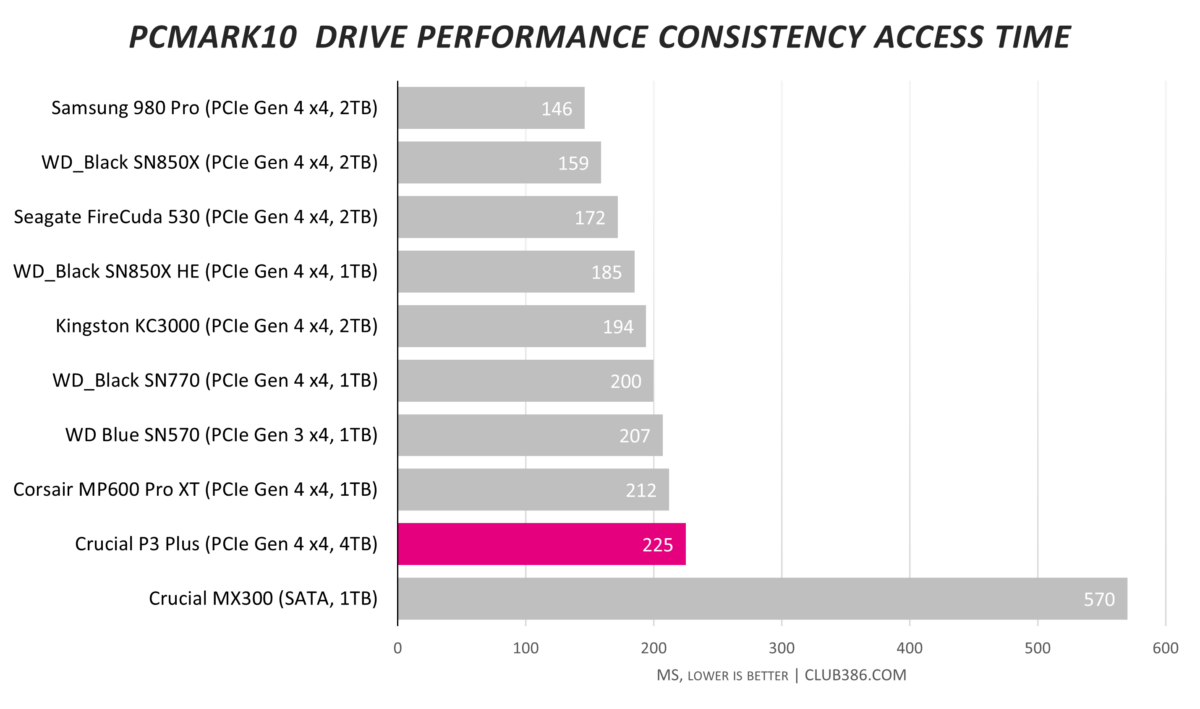 The all-day torture test separates great drives from average ones by pushing them to the limit. As such, Crucial P3 Plus reaffirms the difficulties in propelling QLC-based NAND to the upper echelons of SSD performance.

Show your support for impartial Club386 reviews
Club386 takes great pride in providing in-depth, high-quality reviews built on honest analysis and sage buying advice. As an independent publication, free from shareholder or commercial influence, we are committed to maintaining the standards our readers expect.
To help support our work, please consider making a donation via our Patreon channel.
Conclusion
Crucial's foray into value-driven PCIe 4.0 x4 consumer SSDs takes the shape of the P3 Plus family. Available in 500GB to 4TB capacities and using a Phison controller allied to 176-layer QLC NAND, the basic ingredients for capable performance are present.
The pressing issue facing Crucial is reconciling entry-level PCIe 4.0 performance against pricing more akin to established drives with better credentials. Most of the worry emanates from Crucial's own price-cut P5 Plus, while competitors such as WD_Black and Samsung offer faster alternatives at close to P3 Plus Pricing.
Though there's nothing intrinsically wrong with the P3 Plus 4TB, we'd want to see it below £350 before supporting a purchase recommendation.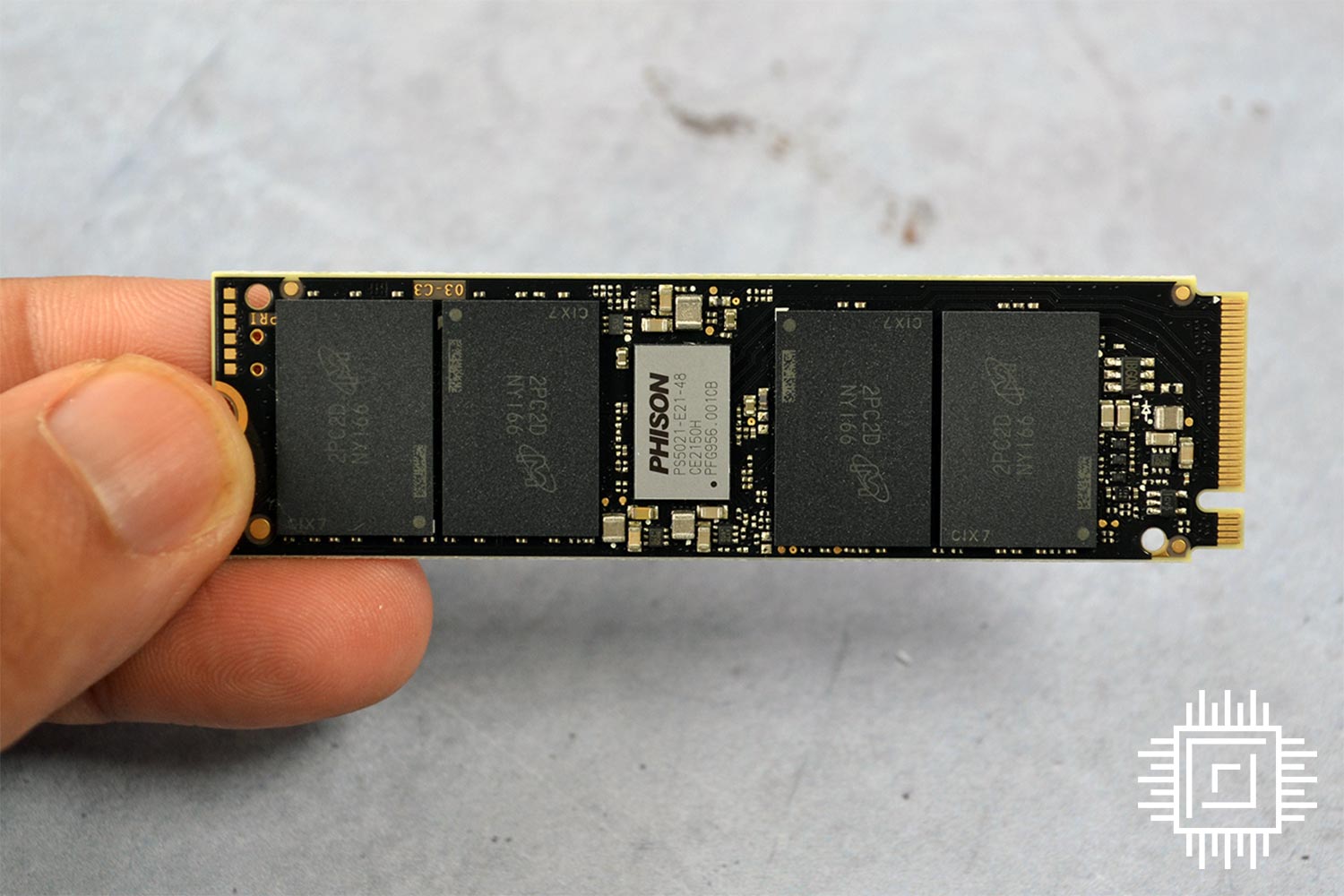 Crucial P3 Plus 4TB SSD
Verdict: Crucial's entry-level PCIe 4.0 P3 Plus needs to come down in price to be worthy of serious consideration.
---
---
Club386 may earn an affiliate commission when you purchase products through links on our site. This helps keep our content free for all.
Rest assured, our buying advice will forever remain impartial and unbiased.