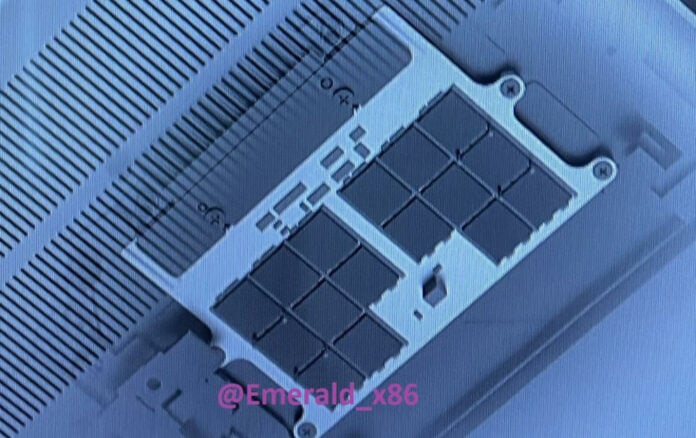 Dell's upcoming Precision 7670 laptop looks set to feature a proprietary DDR5 memory module dubbed CAMM (Compression Attached Memory Module).
Twitter user iGPU Extremist published leaked pictures showcasing CAMM in an upcoming Precision 7670 laptop, providing a first look at Dell's in-house take on an SO-DIMM alternative. If the leak is correct, we can guess from the number of DRAM chips that this new format most likely combines the equivalent of two SO-DIMM modules into one board. In other words, dual-channel memory in a single space-saving design.
Ideal for future thin-and-light laptops, one might think, but there are potential downsides to consider. Dell's proprietary design could lead to premium upgrade options, and no one wants an Apple Tax, if you know what I mean. On the other hand you could argue it's better than using soldered RAM to achieve smaller sizes.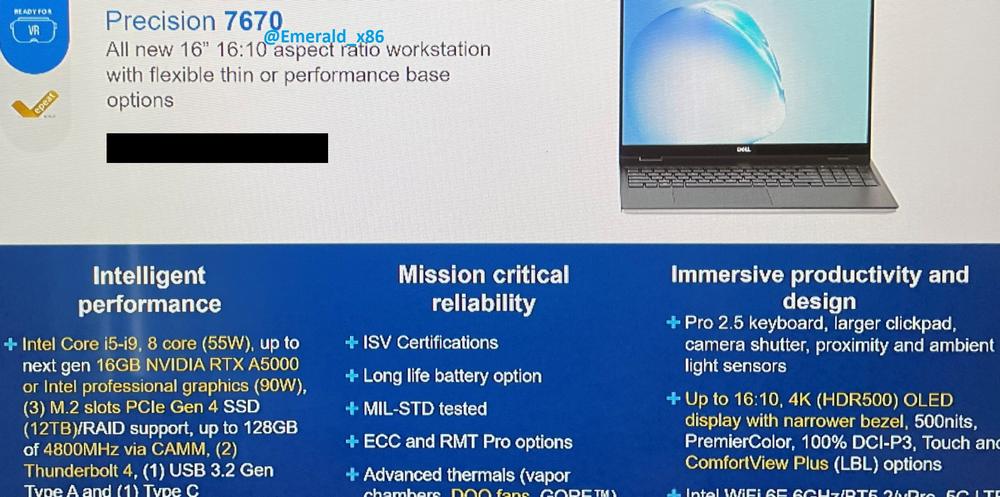 The above picture gives us more insight into specs. We can see CAMM modules supporting up to 128GB RAM capacity at 4,800MHz speed, the presence of Thunderbolt 4, a maximum of 12TB PCIe Gen 4 M.2 SSD, Intel's 12 Gen Core i9 8-core 55W Alder Lake-HX CPUs and 16GB Nvidia RTX A5000 or 90W Intel Pro GPUs. And finally, up to a 16:10 4K OLED display with HDR500.
Other technologies like DGFF (Dell Graphics Form Factor) intimate a modular graphic solution resembling that of Alienware's Area 51M R1/R2.
Such potent hardware suggests the Precision 7670 will be a highly capable mobile workstation. No pricing or availability details are known, yet we'll be following CAMM developments with a watchful eye.